Apeks MTR-X Sidemount Regulators
by Andy Davis
Apeks as just released a new sidemount regulator set built around their tech-orientated MTR-X regs.
The MTR-X is Apeks' latest regulator design that is designed and optimized for very cold water reliability.  The 1st stages are turret designed with 5th/end-port; making them optimal for most sidemount hose configurations  I'm glad to see that Apeks is releasing this sidemount set with rubber hoses, rather than the braided hose that used to be included with their older XTX sidemount set.

The price will cause some to bite their lip.  At £1360GBP ($1800USD) for the complete sidemount set it's a very expensive option on the market.  Nonetheless, for cold-water technical sidemount divers it'll afford a high level of reliability on deep, ice-cold dives.
Manufacturer Link:  Apeks MTX-R Sidemount Regulator Set
(for a complete list of available sidemount regulator sets, please see HERE)
Manufacturer's Specifications:
Over-balanced, diaphragm and environmentally sealed design
Optimized for extreme cold water useage, in accordance with the US NEDU (Navy Experimental Dive Unit) extreme cold water test
Angled HP ports allow for optimal hose routing and transmitter fitting
Parallel turret ports allow for improved hose orientation
2nd Stage convertible LH or RH configuration
5 x 3/8" UNF medium pressure ports (including 5th/end port for sidemount LPI)
2 x 7/16" UNF high pressure ports.
The 5th 3/8" UNF medium pressure port includes a protective bumper when not in use.
A closer look at the MTR-X 2nd stage shows the end-port on the swivel, protected in this case by an over-sized 'bumper', rather than the usual simple IP plug.  The swivel has parallel IP ports on each side, giving lots of flexibility on possible hose configurations for sidemount, backmount singles and doubles.  It looks a very sturdy piece of equipment and you can see lots of detail in adding heat-exchange fluting wherever possible… which helps prevent icing.  The satin-chrome finish is very appealing.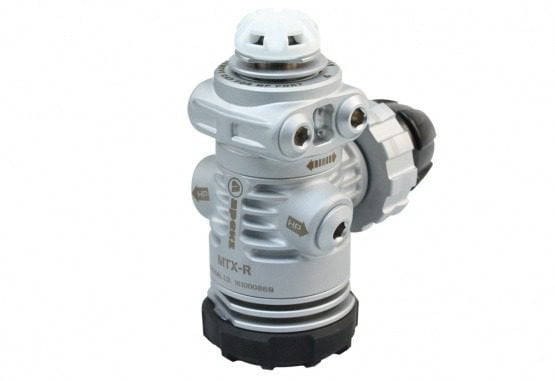 The pneumatically balanced 2nd stage is an equally rugged affair and I like the aesthetics of the design.  The elastomer bumpers surrounding the front will provide some abrasion and impact protection.  There is a heat exchanger to help reduce incidence of 2nd stage freezing.  The changeable left/right handed design option will suit some sidemount divers who use double short-hose and other methods that don't involve 'hog looping' the long/right hose.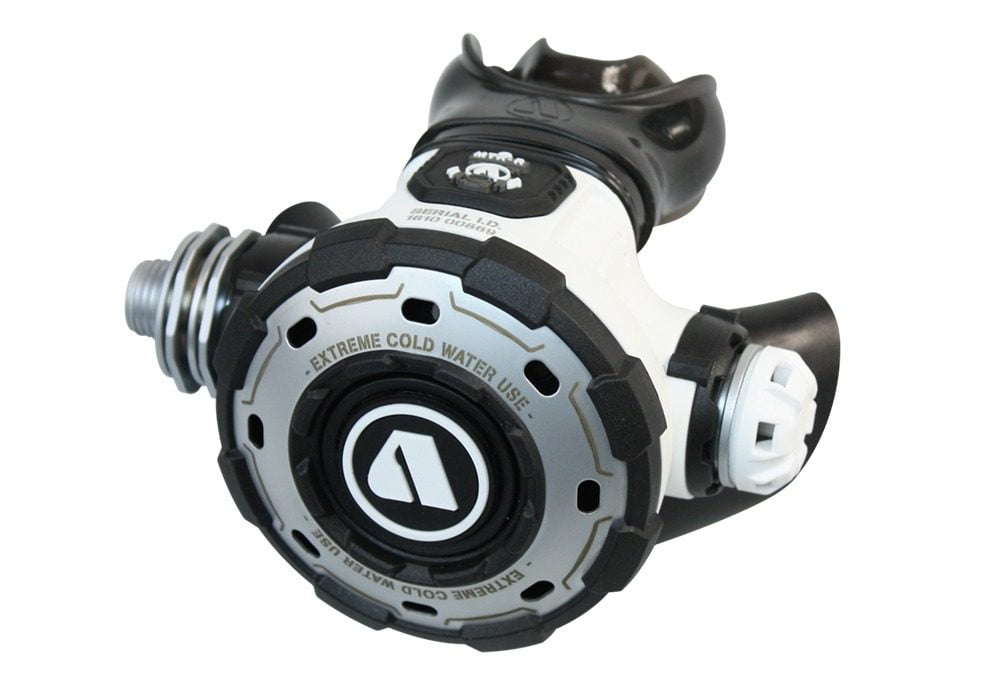 Overall, this looks like a very impressive set-up for sidemount regulators.  For me… diving predominantly in warm tropical waters… it's over-specified and over-priced.  But I can see a definite appeal for divers in temperate and cold waters.
Manufacturer Link:  Apeks MTX-R Sidemount Regulator Set
(for a complete list of available sidemount regulator sets, please see HERE)