Black Corals Diving, Egypt – Unprofessional, Dishonest Thieves
I was very reluctant to make this blog post, but I felt that the issues of blatant copyright infringement and digital image theft deserved illuminating.
The issue of copyright infringement, or 'theft of commercial/artistic digital images' is more common in the dive industry than many might think.  Low quality, or fledgling, dive businesses don't often have a catalog of good digital images to use in their marketing – or are reluctant to pay for professional companies to design their logos and branding.  Instead, they use Google to search for, and steal, other people's work.
For those not familiar with copyright laws; any original image, text or artwork created by someone is automatically copyrighted.  Unlike a 'trademark' there is no necessity to apply to have it registered.  Copyright is automatically granted and, usually, in effect for 50-70 years (depending on country). The work doesn't have to display a copyright symbol or text to the same effect (this is a deterrence against theft only).
Secondly, copyright infringement and the unauthorized use of artwork or images IS a theft. It is illegal both internationally (by agreements) and nationally in every country of the world.
Black Corals Diving, Egypt – A Case Study of Digital Artwork Theft
The story outlined below, is a case study of such theft that I experienced in 2018.
Back in 2013, I created a range of artwork for my company 'Scuba Tech Philippines'.  One of these pieces of digital artwork was  a black and white drawing, based upon a photo of a sidemount diver.  It featured in a logo of mine, for a while.  As you might imagine, I spent many hours of work to create the artwork.
You might imagine my dismay to have been informed that another dive company, 'Black Corals Diving' based in Egypt, had stolen my artwork and brazenly incorporated my hard work into their own logo.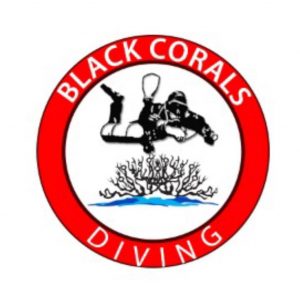 In order to have used that artwork, they can only have grabbed my logo from the internet, deleted all of my company and contact information, then added it into their own logo.  It's impossible that this was some sort of accidental use, or that they didn't know who to contact to ask usage permission.
They used that logo on both their Facebook personal profile and on their Facebook Page.
I messaged the offender and informed them of their error in using copyright artwork – but they were cowardly and always refused to reply.
Having received no reply from the individual or business, I reported the issue of copyright theft to Facebook, they acted swiftly to delete the stolen image.  However, the thief ignored Facebook's ruling and had simply re-posted the image within a few hours.  Not very repentant or ethical, huh?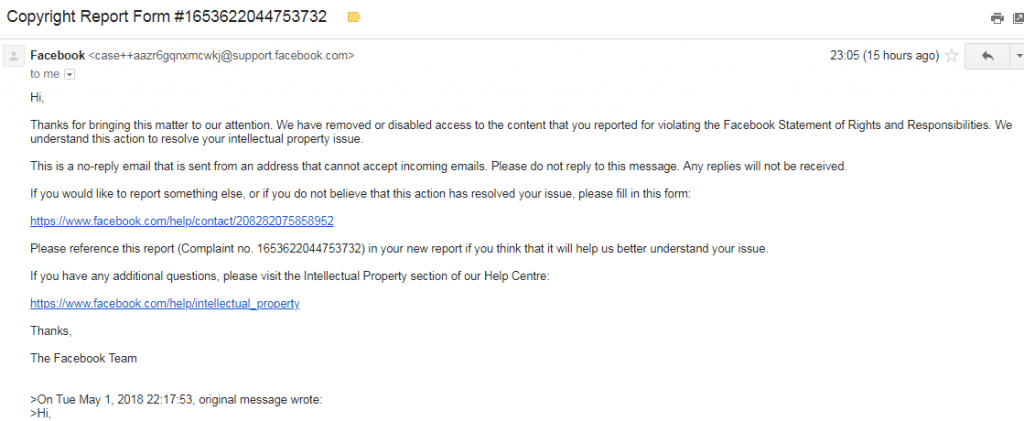 Having already been informed by myself and Facebook – and still re-posted the image – there is no opportunity for this company or individual to claim that the copyright infringement was unintentional or accidental.  They know that they have broken both national Egyptian law and international law on copyright theft.
Here's the individual's profile page.  They claim to be a PADI instructor.  I've made inquiries with PADI about this, and have lodged a professional standards complaint – pending confirmation of the individual's true identity.  The given name on the profile 'Issa Als' does not match the account name for that profile 'Joo Laohu' (apparently a Korean working in Egypt).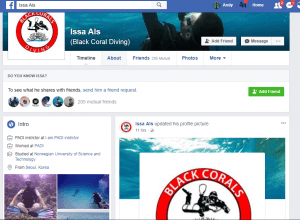 Likewise, at the time of righting this blog, the stolen artwork is still evident on their Facebook page.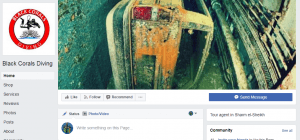 As the issue gained some publicity, a plethora of outraged divers and instructors placed reviews on the Black Corals Diving review page.  In a very short time, they were inundated with 1-star reviews protesting against the digital image theft and copyright infringement issue.  Did they remove the image then?  No… they simple blocked people from leaving reviews on their page.  Dishonest AND stubborn…  what an atrocious character combination.
What can I say?  The company 'Black Corals Diving' acted incredibly dishonestly, unethically and unprofessionally.  This attitude does not bode well for the likely service they will provide customers.  I would warn anyone visiting Egypt against using them.