New Product – Hollis Katana 2
Hollis release the Katana 2 sidemount BCD at DEMA 2018.
It looks very reminiscent of the XDeep Stealth Rec/Tec BCDs, with a flat back panel and air cell curved at the bottom/sides in a 'U' shape.
The wing is available dual-bladder,  with the redundant LPI removable on the right-side.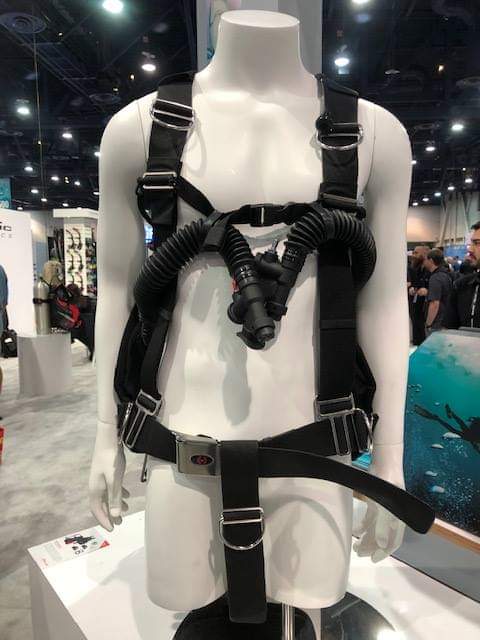 The photos supplied don't give a clear indication of how this system works, but it's interesting to see an 'H' style harness on an off-the-shelf rig.
The webbing doesn't look too messy. It's ascent the usual clutter of QR buckles and adjusters. There's a chest-fastener that's superflous to most divers, but it seems to be easily removeable.

Here's my initial thought.. .
1. Can't see under the wing, so I'm wondering if the harness is based around a shoulder/lumbar plate system, separated by an adjustable spine strap?
That's pretty critical if a range of divers wish to utilize this BCD for warm-water aluminum cylinder diving…as the waist strap needs to be located on the hips and on a horizontal, not sloped, angle front-to-back.
2. Why the wing overlap below the waist belt? That usually proves less ergonomic when it comes to accessing rear D-rings and ancillaries.
The wing also seems to wrap around at the sides. This cuts down on how far back you can locate the rear waist D-rings – a critical factor for divers with slimmer waistlines.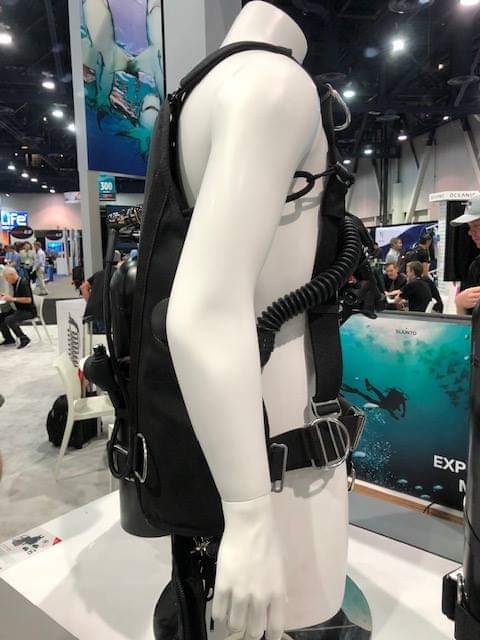 3. It also seems very long in lenght. Enough to swamp some shorter divers. Will it be sold in different height sizes?
4. Rear loop bungee attachment is very (too) low. Is the attachment point adjustable at the rear?
The loop bungee needs to run horizontally back-to-front and should locate just immediately under the armpit.