Hollis SMS Katana – Pre-DEMA Sneak Peak
Hollis  have announced they are to unveil a new sidemount system at DEMA 2015; the SMS Katana!
I was shared a photo today that is believed to be a sneak peak at the SMS Katana system.  At first glance, the system looks like Hollis are finally producing a true warm-water minimalist style sidemount rig.
The SMS Katana has a bare webbing harness, integrated loop bungees and a diamond shaped bladder. There seems to be off-set D-rings at the rear waist for cylinder attachment (no butt-plate, finally!) and it has  left/right side interchangeable LPI/OPVs…. and a third OPV at the bottom of the wing.
Hollis are saying that there are some radical differences from other sidemount systems on the market….  so it'll be interesting to see what innovations will be unveiled soon.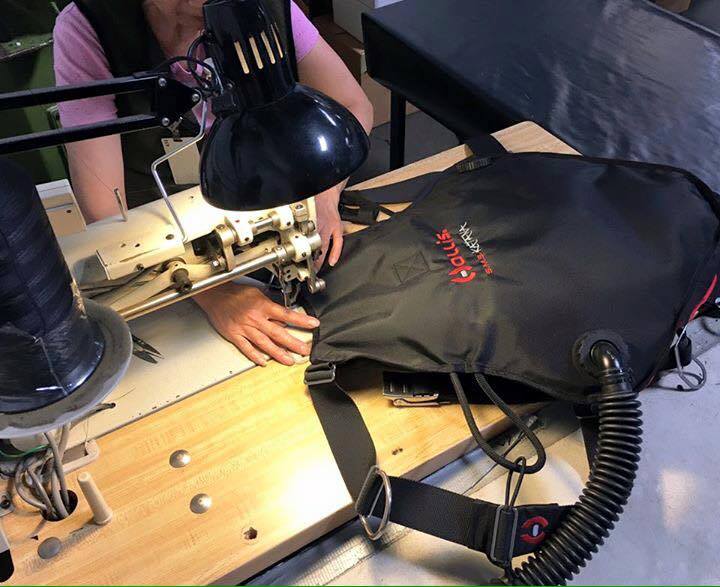 It looks a little similar to the new XDeep Stealth Rec sidemount BCD…. and should prove a big attraction to sidemount divers who want a cohesive, minimalist rig for warm-water/aluminum cylinder diving. My one concern, from this photo, was the apparently sewn-in bungees.  However, Nick from Hollis has confirmed that the bungees are NOT sewn in.  They are webbing mounted beneath the bladder, but route through the wing to help keep it snug to the diver's body.
The buoyancy capacity is 30lbs/13.5kg and it is produced in 1000 denier Cordura.
Retail price is expected to be $599.
It's possible that a dual-bladder version may be released in due course. More details to follow in due course…  If you're at DEMA, you can catch the release on Thursday 5th November in room S320C: 1:00 PM – 2:00 PM