Review of Scuba Tech Philippines 'Sidemount Diver' Course
A kind review of my PADI Sidemount Diver course, courtesy of Camille Lemmens, PADI Course Director.  Was really great to finally meet Camille in person, as we've been online friends for a long time and have many mutual friends.  Camille teaches PADI Instructor Development Courses across Asia and is based out of my old haunt in Koh Samui.
His blog can be found Camille's PADI Diving and Instructor Development Courses  and his Facebook group is HERE.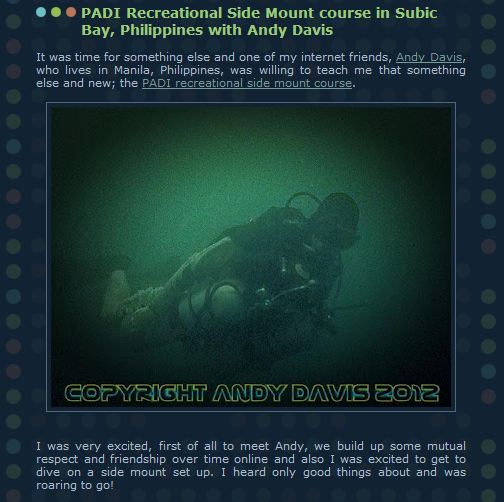 We managed to conduct the confined water training and two sidemount dives on the first day, but are waiting to complete the final dives due to the extreme weather and flooding currently reaching disaster levels across the northern Philippines. Water visibility was poor, due to the exceptional rainfall (472mm in 24 hours!), turning our tour of the El Capitan (USS Majaba) wreck into a virtual night dive.
Camille was using the Hollis SMS100 sidemount BCD, which is a 'hybrid' sidemount system with options for conventional back-mounting of a scuba cylinder. This is a nice option for recreational sidemount use, especially if the diver wants a rig that can swiftly change between different configurations for different needs.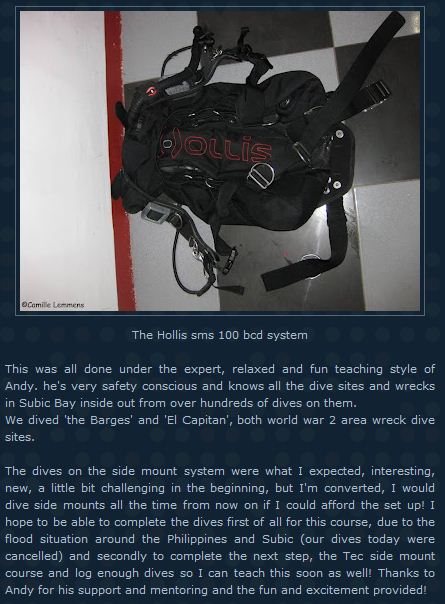 Thanks for the kind review… sidemount diving definitely has the power to convert!
Camille is now aiming to gain more sidemount experience and gain that instructor rating himself, so that this awesome training can be offered in Koh Samui and Koh Tao… and passed on to the next generation of PADI instructors to qualify!
Updated with a short video taken during the course…
PADI Sidemount Course – Subic Bay – Promo Video from Scuba Tech Philippines on Vimeo.