SEAC KS01 Side Mount Promo – Video Released
Seac have released a promo video to showcase their new KS01 side mount system: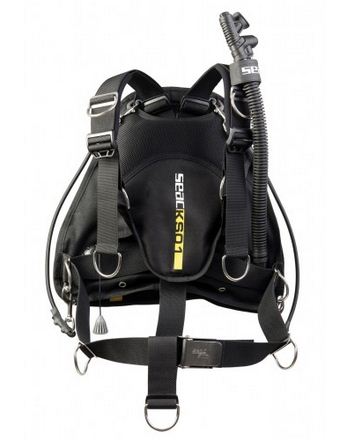 Buoyancy jacket dedicated to side mount diving for all levels: from beginner to expert "cave diver". The jacket's light weight and freedom of movement are enhanced thanks to the exclusive "Quick Adjusting System" harness: a shoulder strap system with neoprene protection can be adjusted independently by the running triglide.
Other features include 3 Trim Pockets that can hold 4 lbs (2 kg) each under the back cover (two positions below and one above to enable easier buoyancy management while diving), the sternum and crotch strap adjustment with 2 in (50m m) straps.
Covering of outer bladder: Ironman fabric with high-resistance to abrasion and cutting – Outer bladder material: Cordura 500 3D – Inner bladder material: Cordura 500 – Dump valve: 1 with three pull commands – D-rings: 6-2in (50 mm) in stainless steel – Dry weight (Size L): 3.3lbs (1500 g).