SEAC Sidemount BCD released
SEAC have released a new sidemount system for November 2013.  Initially available in Europe, it is expected for world-wide release soon. It is called the SEAC KS01.
It looks like a warm-water configuration.  I am expecting circa 20lbs of buoyancy – putting into the competitive group with the Hollis SMS50, UTD Z-Trim and IST SMB-21 rigs.  I expect the BCD is aimed at the flourishing recreational sidemount market, with a more integrated harness configuration.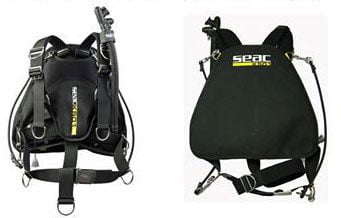 There doesn't seem to be a butt-plate or rails, although these may be offered as a separate purchase (?).  If a butt-plate isn't available, then the only back attachment option would be to thread a D-ring onto the crotch strap (not supplied/shown on the marketing photo).  This will be a serious impediment  for sidemount divers who wish to clip off reels, DSMB or butt-bags to their rear.
There is generous back padding, for those who want it, although I am told the padding tends to "conflict" with the webbing around the lumbar plate region.  The wing looks nice and streamlined. But what the heck gives with that huge vertical LPI?!?
Feeback from a diver who saw the rig first-hand at the British Dive Show this year said that the shoulder staps are stitched directly into the wing.  That prevents alternative rigging configurations and it was speculated that this caused an area of weakness (evident from some fraying on the wing on the demo version).
I am told that SEAC are consulting a seasoned Florida cave instructor for potential upgrades to a future version.
From the manufacturer:
Buoyancy jacket dedicated to side mount diving for all levels: from beginner to expert "cave diver". The jacket's light weight and freedom of movement are enhanced thanks to the exclusive "Quick Adjusting System" harness: a shoulder strap system with neoprene protection can be adjusted independently by the running triglide. Other features include 3 Trim Pockets that can hold 4 lbs (2 kg) each under the back cover (two positions below and one above to enable easier buoyancy management while diving), the sternum and crotch strap adjustment with 2 in (50m m) straps.
Covering of outer bladder: Ironman fabric with high-resistance to abrasion and cutting – Outer bladder material: Cordura 500 3D – Inner bladder material: Cordura 500 – Dump valve: 1 with three pull commands – D-rings: 6-2in (50 mm) in stainless steel – Dry weight (Size L): 3.3lbs (1500 g).
See the promo video here:  SEAC Ks01 Side Mount Promo