Sidemount Course Photos – Subic Bay
Jan-Apr 2014
 The first quarter of 2014 was a very busy period, crammed full of sidemount, technical and wreck courses at all levels.  In particular, sidemount courses are more popular than ever, with a large number of students attending training at either basic or technical levels.  Here are some pics from the dives…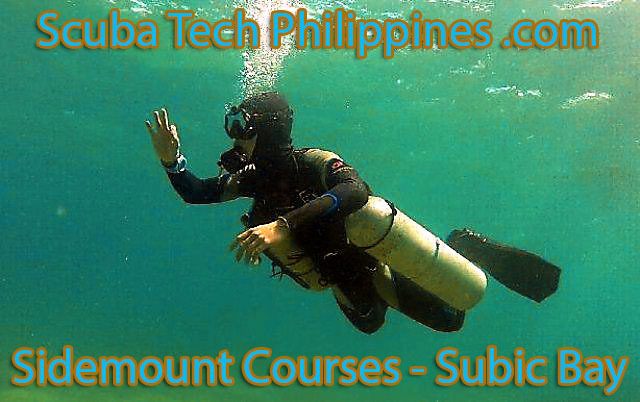 Students attended for training using a range of sidemount BCDs, including; X-Deep Stealth 2.0, Razor 2.0, UTD Z-Trim, OMS Profile… and some used rented Aquamundo or SubLevel rigs.  Whilst all sidemount training shares universal principles, it's important to understand the specific nuances of individual rigs, so that they can be properly set-up and refined for optimal performance.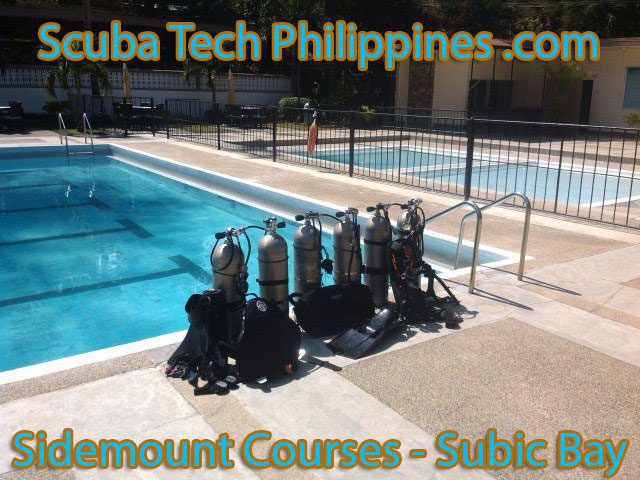 Three different sidemount rigs lined up for a pool session. (L-R:  Aquamundo, X-Deep Stealth 2.0 and SubLevel).  Sidemount instructors need to be intimately and expertly familiar with the rigs that they teach courses with.  It's important to ascertain a potential instructor's personal experience with any given rig that you intend to bring to training.
Andy demonstrating cylinder handling/manipulation during a basic sidemount course open-water dive.  Cylinders are removed and replaced throughout every course dive – with the goal of increasing equipment familiarity and confidence.  The added benefit is that students enjoy the enormous sense of freedom and flexibility that sidemount diving offers.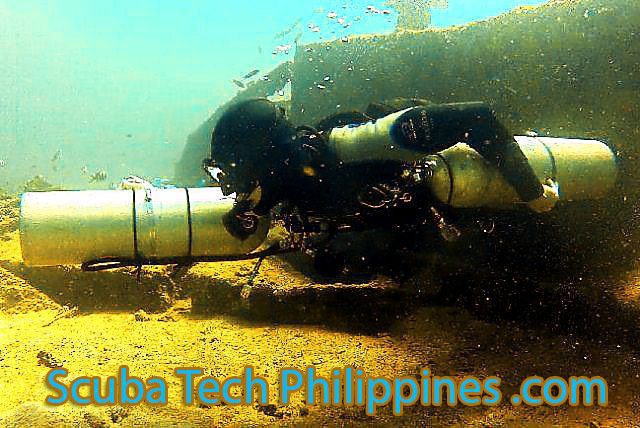 Student practices with obstacles – just for fun and to develop cylinder handling familiarity. Ingraining muscle memory to manipulate sidemount equipment is strong emphasized during training; with many drills and skills repeated until using the equipment becomes easy and automatic.
Surfacing from a training dive to a glorious sunset over Subic Bay. We'd just completed check-out dives on the USS New York ACR-2 wreck at 30m/100ft, diving in a mixed technical team (back-mount and sidemount). Most training dives enjoy a run-time in excess of 60 minutes.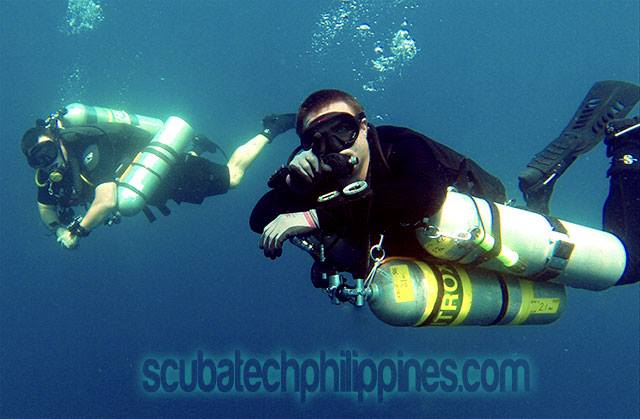 Putting Tec Sidemount training to the test on a post-qualification, 45m mixed-team (backmount/sidemount) technical dive, with run-time of 65 minutes. We are ascending from a Japanese WWII aircraft wreck; the L2D 'Tabby'. On this dive, 3x Al80 cylinders were carried.  Subsequent dives increased to 4 cylinders.
Andy uses the Aquamundo sidemount rig for a technical decompression dive to 36m on the Landing Ship Tank (LST) in Subic Bay.  Deco cylinders were staged in preparation for subsequent penetration into the troop-berthing decks of the wreck.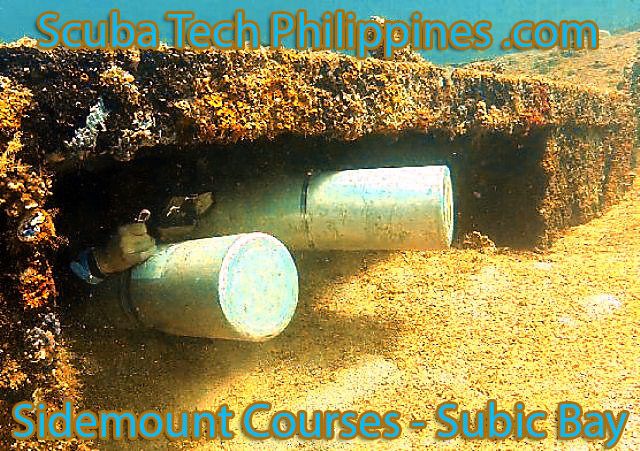 Putting sidemount technique to the test during a Sidemount-Wreck clinic. Passage through tight restrictions is taught formally on the ANDI Advanced (Overhead) Sidemount course.  That training includes many sophisticated methods for safe passage through extreme restrictions, along with the use of multiple-stages for extended penetration and bottom-time.  It is very useful for sidemount divers already qualified at Full Cave and Technical Wreck levels.
PADI Sidemount Diver course student puts the 'SubLevel' sidemount rig through it's paces.  I have a prototype SubLevel in use at the moment, as I am helping the manufacturer refine a technical-diving version of the rig. It's a very neat rig, that allows students to transition quickly into sidemount diving and promotes inherently solid trim and buoyancy control from the start.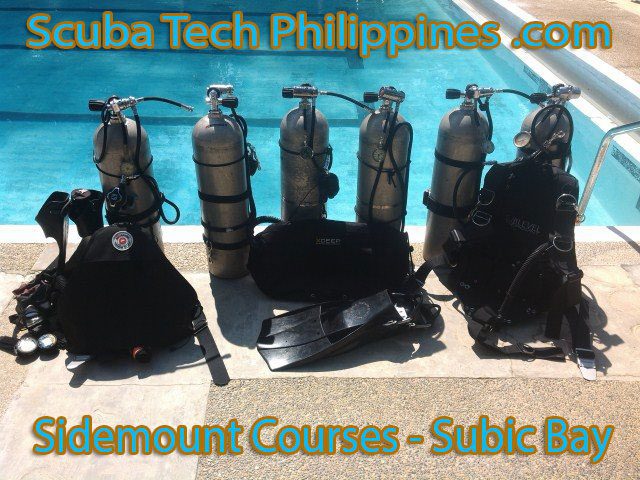 The X-Deep Stealth 2.0 (center) is very popular on my courses.  The rig is suitable for all levels of sidemount diving, from basic through to advanced and technical sidemount. It has, possibly, the best integral weighting options on the market currently.
Andy hanging out on safety stop -feeling free in perfect neutral buoyancy.  Note the distinctive 'Force Fins'  – these are my absolute favorite fins and work really well for sidemount diving and in the tight restrictions of wreck penetration. They are impressive for both power/;effort and high-precision maneuverability.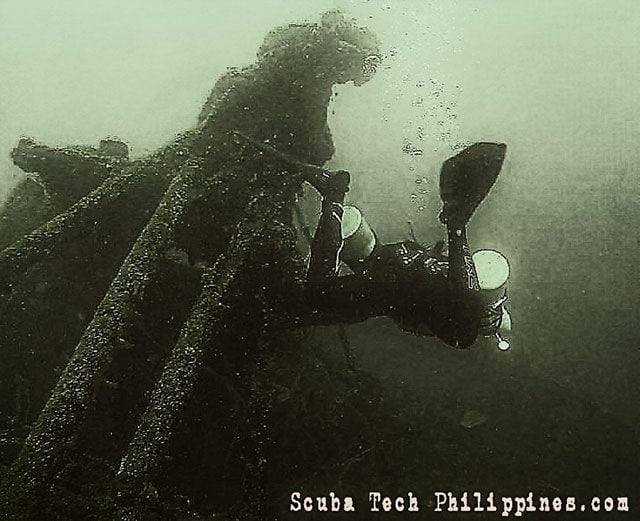 First open-water dive experience for a PADI Sidemount Diver course student.  The dive was conducted on the wreck of a Landing Craft Utility (LCU), to a maximum depth of 18m/60ft.   This student had ~15 dives experience and Advanced Open Water qualification before starting the sidemount course.   You can see the results of intensive confined-water session training (about 4 hours in the pool) in the refinement of his sidemount rig, and also core fundamental skills like trim, posture and buoyancy control.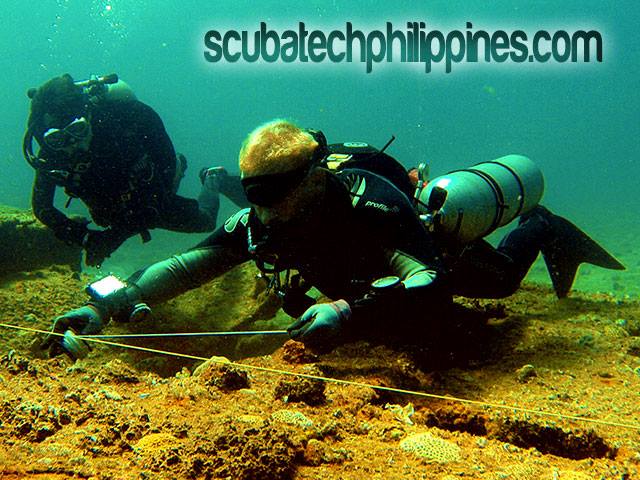 Andy demonstrating 'lost line'protocols with no mask during a Technical Wreck course.  Sidemount works perfectly with technical wreck penetration training – opening up access to many areas of the Subic Bay wrecks that would otherwise be inaccessible to back-mount or CCR divers.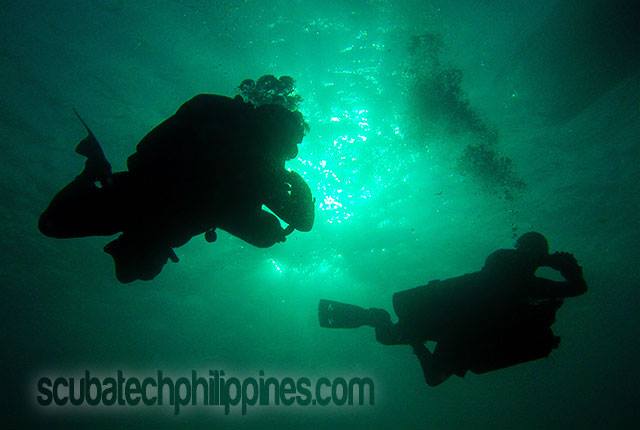 Student technical divers on decompression stop, demonstrating solid foundational skills and team diving protocols.  The same core principles of proper trim, precision buoyancy control and intelligent equipment configuration apply equally to sidemount and back-mount diving.
---
For more details on basic, technical and advanced (overhead) sidemount training,  combination sidemount/wreck and sidemount/technical courses or exclusive sidemount-mentoring sessions, please contact me.
For more details on Sidemount Wreck Training in the Philippines, please check out:
Sidemount Diving Clinics:  Sidemount Wreck / Sidemount Foundations