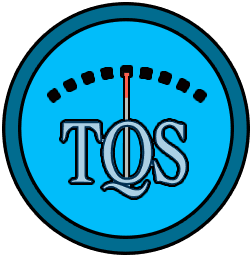 Technician's Qualification System
The Technician's Qualification System (TQS) was created to ensure high-quality vocational training and competency assessment for SCUBA equipment technician.
It is the primary scuba service technician qualification scheme in Australia. There are 3 levels of TQS training.
---
TQS Level One
This is the entry-level certification for a professional scuba equipment service technician. Attendance on a TQS sanctioned course, followed by an assessment of proficiency can lead to this valuable diving industry qualification being issued.
The TQS Level One program provides students with recognised proficiency in the following key areas:
Principles of SCUBA equipment function and gas flow dynamics.
Technician Quality Control and reporting systems.
Compliance with manufacturer technician.
Understanding and interpreting equipment schematics.
Inspection and fault finding principles
Procedures for equipment disassembly and assembly
SCUBA regulator tuning, adjustment and testing.
Workshop equipment safety.
Preparing and delivering service reports to customers.
*Please note this is not a manufacturer's seminar, but an industry service technician training course. This course is designed to prepare you for any manufacturer's service seminar.
---
Course Objectives: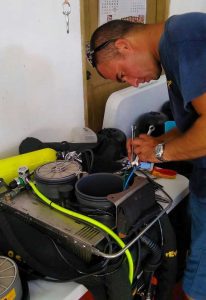 The objectives of the TQS Level One Regulator Service Technician Course are:
To develop engineering knowledge of SCUBA regulator design and function.
To explain SCUBA regulator function based on pressure differential.
To describe factors that reduce the mechanical efficiency of SCUBA regulators.
To demonstrate fault diagnostic protocols, based on sequential and logical procedures.
To introduce appropriate diagnostic and servicing equipment.
To illustrate effective standard workbench procedures.
To describe appropriate methods for regulator disassembly and reassembly.
To explain appropriate methods for regulator inspection and cleaning.
To demonstrate appropriate methods for the testing and adjustment of regulators.
To introduce professional service technician standards and codes of practice.
To explain the need for producing and maintaining standardized service records.
---
Prerequisites: 18 years old, Advanced Open Water Diver and Nitrox Diver or equivalent.
Duration: 6 days
Course fee: POA
---
Course Syllabus
The TQS Level One Regulator Service Technician Cours course consists of 18 theory and practice modules.
These modules are supported by practical applications where students practice on a variety of contemporary SCUBA regulators, including examples from; Apeks, Aqualung, Beauchat, Cressi, Deep6, DiveRite, Mares, Oceanic, Poseidon, Sherwood, Scubapro and Zeagle.
18 Study Modules:
The SI system (International System of Units)
Introductory Gas Physics
Technician Workshop Procedures
Basic Principles of Regulator Function
Regulator First Stage Design and Performance
Service of Unbalanced Piston First Stages
Service of Balanced Piston First Stages
Service of Unbalanced Diaphragm First Stages
Service of Balanced Diaphragm First Stages
Regulator First Stage Special Features
Understanding High-Pressure Seats and O-Rings
Regulator First Stage Inspection, Build, Testing and Troubleshooting
Regulator Second Stage Design and Performance
Service of Unbalanced Downstream Second Stages
Service of Balanced Downstream Second Stages
Regulator Second Stage Special Features
Regulator Second Stage Inspection, Build, Testing and Troubleshooting
Service of BCDs, Low-Pressure Inflators, Cylinder Valves and Dive Instruments
---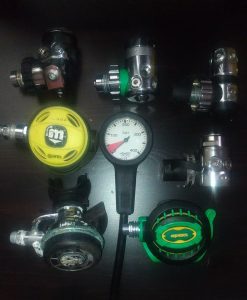 We use demo regulators, each pre-set with deliberate faults. The idea is to prompt a logical and efficient troubleshooting process to real-world kit problems.
---
About Shaun Notley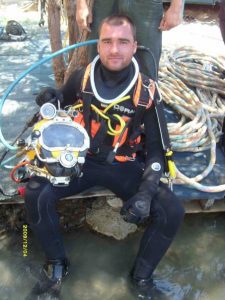 Shaun entered the recreational diving industry in the UK during 2001. Since that time he has worked in many dive industry roles, including; dive centre owner and manager, commercial diver, full-time dive equipment technician and compressor mechanic, recreational and technical diving instructor.
He holds professional qualifications as a PADI and TDI Technical Diving Instructor, DOL Class II commercial diver and TQS Technician Trainer.
He runs ProService Dive Repair in Subic Bay, Philippines, where he teaches a range of TQS regulator and compression technician training, TecRec gas-blending and his exclusive PADI Compressor Operator courses.
Shaun offers expert service in compressor servicing, maintenance & repair; along with a wide variety of commercial services including hull cleaning, anode replacement, video surveys, salvage and inspection.
---
Contact Shaun
  Call +63 (0)921 217 6747
  Facebook
@ProServiceDiveRepair