Sidemount Diving Overview
Sidemount Diving is a ground-breaking new approach for streamlined, convenient & safe diving, at both recreational and technical levels.  It is time that you learned more about the fastest-growing revolution in scuba diving…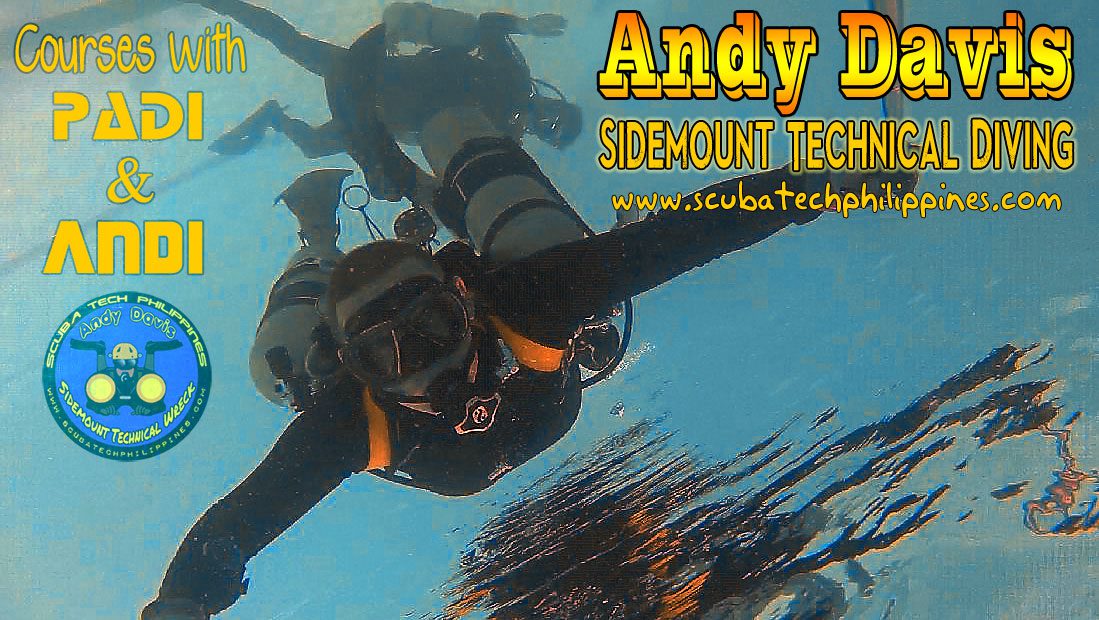 There are three primary course options;
PADI Sidemount  - A basic course, teaching sidemount configuration and diving techniques for the open water environment.
TecRec Tec Sidemount – Teaches use of sidemount plus decompression stage cylinders and provides an insight into technical diving for those not yet tech qualified.
ANDI Sidemount (Level 2) – A flexible course option, providing comprehensive sidemount tuition that can be developed according to the students pre-existing qualification level, including technical diving and overhead environment/wreck penetration.
ANDI ADVANCED Sidemount (Level 3) 

-  Overhead environment specific – advanced sidemount techniques for cave and technical wreck divers. Includes use of multiple stages, confined environments and passage through extreme restrictions.
The availability of effective sidemount diving tuition is still a rare commodity – this is your opportunity to enjoy lessons with a dedicated, active sidemount technical instructor and diver – one of the first qualified PADI Sidemount and Tec Sidemount instructors in Asia!
---
 
What is Sidemount Diving?
Sidemount diving is the, now increasingly formalized, approach towards conducting dives with 2 or more primary cylinders secured at the side of the body and in line with the torso – with no cylinders on the diver's back. A common feature that defines sidemount configuration is the use of bungee cords to provide an upper attachment on the cylinder valve, normally routed from behind the diver's upper back, whilst the lower cylinder is secured to the diver's lower harness (butt-plate or waist D-rings) via bolt-snaps.
A list of all currently available 'off-the-shelf' sidemount systems: HERE
See the sidemount diver course presentation: HERE
Rent (stream) or purchase (download) the Jill Heinerth Sidemount Diving DVD: HERE *recommended course material
Why Sidemount Diving?
Sidemount is one of the most exciting developments in scuba diving for many years. It combines the advantages of  streamlining, flexibility, redundancy and safety into an easy-to-transport configuration, that can be used easily with standard scuba tanks from any dive center.
For divers who operate within the overhead environment (wreck and cave), it provides an exceptionally low-profile method to carry necessary gas, whilst allowing penetration within the most confined spaces.
How can Sidemount be amalgamated into my future dive training?
Once qualified as a recreational sidemount diver, you can utilise this equipment configuration for all subsequent PADI and TecRec training courses. If you are currently a technical diver, or ambitious to become one, then sidemount configuration can be used for all subsequent TecRec training.
What Sidemount Training is Available?
I provide the option of either ANDI, PADI (basic) or TecRec (advanced) sidemount courses. Whilst these courses are all similar in format, your choice of course should be determined by your specific diving goals.  
Please contact me to discuss your best options.
PADI Basic/Recreational Sidemount Course
Perfect for -
Open Water Divers and above
Wreck Divers, seeking slim-line, low-profile equipment
Deep Divers, seeking an effective redundant gas solution.
Prerequisites -
Open Water Diver
15 years or over
Course Content -
Knowledge Development
1x Practical Application
3x Open Water Dives (2 cylinder)
TecRec Tec Sidemount Course
Perfect for -
Recreational divers looking for a technical diving transition course.
Tec divers who would like to learn and apply sidemount diving  techniques to their existing skillset.
Prerequisites -
Advanced Open Water Diver (*Nitrox recommended)
18 years or over
30 Logged Dives
Course Content -
Knowledge Development
3x Practical Applications
2x Open Water Dives (2 cylinder)
2x Open Water Dives (3-4 cylinder)

ANDI Sidemount Diver (Level 2)
Perfect for -
Advanced Level Divers

Those wanting to learn sidemount in technical or overhead environments

A more robust skill-set, integrated with specialist activities
Prerequisites -
Advanced Open Water and Nitrox

50 Logged dives minimum
Course Content -
Knowledge Development

1x Skill Assessment in Confined Water

3x Training Dives (2+ cylinder) – decompression and/or wreck penetration (if qualified).
ANDI Advanced Sidemount (Overhead) Diver (Level 3)
Perfect for - 
Overhead Environment divers wishing to prepare for the most challenging penetration dives
Technical / Overhead sidemount divers wanting to learn multi-stage and confined environment techniques
Prerequisites -
Full Cave or Technical Wreck Diver
18 years or over
200 Logged Dives
Course Content -
Knowledge Development
6x Overhead Environment Dives (3-4 cylinder)
---
What Sidemount Equipment is Available?
I have taught sidemount courses using the Razor 2, Stealth 2.0, OMS Profile, Z-Trim, SMS50 and SMS100.  All sidemount courses include a configuration/set-up workshop.
---
---
To read more about Sidemount Diving, please see  my detailed Article and Course Notes.
 Contact me to discuss your training requirements.
 Read / Download the Sidemount Course Brochure