Technical Sidemount
The Technical Sidemount Course provides structured training for existing, or prospective, technical divers who
wish to transition into using sidemount configuration for their diving.
The course includes, knowledge development and practical applications, allowing divers to learn how to properly set-up and configure sidemount kits, including deco and stage tanks. Divers also participate in a series of demanding confined and open water training sessions, enabling them to get the most out of this ground-breaking approach to scuba diving.
---
Technical  Sidemount Course Goals
Once certified, divers will be able to use sidemount equipment, including 2 or more stages, comfortably for all technical diving activities, including participation on subsequent specialty and technical level courses in that configuration.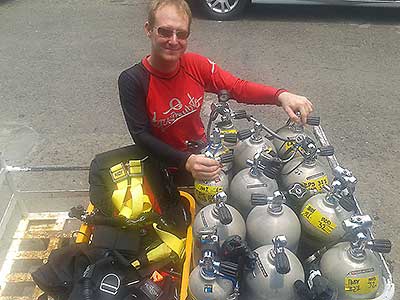 Technical Sidemount Course Content
3x Practical Application Sessions

Confined Water – Foundation Skills Dive

2x Open Water Dives (Double Cylinder)

2x Dives Double Cylinders, plus 1-2 Stages
Technical Sidemount Prerequisites
Advanced Open Water Diver (*Nitrox recommended)

18 years or over

30 Logged Dives
---
Course Duration
4 days* with classroom, practical workshops and 6 dives
Day 1 – Classroom theory, equipment workshop
Day 2 – Skills training dives 1 – 2
Day 3 – Sidemount dives 3 – 4
Day 4 – Sidemount dives 5 –  6
*A 5 day program is recommended if you prefer a more relaxed training program or more time to refine skills.
The course is performance based, not time based.
---
Qualification
Successful completion of this training enables the award of either RAID Sidemount or TecRec Tec Sidemount qualification.
---
Why Technical Sidemount?
Sidemount diving is one of the most exciting developments in scuba  for many years. It combines the advantages of streamlining, flexibility, redundancy and safety into an easy-to-transport configuration, that can be used easily with standard scuba tanks from any dive center.
For divers who operate within the overhead environment (wreck and cave), it provides an exceptionally low-profile method to carry necessary gas, whilst allowing penetration within the most confined spaces.
How can Sidemount be amalgamated into my technical dive training?
Once qualified as a technical sidemount diver, all subsequent technical training can be conducted in sidemount configuration.
What equipment do I require..?
Below is a list of the equipment you require for making technical dives in sidemount configuration, you may bring your own, or I can supply it for you. If you alredy have sidemount kit, I can assist you with refining the configuration for the most benefit during the course:
Mask, Fins & Suitable Exposure Protection

2 Primary Regulators and 1st Stages

1-2 Deco Regulators

1.5 to 2m long regulator hose

Sidemount Harness & BCD (approved by instructor prior to the course) See List of Sidemount BCDs

Dive Tables or Laptop Technical Dive Planning Software

2 x Depth Gauge & Dive Timer (or Dive Computer)

Cutting Device or Knife

Slate with Pencil

Two Surface Signaling Devices (whistle & SMB or signal mirror)

DSMB and Reel (of sufficient length to deploy at planned bottom depth)

Compass

Pocket

Configuration Equipment (spare bungee, double ended bolt snaps, cable ties and mouthpiece)
Contact me to discuss your training requirements.
 Read / Download the Sidemount Course Brochure