Andy Davis Technical Diving
Tech – Trimix – Sidemount – Advanced Wreck
Subic Bay, Philippines and across Asia…

Sidemount, Technical and Wreck – Courses, Workshops and Clinics
Your personal mentor for accelerated diving performance!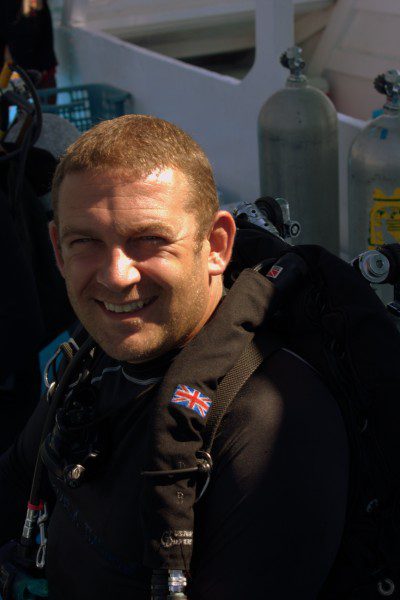 My name is Andy Davis, and I am an independent technical scuba diving instructor and diving author; providing technical, sidemount and specialist wreck diving courses on demand throughout Asia.  I have over 22 years experience diving, 6000+ dives,  in over 32 countries, on five continents around the globe.
I've been a passionate wreck diver since I first learned to dive.. and have enjoyed exploration diving upon the wrecks of Scapa Flow, the English Channel, the Mediterranean and Red Seas and technical deep wreck expeditions throughout Asia.   I hold diving qualifications with seven different agencies, including recreational and technical instructor ratings with PADI, TecRec, ANDI, BSAC and SSI.  For the last 8 years, I have specialized in teaching sidemount technical wreck diving – a discipline that I am extremely passionate about. 
 I am one of very few technical instructors in Asia qualified to teach 4 different sidemount courses, provided through PADI, TecRec and ANDI, at recreational, technical and advanced overhead environment levels.  This diversity enables students to select the perfect course for their needs – whether it is basic open water sidemount, technical decompression sidemount or sidemount advanced/technical wreck penetration.
I also work in conjunction with the Philippines Underwater Archaeological Society (PUWAS), consulting on wreck identification projects and surveys; along with product design consultancy with technical and sidemount equipment manufacturers.
Considering lessons?  Read: How to Select a Technical Diving Instructor?
Whilst I specialize in teaching deep, trimix, staged-deco, sidemount, wreck penetration diving,.. I also offer my expertise and experience to provide world-class skill development programs; aiming to help novice to intermediate level divers become more skillful, confident and comfortable in the water.  All of my training is based on a "beginning with the end in mind" philosophy, so expect strong focus on foundational skills and the development of a training platform that enables you to be better prepared for diving at higher levels in the future…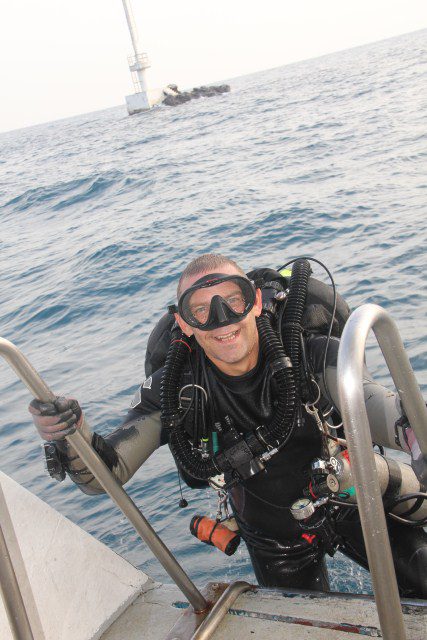 Subic Bay, Philippines
The majority of my training courses are held in Subic Bay, Philippines.  Subic provides convenient, year-round, access to a diversity of world-class, historically significant, ship and aircraft wrecks – within both recreational and technical depth ranges.  There are a wide range of resorts, hotels and non-diving entertainments to suit any budget, a wide choice in local and western restaurants…and some very tranquil beaches.  I am happy to provide students with expert advice on accommodation and transport options when they are planning their visit.

I can also host courses at any destination world-wide, subject to additional travel and accommodation expenses.  Just contact me to discuss what I can provide at the location of your choice. 
Latest Articles and News Feed:
All of my training courses, regardless of level, focus upon the benefits of highly developed foundational core skills, precision dive planning and the development of ingrained, reliable emergency responses through diligent and realistic practice. I encourage self-awareness, a sense of personal responsibility for safety and the formation of sound team-diving methodologies.
A positive mindset is the doorway to expanding your underwater frontiers – and this mindset must first start with the instructor. Throughout my experience as a diver and scuba educator, I have striven to  identify the most proven procedures, the most effective techniques and efficient equipment configurations.  In doing so, I have remained open-minded on different approaches to diving 'best-practice'; seeking training with numerous scuba agencies and world-class instructors.
So, it doesn't matter whether you are taking a class on decompression diving, sidemount wreck penetration or a humble open-water diver course… my goal is to provide you with a world-class education that encompasses the latest and most proven, effective training that the scuba industry has to offer.
All of my exclusive courses include extensive pre-course consultation; to help you get your equipment and skills optimized before you arrive. I include FREE primer ebooks to guide you with equipment purchase and configuration, on payment of deposit.
Personal and consultative scuba education
My approach is a consultative and personalized service for divers that are seeking the highest quality training, at an affordable and cost-effective price. Whilst primarily sought-after by experienced and/or technical-level divers, I am happy to work with novice and intermediate recreational divers; to super-charge their performance and comfort in the water.
I won't deny that my courses are challenging – I will certainly push you to achieve the best results that you can.  But we also have a great deal of fun in the process. Every course is unique to the individual student; their strengths, weaknesses and goals.  I create safer and more skillful divers, whatever course you enroll on. You will accomplish results that you can be proud of and be certain that you have the best tuition available.
Multi-agency, global, technical diving experience
I can provide globally recognized certification courses, personal mentoring, skills clinics or group workshops at any location desired – although I do highly recommend Subic Bay as the perfect training location for wreck-diving based activities.
In addition to wreck explorations and teaching advanced diving courses, I am an active scuba writer, a published underwater photographer, advanced diving course author, former military sport scuba instructor and scuba equipment (sidemount) manufacturing consultant.
A passion for diving education
My passion is teaching the highest quality advanced diving courses and developing superior quality divers. I only run small, tailored classes, or one-to-one private mentoring… and I bring the full breadth of my extensive experience and teaching ability to that training.  There's nothing 'off-the-shelf' about my training approach… and I don't run through classes adhering to a simplistic 'tick-list' of minimum skill requirements. I teach you to dive… excellently… at whatever level you are studying.
Read/Download the Wreck Courses Brochure
Read / Download the Sidemount Course Brochure
Read/Download the Technical Courses Brochure


Here is what I have to offer, for those divers who want more out of their training:
PADI Sidemount - Deep - Wreck - Nitrox courses - run with technical diving expertise
PADI TecRec  - Discover Tech - Tec Sidemount – Tec Wreck
PADI TecRec  - Tec40 – Tec45 – Tec50 – Tec65 – Tec Trimix
ANDI SafeAir, Sidemount, Advanced Sidemount (Overhead) and Technical Wreck qualification
Pre-Tech Core Skills Development Clinics -

improve your diving or get ready for the next step

Private entry-level training (OW/AOW combo) - l

earn to scuba safely & confidently from day 1.

All PADI specialty courses,

exclusive, expert and tailored for YOUR skill level and goals

Exclusive workshops in Gas Management, Precision Diving &  Fundamental Skills
Personal Coaching Sessions –

one-to-one private mentoring to develop your diving skills