Tec40
Tec40 Course Outline -
The Tec40 subcourse of the TecRec 'Tech Deep' program is a limited, entry-level technical diving program that bridges the gap between recreational diving and full technical deep decompression diving. Certified Tec40 divers are qualified to make limited decompression dives using equipment that is more extensive than that used in recreational diving
Perfect for -
Recreational divers looking for entry into technical diving
Limited non-accelerated decompression, with one deco tank
Deco gas >50% O2
Tec40 Prerequisites -
Advanced Open Water Diver
Nitrox and Deep Diver
18 years or over
30 Logged Dives (inc 10x Nitrox & 7x >30m)
Tec40 Course Content -
Knowledge Development and exam
3xPractical Applications
4x Open Water Dives(3 cylinders)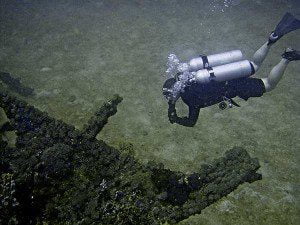 ---
Course Duration
4 days* with classroom, practical workshops and 4 dives
Day 1 – Classroom theory, equipment workshop and practical applications
Day 2 – Skills training dives 1 – 2
Day 3 – Classroom theory and practical applications
Day 4 – Technical dives 3 –  4
*A 5 day program is recommended if you prefer a more relaxed training program or more time to refine skills.
Pre-study of course materials/completion of knowledge reviews can shorten the course duration. This is highly recommended. You may obtain your own copy of the TecRec 'Tech Deep' manual in advance, or I can email handouts/reviews.
The course is performance based, not time based. Performance requirements for each section must be satisfied to allow progression and certification.
---
Tec40 Training Dives -
Training Dive One
Environment: Confined water or limited open water
Depths: Minimum: 2.5 metres/8 feet
Maximum 10 metres/30 feet
Decompression: No stop only
Gases: Air, EANx up to EANx50
Ratios: 6:1
Training Dive Two
Environment: Open water
Depths: Minimum: 10 metres/30 feet
Maximum: 18 metres/60 feet
Decompression: No stop only
Gases: Air or EANx up to EANx50.
Ratios: 6:1
Training Dive Three
Environment: Open Water
Depths: Minimum: 15 metres/50 feet
Maximum: 27 metres/90 feet
Decompression: No stop only
Gases: Air, EANx up to EANx50
Ratios: 4:1
Training Dive Four
Environment: Open Water
Depths: Minimum: 26 metres/85 feet
Maximum: 40 metres/130 feet
Decompression: Up to 10 minutes total decompression time based on breathing bottom gas throughout the dive (no accelerated decompression)
Gases: Air, EANx up to EANx50
Ratios: 3:1
---
 Tec40 Equipment Requirements
Double cylinders of at least 12 l/70 cf each, with isolator manifold.
The isolator manifold is not required for divers using sidemount configuration.
Primary and secondary regulators for back mounted double manifolds, one
with two metre/seven foot hose for air sharing and one with SPG. Note: In sidemount configuration, one regulator must have the two metre/seven foot hose, and both regulators must have an SPG.
1x Stage/decompression cylinder with regulator and SPG, with proper labels/markings.
Tec diving BCD(s) and harness (backmount or sidemount)
Two multigas enriched air capable dive computers, or one multigas enriched
air computer and a back up single gas computer with dive tables, or one single gas enriched air computer and a backup timer and depth gauge with dive tables.
Exposure suit appropriate for environment and dive duration
Weight system (if needed). Note: Students and staff should weight for the contingency of decompressing with near-empty primary cylinders and empty or absent stage/deco cylinders
Jon line (as needed for environment)
Inflatable signal tube, whistle and/or other visual and audible surface signaling devices. Note that a sausage type DSMB may double for the inflatable signal tube.
Reel and lift bag (bright yellow preferred) or DSMB. A suitable DSMB has sufficient buoyancy to help steady a diver during a drifting decompression, and is unlikely to spill when deployed from the underwater.
Knife/cutting device and back up
Slate
Back up mask (optional)
Compass
Lights (optional – as required for dive environment)
Backup buoyancy control – the student must have a reliable means for controlling buoyancy and maintaining decompression stops in midwater with a failed primary BCD. This is usually accomplished with a backup BCD (double wings)
---
Assessment of Technical Dive Training Readiness
In preparation for the course and before beginning open water dive training, there will be an informal assessment of the potential student's skills and comfort level in water, along with a general assessment dive knowledge. If the potential student appears to lack dive readiness appropriate for the training level, remedial training will be offered before training progresses.
Contact me to discuss your training requirements.
Read/Download PDF Tech Courses Brochure