Tec50
Tec50 Course Outline
The Tec50 subcourse of the  Tec Deep course introduces Tec45 divers to the first stages of extended range decompression diving. Certified Tec50 divers are qualified to make unlimited decompression dives using air, EANx and oxygen; with three or more gases for accelerated decompression.
The Tec45 diver enters this course with a strong knowledge and skill base. The Tec50 course extends these, expanding existing skills and with an added emphasis on mission planning and execution.
Perfect for –
Technical divers seeking extended bottom time up to 50m
Unlimited accelerated decompression, >100% O2
Use of a two, or more, decompression stage cylinders
Tec50 Course Content –
Knowledge Development and exam
Practical Applications
4x Open Water Dives (4+ cylinders)
Tec50 Prerequisites –
Tec45 Diver, or equivilent
100 Logged Dives (20x EANx 18+m / 15x 30m+)
18 years or over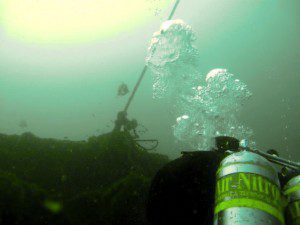 ---
---
Tec50 Equipment Requirements –
Double cylinders of at least 12 l/70 cf each, with isolator manifold or sidemount.
The isolator manifold is not required for divers using sidemount configuration.
Primary and secondary regulators for back mounted double manifolds, one
with two metre/seven foot hose for air sharing and one with SPG. Note: In sidemount configuration, one regulator must have the two metre/seven foot hose, and both regulators must have an SPG.
2x Stage/decompression cylinders with regulator and SPG, with proper labels/markings.
Tec diving BCD(s) and harness (backmount or sidemount)
Two multigas enriched air capable dive computers, or one multigas enriched
air computer and a back up single gas computer with dive tables, or one single gas enriched air computer and a backup timer and depth gauge with dive tables.
Exposure suit appropriate for environment and dive duration
Weight system (if needed). Note: Students and staff should weight for the contingency of decompressing with near-empty primary cylinders and empty or absent stage/deco cylinders.
Jon line (as needed for environment)
Inflatable signal tube, whistle and/or other visual and audible surface signaling devices. Note that a sausage type DSMB may double for the inflatable signal tube.
Reel and lift bag (bright yellow preferred) or DSMB. A suitable DSMB has sufficient buoyancy to help steady a diver during a drifting decompression, and is unlikely to spill when deployed from the underwater.
Knife/cutting device and back up
Slate or Wetnotes
Back up mask (optional)
Compass
Lights (optional – as required for dive environment)
Backup buoyancy control – the student must have a reliable means for controlling buoyancy and maintaining decompression stops in mid-water with a failed primary BCD. This is usually accomplished with a backup BCD (double wings)
Assessment of Technical Dive Training Readiness
In preparation for the course and before beginning open water dive training, there will be an informal assessment of the potential student's skills and comfort level in water, along with a general assessment dive knowledge. If the potential student appears to lack dive readiness appropriate for the training level, remedial training will be offered before training progresses.
Contact me to discuss your training requirements.
Read/Download PDF Tech Courses Brochure