Technical Wreck Course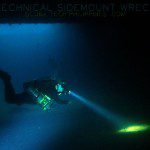 The Technical Wreck course aims to develop the skills, knowledge and procedures required for technical level divers to operate safely in the overhead wreck environment. The course focuses on penetration and guidelines skills, along with a team approach for safe and controlled exploration inside areas of shipwrecks that pose significant hazards.
The course explains the dangers, risks, mitigating procedures and necessary techniques involved while technical diving in the overhead wreck environment, going beyond the daylight zone, beyond 40m/130ft linear distance from the surface, through restrictions and in confined spaces.
---
 In a nutshell:
Course Goal:  Technical Wreck Penetration
Course Duration: 5-6 Days
Number of Dives: 5 minimum
Key Areas:  Advanced Dive Planning, Guideline Deployment and Retrieval, Team Skills, Situational Awareness, Lost Line Emergency Protocol, Lost Diver Emergency Protocol, Entanglement Protocol, Cut/Snapped Line Protocol, Visual and Tactile Communications, Air-Sharing Egress, Passage Through Restrictions, Zero Visibility Drills, Light-Failure Protocol..
Course Cost: See Price List
Certification: Satisfactory completion of this this awarded with either RAID Technical Wreck or TecRec Technical Wreck qualification
Read on for more detailed course information…
See an example course video…. HERE
The Technical Wreck course places a high emphasis on the refinement of core (technical) diving skills: buoyancy, trim, weighting and situational awareness. In addition, it focuses on the management of high tolerance task loading, stress control and the development of effective team diving skills in limited/zero visibility.
Put simply; this is one of the most challenging, highly demanding courses that you could ever take… but also, without doubt, one of the most personally satisfying and rewarding!
Prerequisites
RAID Deco 50 or equivalent
18 Years old
Register for FREE at www.diveraid.com
Note: This is a very advanced level, equipment intensive training program that represents an apex in diver ability and training. The certification awarded indicates the highest level of diving expertise and experience. In order to maintain the caliber of course graduates, additional practice dives under instructor supervision, may be required before certification will be awarded.
---
Course Duration (TecRec or RAID)
4 days* with classroom, practical workshops and 6 dives
*A 5-6 day program is recommended if you prefer a more relaxed training program or more time to refine skills.
The course is performance based, not time based.
---
---
Assessment of Technical Dive Training Readiness
In preparation for the course and before beginning open water dive training, there will be an informal assessment of the potential student's skills and comfort level in water, along with a general assessment dive knowledge. If the potential student appears to lack dive readiness appropriate for the training level, remedial training will be offered before training progresses.
Contact me to discuss your training requirements.