Advanced Wreck Course
INTRODUCTION
The RAID Advanced Wreck course provides truly advanced-level wreck penetration skills to experienced divers at a recreational level.  It is totally overhead environment focused and goes well beyond the introductory wreck training typically provided on other agency wreck diver specialty programs (such as the Basic Wreck Diver course).
The exclusive 4-day advanced wreck course is well suited to experienced recreational divers and those seeking comprehensive wreck penetration diving skills, along with access to more refined equipment configurations and gas options.  It can be defined as 'advanced recreational' or 'tecreational' level training.  It is also designed to provide a solid foundation for higher level wreck penetration training (technical wreck).
All training is completed with Andy Davis, renown technical wreck instructor with over 27 years wreck diving experience across the globe.  This course features skills and protocols typically only seen on elite level technical wreck courses.
---
COURSE GOALS
Use of redundant breathing systems ('Intro-to-Doubles' included on the course, if desired)
Precision Dive Planning and Gas Management
Team Diving Skills and Effective In-Water Communication
Wreck Emergency Protocols and Procedures
Penetration Guideline and Overhead Environment Emergency Skills
Training dives include; One (1) Confined Water and Six (6) Training Dives.  Penetration is permitted within the light zone only, in clear view of an unobstructed exit point and no restrictions where divers cannot pass through together whilst sharing air
---
COURSE PREREQUISITES
RAID Advanced 35 or equivalent
15 Years of age
Register for FREE at www.diveraid.com
---
COURSE SCHEDULE
This is a 4 day course, consisting of one shallow water skills module and 6 dives.
Day #1
Morning – Theory, Equipment and Dry Skills
Afternoon – Confined Water: Wreck Fundamental Skills
Day #2
Morning – Two Dives:  Communication and Emergencies + Penetration Research
Afternoon – Confined Water:  Redundant Gas Use (doubles or single + pony)
Day #3
Morning – Two Dives:  Guideline and Team Drills + Wreck Penetration Dive
Afternoon – Dry Skills and Rehearsal
Day #4
Morning – Two Wreck Penetration Dives
Afternoon – Final debrief
All skills developed during this program are applied cumulatively; so the skills learned on the first dive will be applied on each successive dive. A high standard of mastery is applied throughout the entire program and certification is entirely performance-based.
---
COURSE THEORY
– Why wreck dive?
– The nature of wreck diving
– How to access wrecks properly
– How to choose appropriate wreck sites
– Choosing instruments for wreck diving
– Advanced Wreck diving equipment
– Wreck penetration
– The parameters of wreck diving
– RAID's 10 point guide to wreck diving
– Buddy System and Wreck Diving
– Specialty Equipment for Wreck Diving
– Lines and Reels (Advanced)
– Navigating Wrecks
– Basic Mapping and Surveying
– Dangers and Risks with Wreck Diving
– Emergency Procedures for Wreck Diving
– Logging Wreck Dives
– What you can do to further your knowledge and skill
---
COURSE DRY SKILLS TRAINING
Gas Analysis and record keeping review
Precision dive planning for safe wreck diving
Equipment configuration and stowage
Use of primary guideline reel and safety reel
Entanglement procedures
Loss of guide line procedures
Loss of buddy procedures
Light failure procedures
Loss of breathing gas & gas sharing procedures
Silt out conditions or loss of visibility procedures
---
ADVANCED WRECK SKILLS
Wreck orientation and layout
Non-Silting Propulsion
Pre-penetration Safety Drill
Guideline reel handling, line laying and line awareness
Guideline penetration skills, including;

Team following of guideline
Out-of-gas/air-sharing guideline exits
Zero visibility, touch contact, team guideline exits
Out-of-gas/air-sharing guideline exit in zero visibility

Penetration emergency procedures, including;

Lost buddy
Loss of line
Entanglement
Emergency Gas Sharing
Light failure
Valve manipulation

Ascent Procedures
Wreck Penetration Exploration inside the light zone
---
COURSE COMPARISON
I offer three recreational wreck courses. To help prospective students choose the course that most fits their needs, the table below contains the outline details of the courses I run: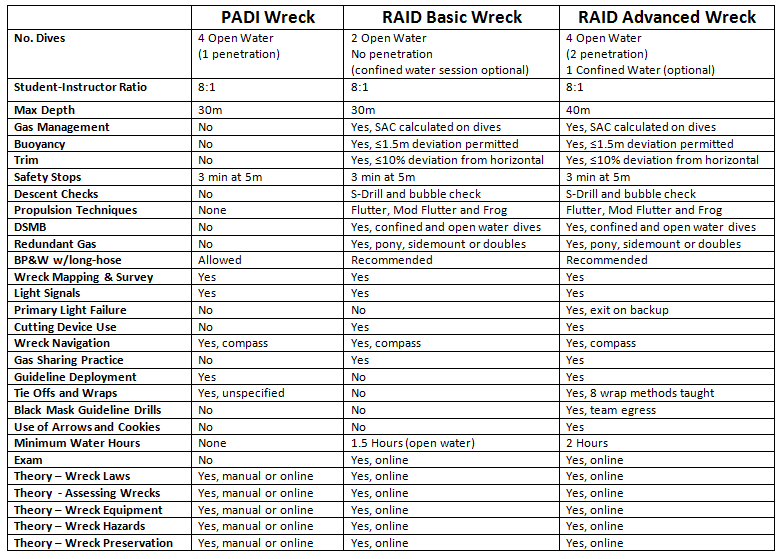 ---
COST
$950USD for 4 Days Tuition and Diving
maximum 3 per course
equipment rental included (backplate/wing BCD single/doubles)
add nitrox certification for FREE
not including nitrox gas fills (at extra cost)
cost doesn't include RAID registration and eLearning
private one-to-one coaching available
---
TO BOOK TRAINING
For more details, or to schedule a course, please CONTACT ME