Technical Diving Courses
What is Technical Diving?
Technical diving can be defined as: diving other than conventional commercial, military or scientific diving, that takes divers beyond recreational diving limits. It is further defined as an activity that includes one or more of the following: diving beyond 40 meters/130 feet, required stage or accelerated decompression, diving in an overhead environment beyond 130 linear feet from the surface and/or the use of multiple gas mixtures in a single dive Because technical diving exceeds the scope of recreational diving, technical divers require advanced training, extensive experience, specialized equipment and often utilize breathing gases other than air or standard nitrox.  
I offer the full spectrum of technical training from entry-level tech to advanced trimix, and also trimix gas blender. All courses can be completed in backmount or sidemount.   With over a decade of experience teaching technical diving as a full-time career via several agencies, I always ensure that the highest global standards of certification are maintained. These courses are challenging and result in a performance that you'll be proud of.
---
What training is available?
I offer a full range of technical training that runs from pre-tech preparation to advanced trimix diving via RAID. 
---

Technical Performance Diver
This intensive course provides dedicated practice on technical level fundamental skills, like buoyancy, trim, propulsion, emergency protocols and DSMB deployment.
Completion of the Performance Diver course is excellent preparation for technical and overhead environment training – and will certainly increase your chance of success.
It is also very beneficial proficiency development or remedial training for already qualified technical divers seeking to improve their skill-set.
Candidates can use single-tank (Hogathian backplate/wing), sidemount or twinset/doubles.  Qualified divers of any level can attend this training.
Please click Performance Diver Course for more details.
---
Deco40 – Introductory Trimix Tech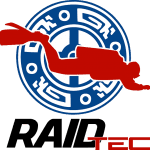 The RAID Deco40 is the first step into technical decompression diving. It qualifies the diver to use normoxic/hyperoxic trimix and one decompression gas for challenging dives down to 40m depth.
This course includes an all-day skill development workshop, along with 5 intensive technical training dives that introduce you to high performance team diving for accelerated decompression.
Duration:  5 Days
Includes: Theory, Fundamentals, Deco Protocols and 5 dives minimum
PREREQUISITES
To be a minimum of 18 years old

RAID Explorer 30 or Advanced 35 (or equivalent) certified

RAID Nitrox Diver, Deep 40 (or equivalent) certified

Be a certified diver for at least 3 months.

Have logged 20 hours underwater or 40 dives using

open

circuit.

Sidemount qualified or conduct intro-to-doubles training
Click HERE for more details.
---
Deco50 – Trimix Technical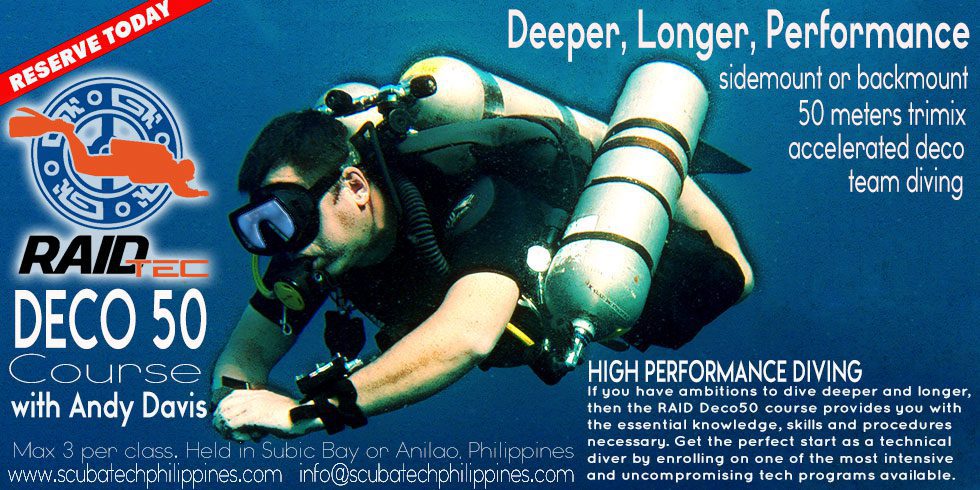 The RAID Deco50 is very prestigious and highly recognized decompression diving course that qualifies the diver to use normoxic trimix and one decompression gas for challenging dives down to 50m depth.
This course includes 8 intensive training dives that allow you to gain confidence and proficiency with the right equipment, protocols and drills.
Duration:  6-8 Days /  Dives:  8 minimum
Prerequisites:
Be a minimum of 18 years old.

Be certified diver for at least 3 months.

Certified as a RAID Enriched Air Nitrox, Deep 40 and Master Rescue Diver (or equivalent), and have experience in Navigation and Night/Restricted Visibility diving.

Must have logged at least 5 hours between 27– 40 m.

Submit current Rescue Breathing, CPR Training and Oxygen Provider certificates.

Have 50 logged hours underwater.
Click HERE for more details.
---
Deco60 – Trimix Extended Range
Coming soon in 2019
---
The Need For REAL Expert Instruction!
Talk to any experienced technical diver and they will assure you that, when it comes to technical diving, the quality, specific -active- experience and motivation of an instructor is everything. In an era of fast-track 'zero-to-hero' technical instructor courses, the prospective student needs to be extremely discerning in their selection of a training provider and mentor.
With over a quarter-century of advanced diving experience, across 5 continents, specializing in technical wreck diving, qualifications from multiple technical agencies and a pedigree as a technical diving author and course designer; you can be assured of receiving the most comprehensive, world-class instruction and the highest of standards.
I exclusively dive sidemount, technical and wreck… day-in, day-out… and have done so for over 15 years…and I live to teach!