APEKS WSX-25 Sidemount
Pre-Release Review
Apeks are due to soon release the WSX-25 Sidemount BCD and harness.  Early promotional photographs and details of the rig show what may be a very promising and popular sidemount BCD once it reaches the commercial market.
The Apeks wing offers 27lbs / 12 kgs of buoyancy, making it suitable for all recreational and some limited technical diving applications.  It features a two-plate (spine / lumbar) harness with continual webbing.  Sizing is universal as the harness can be greatly adjusted, along with the wing and weight system, via multiple grommets at attachment points.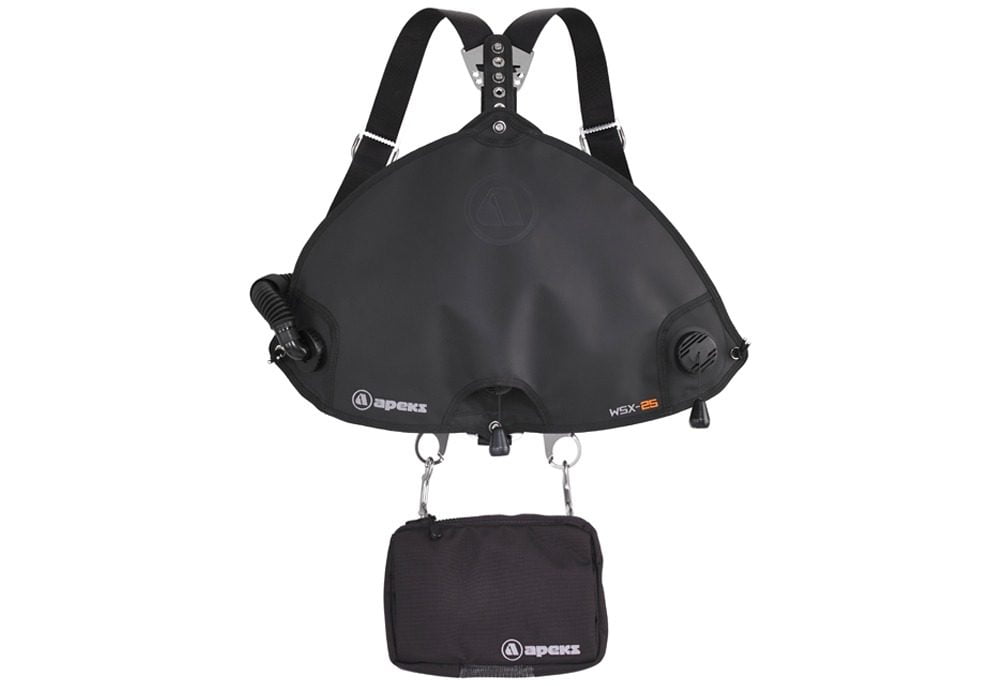 The Apeks WSX-25 sidemount bladder is constructed from  Armoguard; a very tough material normally used in military and public safety diving products. It is ten times more abrasion resistant than standard Cordura; meaning that the Apeks WSX-25 sidemount is likely to be the toughest sidemount wing on the market.  A good thing for those involved in challenging overhead environment diving, where constant passage through small restrictions inevitably and quickly abrades the sidemount wing.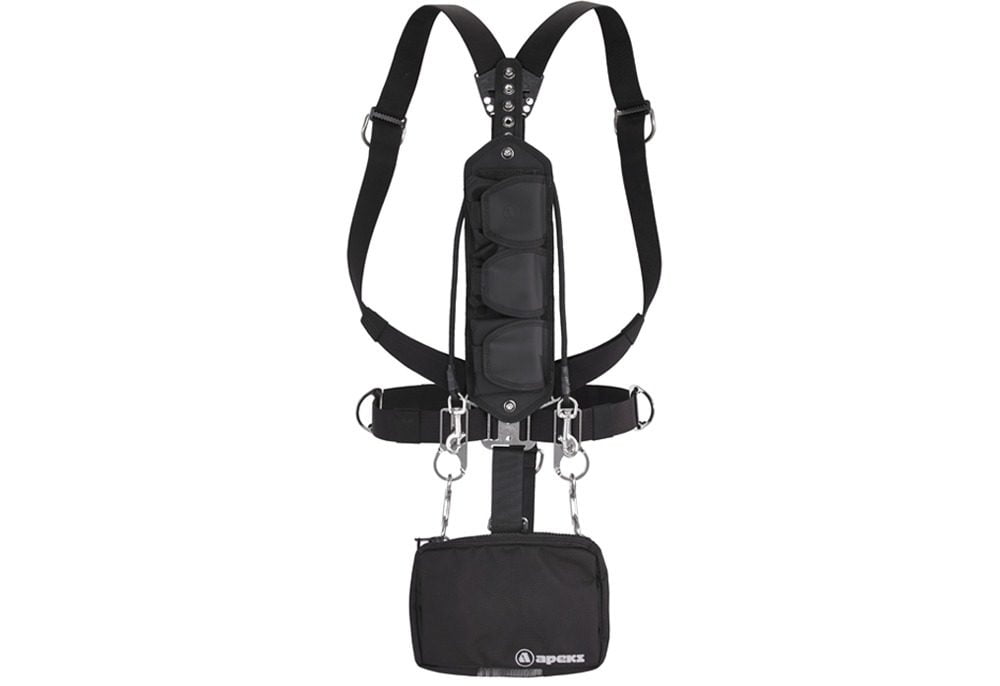 The Apeks WSX-25 comes with sliding waist D-Rings as standard.  These are an often sought-after private upgrade by serious sidemount divers; as they allow a more 'fluid' and exact approach to attaining proper cylinder trim (as opposed to simply moving cylinders from a back attachment to a forwards attachment).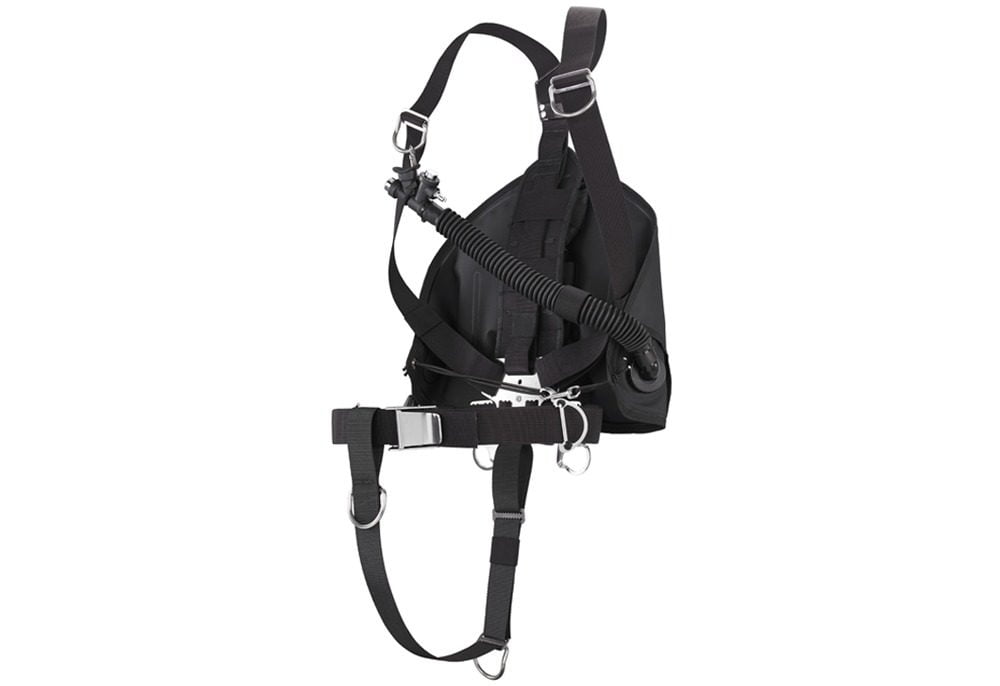 The Apeks WSX-25 sidemount comes complete with a zippered butt pouch for essential storage. This is the most popular approach for storage with sidemount divers, as thigh pockets are often obstructed by cylinders and/or cause 'A-frame' effect pushing the cylinders out and away from the legs.
The sidemount system also includes a spine weight system allowing a total of 18lbs/9k of weight (3x 3kg pockets) to be quickly and easily added or removed from the rig.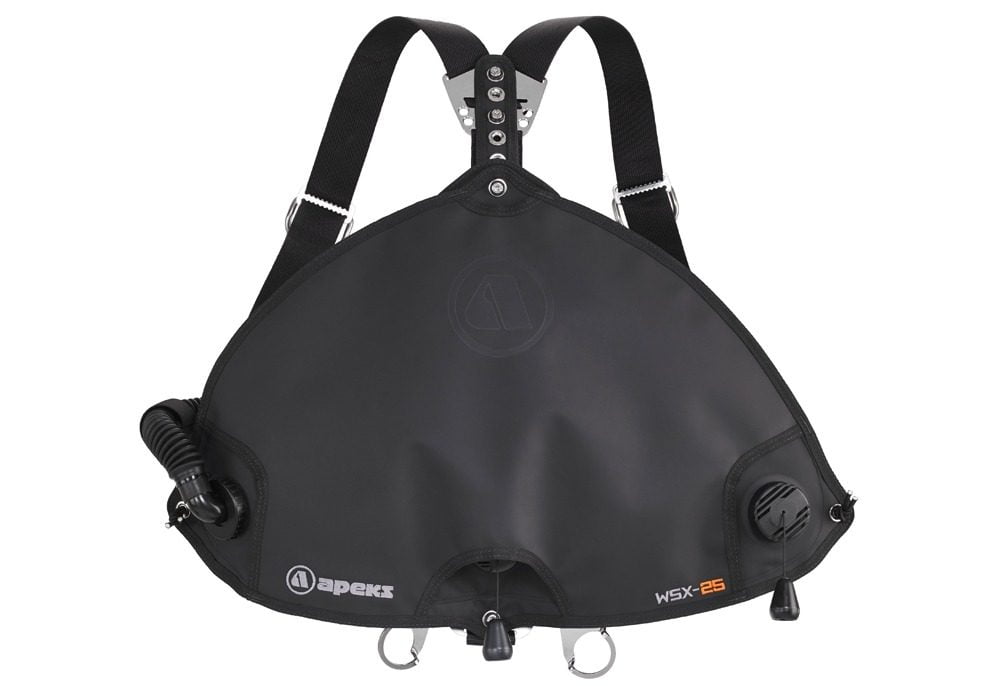 The Low Pressure Inflator (LPI) can be mounted on either side of the wing, as there are corresponding OPV (over-pressure valve) on the left side.  There is also an OPV at the centre-rear of the wing that is cleverly shielded from abrasion by an overlap of the tough fabric.  The LPI and left-OPV remain exposed to abrasion and damage however….
Overall, this looks like a truly exceptional sidemount system and I am certain it will receive good reviews once it is on full release later in 2015.  I expect it to have a higher retail price-point than some of the other popular sidemount BCDs on the market; but this is, at least, justified by the above-par materials and design-effort that has gone into the system.
I am very much looking forward to getting my hands on one for a trial when they reach the Philippines.
 For more details, see the Apeks Website:  Apeks WSX-25 Sidemount