SEAC Sidemount BCD
The SEAC Sidemount BCD KS01 looks like a warm-water configuration. With ~20 lbs of buoyancy, it is in competition with the Hollis SMS50, UTD Z-Trim and IST SMB-21 rigs. I expect the BCD is aimed firmly recreational sidemount market, with a small wing and compact design.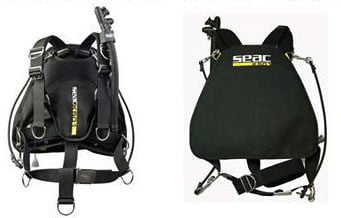 I studied the promotional materials for the Seac KS01 carefully but found no indication they'd considered the need for rear D-rings to attach a sidemount pouch, spools or DSMB, etc. This seems a glaring omission for equipment that may have "tecreational uses". This will be a serious impediment for sidemount divers who wish to clip off reels, DSMB or butt-bags to their rear.
The harness is firmly "Florida-style" in design, with no adjustability for spine length. A harness system evolved for diving steel cylinders is very inappropriate for a wing which cannot handle more than lightweight aluminium cylinders.
There is generous back padding, for those who want it, although I am told the padding tends to "conflict" with the webbing around the lumbar plate region. The wing looks nice and streamlined, but the enormous vertically-routed LPI seems like it'd become annoying within minutes of getting in the water.
The shoulder straps are stitched directly into the wing, which prevents alternative rigging configurations and that also creates an area of weakness. Frayed examples have been seen at dive sites.
I was told that SEAC is consulting a seasoned Florida cave instructor for potential upgrades to a future version.
From the manufacturer:
Buoyancy jacket dedicated to side mount diving for all levels: from beginner to expert "cave diver". The jacket's light weight and freedom of movement are enhanced thanks to the exclusive "Quick Adjusting System" harness: a shoulder strap system with neoprene protection can be adjusted independently by the running tri-glide. Other features include 3 Trim Pockets that can hold 4 lbs (2 kg) each under the back cover (two positions below and one above to enable easier buoyancy management while diving), the sternum and crotch strap adjustment with 2 in (50m m) straps.
Covering of outer bladder: Ironman fabric with high resistance to abrasion and cutting – Outer bladder material: Cordura 500 3D – Inner bladder material: Cordura 500 – Dump valve: 1 with three pull commands – D-rings: 6-2in (50 mm) in stainless steel – Dry weight (Size L): 3.3lbs (1500 g).
Review: Diver Magazine
---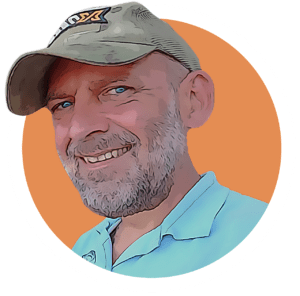 About The Author
Andy Davis is a RAID, PADI TecRec, ANDI, BSAC, and SSI-qualified independent technical diving instructor who specializes in teaching sidemount, trimix, and advanced wreck diving courses.
Currently residing in Subic Bay, Philippines; he has amassed more than 10,000 open-circuit and CCR dives over three decades of challenging diving across the globe.
Andy has published numerous diving magazine articles and designed advanced certification courses for several dive training agencies, He regularly tests and reviews new dive gear for scuba equipment manufacturers. Andy is currently writing a series of advanced diving books and creating a range of tech diving clothing and accessories.
Prior to becoming a professional technical diving educator in 2006, Andy was a commissioned officer in the Royal Air Force and has served in Iraq, Afghanistan, Belize, and Cyprus.
---
Originally posted 2013-11-07 11:08:58.