Sidemount Diving – The Almost Comprehensive Guide
 book release by author Rob Neto
Rob Neto, the highly regarded sidemount and cave instructor is releasing his first book, 'Sidemount Diving – The Almost Comprehensive Guide' in the next few weeks.
The book looks likely to be the first comprehensive and technically insightful publication released on sidemount diving; being of interest to sidemount divers of all levels, instructors and divers, recreational, technical and cave.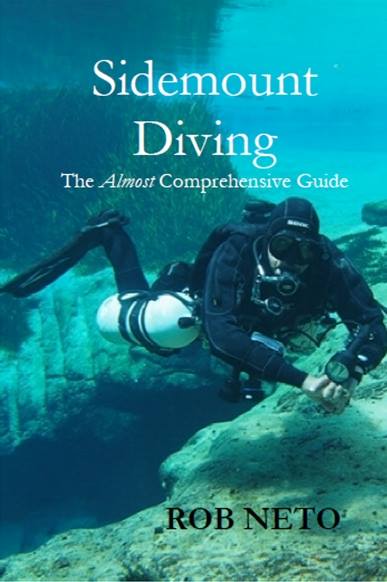 'Sidemount Diving – The Almost Comprehensive Guide'' includes an in-depth history of the evolution of sidemount diving techniques, along with advice on how to choose the correct system for your individual needs.  There is information on sidemount stage diving, negotiating restrictions, no-mount techniques and boat diving sidemount.
  For more information, see Sidemount Diving BookSidemount Diving – The Almost Comprehensive Guide
Title:  Sidemount Diving – The Almost Comprehensive Guide
Length: 120 pages
Format;  Paperback and eBook
Price:  US Price for the book will be $39.95 plus shipping.
Available From:  Initial Stockists are Dive Gear Express     Amaxon and other online book retailers will also soon stock it.
About the Author:Rob Neto has been sidemount diving for over a decade. Over the years he has experimented with various methods and currently uses three different sidemount rigs depending on the environment. Rob currently lives in Greenwood, Florida, located in Jackson County, just minutes from some of the best cave diving in Florida. He is an avid cave diver and cave explorer. Rob has extensive experience diving both steel and aluminum cylinders, using multiple stage cylinders, and sidemounting his rebreather bailout cylinders. He is an active scuba instructor and teaches a customized, photograph feedback sidemount course.
Contents:
Preface i
1 Why Sidemount? Pg 1
2 Choosing a Sidemount Rig Pg 7
3 Choosing Your Cylinders and Setting Them Up Pg 15
4 Customizing Your Sidemount Rig For You Pg 37
5 Trimming Out in Sidemount Pg 53
6 Basic Skills in Sidemount Pg 67
7 Sidemount, Stage, and Decompression Cylinder Skills Pg 75
8 Sidemount Accessories Pg 87
9 Sidemount and Rebreathers Pg 94
10 Advanced Cave Sidemount And No Mount Pg 98
11 Sidemount and Cave Conservation Pg 104
12 Sidemount and Boat Diving Pg 108
13 Monkey Diving Pg 114
14 History of Sidemount Diving Pg 118
15 Building Your Own Sidemount Rig Pg 122
In Summary Pg 127
Photo credits Pg 130