Tag Archive:
configure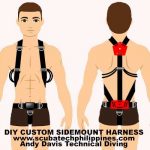 How To Build Your Own DIY Custom Sidemount Harness by Andy Davis It's pretty easy (and cheap!) to make a DIY custom sidemount harness for yourself. Configure it using THESE instructions. All the components can be bought off-the-shelf at any decent dive centre; with the exception of the sidemount shoulder and lumbar plates, which you'll […]
How To Set Up Sidemount Loop Bungees by Andy Davis I've found that sidemount Loop Bungees are the most popular with my students and offer the most refined cylinder trim, along with the easiest cylinder don/doff routine.  This option is getting increasingly more popular in the sidemount community, especially with those diving 'Mexican Cave' style […]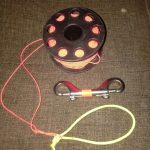 Bungee Secured Finger Spool Here's my approach to configuring a very secure, yet easy to deploy finger spool. It works well for overhead environment safety spool use, and is quick and intuitive to deploy, even in zero visibility. Originally posted 2018-11-05 06:10:15.