Philippines Travel Advice
Philippines travel advice for visitors – by an expat!
The second-largest archipelago in the world, with over 7000 tropical islands, the Philippines is one of the great treasures of Southeast Asia. Often overlooked by travellers because of its location on the 'wrong' side of the South China Sea, the Philippines rewards those who go the extra distance to reach it. And because it's off the beaten path, the Philippines is a great place to escape the hordes who descend on other parts of Southeast Asia.
Philippines Travel Advice – Things To Do
Natural Wonders
First and foremost, the Philippines is a place of natural wonders – a string of coral-fringed islands strewn across a vast expanse of the western Pacific. Below sea level, the Philippines boasts some of the world's best diving and snorkelling including wreck diving around Subic Bay and Coron, muck/macro photography in Anilao/Batangas and swimming with the whale sharks (known locally as 'Butanding') at Donsol, Southern Luzon and Oslob, Cebu.
Above sea level, the Philippines has a fantastic landscape with wonders enough to stagger even the most jaded traveller the Chocolate Hills of Bohol, Banaue & the Rice Terraces (another UNESCO World Heritage site) and fascinating reminders of the islands' history in places such as Samar & Leyte and Vigan. And if you're after palm-fringed, white-sand beaches, try laidback Sipalay or flat-out party town Boracay.
Adventure and Eco-Tourism
Adventure and eco-tourism feature highly on the Philippines' list of attractions.  The most popular adrenaline activities include; mountain/jungle trekking in North Luzon and spelunking in the cave systems of Samar.  Kitesurfing and windsurfing are popular in Boracay and in Daet, Bicol. Surfing is popular throughout the Philippines, but the best waves are said to be caught on the North-Eastern Luzon coast, around the La Union area. Grab a surfing lesson if you're in the area! River rafting and kayaking are also popular in many tourist areas.
Of course, any traveller who has been here will tell you that it's the people and their culture that make the Philippines unique. Long poised at the centre of Southeast Asian trade, colonized by a succession of world powers, the Philippines is a vivid tapestry that reflects its varied cultural inheritance. And despite the poverty that afflicts much of the nation, the Filipinos themselves are among the most ebullient and easygoing people anywhere. The Philippines truly qualifies as one of the last great frontiers in South-East Asian travel. Cross whichever ocean you need to and see for yourself!
Philippines Travel Advice – Scuba Diving
The Philippines is famous for being one of the best scuba diving destinations on the planet. It offers intense encounters with sharks, exceptional macro photography, rare 'muck' critters, splendid coral reefs and sunken armadas of historic shipwrecks. For specific information about the best diving destinations, see Philippines Travel Advice: scuba diving in the Philippines.
Philippines Travel Advice – Before Travelling
Visas, Customs and Arrival
Visas
Your passport must be valid for at least six months after arrival and you must be able to show proof of onward or return passage.
No visa is necessary for citizens of Australia, New Zealand, Canada, the European Union and the United States. Passport holders from these areas will be granted a visa-on-arrival for 21 days. Should you wish to extend your stay, a Visa Extension may be obtained before your trip from a Philippine Consulate or Embassy, or from the Bureau of Immigration in the Philippines or the many Immigration Sub-Offices scattered around the country.
Holders of Taiwanese Passports and Hong Kong Certificates of Identity must get a special entry permit.
From my experience, the smaller regional sub-offices tend to be far swifter and more convenient for visa renewal, compared to the megalithic main Bureau of Immigration at Intra-Muros, Manila. The sub-office at Subic Bay typically only takes 15-20 minutes to renew a holiday visa…and does so with a smile!
What are the Philippines customs and excise rules?
Entrance. Visitors are allowed to bring in a personal allowance of duty-free, including' two cartons of cigarettes/two tins of pipe tobacco and a maximum of 1L alcoholic beverages. There are no restrictions on the foreign currency you may carry.
Exit. The export of antiques requires a certificate from the National Museum. There are strict prohibitions on the transport of certain environmental products, particularly those associated with protected or endangered species. Also, you cannot take more than 5,000php currency out of the country.
What is the Philippines time zone?
The Philippines is GMT +8.
Health & Immunizations
The Philippines is a tropical country. It pays dividends to be familiar with the sensible precautions needed to remain disease and illness free during your visit here.
What health certificates are need to travel to the Philippines?
If travelling from known smallpox, cholera, and yellow fever-infected areas you will require an appropriate health/vaccination certificate.
What medical services like in the Philippines?
Medical services are variable in quality, but most major cities and tourist areas have medical provisions to international standards. Be wary in more remote areas and research appropriate medical support in advance.
What immunization is recommended for the Philippines?
Immunization against typhoid, polio, hepatitis A, and Japanese encephalitis is strongly advised. Visitors should also take appropriate precautions against malaria and dengue fever, as these are prevalent in many areas of the Philippines.
What is the malaria risk in the Philippines?
Malaria is less common in the Philippines than in other SE Asian countries. On average there are only 40,000 cases per year, typically restricted to a few small areas.
What is the dengue risk in the Philippines?
Dengue Fever is prevalent in the Philippines. Take precautions against mosquito bites. Seek medical aid if you develop a high fever.
What diseases are common in the Philippines?
Rabies is common in street animals in the Philippines. Get vaccinated and avoid contact with animals.
Hepatitis A and B is a high risk – get vaccinated and avoid contaminated water or sexual contact.
Japanese Encephalitis is a common risk – avoid swimming in contaminated water, esp in rural areas.
Leptospirosis contracted by exposure to contaminated water, especially with open wounds.
Tuberculosisis common in rural areas and contagious – avoid people who cough or look 'weak'.
Is water contamination a problem in the Philippines?
Tap water cannot be drunk. During periods of heavy rain/flooding pay particular care to any water source, as floods/rains can cause serious contamination. I use bottled water for all purposes (brushing my teeth etc) during these times.
Is food poisoning a problem in the Philippines?
In smaller restaurants and roadside food vendors, be careful about contaminated ice and food. I've witnessed many street-food vendors using the same marinade/brush on both raw and cooked food; it is a recipe for food poisoning.
Floods
Avoid walking through flooded areas, especially if you have open wounds. There are often outbreaks of disease in flooded areas, especially leptospirosis.
Philippines Travel Advice – Money
Money Access and Currency
Some basic understanding of the money situation in the Philippines can help prevent you from ever being in a situation without funds to pay a bill or suffering from a scam.
What is the currency in the Philippines?
The currency is the 'Philippines Peso' (PHP). A peso (P) is divided into 100 Centavos.
Coins come in denominations of P1, P5, P10 and P20. Smaller denominations of 1, 5, 10, and 25 centavos are available, but typically of little consequence to travellers.
Notes are available in denominations of 20, 50, 100, 200, 500 and 1,000 PHP.
What are the money exchange rates in the Philippines
Visiting the Philippines typically offers exceptional value for money to the traveller. The caveat to that is that the visitor should be aware of gross over-charging, especially by taxis/trikes and small vendors. This can inflate the cost of your holiday over time. Also, any imported goods (to the Philippines) are very expensive due to import taxes. This drives the costs up substantially in resorts and shops that supply 'western' goods.
Is it safe to use money changers in the Philippines?
All commercial banks, most large hotels, and authorized money changers (i.e. Sanry's in the Manila area) are typically safe to exchange foreign currency. Rates will vary, so you are advised to shop around if changing a substantial amount at one time.
Always retain a supply of 'small denomination notes and coins – because the phrase "sorry, no change" can often be heard.
What credit cards are accepted in the Philippines?
American Express, Diners Club, MasterCard and Visa credit cards are accepted in most resorts and major shops across the country; although you should research in advance if planning to visit more remote or small-island destinations. Smaller business may not have credit card facilities.
Are ATMs available in the Philippines?
ATMs are available in all major cities and most medium-sized towns. Banco De Oro (BDO), Bank of the Philippine Islands (BPI) and Metrobank have reliable ATMs, that seem to accept the widest variety of debit and credit cards. Most ATMs charge a 250php withdrawal fee and permit a maximum of two 10,000php withdrawals per day.
Be wary of ATMs emptying over public holidays or on 'end-of-the-month' pay-day weekends, especially outside of major cities. Many stand-alone ATMs also rely upon internet connections to process transactions. In areas where internet service is less reliable, outages can cause the ATMs to stop working.
Is Western Union available in the Philippines?
There are millions of Filipinos working overseas and most of these regularly send money back to their families in the Philippines. Western Union money transfer is the most popular method for doing this – and many countries have a very low-cost rate for sending to the Philippines (especially the USA, Hong Kong etc). It is worth considering using Western Union as a reliable means to send yourself money during a vacation. If you send large amounts, it can work out cheaper than withdrawing cash from an ATM. You can typically collect money in either peso (PHP) or US dollars ($). Western Union offices are plentiful around the Philippines. Payments can often be made via the relevant Western Union website for your home country/bank account and collected in cask from a Philippines office on production of valid ID.
Do you tip in the Philippines?
Tipping is not mandatory, but it is encouraged. Some restaurants include a service charge and require no tips. However, staff often work for minimum wage (approx 300php per day) so a small tip always goes a long way.
Another way to show you appreciate services – and have an understanding of the warm Filipino personality, is to bring with you some trinkets from home. Local diving staff, boatmen and the like, will always treasure a cap, t-shirt or keep-sake brought from your home country.
An equally appreciated way to show gratitude is via the giving of gifts. Gifts (called 'pasabulong') are a strong tradition in the Philippines. Foreign-produced foods, especially stuff like Spam, and clothes are a rare and hugely appreciated luxury to much lower-income Filipinos.
Philippines Travel Advice – Good and Bad Times to Visit
Weather and Holidays
There is one rule to understand when travelling in the Philippines; filipinos say "bahala an" – whatever will be, will be. Adopting the local 'low-stress' attitude to delays, diversions and changes of plan can save you from a coronary!
The Philippine weather is primarily dictated by the prevailing monsoon season: the habagat (southwest monsoon) prevails from May to October and the amihan (northeast monsoon) runs from November to early May. The monsoon season isn't strict, however, so do expect some variance from year-to-year.
In recent years, there have been more typhoons landing in the central/southern regions towards the end of the Northeast Monsoon. This is not typical historically, but seems to be a new trend, perhaps indicating an effect of climate change.
'Amihan' Northeast Monsoon (Nov – May)
The amihan monsoon brings a dry season to most of the Philippines. You can expect blue skies, hot temperatures (30-35oC) and calm, clear waters for scuba diving. May is typically the hottest month when temperatures can reach 38oC. January and February are the coolest months, with much lower humidity and heat.
'Habagat' Southwest Monsoon (Jun-Oct)
The wet season begins in June and fades out during October. This season brings cooler temperatures (26-30oC), grey skies and daily rainfall. July to September brings the peak of the wet season which is also known as 'typhoon season' – the Philippines typically receives 4-8 typhoons (known as 'bagyo') or tropical storms each year. Typhoons are known to amplify the effects of the 'wet' monsoon – often bringing prolonged periods of heavy rains in their wake.
Some areas are less affected by the wet season – Eastern Mindanao, Southern Leyte, Eastern Samar and Southeast Luzon often staying drier during this time, but receiving more rainfall during the dry season.
The central Visayas region (including Bohol, Negros and Cebu) are more protected from the monsoon conditions and have less pronounced seasonal variation. In these areas, infrequent rain is liable at any time of the year, but the weather is typically reliably good unless a rare typhoon approaches the eastern Philippines.
For more information on the Philippine weather, please consult the PAGASA website.
National holidays and traveling
The Philippines is predominantly a Catholic country and celebrations of national and religious holidays can cause chaos for travellers. During these times there is typically a mass exodus from the larger cities, as Filipinos rush to visit families in the outlying provinces and islands. Hotels and resorts are often full during these vacation periods.
Holy Week (Easter), Christmas and New Year can make a hotel booking and transport much more difficult for holiday-makers. If possible, avoid travelling around the Philippines at these times and book hotels/resorts well in advance.
Philippines Travel Advice – Pinoy Culture and Languages
Philippines Cultural Tips
The Philippines is predominantly a Catholic country (although Islam is the main religion in the southern provinces). Most Filipinos speak some English, and near-fluent English can be expected in Metro Manila and most holiday areas.
However, the familiar religion and lack of language barriers do tend to make visitors unwary of significant cultural differences to the west.
Courtesy and respect
Courtesy is vital in the Philippines – and if treated respectfully and politely, Filipinos will certainly be amongst the most friendly and hospitable people you could ever encounter. Under no circumstances should you display anger, raised voices or open argument in front of, or towards, a Filipino. Such actions cause an immense loss of respect, 'face', to those involved.
When such behaviour occurs, a Filipino will often just smile and attempt to end the situation as quickly as possible. Sometimes their attempts to placate a westerner (lots of smiles and any answers that will stop you shouting) can serve to make you more annoyed. If you understand their motives, you shouldn't get so frustrated.
In the worst situations, Filipinos can become very hostile towards 'rude' or abusive people. Don't attempt to bully people by shouting and screaming at them. If angry, or dissatisfied… say it with a smile… save everyone's 'face'… and you are more likely to achieve a satisfactory outcome. Be warned… lots of Filipinos do own guns!
Conversation topics
Most Filipinos are fully aware of the corruption and poverty endemic in their country. They do not need to hear such observations from visitors. Unless very well acquainted with a person, and well an understanding of the issues involved, try to avoid political and religious conversations.
What is the language of the Philippines?
Use of the local language will always get a smile (and sometimes a discount!). In the northern provinces, including Metro Manila, people speak Tagalog. Other dialogues exist in the southern Philipines (i.e. Cebuano in Cebu). Take the time to learn some respectful and/or useful terms before arriving:
Useful Tagalog phrases
Mabuhay! – Hello! / Welcome! /Cheers!
Musta? (Kamusta?) – How are you?
Hindi Ko Naiintindihan – I don't understand
Magkano? – How much? (price?)
Salamat – Thank you
PoTerm of respect for any older/senior man (i.e. Salamat Po – Thank you sir!)
Walang Anuman – No problem (response to "thank you")
Mahal Kita! – I love you!
Lubuyan mo ako! – Leave me alone!
Para – Stop (what you say when you want to get off a jeepney)
CR – Toilet (Convenience Room)
Maganda – Beautiful
Pangit – Ugly
Pogi – Cute (guy)
Ingat Ka – Take care (a cute way to say goodbye…doesn't translate well into English)
Gusto –

Noun = Like (i.e. Gusto Kita – I like you)
Verb = Crush (i.e. May gusto ako sa iyo – I have crush on you)

OO (pronounced "oh-oh") – Yes
Hindi – No
Masarap! – Delicious!
Sandali Lang – Wait, hold on a minute.
Ayoko – I don't want.
Aalis na ako – I am leaving now (goodbye)
Bakit? – Why?
Kailan? – When?
Tagalog numbers
Isa – 1
Delawa – 2
Tatlo -3
Apat – 4
Lima – 5
Anim – 6
Pito – 7
Walo – 8
Siyam – 9
Sampo – 10
Philippines Travel Advice – Communications
Mobile Phone, Internet and Mail
Whilst still a developing country, the Philippines has a robust telecommunications network, although not comparable with European and USA standards. Here's some advice to help you keep in touch:
Mobile phones
There are four main telecommunications companies in the Philippines; Smart, Globe, DITO and Sun. If your phone is open network/unlocked, you can buy pre-paid SIM cards for any of these companies via streetside vendors (variable prices) or from most 7/11 or Ministop convenience stores (approx P40). Phones can be loaded via 'top-up' from vendors (you pay, and they text credit to your phone) or via 'load cards' (purchased, scratch off and ring/text to enter a PIN number).
Because many Filipinos work overseas, there are also a large number of IDD sim plans available that give bargain international calls to select international locations. These are likely to be far cheaper than using your own cellphone's roaming plan to keep in touch with family at home.
Wifi internet
Internet is available at most quality resorts/hotels, as well as inside certain malls, and coffee shops (Starbucks/Seattle's Best etc). Some are free, and others are charged per hour. Broadband speeds are usually much lower than in western countries, regardless of what is advertised. You can also utilize 'plug-in' USB mobile internet in most locations. USB internet dongles cost approx 1500php and can be loaded like mobile phones.
Snail Mail
FedEx, UPS and DHL courier services are available in most locations – use them for all postage. Local/national couriers LBC are also reliable. Putting mail into the Philippine regular postal service is like putting your mail straight into a trash can… it'll probably never be seen again (especially with a western address or name on it).
Philippines Travel Advice – Power and Adaptors
Electricity Supply
The Philippines is mostly at 220 Volt (60 Hz mixed) using American/European plug sockets. Sometimes a ground/earth pin is used in sockets. Visitors from the USA might require a step-down transformer. Where possible, bring universal electronics (those marked with a 100V-240V 50/60hz). The 3-phase voltage is 380v.
There are some regional peculiarities; some parts of Baguio (N. Luzon) use 110 V and 60 Hz. There are no signs stating where 110V and 220V is used…Always ask first!
Power Outages (known locally as 'brownouts') are frequent in some areas; especially during bad weather/heavy rains/storms. It is worth confirming whether your resort/hotel has a backup generator (you get what you pay for).
Philippines Travel Advice – Accommodation
Accommodation Options
There is a wide variety of accommodations available in the Philippines, to suit all budgets. Unlike countries such as Thailand, there is less frequent availability of budget/economy (backpacker) accommodation; and that which exists is typically very low standard. Ensure that you understand whether quoted prices are per person or per room.
The basic types of accommodation include:
Hotels
Generally medium-high range (including most international chains, in major cities). Non-international hotels may be of lower quality than their 'star rating' suggests (compared to other countries). Price may also be a deceiving factor – as some of the worst hotels are hugely over-priced.
Motels, lodges and inns
Many of these exist to fulfil the needs of amorous Filipinos – and are usually available with a 'short-time' (3-hour) stay option. Legitimate accommodation won't offer a 'short term'. Motel branches such as 'SoGo' are seen in many urban areas – these are 'love pits', but have decent room standards. They are usually cheap (approx 1000php per night) and can be okay for a quick overnight stop. Quality and cleanliness can vary distinctly, but chain hotels (rather than independents) are normally okay.
Condotels/Apartelles
These are furnished apartments that are good for longer-term rentals or a cost-effective solution for family travel.
Pension House
Legitimate lower-budget accommodation, more akin to 'Bed and Breakfast' establishments in the west. Favoured by backpackers and adventure travellers. Prices will range from ~500php (fan/cold shower) to ~1500php (air-con).
Resorts
There is a huge variation in resort quality and price, as you would expect. It is worth consulting internet forums, TripAdvisor etc to confirm the actual services and quality of a resort before booking.
Very few hotels in the Philippines have quality websites. Those that do tend to be international chains or foreign-owned/managed. There is often a much wider selection available than you would assume from searching online. If you have local contacts, do make use of them to suggest the best value for money options – there are some very good best-kept secrets when it comes to accommodation in the Philippines.
Also, be aware that many smaller places are notoriously poor in answering emails (or processing online bookings). If at all possible, directly ring or SMS/text them to communicate. SMS is the preferred method of communication in the Philippines and is far more reliable than email.
Philippines Travel Advice – Eating and Drinking
Food, Drink and Diet
Filipino food owes much of its menu to the historical influence of Spanish and American colonialists, along with recipes imported from the Filipino-Chinese community. Eating is virtually a national past-time in the Philippines – and quantity is generally valued more than quality. Pork and Chicken, often barbecued in sweet, high-sugar, sauces and served with large volumes of either rice and/or noodles ("pancit") are ubiquitous.
Food is typically not spicy or fragrant (as you might expect in Asia) – more often it is served with sugary, rich sauces and accompanied by a 'dipping bowl' of vinegar with chillies. Deep frying and BBQ are the cooking methods of choice. Filipinos have a passion for rice ("kanin") – which they eat for breakfast, lunch and dinner.
The Filipino love of junk food
Filipinos love fast food. Chains like Mcdonald's, KFC, Jollibee (local burger joint), Pizza Hut, Chow King and Yellow Cab can be found on most streets in urban areas. When not eating fast food, most Filipinos cook to the same tastes; making ample use of Spam, 'red' frankfurters and other processed meat products – loaded into dishes that contain far more salt and sugar than a western palate is accustomed to. Needless to say, the rates of obesity, cancer and heart disease for Filipinos are high.
Vegetarian Options
Vegetarians will often struggle to find a wide range of options in the Philippines; especially in rural provincial areas. Unlike most other Asian countries, vegetables and fruit do not feature prominently on Filipino menus. Western-run resorts and restaurants are the most likely choice for a comprehensive vegetarian selection. However, mangos are well-loved everywhere and of a very high standard.
What is the Philippines dining style?
Filipinos love to eat and drink (I've said that before… believe it!). Communal ("help yourself") family-style meals are normal and preferred by the locals; with ample quantities of local beer and the ubiquitous karaoke and loud music! If you get the chance, do enjoy a meal with local people. You will find that their reputation for friendliness and hospitality is well deserved. Be warned, however, it is considered rude not to finish the food on your plate! Meals often start with prayer – so wait until any formalities are complete before helping yourself.
What are the Philippines food delicacies?
The Philippines is famous for "Balut". Balut is a fertilized duck egg, like a regular boiled egg, but with a feathery, crunchy duck fetus inside. Unlike many 'exotic delicacies' in other countries, you can obtain Balut everywhere: it is a common roadside snack (and generally regarded to boost sexual potency for the consumer).
Mangos are well-loved everywhere in the Philippines…and of a very high standard. Most restaurants supply the most delicious fresh mango shakes. Packets of dried mango are also ubiquitous – these are delicious and healthy snacks.
The island of Palawan also boasts another rare delicacy – the 'Tamilok'. This is a long white worm that thrives in the rotten roots of mangrove trees. Typically served in a bowl of 'white' garlic sauce, these long worms are only for the very adventurous and sturdy of stomach.
Drinking
Imported beers and spirits are typically restricted to upscale or western-managed resorts and restaurants. As with all things imported to the Philippines, they are expensive. But don't worry, the Philippines produces some wonderful local beers, namely SM Light, SM Pale Pilsen and the (strong!) Red Horse beer.
Costs for a beer vary between P25 (supermarket) to P80 up-scale bar. Local spirits include rum and vodka derivatives – best served with mixers! The local spirits are amazingly cheap – costing around $4 (200php) in supermarkets.
Philippines Travel Advice – Fake alcohol: Be wary of ordering imported spirits in cheaper bars. They are frequently counterfeited and there have been reported instances of people getting ethanol poisoning; which can lead to blindness or death.
What food can be found in Philippines restaurants?
The food in the Philippines is a combination of Asian and Spanish tastes, with the addition of some American-style processed foods. Here are the most popular local dishes that you will see on menus around the Philippines. There are many regional variations of specific dishes:
Adobo – chicken or pork served in a garlicky stew made from vinegar and soy sauce.
Daing na Bangus – fried dried milkfish (Bangus), typically served at breakfast with garlic fried rice and fried egg.
Kare-Kare – a peanut-based stew of vegetables and meat slow-cooked/simmered for hours. Seafood versions are also available. Eaten with shrimp paste ("bagoong").
Lechon de Leche – spit-roasted baby pork. The crispy skin is delicious and highly favoured.
Sinigang – sour soup with tamarind, typically containing pork, beef, chicken, fish or shrimp.
Silog – breakfast of garlic fried rice with a fried egg and either Longanisa (local pork sausage), Tapa (cured beef) or Tocino (cured pork).
Pancit Batchoy –noodle soup usually made from pork organs, crushed crunchy fried pork rind, shrimp and vegetables.
Pancit Bihon –sautéed noodles with vegetables, pork and shrimp.
Sinangag – fried garlic rice, often mixed with vegetables, dried shrimp, dried fish strips, hotdogs or local Chorizos.
Bibingka– rice cake with (processed) cheese and salted egg.
Caldereta– Pork or Beef tomato soup with sausages and vegetables.
Empanada– Stuffed pastry.
Ensaymada– Sweet bread topped with cheese and butter.
Leche Flan– Creme brulee (Custard Pudding).
Spaghetti – as per Italian food, but with highly sweetened sauces (containing much sugar and condensed milk), often using processed hotdogs or spam as the meat constituent.
Lumpia – Chinese-style spring Rolls.
Taho– Fresh tofu dessert with brown sugar, vanilla syrup and pearl sago/tapioca.
Siomai– Dim Sum.
Siopao – Steamed buns with meat fillings.
What is street food like in the Philippines?
Street food is prevalent across the Philippines and is often the only choice when making long bus journeys. As mentioned before, be observant of the cooking and ensure that your cooked food is not cross-contaminated with marinade/sauce brushes etc before serving. Here are some of the most commonly encountered treats:
Barbecue– Pork or chicken on skewers with a sweet BBQ sauce.
Adobong Mani– Salted roasted peanuts, sold in small paper bags.
Banana Cue – Plaintain ("saba") bananas deep-fried with caramelized sugar coating.
Isaw – BBQ Chicken intestines
Ice Candy – Sweet, home-made, flavoured ground ice (often mango)
Tenga – BBQ pig's ear
Inasal – BBQ, grilled or rotisserie chicken
Pan de Sal– Small, sweet, buns made freshly as an alternative to breakfast rice.
Chicharon– Deep fried pig skin snack (similar to 'pork scratching').
Buko Pie – Baked pie with coconut filling.
Halo-Halo – Dessert mixture (like a sundae) of sweetened beans, fruits, sago, crushed ice, milk, leche flan (like creme caramel), ube jam and ice cream.
Philippines Travel Advice – Vices and the Law
Drugs and Prostitution
Similar to some other Asian countries, the Philippines has an (often undeserved) reputation for vice and sex tourism. Whilst those elements do exist, they can be easily avoided.
Drug Use
Drug use is highly illegal in the Philippines. Marijuana and 'shabu' (similar to crystal meth) are available, but the penalties for possession are very high; including long jail terms.
Prostitution
Prostitution is also illegal in the Philippines, but (unofficially) tolerated in certain restricted areas (typically single streets), in areas such as;
Angeles City (Fields Avenue)
Subic Bay (Barretto/National Highway)
Makati (Burgos Street),
EDSA Complex (Pasay City, Manila)
…and other busy foreign tourist destinations.
The Philippines bar scene
Prostitutes are typically met via 'girlie bars' (where prostitutes are referred to as dancers, waitresses or 'guest relations officers'). Patrons typically pay a 'bar fine' for the girl's company and pre-negotiated 'services'. If engaging in these activities, please treat the girls with respect, as they are often simply feeding their poverty-stricken families at home in a province. Bar girls do have the right to say "no" to customers. Some girls just work in bars, but don't offer sexual services – don't make presumptions. If you are obnoxious and rude, no girl will come near you.
If you talk with a 'bar girl' for a short time, you will probably be asked to pay for a 'ladies' drink'. She will stay and chat with you for as long as you keep buying. Be sure to ascertain the price of this – as it will be significantly more costly than your own drinks (2-3 times more expensive). Some visitors 'bar fine' a nice girl simply to act as a host/guide when 'bar hoping' (bar crawl) – if you do, then you buy the girl drinks at regular price, not 'ladies drinks'. Money is involved, but you have a friend, not a lover, for the night.
Also, do bear in mind that not every girl who works in, or around, the 'bar scene' is a 'bar-girl'. Genuine waitresses, bar servers and random female local inhabitants will be highly offended if you treat them like bar girls. It's safer to treat all women with the respect and decency that you would extend to ladies in your own country (or more so… for some guys). Angry, protective or insulted Filipino boyfriends or fathers are not to be trifled with!
Underage sex (age of consent is 18) is highly illegal and frequently targeted by the Philippines' police.
Girlfriend Scams
Be wary of scams; especially 'long-distance' romances via internet dating sites. In these scams, the Western 'boyfriend' is enticed to send money payments to the Filipina girlfriend for various reasons. Such a 'girlfriend' often has a long list of 'boyfriends' on her internet chat account.
It's important to know that in Filipino culture a girl would never ask a Filipino boyfriend for money; regardless of the circumstances. Despite what you might be told, this is never "normal" behaviour for a decent Filipina.
That said, many Filipinas do dream of 'escaping' their country with a dream foreign boyfriend; and many a single man has found genuine love and romance in the Philippines.
Philippines Travel Advice – Girlfriend scammers: Keep your wits about you, and remain realistic and level-headed. If it seems too good to be true, then don't be in denial of reality.
HIV and STDs
The Philippines is often reported as having a low rate of HIV. However, this may be more to do with low rates of reporting (poor families often cannot afford medical care – and many HIV deaths may not be known to the authorities). Do not underestimate the risk of HIV infection, regardless of the statistics you read.
Other forms of sexually transmitted diseases are common. Take precautions if engaging in sexual contact. Be warned that local (Catholic) culture means that Filipina girls may not insist on the use of, or supply, condoms – look after yourself in that respect. Rates of STDs and unwanted pregnancies reflect the minimal use of sexual protection.
Philippines Travel Advice – Crime
Criminality and Scams
The Philippines is a Third World Country, but despite that poverty, has surprisingly low rates of tourist-related crime. Violent crime is low, but pick-pocketing and scams can be encountered, especially in Metro Manila or on public transport. It is very wise to take precautions against theft and robbery:
Don't flaunt wealth or carry expensive items openly
Don't get drunk and incapacitated (especially with people you don't know)
Do be cautious when approached by strangers (although many will just want to chat and meet you)
Do avoid dark, isolated or run-down areas
Do hand over goods if robbed – thieves can carry guns and may use them
Crime rates in the Philippines do rise at certain times of the year. Be extra cautious approaching holiday times, especially pre-Christmas.
Philippines Travel Advice – the police: Be cautious about dealing with the local police. Some may be corrupt and involved in scams, and others will demand or hint at bribes. However, always be courteous to the police and do not insult them. Don't assume they are all corrupt, some are very effective and have a high priority to assist foreign visitors. Use common sense, if needing to deal with them.
What are common scams in the Philippines?
There is a definitive list of common scams on Wikipedia. It is worth being familiar with all of those before visiting the Philippines (as it is with any developing country).
Particular scams to avoid are:
Taxi 'No Meter' – Most public taxis should use a meter (by law in Metro Manila). Those that don't may grossly over-charge you. Privately arranged hotel taxis will have a set cost, as will designated airport service taxis. Some taxi drivers will make excuses not to use the meter; you should avoid those.
In Subic Bay (SBMA) taxis have a pre-designated rate that is agreed upon with visiting US Naval forces – ask for that.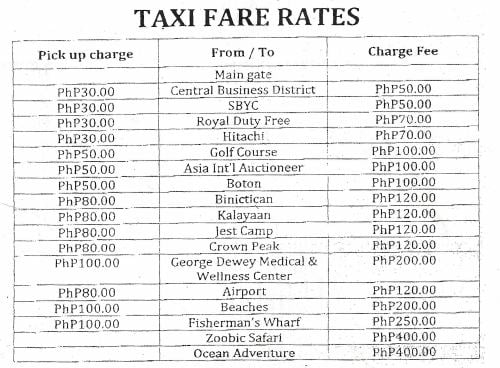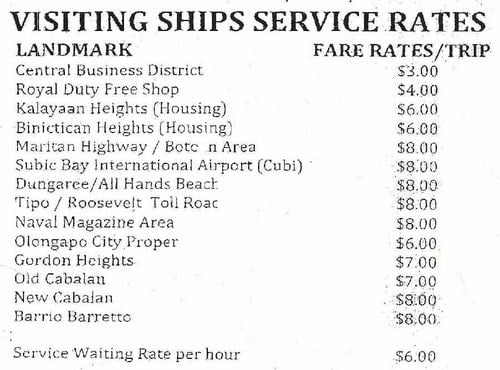 Taxi 'Sharing' – Never let another person ride a taxi with you (unless you're with them anyway). This is a common robbery setup. If someone else gets in your taxi – get out quickly! Also, always insist that all taxi doors are locked before departing.
No Change – Of course, how convenient! Carry plenty of small notes and coins.
Street Kids – These are typically run by criminal gangs and used to beg, or sell flowers/trinkets etc. Giving them money only contributes to the problem and encourages the abuse of children. If you want to help, buy them food.
Arguments/Fights – Don't argue or fight. If you get into trouble, it may be a pre-staged scenario and the police will extort large bribes for your 'convenient release' without charge. This may be a standing arrangement between scammers and some police.
The Ativan Scam – A local engages you in conversation, asks for help with something etc, which leads to an offer to buy you a drink. They use the 'date rape drug' to make you unconscious and steal your stuff. Do not accept drinks from random strangers! This is shockingly common!
Fake Police – Be vigilant for fake police and roadblocks. Robberies by fake police happen sometimes, to tourists and locals alike. If in a car stopped by police, demand to see identification before unlocking doors or winding down a window. Don't allow your car to stop in isolated, dark areas.
Traffic and Driving Hazards
Not really fit to be under the heading of 'criminality', but when you see the standard of driving in Manila you may reconsider! Be VERY careful when crossing the street anywhere in the Philippines. Zebra crossings mean nothing, and quite often, neither do traffic lights, stop signs or one-way streets. Filipino drivers won't look where they are going or avoid you – it is expected for you to leap out of the way. Stay vigilant and don't walk close to a roadside.
Philippines travel advice – renting a car
You're a very brave person if you opt to drive your own/rental car in the Philippines. If you have a crash, you will probably get the blame regardless and have inflated bills/fines to pay. In the worst instances, local drivers may deliberately target/crash with you for that reason (and split the roadside 'fines' with the policeman).
Always sit in the back seat of a taxi/private car and lock all passenger doors. This is more low-profile and reduces your risk from robbery and 'entrepreneur' police. Police are frequently known to pull-over cars bearing westerners and demand fines (for varying legitimate or illegitimate reasons). Even if riding a taxi, you (the passager) may be asked to pay a fine for the driver… just get out and catch a different taxi!
Over-Charging
Everyone from resorts ('foreigner/tourist rates') to trike drivers may grossly over-charge you. Negotiate prices unless you are sure they are genuinely 'set'. If possible, pre-determine a fair price by consulting with locals. Tell the person what you will pay, don't ask them what you should pay. Try not to pay too much above the fair (local) rate – as it simply encourages more of the same behaviour (ultimately to the long-term detriment of those concerned, who are losing out on future tourism development).
I have seen tourists charged more than 500% extra for taxis, trikes and purchases from small vendors. Some minor 'inflation' is to be expected, but daylight robbery must be discouraged.
For price reference, the minimum daily wage is around P200-400 (regionally based) per day, although this doesn't apply to self-employed vendors and drivers etc – always bear in mind what a local could afford to pay for a service… nobody would pay P200 for a 10-minute trike ride etc…
Philippines Travel Advice – Over-Charging: Don't take over-charging personally, or get angry about it. That can not only cause repercussions but also fails to recognize that people in poverty cannot resist the chance to earn more money from a 'rich' foreigner – it's food in their children's mouths. Always keep smiling!
Terrorism and Kidnapping
There are ongoing tensions/conflicts in the Autonomous Region in Muslim Mindanao (Basilan, Lanao Del Sur, Maguindanao, Sulu and Tawi-Tawi) between Muslim separatists and the Philippine government.
Consult your embassy/foreign service for travel advice to this area. Inform your embassy in the Philippines of your itinerary if/when you travel there.
Avoid large crowds (bombings) and be cautious during transport, as kidnappings are a known money-raising strategy for both criminal and political groups in this area.
---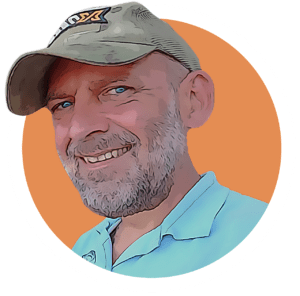 About The Author
Andy Davis is a RAID, PADI TecRec, ANDI, BSAC, and SSI-qualified independent technical diving instructor who specializes in teaching sidemount, trimix, and advanced wreck diving courses.
Currently residing in Subic Bay, Philippines; he has amassed more than 10,000 open-circuit and CCR dives over three decades of challenging diving across the globe.
Andy has published numerous diving magazine articles and designed advanced certification courses for several dive training agencies, He regularly tests and reviews new dive gear for scuba equipment manufacturers. Andy is currently writing a series of advanced diving books and creating a range of tech diving clothing and accessories.
Prior to becoming a professional technical diving educator in 2006, Andy was a commissioned officer in the Royal Air Force and has served in Iraq, Afghanistan, Belize, and Cyprus.
In 2023, Andy was named in the "Who's Who of Sidemount" list by GUE InDepth Magazine.
---