Sidemount Courses in Subic Bay, Philippines
If you're a passionate diver looking to expand your horizons and take your capabilities and skills to the next level, sidemount diving might be just what you need. Over the last decade, sidemount courses have surged in popularity, providing divers with a unique and exhilarating way to explore the underwater world.
If you're searching for effective sidemount diving tuition, you're likely aware of how rare it is to find a dedicated and active sidemount technical instructor and diver. But now, you have the unique opportunity to receive lessons from a highly qualified instructor who has mastered the art of sidemount diving at all levels and through three different agencies.
Andy Davis was one of the first technical sidemount instructors in Southeast Asia, equipped with extensive knowledge of the latest sidemount techniques and technologies. With his guidance and mentoring, you'll learn the skills, techniques, and knowledge to enjoy high-performance sidemount diving proficiency.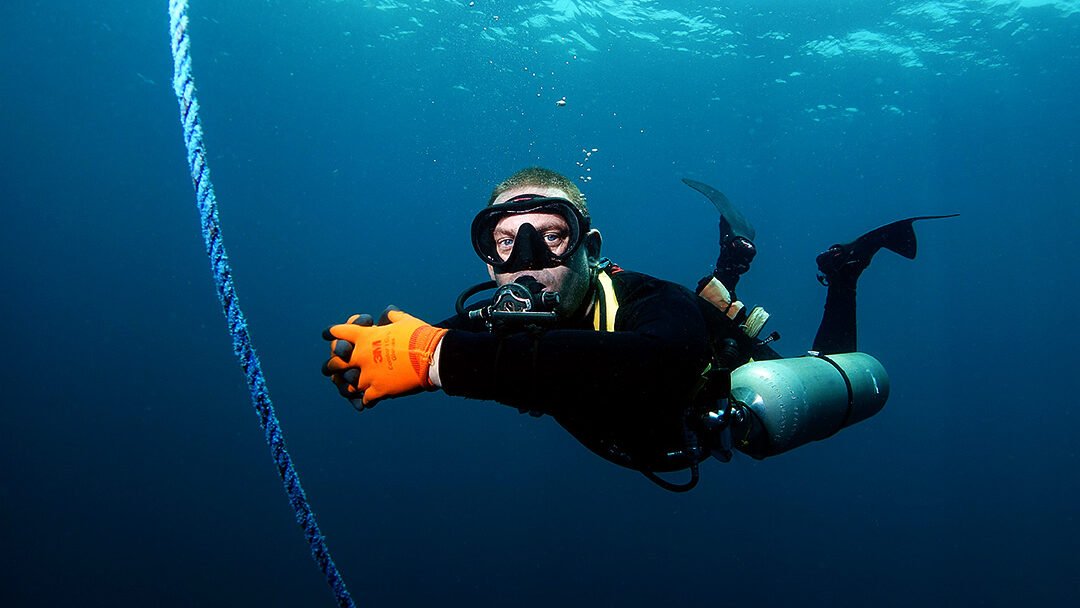 Not only is Andy highly experienced and knowledgeable, but he is also passionate about sharing his expertise with others. He understands that every diver is unique, and will coach you individually to ensure that you receive personalized instruction for your individual needs and preferences.
With Andy's sidemount diving training, you'll gain access to a world of new possibilities. Whether you're a seasoned technical instructor or cave diver looking to expand your skillset or a beginner eager to improve their ability and dive gear, these sidemount certification courses and clinics will provide you with the tools and knowledge you need to take your diving experience to the next level.
Don't miss out on this once-in-a-lifetime opportunity to learn from one of the best sidemount diving instructors in the business. Contact Andy today to schedule your lessons and start exploring the ocean's depths like never before!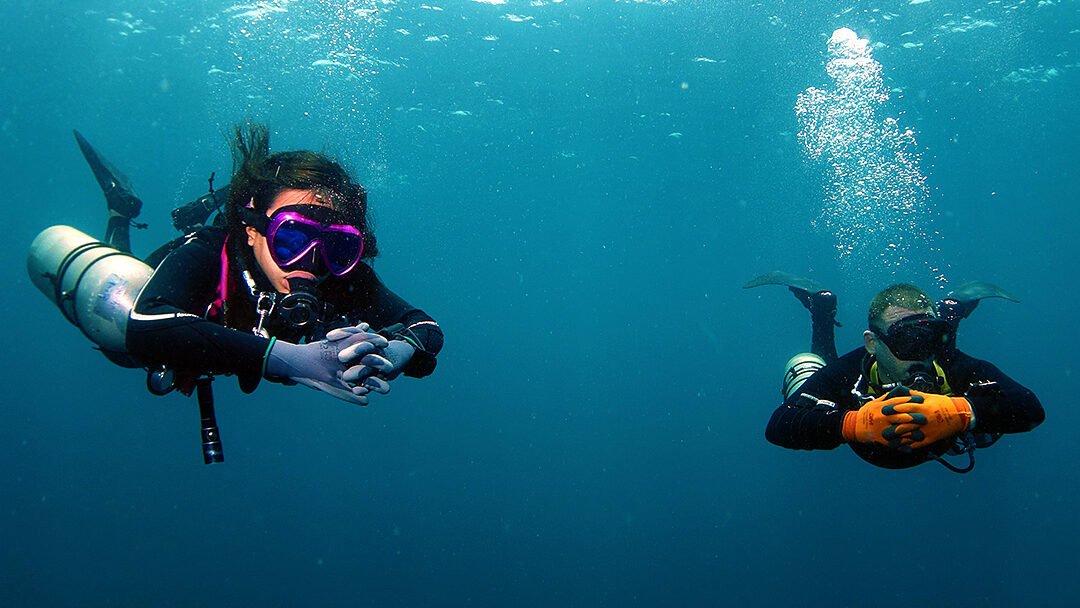 What is sidemount diving?
Sidemount is a specialized diving gear configuration that entails wearing scuba tanks on either side of the diver's body, rather than the traditional placement on the back. This innovative approach allows for enhanced stability and mobility underwater, as well as the ability to carry multiple tanks, enabling divers to enjoy the safety advantages of redundant gas supplies and appreciate more time underwater. Sidemount is also a great option for divers who suffer from chronic back problems; it substantially eases the strain on the spine.
Sidemount is a ground-breaking modern approach to diving at both recreational and technical levels!
For an in-depth explanation, see my article: A Guide To Modern Sidemount Diving
What are the benefits of sidemount diving?
Sidemount diving provides you with a lot more gas on your dives; you can enjoy longer dives without the stress of how quickly your gas is consumed. It is a totally redundant gas system that ensures your safety should a regulator failure occur. Because cylinders are typically attached to the diver once in the water, sidemount diving is very popular with people who have physical impediments and spine problems.
Sidemount equipment is more minimalist and streamlined than traditional scuba gear. Divers who operate in confined spaces, such as inside wrecks of caves, choose sidemount because the low profile means they can explore areas that would be inaccessible in backmount.
Many sidemount divers will testify that the system can feel more refined and intuitive when diving. It gives greater freedom of mobility and promotes natural trim.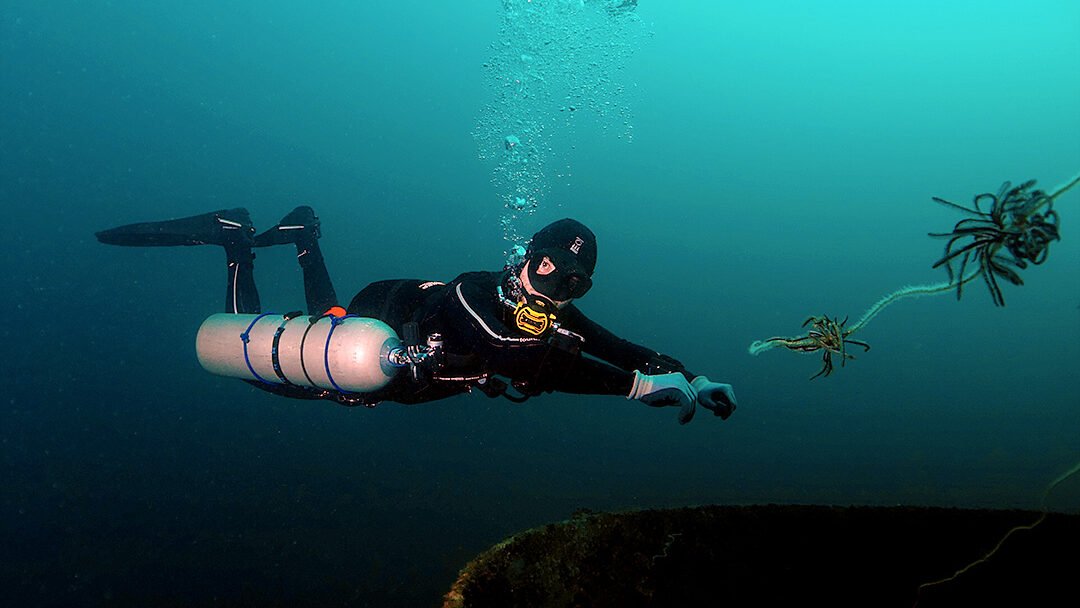 Are sidemount courses necessary for sidemount diving?
Sidemount diving, especially the equipment configuration, can be more complex and nuanced than many divers might assume. I have observed some divers who've attempted to teach themselves: but the results are never good. With expert instruction, a student can reach a level of proficiency, knowledge, and equipment optimization that'd take months, if not years, to achieve by trial and error.
Sidemount training typically takes 2-4 days, depending on the student's starting proficiency in core diving skills. Technical divers converting to sidemount usually add a couple more days to learn the specific sidemount configuration of stage/decompression cylinders.
Training is equipment focused, converting the divers' existing skillset for use in a new kit configuration. In addition to a little theory, there is an equipment workshop that explains how to set up your sidemount system optimally. That is followed by extensive skills practice in shallow water; followed by a number of actual sidemount dives.
Why choose Andy Davis for your sidemount courses?
Sidemount diving is a specialized activity that demands equally specialized expertise from the instructor. Andy Davis is a pioneer of technical sidemount diving in SE Asia. He has accumulated two decades of full-time experience using sidemount as his primary equipment choice for all levels of diving; including technical wreck penetration and hypoxic trimix. He is a qualified technical sidemount instructor with RAID, ANDI, and PADI TecRec.
Andy is recognized globally as a leading authority on sidemount diving. He has given presentations at regional dive shows, written for scuba diving magazines, and written books about sidemount diving. Some of Andy's former students include elite-level cave explorers, technical divers, and instructor-trainers for numerous dive training agencies.
What sidemount courses are available?
RAID Sidemount Course
The RAID Sidemount certification course reflects a reputation for excellence and expertise. High-performance outcomes are ensured!
During this very comprehensive course, Andy Davis coaches and mentors how to effectively configure and operate sidemount equipment for superior results. The sidemount training stresses the development of high attention to detail, solid fundamental skills, and ingrained equipment familiarity. The sidemount course includes a variety of contingency protocols, culminating in challenging emergency scenario training.
Taught at YOUR level of diving. Suitable for recreational and technical divers. Technical divers conduct extra skills and learn sidemount deco cylinder configuration.
Duration: 2-4 Days
---
Sidemount Diving Tune-up Clinic
For qualified sidemount divers.
This exclusive clinic-style coaching and mentoring aims to improve students' existing sidemount skillset, optimize their sidemount gear and ensure they have best-practice protocols for their diving. It is a perfect choice for qualified sidemount divers who don't currently feel comfortable, competent, and confident.
The clinic is a flexible training option, providing comprehensive sidemount tuition that can be developed according to the student's pre-existing qualification level, including technical diving and overhead environment/wreck penetration.
The sidemount tune-up can include; an equipment configuration workshop, skills and protocols development, emergency scenario training, sidemount rescue techniques, and specialist training for niche diving activities like tech, overhead environment, photography, or videography.
Duration: Flexible to your needs
---
Sidemount Performance Diver
The RAID Performance Diver course can be completed in sidemount configuration and perfectly complements the sidemount course. You can book them together!
The certification course delivers high-level fundamental sidemount diving skills, including; precision buoyance, consistent horizontal trim, advanced propulsion and control, ascent, and descent protocols, DSMB deployment, situational awareness, decreased task loading, and stress management of comprehensive emergency procedures.
Duration: 3 Days
More expert information about sidemount diving