Top-10 Best Tropical Vacation Diving Fins
When going on a scuba diving vacation to the tropics, you need lightweight diving fins that don't compromise on performance.
The best modern diving fins use materials that allow them to be neutrally buoyant in the water, light in weight to avoid expensive airline baggage fees and use a stiff, wide-bladed, design that provides ample power and manoeuvring ability.
With those factors in mind, here is my pick of the top-5 tropical vacation scuba diving fins…
1. Deep 6 Eddy Fins
Economical tech diving kit manufacturer 'Deep 6' retails a lightweight Jet-Fin inspired design, which comes in 2 sizes (large and XL) and 2 colours (black, blue and orange).  
They re-designed the foot pocket for increased comfort.  It comes with steel spring straps as standard. The fins weigh about 6lbs a pair (3lbs per fin) and are slightly positive in salt water (neutral in fresh) due to non-rubber construction.  
For around $130 they are great value.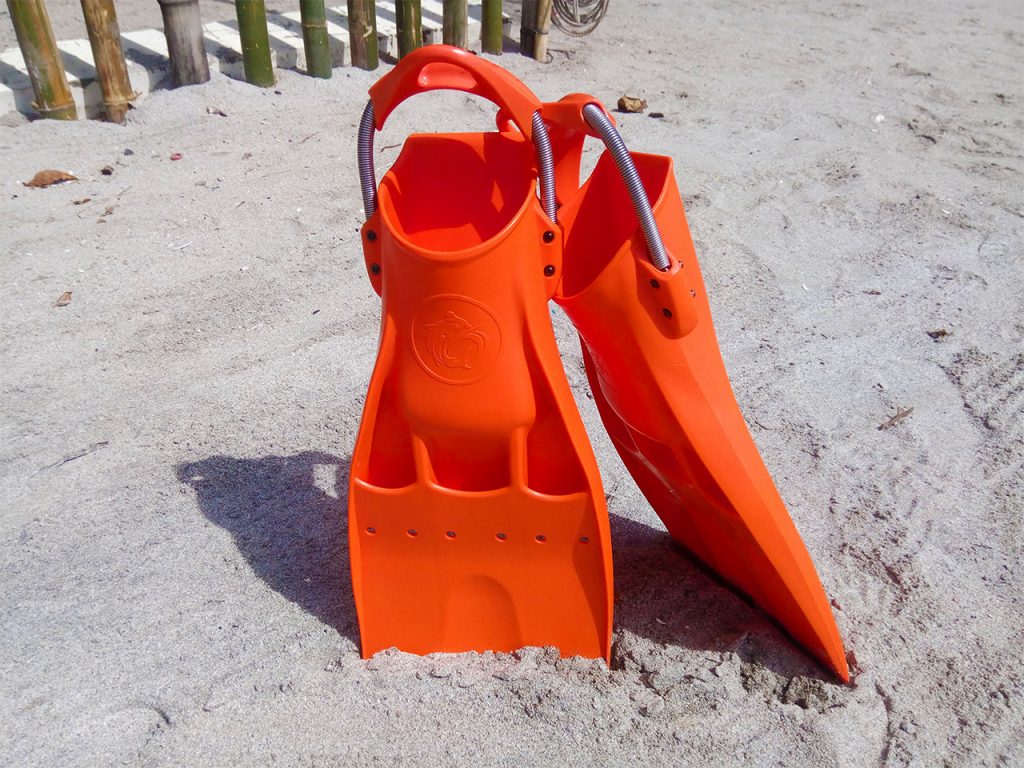 Product Page: http://www.deep6gear.com/fins/deep-6-eddy-fin
2. Apeks RK3
In personal tests, the Apeks RK3 proved to have very slightly positive buoyancy, whilst providing a high level of control and precision.
The blade is suitably stiff for the overhead environment and technical divers.
Power is more than adequate for most uses and the leg workload is quite easy. The fins come with a stainless steel spring strap as standard.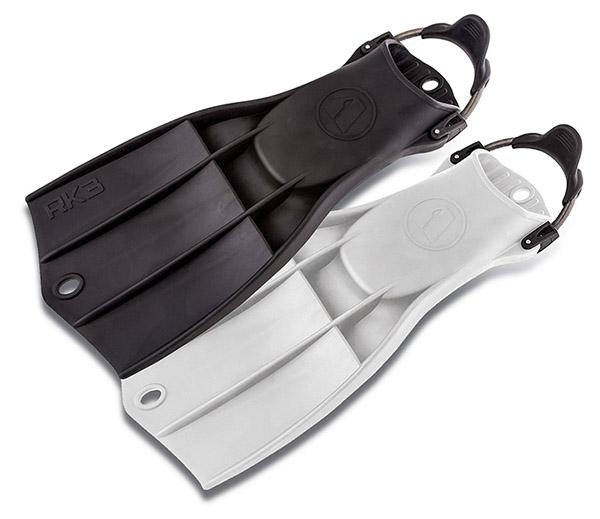 Available in 3 sizes; Medium (982gm per fin), Large (1.19kg per fin) and Super (1.27kg per fin).
Product Page: Apeks Rk3 HD Fins
3. XDeep EX-1
The Xdeep Fin is available in three levels of stiffness to suit any diver's preferences. I'd suggest the hard fin was most suitable for precision control and power. In diver tests, the fins were neutral/slightly positive.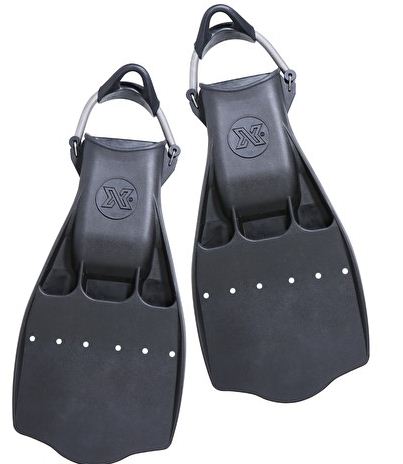 They come with a stainless steel spring strap as standard. They weight in at 2.6kg for a pair (1.2kg/2.87lbs per fin) and have a length of 495mm.
Product Page: Not yet listed on the XDeep website
4. Force Fin Pro
I have used Force Fins for the last 15 years and they remain my strong favourite for technical, sidemount and wreck penetration diving. They are available in 6 sizes and have an optional bungee strap (highly recommended).
They are very short in length and the curved blade provides highly efficient forward motion and very good control technique – although the user will need to adapt their foot motion slightly to get that control; it's all about the ankle motion.  With a little practice and it works great for frog kick, helicopter turns and back kick.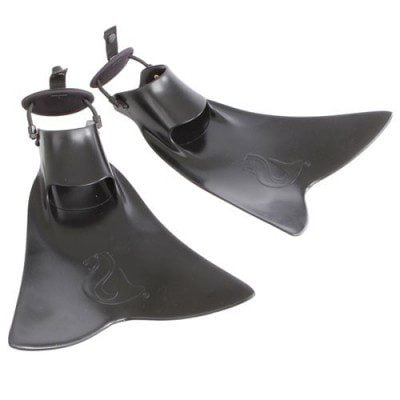 These fins have sold multiple orders to elite naval special forces around the globe.
Product Page: http://www.forcefin.com/product/51/FFPRO.html
5. OMS Slipstream
The OMS Slipstream models a classic 'Jet Fin' design, but the fins are manufactured from a more lightweight 'monoprene' material – making them near-neutral in the water.
The fin is available in 4 sizes; medium, large (4.5lbs), XL (5.1lbs) and XXL (5.9lbs).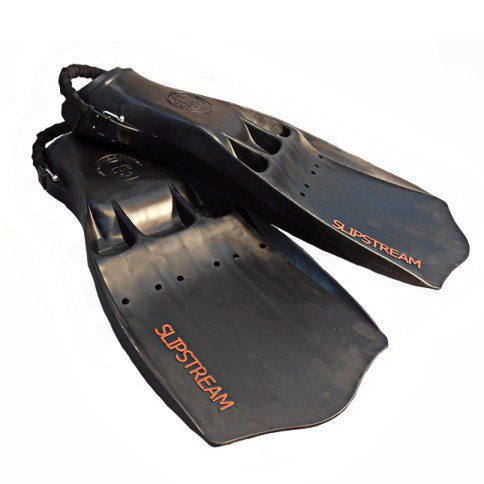 Product Page: OMS Slipstream Fins
6. Mares Avanti Quattro
These classics were the second pair of fins I ever bought. They are lightweight and near-neutral in the water due to Thermoplastic rubber/ Tecralene construction. The rising popularity of sidemount diving has given them a new lease of life, as they've proven a popular and economical option for many.
The latest "+" version of the fin comes with bungee straps as standard and is available in three sizes (Small, Regular and XL) and six colours. The fins weight .9 kg.
The main drawback is the fin length (38cm) which provides less accurate control than smaller-bladed fins….and is less optimal for travelling divers.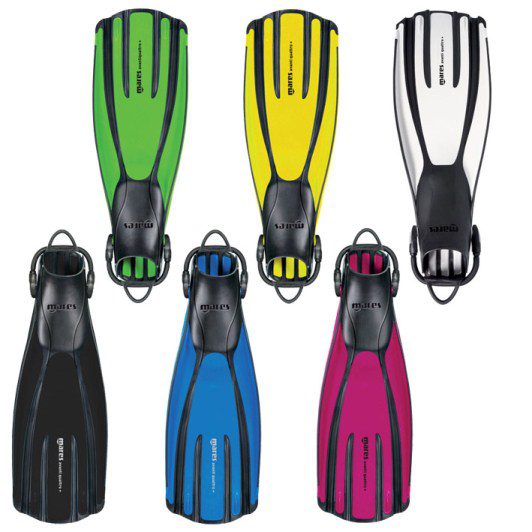 Product Page: Mares Avanti Quattro Plus Fins
7. DiveRite XT
The XT is another classic design that is especially popular with sidemount divers in the USA. The lightweight monoprene blend gives a near-neutral performance in the water.
Another longer fin, the stiff material still gives good control in the water. It is available in 4 sizes (small, medium, large and XL) and two colours (black or grey).
The fins weigh from 4.7lbs/2.13kg (small) to 6.3lbs/2.86kgs (large). They come with stainless steel spring straps as standard.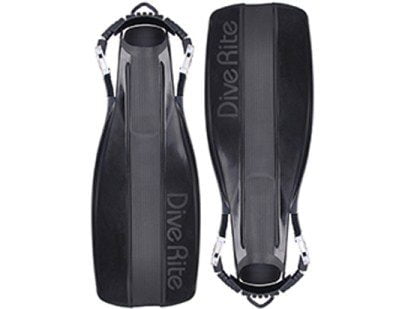 Product Page: DiveRite XT Fins
8. Hollis F2
The Hollis F2 comes as standard with stainless steel spring straps and is designed to offer great control and power, in a limited size.
They offer a good deal of manoeuvrability without the weight/length limitations of their big brother, the 'F1' fin (which is popular with drysuit divers).
A slightly different design of 'vents' on the fin, but the F2 remains firmly an offspring of the famous 'Jet' style.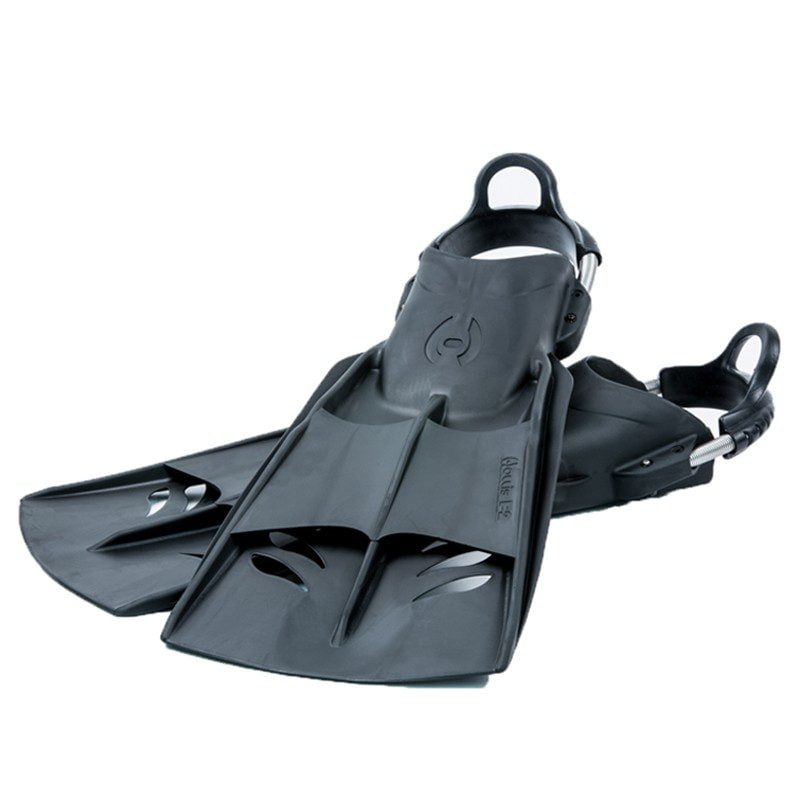 Product Page: Hollis F2 Fins
9. Fourth Element Tech Fin
This is a classic vented fin, intended to maximise performance and developed with technical divers in mind. They are slightly negatively buoyant and feature a widened blade to promote increased manoeuvrability without compromising the power.
They are supplied with a hanging/carrying strap which can be used to attach them to a BCD or harness for carrying, leaving both hands free for climbing ladders or carrying other gear.
They weigh between 2kg (size S) and 3.5kg (size XXL).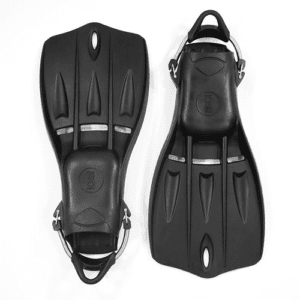 Product Page : https://fourthelement.com/diving-deeper-into-tech-diving-fins/
10. Scubapro Go Travel
Scubapro offer a very lightweight design increases convenience when traveling and comfort and ease of use in the water. The fins weigh between 1.0 kg/2.2 lbs (XS-S) to 1.2 kg/2.6 lbs (M-L) per pair. They are designed to fit easily in IATA carry-on compliant luggage.
They are supplied with self-adjusting bungee heel straps and are designed to be wearable with booties or bare feet. No information is supplied about their buoyancy characteristics.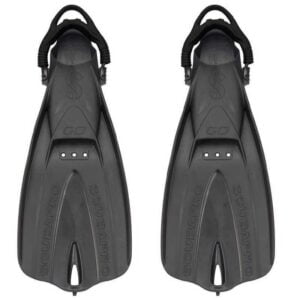 Product page: Scubapro Go Travel Fins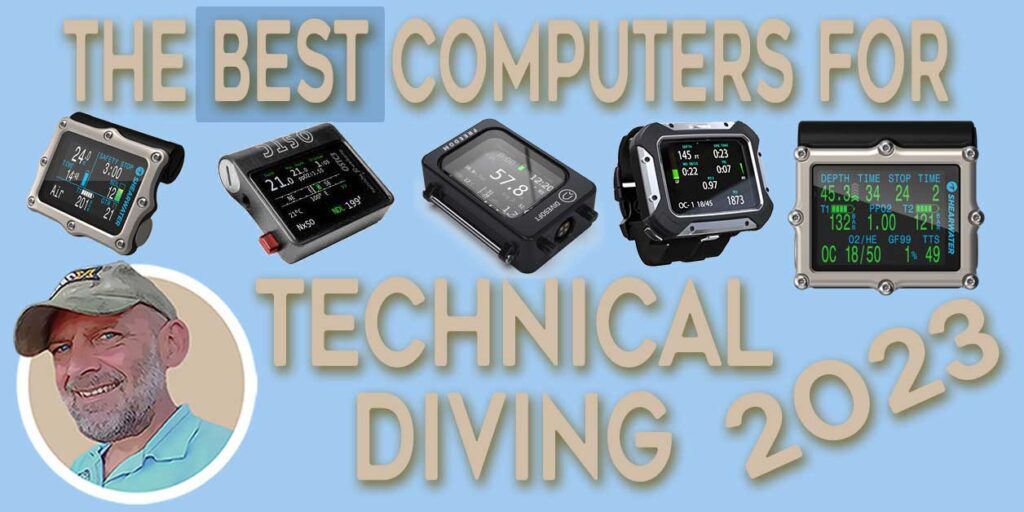 My review of the best technical diving computer available in 2023. Full-size and watch sized computers with trimix decompression function.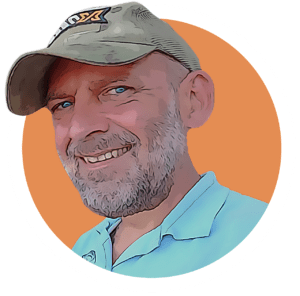 About the Author
Andy Davis is a RAID, PADI TecRec, ANDI, BSAC and SSI-qualified independent technical diving instructor who specializes in teaching sidemount, trimix and advanced wreck diving courses.
Currently residing in Subic Bay, Philippines; he has amassed more than 10,000 open circuit and CCR dives over 27 years of diving across the globe.
He has published numerous diving magazine articles, designed courses for dive training agencies and tests/reviews dive gear for scuba equipment manufacturers. He is currently writing a series of advanced diving books and creating a range of tech diving clothing and accessories.
Prior to becoming a professional technical diving educator in 2006, Andy was a commissioned officer in the Royal Air Force and has served in Iraq, Afghanistan, Belize and Cyprus.