How to Dive with 'Insta-Buddies'
by Andy Davis
The term 'insta-buddy' is popularly used within the scuba community to define a diver of unknown skill, capability and mindset – that you are paired with on a dive boat.  Typically, this term is used to describe the worst case scenario; a dive buddy who exhibits poor skills and/or an irresponsible attitude towards dive safety, and lax adherence to safe diving practices and protocols.
Scuba diving is an incredibly social activity.  Making great new friends when on a vacation dive boat is one pleasure that virtually every diver can testify to.   However, not every interesting character that you get paired with will have the same standards of safety, conservatism or prudence that you might wish for in a dive buddy.
I know that many experienced divers are very wary of scuba diving with 'insta-buddies'.  But sometimes (for instance, when on vacation with a non-diving partner),  the only other option to being paired with an unknown diver is to conduct a solo dive… and most divers are neither comfortable, trained, nor equipped, for solo diving.
As a professional scuba diver, I often have no choice about the divers who I accompany underwater, so this is an issue that I can sympathize with completely.  I have dived with many hundreds of different scuba divers, who have varied experience levels and mindsets. 
On very rare occasions, those scuba divers might have caused me concern for my own safety. Divers who would swim away and leave me alone. Divers who neglected to maintain the maximum depth planned for the dive. Divers with no situational awareness, who I couldn't rely upon to assist me in an emergency. This is especially true of divers who may be task-focused on a dive, for instance, when taking photographs.  Out of necessity,  I developed a strategy that allowed me to ensure a safe scuba dive and reliable buddy; without the need for confrontation, lecturing or damaged egos.
Some scuba divers approach this problem by adhering to scuba diving methodologies that champion a 'team diving' mentality.  They are very selective about who they permit themselves to dive with. Their selection of potential dive buddies may be determined primarily by whether that buddy has verifiable credentials that demonstrate a minimum foundation level of skill, awareness, team focus and mindset. 
For instance, DIR / GUE / UTD trained divers will often state that they have the confidence to dive with a stranger if they are equally trained using the methodologies championed by those organizations. That said, not many divers have the luxury of being so picky.
So, how can you make the most of an 'insta-buddy' experience?
1. Be Self-Reliant
Every scuba diver needs to acknowledge that they, and they alone, are responsible for their own safety.  If you start with this presumption, then you won't become over-reliant, or over-expectant on a dive buddy – or even a dive master.  Look after yourself. 
Use your own judgement to make risk assessments.  Don't succumb to peer pressure or make rash actions due to pride.  Adopt a self-reliant mindset to your diving.  Be a good buddy yourself, follow safe diving practices and act as a role model scuba diver. This alone can often subtly influence your partner to 'raise their game' and meet your expectations.
2. Effective Communication
Communication is critical. Take some time to get to know your potential dive buddy.  Evaluate their mindset and views towards the safe scuba diving protocols that you consider critical. Never assume that an unknown diver has had equal quality training to yourself, or has not allowed their training to become repressed by the occasional complacency that arises as we gain progressive experience underwater. 
If you have concerns, then spell them out diplomatically – and without pointing a finger of blame directly at your buddy. A little 'story' explaining how you had an unpleasant dive in the past, because of an irresponsible scuba diver, will often get the message across. Ask politely that your new buddy does not replicate those circumstances.
3. Make use of Existing Procedures
Go back to basics – and use the procedures and drills taught to you when you first began diving. Specifically, using the buddy system, planning your scuba dive comprehensively with your buddy and completing your pre-dive safety checks as a buddy pair.
As a recreational diver, your mutual adherence to the 'buddy system' is an important factor in mitigating the risks posed by 'worst case scenarios'.
4. Buddy System
The buddy system starts with mutual dive planning. Make it mutual and comprehensive. Far too many recreational divers neglect to conduct effective dive planning – and this has negative repercussions on the way that they will operate as a buddy pair once in the water.  Again – be a responsible and self-reliant diver. 
You may have a dive guide or divemaster who provides you with an 'outline' dive plan… or even just a simple "follow me!".  That does not mean you are absolved from the responsibility to plan your own scuba dive.  Mutual dive planning as a buddy team allows you to set 'standard' for the coming dive.  It also allows you to assess how committed your potential 'buddy' is in regards to safe diving practices and mutual support.
5. Agree on Limitations Within Your Plan
Your dive plan should contain agreed restrictions on depth, time and air reserves.  It should also include an agreement on the maximum distance you will allow between divers (buddy contact) and what factors may influence that (i.e. visibility, current, topography underwater).  If you plan and agree on these aspects of the scuba dive, then you won't have to rely on assumptions.
Ensure that your buddy fully understands those restrictions and agrees to abide by them.  Also, ensure that your buddy is aware that you won't exceed them.  If your buddy gets tempted to exceed those limits, then it will cause a diver separation because you won't follow them.
The same is true if the dive site you are visiting presents other dangers, such as the potential to enter an 'overhead' environment (such as a wreck, swim-through or a cavern).  Be very clear in the planning stage about what your personal limitations are.
6. Co-ordinate With Photographers 
It's worth mentioning underwater photographers here.  An underwater photographer is often very task-focused on a scuba dive.  If your buddy intends to use a camera underwater, be sure to decide effective buddy protocols within your dive planning.  Photographers generally suffer from reduced situational awareness when they are focused on taking pictures.
It is often worth accepting, and agreeing, that regular buddy communication is necessary when diving with a photographer and that you must be more pro-active to ensure that communication.  It can be a good idea to 'volunteer' yourself as an 'underwater spotter' for the photographer. 
Your task can be to find them their next great photo opportunity.  That will stop you getting bored whilst they are snapping away with their camera and, if effective in the role, will ensure that they are continually observing you during the dive.
7.  Agree on Contingency Plans
Ensure that your scuba dive plan includes contingencies for issues such as 'missing/separated diver'. Make sure that you communicate your intention to 'search for 1 minute, ascend, observe for 2 minutes… then formally raise the alarm' if your buddy disappears. That will focus their mind on staying close to you and maintaining a higher standard of awareness.   Nobody wants to be embarrassed by causing an 'incident'.
8.  Buddy Check
Follow the dive planning with a well co-ordinated and detailed Buddy /Pre-Dive Safety check.  This also helps 'set the tone' for how you want the dive to progress.  Be meticulous and focused when conducting the check – but also be swift so that your buddy does not get impatient.  A complete mutual buddy check should take less than 1 minute to complete.   Ensure that your dive buddy understands that the check is for your benefit. 
Many divers do get complacent about the need for buddy checks as they gain experience.  However, a responsible and considerate diver will always respect your decision to mutually check your own gear.
If you feel your 'buddy' chooses not to fully engage in planning and preparing for the coming dive, then at least you have the option to take necessary action.  Talk to the dive master and diplomatically request a new buddy or reiterate with your existing buddy that things are not how you want them to be.
At the very least, if you can't change buddy…or change your buddies' mindset…  then you are forewarned to plan a more self-sufficient approach to the dive.  At the very worst, make a responsible decision for your own safety – if you think your safety is in jeopardy because of a potential lack of buddy support, then don't do the scuba dive.
9. Retain Situational Awareness
Continue a good scuba dive planning session and buddy check with a mutually supportive water entry and descent onto the dive.  Stay close, stay observant and stay aware.  Many of the problems that occur on scuba dives happen during the water entry,  initial descent and the final ascent.
10. Water Entry
I have observed many scuba divers become complacent about water entry.  Always enter the water fully equipped and prepared for the dive.  Wear your fins and mask… and have your regulator in your mouth.  Pre-inflate your BCD.  If your buddy enters the water first, then be prepared for water entry before they do so.  If they have a problem, then you will be capable of immediately joining them in the water and providing necessary assistance. 
Likewise, if you are the first to enter the water, then stay in the immediate area, so that you can also provide assistance to them at that time.  Don't swim away on the assumption that they will be ok.  Communicate these procedures to your buddy at the dive planning stage – and they will hopefully reciprocate this 'best practice'.
11. Descent Procedures
During the descent, there is the highest possibility of airway/ear squeeze.  This often leads to buddy separation if scuba divers are not observing each other.  It is also the time when incorrect weighting or poor buoyancy control can lead to uncontrolled descent, or an inability to descend.  Any issues with regulator malfunction or contaminated air are also liable to expose themselves at this early stage in the dive.  Stay close to your buddy, observe them…and be ready to assist if necessary.
12. Ascent Procedures
I have noticed that many divers tend to 'switch off' mentally at the end of the dive.  Their thoughts turn to other things.  However, it is at the end of the dive and during the ascent that the biggest risks pose themselves.  This is the time for the greatest awareness and focus. 
At the end of the dive, we have the greatest saturation of nitrogen and, hence, the biggest risk of DCS from a rapid ascent.  It is when we are most at risk of running low, or out, of air.  It is also when the air in our BCDs, and contained within our exposure suits, expands at a progressively faster rate as we get shallower. 
Many of the times where I have had to render assistance to another scuba diver has been in the closing stages of a dive.  Because of this,  I believe that the dive doesn't end until both divers are safely back on the boat and de-kitted.
Until that time, I strive to maintain absolute focus and don't let my buddy awareness get sloppy.
Diving with 'Insta-Buddies'
It's too late to assess an unknown buddy once you're in the water.  It is also too late to mutually agree on how you want the dive to progress,  the support you need or the protocols that you expect to follow. 
Address these issues before the dive begins.   Accept that the dive begins long before you enter the water and doesn't end until you are back out of the water.  Dive planning, communication and safety checks are 'part of the dive'.  Shape the buddy system to your own preferences by addressing it properly from the earliest stage onwards.
---
About the Author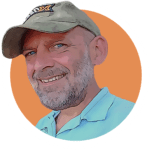 Andy Davis is a RAID, PADI TecRec, ANDI, BSAC and SSI qualified independent technical diving instructor who specializes in teaching advanced sidemount, trimix and wreck exploration diving courses across South East Asia.  Currently residing in 'wreck diving heaven' at Subic Bay, Philippines, he has amassed more than 9000 open circuit and CCR dives over 27 years of diving across the globe.
Andy has published many magazine articles on technical diving, has written course materials for dive training agency syllabus, tests and reviews diving gear for major manufacturers and consults with the Philippines Underwater Archaeology Society.
He is currently writing a series of books to be published on advanced diving topics.  Prior to becoming a professional technical diving educator in 2006, Andy was a commissioned officer in the Royal Air Force and has served in Iraq, Afghanistan, Belize and Cyprus.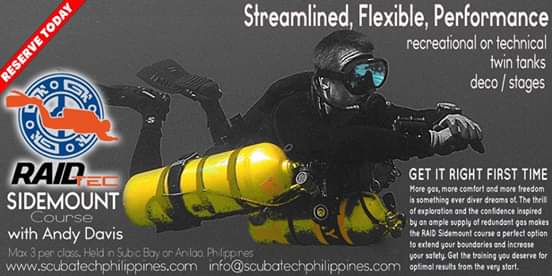 Originally posted 2018-03-07 23:56:49.