How To Overcome Fear of Mask Removal When Scuba Diving?
If you're new to scuba diving, the thought of removing your mask underwater can be intimidating. However, mastering this skill is essential to ensure your safety on any dive. In this article, I will walk you through the steps to overcome your fear of mask removal when scuba diving:
How to get used to having your face and nose submerged.
The importance of practicing mask removal and clearing techniques in a safe and controlled environment.
Some common mistakes that instructors make when teaching mask removal skills and provide tips for students to ensure they have enough practice time.
With patience and practice, you'll soon be able to confidently remove and replace your mask while scuba diving.
How to overcome fear of mask removal when scuba diving
Firstly, you aren't performing skills in your class simply to be presented with a plastic certification card. Those skills are trained to preserve your safety on every dive you subsequently do. Aim to truly master these skills, don't just try to get through them and finish the course as quickly as possible.
For that reason, you shouldn't be satisfied with anything less than complete comfort and confidence when performing skills. You haven't mastered a skill if it still causes you diving stress, or can't be easily repeated on demand.
Get used to your face and nose being submerged
The first step to overcoming "mask off" apprehension is simply to stand in the water and immerse your face while breathing from a snorkel.
If you have a problem with "nose breathing" (inhaling water through your nose, not air through your mouth)then you should practice swimming at the surface using a snorkel with swimming goggles (not a scuba mask). This helps condition you to mouth-breath.
Swim lengths of a swimming pool wearing swimming googles and breathing from the snorkel. Do this until you are entirely comfortable breathing through your mouth whilst your nose is exposed to the water.
Practicing mask removal increases comfort
Once you're content with your face immersed at the surface, you can switch to scuba kit and submerge.
Practice this skill in a horizontal position, not kneeling. It makes a big difference if your body is vertical or horizontal, especially with mask clearing.
Some instructors teach mask removal and clearing badly
Unfortunately, many instructors insist that students practice skills kneeling down. This is inefficient for many reasons. However, it causes the biggest problems when learning mask removal and replacement.
Partially flood your mask and practice clearing it. Don't forcefully exhale through your nose when clearing the mask.. it'll just blow air out of the bottom of the mask and fail to displace water. Blow air into the mask in a slooowww trickle.
Some instructors teach you to "look up" when clearing the mask. Don't. Just don't.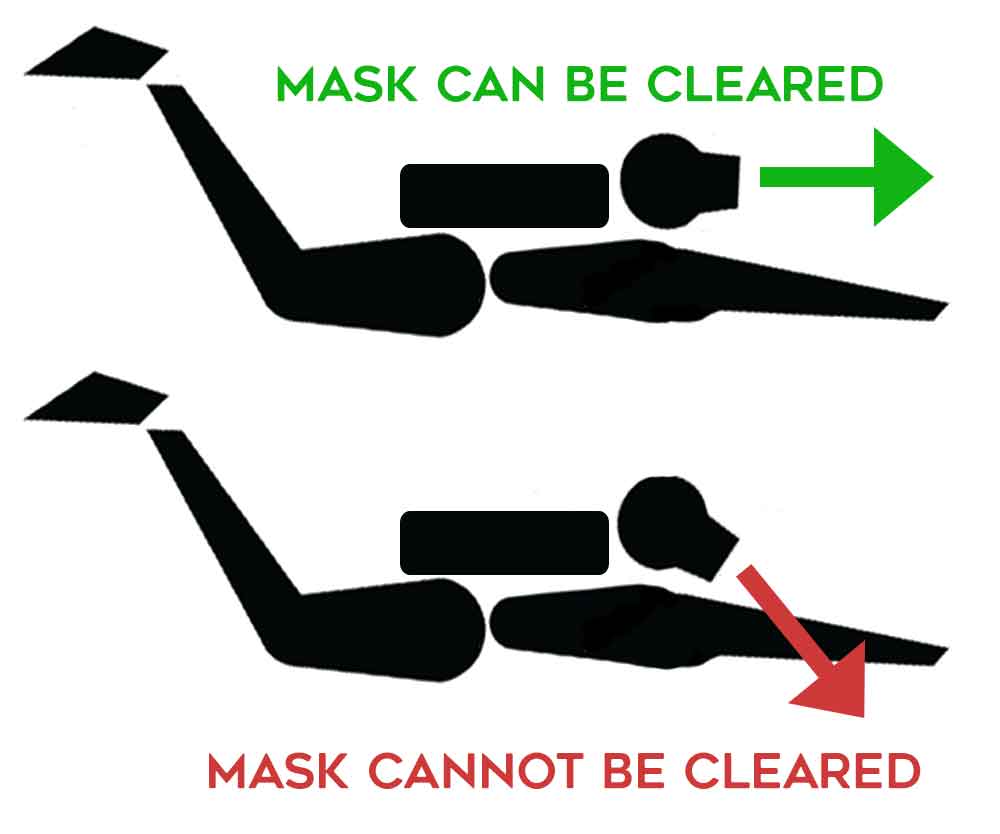 Instructors who do mask clearance like this really don't understand what it is they're supposed to be teaching. Sadly, it's not an uncommon error by instructors.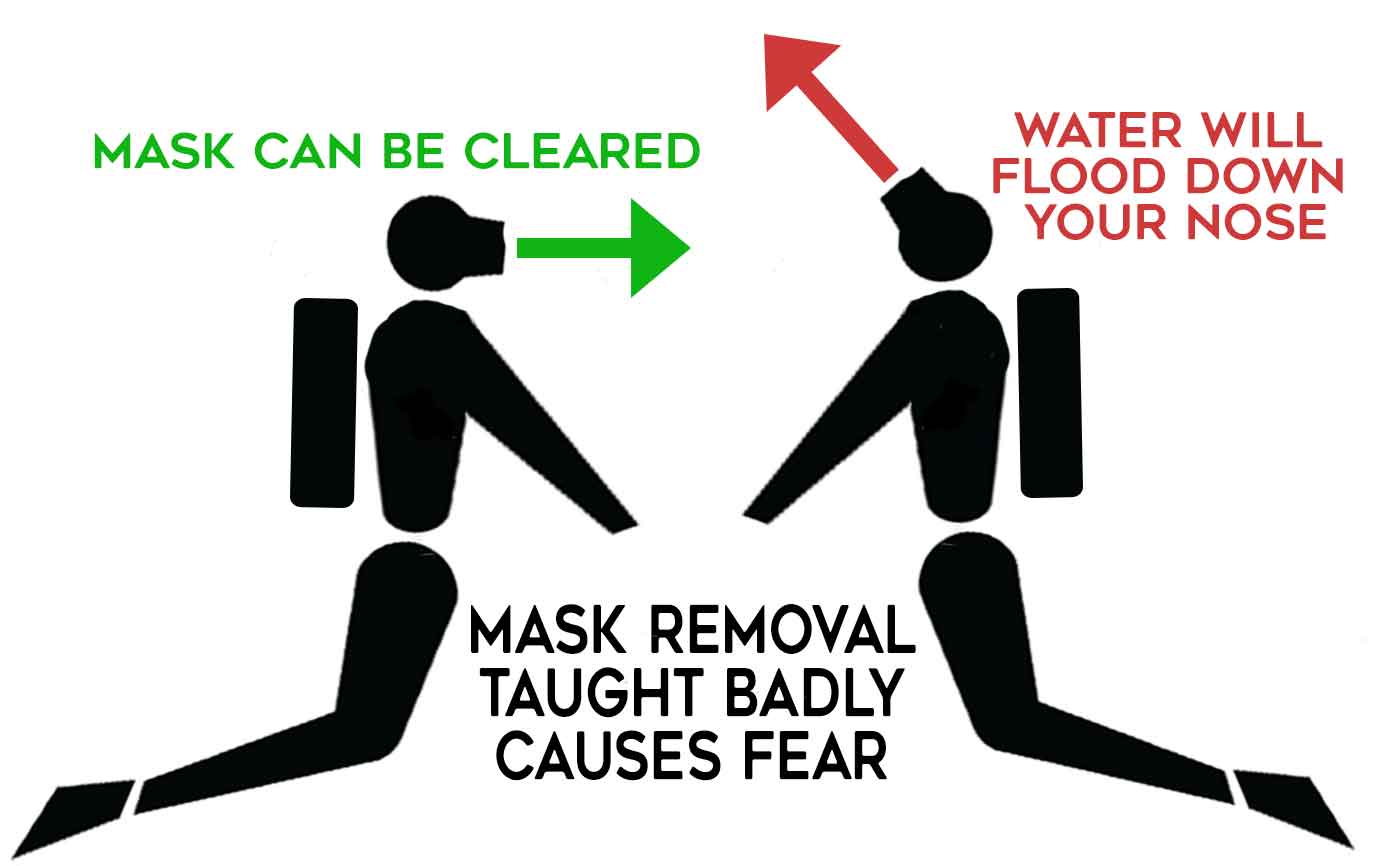 Don't look upwards during mask removal if you are kneeling or in a vertical position
If you look upwards, you'll probably just get water down your nose.. and that's stressful for anyone. It's basically just how water-boarding works!
If you start the clearance by looking slightly downwards, then just move your head up to a horizontal position to get the last dregs lf remaining water out.
Again, don't go beyond horizontal…or water may go up your nose.
Once content with partial mask clearance, process to fully flooding the mask. Flood and clear repeatedly… it gets easier the more you practice.
Don't let instructors rush mask removal skills during training
Sadly, too many scuba instructors are forcing the pace of their classes.. and this rushes students to process faster than they are comfortable.
Don't be hesitant to demand more practice time if you need it. Agency standards dictate mastery of skills before progression. Mastery is the "fluid, comfortable and repeatable" performance of a given skill. Instructors are governed by those standards… so don't let them short-change you.
When fully flooding the mask becomes easy-peasy.. make the step towards completely removing and replacing the mask. It should be easy by this point… if you've progressed slowly within your comfort zone.
End your fear of mask removal when scuba diving
In conclusion, overcoming the fear of mask removal when scuba diving requires patience, practice, and proper instruction. The key points to keep in mind include:
Scuba diving skills are crucial for your safety on every dive.
Get comfortable with having your face and nose submerged by practicing with a snorkel and swimming goggles.
Practice mask removal and clearing in a horizontal position and avoid forcefully exhaling through your nose.
Be cautious of instructors who teach bad techniques, such as looking up during mask clearance.
Take your time and don't let instructors rush you through the process.
Demand more practice time if needed and follow agency standards for mastery of skills.
Once you feel comfortable with partial mask clearance, move on to fully flooding and replacing the mask.
By following these tips, you can become confident and comfortable with mask removal during scuba diving and enjoy a safer and more enjoyable diving experience.
---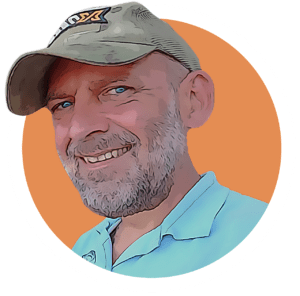 About The Author
Andy Davis is a RAID, PADI TecRec, ANDI, BSAC, and SSI-qualified independent technical diving instructor who specializes in teaching sidemount, trimix, and advanced wreck diving courses.
Currently residing in Subic Bay, Philippines; he has amassed more than 10,000 open-circuit and CCR dives over three decades of challenging diving across the globe.
Andy has published numerous diving magazine articles and designed advanced certification courses for several dive training agencies, He regularly tests and reviews new dive gear for scuba equipment manufacturers. Andy is currently writing a series of advanced diving books and creating a range of tech diving clothing and accessories.
Prior to becoming a professional technical diving educator in 2006, Andy was a commissioned officer in the Royal Air Force and has served in Iraq, Afghanistan, Belize, and Cyprus.
In 2023, Andy was named in the "Who's Who of Sidemount" list by GUE InDepth Magazine.
---
Originally posted 2019-02-22 18:41:19.