What is the best way to prepare for technical diving training?
Improve your success in technical diving training by following these steps to prepare yourself before the course!
Many divers find the transition from recreational to technical diving to be a big challenge. It is important to prepare for technical diving training diligently and with self-imposed high standards. As a diver, you need to establish a plan for your technical diving development. One of the first steps in any plan to become a technical diver is to start improving your in-water ability before the training course starts.
Diligent skills preparation in advance of your technical diving training can help ensure success and empower you to get the most out of your class.
Here are the four key areas that you should focus on improving in preparation for taking a technical diving course:
1. Develop technical diving equipment familiarity
Get into the right kit, as early as possible, and get intimately familiar with it. Equipment familiarity reduces task loading – and that's a critical factor in technical diving training. Sidemount divers have an advantage in this; as they can get trained early as recreational divers – but you can do the same in backmount with an 'intro-to-doubles' type of course.
Don't forget the small things – show attention to detail – get used to using your (tech) dive computer properly; get gauges bungee-mounted, get appropriate fins (and spring straps), resolve your hose management, tidy up your pockets and accessories, learn to deploy a DSMB in seconds, etc.
Do effective research online to help equip yourself with appropriate tech equipment in time to allow yourself to gain effective familiarity with it before technical diving training.
Make contact with your technical instructor long before training and consult with them about what equipment is best. Different instructors might give varied advice, but a good instructor will always be willing to spend some time advising you and answering your questions.
Tech Instructor's Tip: I see that students get distracted from learning new skills and procedures when they struggle and get frustrated with the basic operation and function of their equipment. Quite often, the distracting equipment is stuff that the student could have mastered long before tech training commences.
Technical diving training is challenging enough without the frustration of not being able to clip a bolt-snap onto a D-ring quickly and by feeling alone, or get a slate out of your pocket, or remove your BCD in the water… and every other minor niggle that you'll encounter unless you've practiced and begun to ingrain that intimate familiarity in advance.
2. Refine your fundamental scuba skills
Buoyancy, trim, propulsion, and awareness need to be ingrained and consistent as you prepare for technical diving training. This goes far beyond simply being able to demonstrate proper form on demand – but rather; making it an instinctive and continual approach to how you dive.
Your foundations shouldn't degrade when otherwise distracted by learning/demonstrating new skills and procedures. Start to apply uncompromising standards to your fundamental skills on your recreational dives and critique yourself if those skills lapse or can be improved (they always can….).
If unsure how to develop your foundations, then do look into doing specific preparation for technical diving training to achieve this goal. It will pay dividends later on in your overall progression through technical training.
Tech Instructor's Tip: I'd rather see a student with consistently good fundamentals, than a student with occasionally great skills. Consistency, even when task-loaded, counts for a lot. Many divers think that great buoyancy and trim is about focusing 100% on the skill (and getting some nice photos to show off on Facebook). It isn't.
Great buoyancy and trim are about maintaining your depth and position in the water without any conscious effort or focus… so that you don't lose control whenever you give your attention to another task, skill, or drill.
3. Practice scuba diving emergency protocols
You get taught emergency skills during Open Water training, then later in your Rescue Diver course. These skills will fade if not maintained through diligent practice and repetition. On technical diving training you will be expected to demonstrate more refined versions of these skills – so do make sure that your basics are 'up-to-speed' before you should hope to develop more advanced versions of these skills and protocols.
Important skills to refresh are mask removal and replacement, air-sharing as donor/receiver, diver tow/raise, and equipment removal/replacement underwater and at the surface.
Tech Instructor's Tip: I see that students struggle with basic skills that haven't been maintained since they were first learned earlier in diver education. When courses list prerequisite qualifications, there is an expectation that the student can actually demonstrate mastery of the skills taught in those courses, when they arrive for training.
Don't underestimate the impact of skill fade on important, but rarely used, skills. Technical diving training is not supposed to be a refresher for basic scuba protocols.
4. Develop self-discipline in your diving
Technical diving is all about precision diving and attention to detail. That approach is rarely fostered in recreational diving courses; it's almost discouraged during recreational fun diving in some locations.
As you prepare for technical diving training, go back to basics and diligently apply the philosophy of 'Plan your dive – Dive your plan'.
Get used to thinking through potential risk factors and have the plan to mitigate them. Learn how to calculate your SAC/RMV and start doing some basic gas management for your recreational dives. Set yourself challenges to plan and predict your dives, including gas consumption – and see how close you can to those plans and predictions on the dives.
Tech Instructor's Tip: The biggest change that I have to empower is that of a technical diver mindset. Recreational diving is very forgiving in nature; this promotes a casual approach to planning and conducting dives. Some divers find the necessary mental transition to unforgiving technical dives to be an intellectual struggle.
Start early in developing a risk-averse, precision-minded approach to dives. At the end of the day, technical diving is about how you dive, and your mindset, not how deep you go, or what kit you use. If you dive like a technical diver, on whatever dives you enjoy, then you'll be getting into the right mindset for technical diving training.
Prepare for technical diving training early
There's a lot you can do to prepare for technical diving training. Much of that preparation can be achieved by simply striving to apply technical diving standards and approaches to your current recreational diving activities.
Experience is vital if you want to achieve success in technical diving training – but do remember that quality of experience is what really counts. Bad experience; sloppy discipline, weak fundamental skills, faded emergency protocols, and non-similar equipment, don't contribute to developing your preparedness for tech diving. Bad habits and practices can actually detract from your readiness for advanced diving.
Consult your tech instructor as you prepare for technical diving training
I consult with all of my students far in advance when they start to prepare for technical diving training. I encourage them to ask questions and I write resources (ebooks and guides) that help them prepare effectively…and select the right equipment… for their future training.
When looking for a technical diving instructor, make sure that they are motivated to help you prepare effectively, in all respects, for your class with them. If they don't care about your pre-course preparation, then they probably won't care about the best standards they can achieve with you in the class itself.
---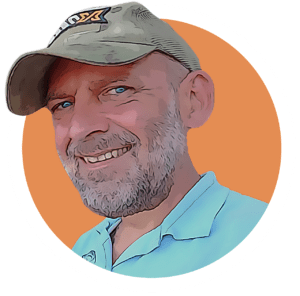 About The Author
Andy Davis is a RAID, PADI TecRec, ANDI, BSAC, and SSI-qualified independent technical diving instructor who specializes in teaching sidemount, trimix, and advanced wreck diving courses.
Currently residing in Subic Bay, Philippines; he has amassed more than 10,000 open-circuit and CCR dives over three decades of challenging diving across the globe.
Andy has published numerous diving magazine articles and designed advanced certification courses for several dive training agencies, He regularly tests and reviews new dive gear for scuba equipment manufacturers. Andy is currently writing a series of advanced diving books and creating a range of tech diving clothing and accessories.
Prior to becoming a professional technical diving educator in 2006, Andy was a commissioned officer in the Royal Air Force and has served in Iraq, Afghanistan, Belize, and Cyprus.
In 2023, Andy was named in the "Who's Who of Sidemount" list by GUE InDepth Magazine.
---
Originally posted 2018-11-05 06:10:22.