Scuba World Depth Records
Perspective on the future of scuba world depth records; the issue of human physiology versus the scientific & technological limitations on extreme diving depth.
The way I see it, there are two types of serious world records; those primarily dependent on human factors and those primarily dependent on science/technological factors.
– Breaking an automotive land-speed record is primarily dependent on scientific/technological factors.
– Breaking a 100m sprint record is primarily dependent on human factors. So are apnea diving records.
Most people tend to assume that breaking a world scuba depth record will also be primarily about human factors. That is naive of diving science and history.
Verified Scuba Diving World Depth Records
1989: Sheck Exley – 264 metres (866 ft)
1994: Jim Bowden – 282 metres (925 ft)
1996: Nuno Gomes – 283 metres (928 ft)
2001: John Bennett – 308 metres (1,010 ft)
2003: Mark Ellyatt – 313 metres (1,027 ft)
2005: Nuno Gomes – 318 metres (1,043 ft)
2014: Ahmed Gabr – 332 metres (1,090 ft)
Scuba world depth records: Physiology
Exceptional physical endurance, fitness and courage are obviously prerequisites, but they are not the determining human factors on whether a human can dive to extreme depths. The limiting human factors concern extreme-depth hyperbaric physiology. Whether an individual was somehow more resistant / less affected by hyperbaric maladies like HPNS (high-pressure nervous syndrome) and compression arthralgia. Basically, some 'X-Men' like deviations from the genetics and physiology of the human race.
For more information on extreme-depth hyperbaric maladies read:
The rest of the key determining factors for extreme depth dives are purely scientific and technological; better equipment, better decompression modelling, better gas selection and more accurate blending, better exposure protection from the cold,…etc etc etc.
To be strictly accurate, the necessary science and technology for diving to extreme depths have already existed for decades. Hence, the considerably deeper depths are already attained by surface-supplied (commercial) divers.
The deepest commercial diving depths
The company COMEX set the deepest saturation dive record in 1988; when a team of divers (Th. Arnold, S. Icart, J.G. Marcel Auda, R. Peilho, P. Raude, L. Schneider) conducted undersea pipeline work at depth of 534m (1752ft).
The science of extreme depth physiology and decompression was bench-marked in 1992 when Theodoros Mavrostomos achieved a depth of 701m / 2300ft on a 'dry' dive inside a hyperbaric chamber. It took a total of 43 days to complete the dive, using a hydrogen–helium–oxygen gas mixture.
Translating those proven approaches from surface-supplied diving to scuba (self-contained) diving remains the single biggest issue facing future world record aspirants.
Scuba world depth records: the issue of descent speeds
To date, the human factor of hyperbaric physiology remains the limiting issue on all world depth record attempts using scuba thus far. That is primarily because of the fast descents employed. Surface-supplied (commercial) divers minimize the onset of HPNS and compression arthralgia by employing very slow descents (circa 1m per minute). Scuba divers do not.
Science has illustrated a solution for deeper scuba dives – very slow descents. The current world scuba depth record holder, Ahmed Gabr took only 12 minutes to a depth of 332.4m. That's a descent speed of 27.7m per minute; nearly 30x faster than commercial extreme-deep divers compress at.
Thus far, no scuba world record aspirant has opted to employ the slower descent speeds proven effective in commercial diving. Why not?  I'd hazard a guess it is only because of the vast logistics, cost and physical endurance necessary to complete both a very slow descent and a very slow ascent from extreme depth.
It would more than double the financial cost, require a much more complex support plan and demand a world record aspirant capable of withstanding significantly longer periods of exposure underwater at great depth.
Commercial divers ascend and descend using diving bells. During this time they are resting and protected from the extremes of temperature and immersion. When exiting the diving bell at depth, a commercial diver benefits from a hot-water heated suit. In contrast, a scuba diver would have to deal with the extreme cold and would enjoy no true rest period for the duration of the dive.
Scuba world depth records: bounce diving
"Bounce' dive attempts (plummet and pray) minimize the time that the diver spends at depth. The majority of the dive is spent decompressing in relatively shallow, warmer, water. To greatly extended descent times; and we are talking an extension from 12 minutes to 6-7 hours, would probably not be survivable using even the most cutting-edge drysuits and self-contained suit heating systems (even if such systems could survive/operate at the depths considered).
If further scuba world depth record attempts remain focused on 'conquering the human factor', rather than finding a means to apply or expand known science, then I believe they are flawed. I will reconsider that belief on the occasion that a diver is proven to have sufficient genetic deviation to be reasonably immune to extreme-depth hyperbaric physiological maladies.
Until then, I would have the utmost respect for any diver, or team, who actually tried to employ, on scuba, the known diving science that has already enabled surface-supplied excursions to vastly greater depths.  
The quest is for technological answers to the issue of providing diver-portable, self-contained, life-support for sustained periods under extreme hyperbaric and temperature conditions. There is also vast scope for research into staged descent profiles; the science of compression, not just decompression.  That, without a doubt, would be a truly epic feat of human endurance, engineering and scientific progress.
At this time, I am a firm believer that progressing the scuba world depth record is a matter of known science/technology, not the human factor. 'Plummet and pray' is the antithesis solution. Nobody wants to commit to making a 6-7 hour descent yet.
Scuba world depth records always catch the public's attention. What is your opinion on these attempts? Write a comment at the bottom of this post!
---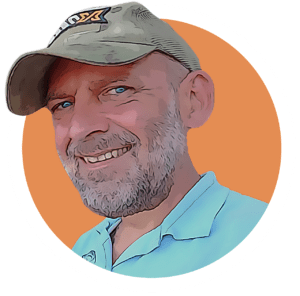 About The Author
Andy Davis is a RAID, PADI TecRec, ANDI, BSAC, and SSI-qualified independent technical diving instructor who specializes in teaching sidemount, trimix, and advanced wreck diving courses.
Currently residing in Subic Bay, Philippines; he has amassed more than 10,000 open-circuit and CCR dives over three decades of challenging diving across the globe.
Andy has published numerous diving magazine articles and designed advanced certification courses for several dive training agencies, He regularly tests and reviews new dive gear for scuba equipment manufacturers. Andy is currently writing a series of advanced diving books and creating a range of tech diving clothing and accessories.
Prior to becoming a professional technical diving educator in 2006, Andy was a commissioned officer in the Royal Air Force and has served in Iraq, Afghanistan, Belize, and Cyprus.
In 2023, Andy was named in the "Who's Who of Sidemount" list by GUE InDepth Magazine.
---
Originally posted 2016-02-19 16:29:25.