XDeep NX Project Wing: Tested and Reviewed
Choosing the right wing for technical diving can have a profound effect on your performance as a tech diver. In recent years, the XDeep NX Project has gained popularity among divers due to its innovative features and design. This article aims to provide an unbiased, expert-level, review of the XDeep NX Project, its functionality, and the user experience.
Shortly before Christmas 2016, I received the new XDeep NX Project technical diving wing for expert testing and review. Over the following years, I subjected the wing to a range of demanding technical trimix and advanced wreck penetration diving here in the Philippines. This is my personal field test and review of the XDeep NX Project technical diving wing.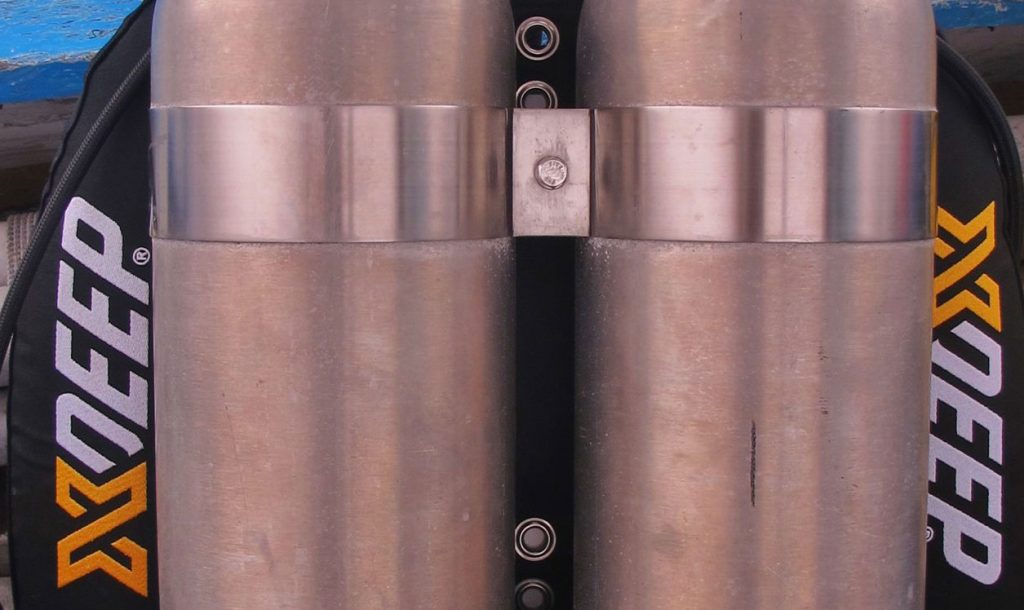 Over the past two decades as a technical diving instructor, I've owned and dove many technical diving wings, including; Halcyon Evolve and Pioneer, OMS, Custom Divers, DiveRite, and others. Beyond the basic choices of donut versus horseshoe wing design, backplate material, harness complexity, and LPI location, I've always felt there was little to differentiate between what is essentially a tried and tested core concept for wing design.
Straight out of the box, it was immediately apparent XDeep had succeeded in creating real functional innovation in their design. This reflects the application of some considerable technical diving expertise to improve both the comfort and operation of the wing system.
The XDeep NX Project Backplate
The backplate is super-lightweight, thanks to a cut-away design, bringing the total system weight down to only 3.3 kg (7.3 lbs). This would make it extremely attractive to traveling technical divers. Diving here in the tropics, the overall weight was sufficient that I didn't need to add lead ballast when using a 3mm full wetsuit,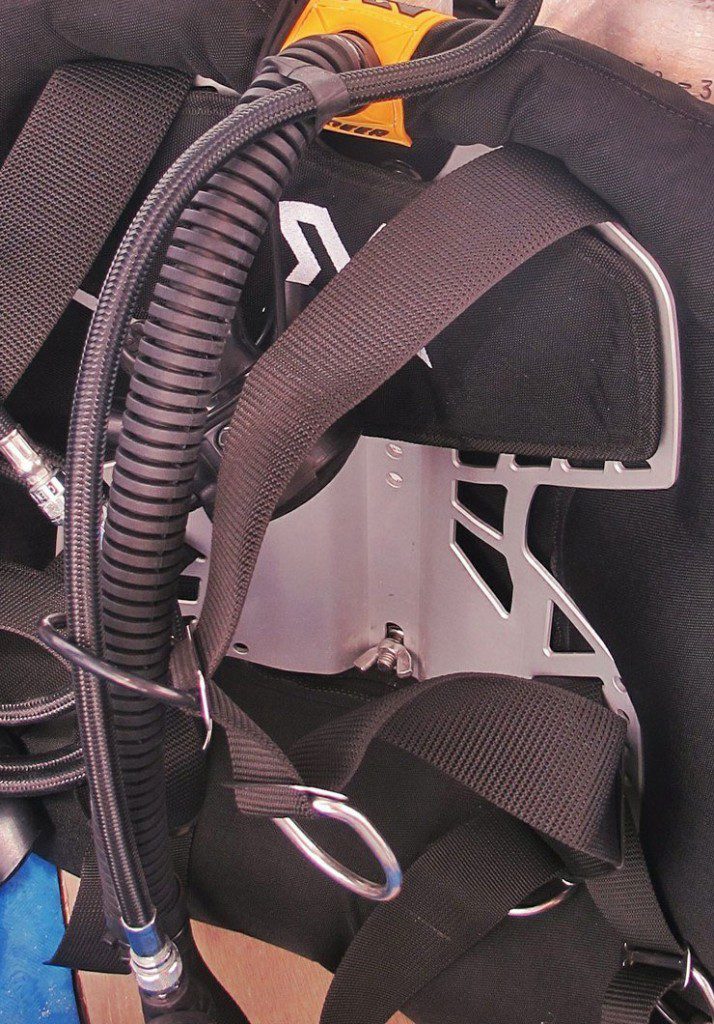 A wider, more ergonomic backplate – it's also very lightweight and well machined
The shape of the backplate seemed to add some width to the harness fitting, which made everything a little more comfortable. The backplate comes with a small padded section on the upper-back area. I typically don't favor padded add-ons for my rigs, although this one may help alleviate hot spots in the lower neck area. It did make access to the upper bolt screw more difficult though.
The manufacturing quality of the aluminum backplate is exceptional and reflects no compromise in production and engineering.
The XDeep NX Project Harness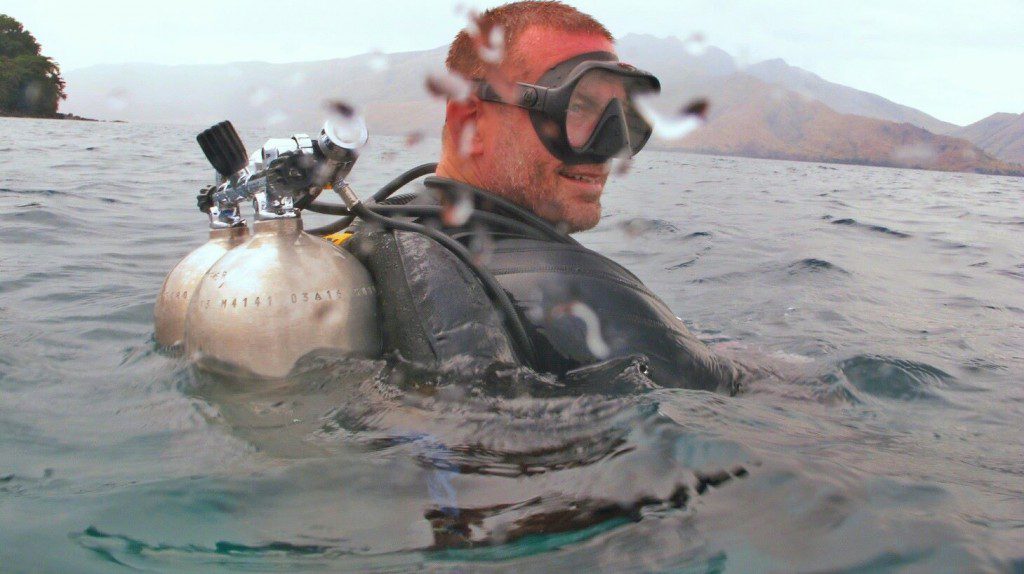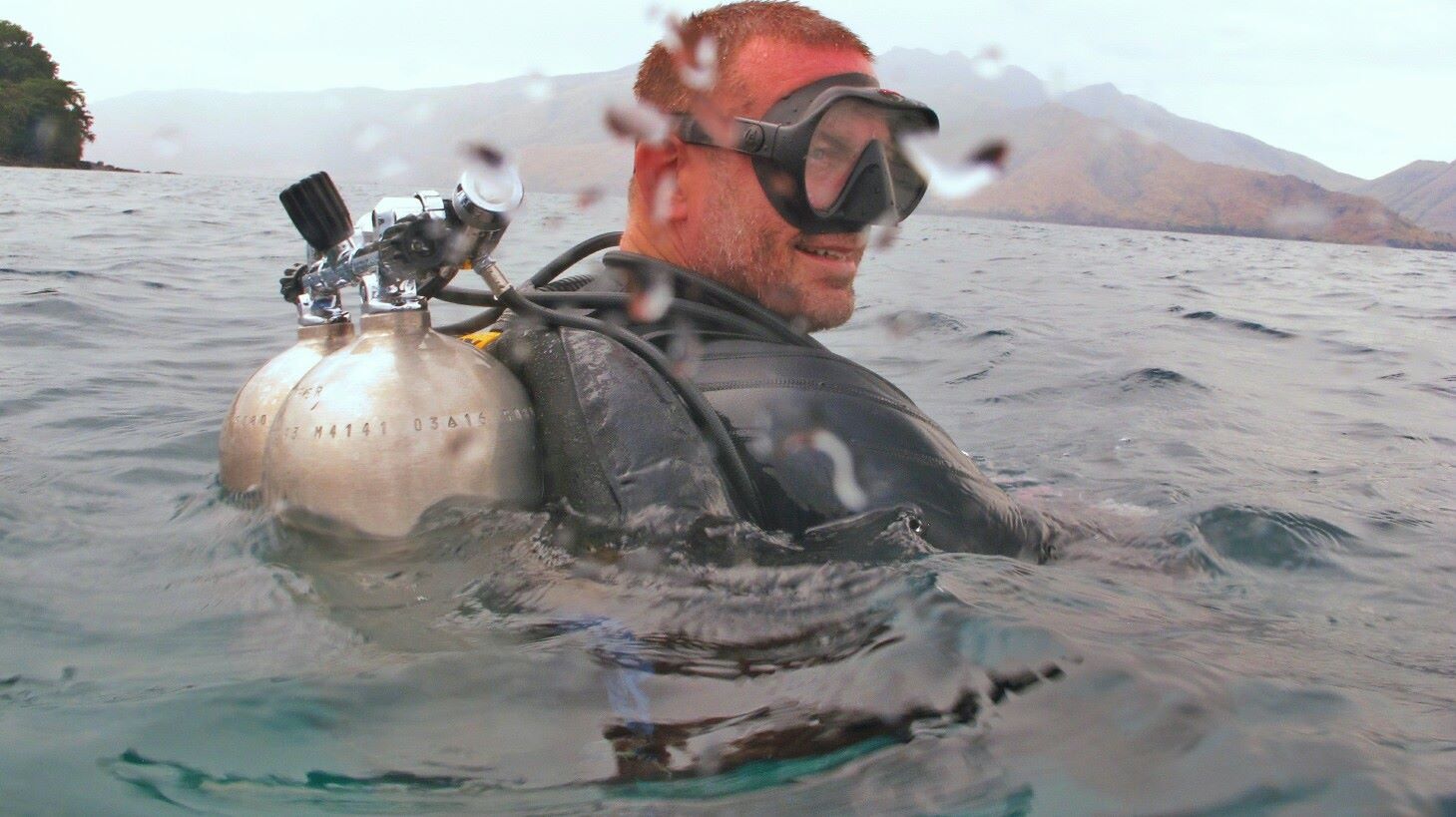 The shape of the wing, coupled with an effective Y-shaped crotch strap develops comfortable surface flotation
Hogarthian style single-piece harness. Y-shaped crotch strap – improved comfort and provides two D-rings at the rear – better distribution of ancillaries. Especially useful for penetration dives where multiple reels will be carried. The location of the D-rings also improves access with the left or right hand, as they sit under each cylinder, rather than centrally.
As the strap runs under the buttocks, not between them, it is far more comfortable to float at the surface. This is definitely a crotch-strap design I'd want if diving in a skin suit or board shorts! Coupled with the innovative wing design, it floats you higher above the water than is typical for a technical wing.
The XDeep NX Project Wing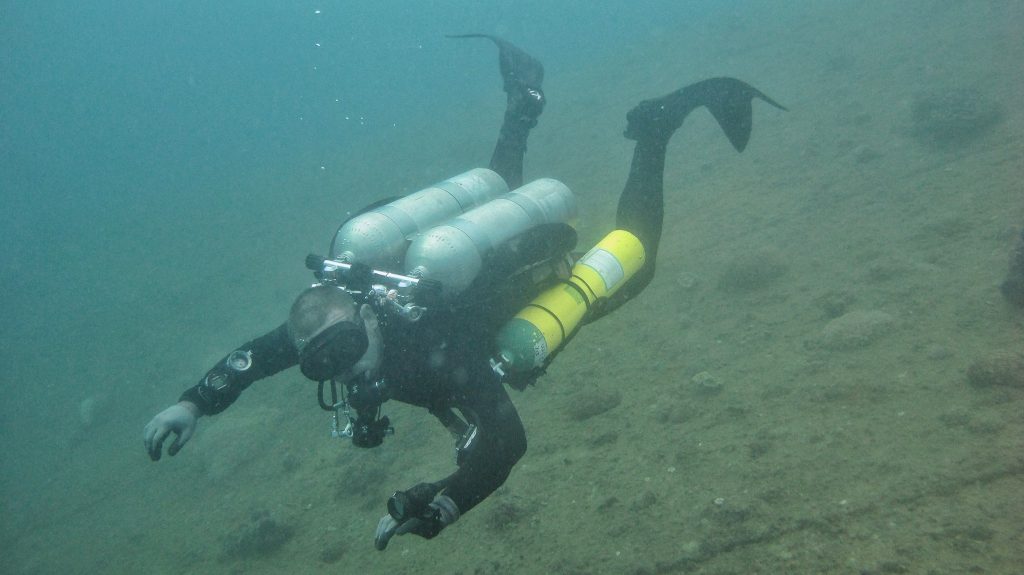 The wing is shaped to wrap cylinders efficiently and distributes gas well, promoting intuitive trim
The wing is designed with a more oval, slimmer, profile which I found wraps efficiently along the sides of the cylinders. This reduces the profile of the system slightly and eased some of the thinner wreck restrictions I attempted.
The biggest innovation in the wing design is that it offsets air distribution towards the lower wing. This fundamentally promotes more lift around the lower torso and helps maintain proper trim throughout the dive. The other large benefit of this design is that it substantially reduces the amount of material and bulk behind the neck. It's easier to keep your chin up high and there is zero interference when reaching back for the valves.
The novel Low-Pressure Inflator (LPI) hose design also serves to reduce bulk at the top of the wing. There's no clutter from traditional plastic screw connectors; so there's less to fail on a dive and, again, nothing to clutter vital access to the cylinder valves when performing shut-downs. I was impressed with the LPI design and it'd be good if this feature were included across the entire XDeep line. The only drawback to having a permanently attached (securely sewn and ultrasonic welded) LPI system is that a replacement corrugated hose would entail sending the rig back to XDeep – but as their customer service is usually excellent, I don't see this as a major problem.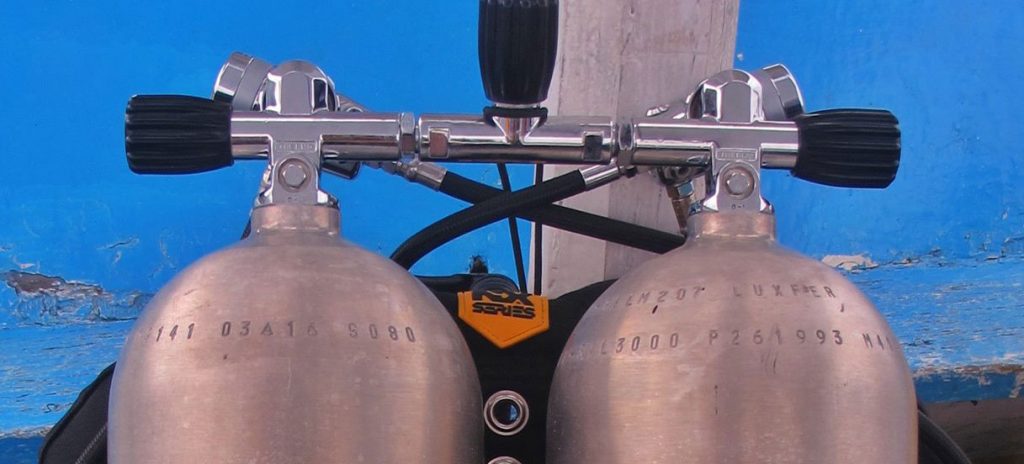 Rear view showing the clearance between the top of the wing, LPI attachment and the cylinder valves
The OPV/Pull-Dump was traditionally located on the left-side lower wing. It seemed of robust construction and operated flawlessly. Because of the LPI connector design, the wing could actually be reversible, allowing the OPV to be situated on the right side of the wing and protected under the fabric. That may be beneficial to sidemount divers who have developed muscle memory for using a left-side OPV, or for those who conduct aggressive penetration dives in confined areas….as the OPV would be well protected from damage.
The wing was constructed from hard-wearing Cordura fabric and had an inner bladder. After several lengthy wreck penetrations, including some tight restrictions, there was no damage or wear evident on the wing.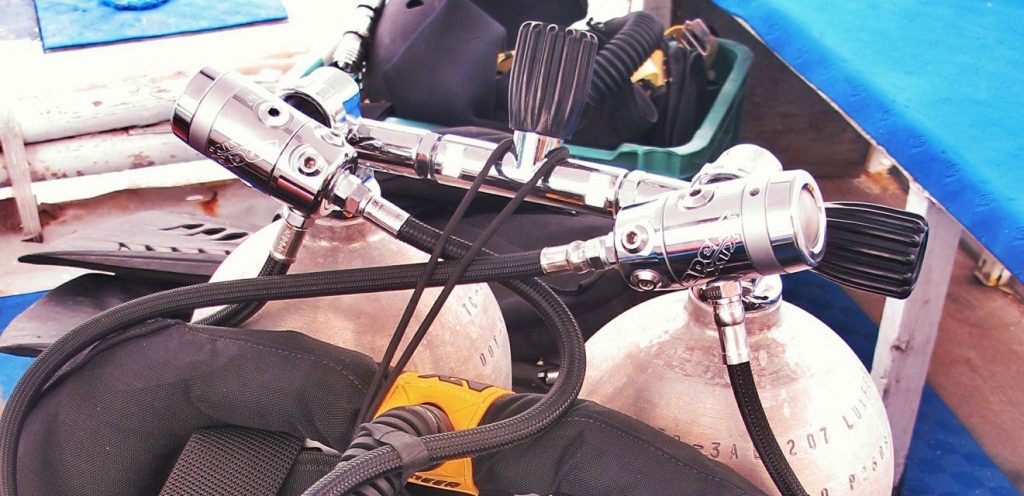 Front view showing the clearance between the top of the wing, LPI attachment, and the cylinder valves
XDeep as a dive equipment manufacturer
XDeep is a relatively new dive equipment manufacturer which quickly established popularity amongst advanced divers for its innovative and original designs. Originally focused on creating excellent original sidemount system designs, it has evolved over the last decade to offer a range of backmount wings, for both single and double cylinders, along with diving regulators and a wide selection of accessories.
What sets XDeep apart from many of its competitors is its focus on originality and innovation to identify and address functional improvements to equipment performance. They don't merely regurgitate tried and tested designs, but neither do they superficially jazz up designs with irrelevant features purely for the sake of appearances and marketing. New features on XDeep designs reflect the input of legitimate high-level diving expertise and experience; it is apparent that innovation is created as a result of problem-solving to improve system performance, rather than just a commercial need to differentiate products in a competitive market.
As a staunch advocate of functional minimalism in diving equipment design, I long believed that there was little or no improvement to be made to the ubiquitous donut wing and hogarthian harness concept. Choosing a tech wing was primarily a matter of considering materials used in construction, and the build quality, and the reputation and customer service of the manufacturer; balanced against the unit cost.
XDeep proved that assumption wrong; with the NX Project they found inspiration to meaningfully improve comfort, performance, and functional utility.
Overall Impression of the XDeep NX Project
I really enjoyed diving the XDeep NX Project wing and it's already taken pole position as my default rig for backmount technical diving. Sadly, my Halcyon Evolve is now relegated to the storage cupboard – no small achievement as I've used Halcyon wings for over 12 years. I was impressed that the XDeep design team managed to find some truly innovative new features that improved the form and function of basic tech wing design. Those innovations aren't just the typical dive manufacturer gimmicks to promote more sales; they really do have a positive effect on diving the rig and reflect some genuine diving expertise and experience influencing the design team.
Product Link: http://www.xdeep.eu/tec-double-tank-bc-system-project-pr-122.html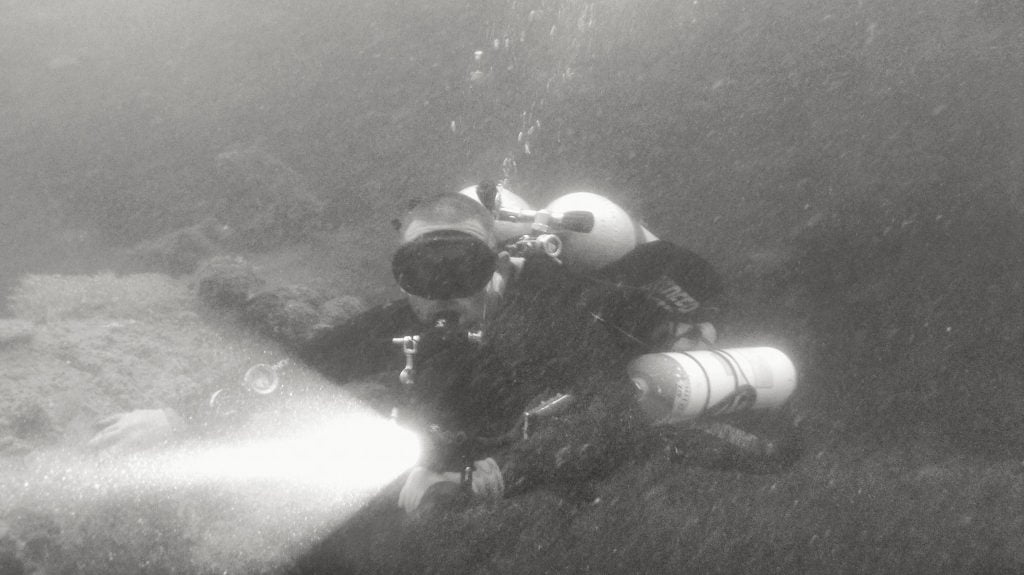 XDeep NX Project Specifications
Buoyancy: 23kg / 52lbs
Max Cylinders: 2×18 L
Total Weight: 3.3 kg (7.3 lbs)
2x Harness Sizes: Small (for divers less than 175 cm tall) and Large (for divers 175 cm and taller)
Material: Double Bladder wing – (Outer) Cordura 1100 dTEX and (Inner) Nylon 440 dTEX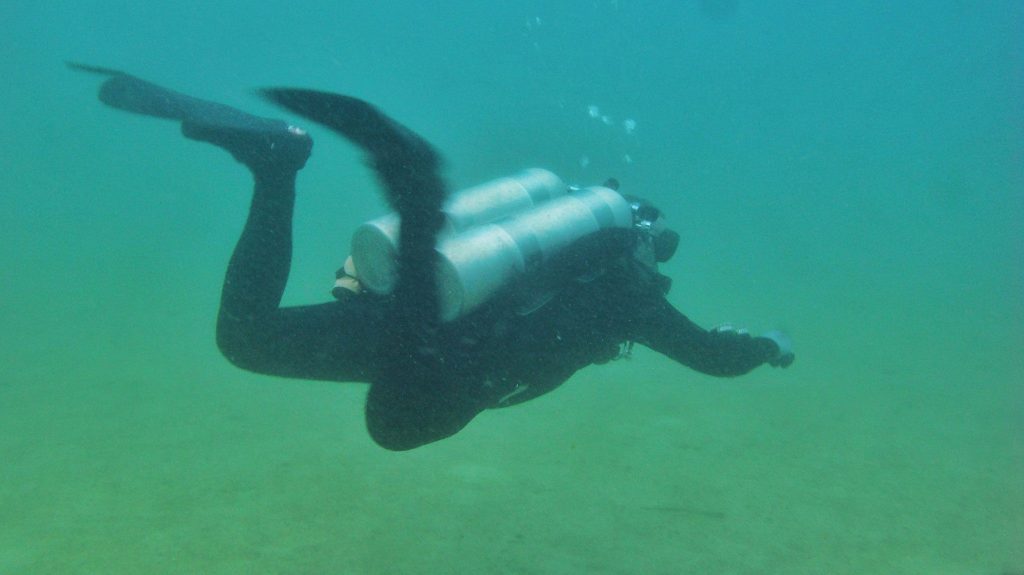 XDeep NX Project FAQs
Can I use the XDeep NX Project in cold water?
Yes, the XDeep NX Project is suitable for use in cold-water diving environments. The wing buoyancy provision, backplate material options, and unique harness system makes it suitable for a variety of diving environments.
Is the XDeep NX Project worth the price?
In my opinion, the XDeep NX Project offers more than enough innovative functionality and performance improvement to justify pricing in competition with other market-leading wings, such as the Halcyon Evolve.
What are the key features of the XDeep NX Project?
The XDeep NX Project features an unobtrusive central LPI that promotes greater valve accessibility, and a lightweight skeletonized backplate, and a Y-shaped crotch strap that enabled greater comfort and stability at the surface when heavily loaded. It also has a unique wing design that allows for more intuitive trim control and stability by maximizing buoyancy towards the lower torso.
Can the XDeep NX Project be customized based on diving needs?
Yes, the XDeep NX Project is customizable based on diving needs. XDeep offers a variety of options and accessories to tailor the system to individual preferences and diving requirements.
Is the XDeep NX Project durable and long-lasting?
Yes, the XDeep NX Project is made from high-quality materials and is designed to be durable and long-lasting. With proper maintenance and care, it can last for many years. I have used (and abused) my own NX Project intensively for both trimix and advanced wreck penetration diving over many years and it has proven to be very rugged.
Does the XDeep NX Project promote good buoyancy control and trim?
Yes, the XDeep NX Project features a unique wing design that maximizes buoyancy lower on the torso to facilitate improved trim. The LPI is located centrally on the upper wing to promote more control when dumping gas. The lower pull dump valve is easy to access and allows the diver to retain horizontal trim when controlling buoyancy.
Is the XDeep NX Project comfortable to wear?
Yes, the XDeep NX Project is designed for comfort and adjustability. Its harness system and Y-shaped crotch strap promote more responsive control throughout the dive and superior surface flotation comfort and stability.
How does the XDeep NX Project compare to other diving equipment in terms of price?
The XDeep NX Project is a high-end diving system designed for advanced and technical diving, so it is priced accordingly. It may be more expensive than some technical diving wings on the market, but its advanced features and innovative design technology make it worth the investment for those who require high-performance capabilities.
Is the XDeep NX Project available in all regions?
Yes, the XDeep NX Project is available worldwide through authorized dealers and distributors, along with retailers offering products via Amazon for shipment. It can also be purchased directly from the XDeep website, which offers the opportunity to uniquely customize the color scheme of the wing.
Is the XDeep NX Project suitable for beginner divers?
No, the XDeep NX Project is not suitable for beginner divers. It is an advanced diving system designed for use with double-cylinder systems typically used by advanced and technical divers. XDeep offers the Zen, Ghost, and Zeos wings for single-cylinder recreational and beginner divers.
---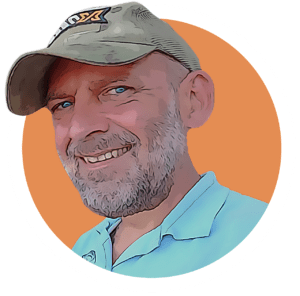 About The Author
Andy Davis is a RAID, PADI TecRec, ANDI, BSAC, and SSI-qualified independent technical diving instructor who specializes in teaching sidemount, trimix, and advanced wreck diving courses.
Currently residing in Subic Bay, Philippines; he has amassed more than 10,000 open-circuit and CCR dives over three decades of challenging diving across the globe.
Andy has published numerous diving magazine articles and designed advanced certification courses for several dive training agencies, He regularly tests and reviews new dive gear for scuba equipment manufacturers. Andy is currently writing a series of advanced diving books and creating a range of tech diving clothing and accessories.
Prior to becoming a professional technical diving educator in 2006, Andy was a commissioned officer in the Royal Air Force and has served in Iraq, Afghanistan, Belize, and Cyprus.
In 2023, Andy was named in the "Who's Who of Sidemount" list by GUE InDepth Magazine.
---