Technical Diving Books You Must Read!
Serious diving books that should be on every advanced divers bookshelf
This is my shortlist and review of the best technical diving books that every serious diver should read. I own all of these books and have read them all (at least) once. My copies are quite well worn now.
Whether you are an advanced, professional or technical diver seeking to increase their knowledge, or if your partner is an avid scuba diver and needs a seasonal or birthday present…. these books make a great choice.
Technical Diving Books: Theory-based
The first section of books are more theory-focused and academic in nature. I keep these books handy for reference all the time. As a technical diving instructor, I find them invaluable; both for myself and as an educator of other divers.
Mark's book on decompression theory is, quite simply, a must-read for any real tech diver or diligent dive professional. It's required reading for my own technical diving students. I spent years crawling through, very dry, scientific articles trying to get a grasp of the subject, but Mark manages to get all of that information into his book in an easy-to-read style. I've literally read my copy of this book cover-to-cover at least five times already.
My technical diving books rating: 10/10
Gareth is a well established technical diver and expert on human factors analysis. The field of human factors looks into critical 'non-technical' skills; such as team function, communication, human environment and organizational culture, heuristic decision making and cognitive biases in judgement.
Those factors form a part in many diving accidents; so this book is incredibly important for accident analysis and to empower divers to better safeguard against known failure issues. Gareth's work is having a big impact on the technical, wreck and cave diving communities; along with numerous scuba training agencies who've utilized his in-person training.
My technical diving books rating: 10/10
Asser's technical diving book on decompression theory is excellently written. The author's huge subject matter expertise allows him to explain an otherwise complex topic in an easily comprehensible way. Don't be intimidated by decompression theory books – they can do so much to add interest and safety to your diving. Another must-read for technical divers.
My technical diving books rating: 8.5/10
Steve's book is an easy, light-hearted, read; but nonetheless packed full of essential lessons, tips and advice for technical divers of all levels. It would be a particularly good read for anyone planning to venture into tech diving in the future. The book covers topics like; buoyancy, trim and propulsion, breathing control, emotional (stress) management, situational awareness, dive planning and operation, deco curves and accident analysis.
My technical diving books rating: 9/10
The second book I've listed by Mark Powell, this is aimed at novice tech divers and those considering that path in the future. This book gives a very comprehensive description of technical diving and each chapter contains a wealth of valuable information. Even as a technical diving instructor myself, I found this book attention-keeping.
Topics covered include; the differences between recreational and technical diving, tech gear configuration, technical diving philosophies, how to get started in technical diving, advanced diving physics and physiology, rebreathers, key tech diving skills and how to plan for decompression and overhead environment diving. Mark was, incidentally, my first technical diving instructor – so I had a good start in my journey.
My technical diving books rating: 8/10
Steve's book on diving risk management brings together a wealth of experience and sound analysis to deliver valuable lessons that promote safer diving. The book is aimed at more serious divers, but really should be read by anyone who straps on a scuba cylinder. This technical diving book is essentially a survival guide for divers; presented with high attention-to-detail. It breaks down the seemingly simple and mundane processes of going scuba diving, with an emphasis on where things can easily go wrong… and how a diver can guard against that happening.
My technical diving books rating: 7.5/10
This is the essential textbook on DIR ("Doing It Right") diving. It isn't just a technical diving book, because it deals with the fundamental knowledge, equipment configuration, mindset, skillfulness and operating protocols that any serious diver should aspire to attain. It is a great starting point for any diver wishing to progress into technical diving, or existing technical divers who desire a more standardized approach and increased in-water performance. Contrary to some people's expectations, there's no 'Kool Aid' in this book… just a wealth of great information. I recommend all my students to read this book prior to training.
My technical diving books rating: 9.5/10
Technical Diving Books: Biographies and true stories
This section of books deals with real-life diving stories, but they are nonetheless very educational and will offer a lot of benefit for serious divers. They can be especially educational when read in conjuction with the theory-based books I've already listed; as those books can help explain the physics and physiology that plays a part… or guide a learning assessment of mistakes made by those featured in some of the books.
Ostensibly a recount of Martin Robson's experience with decompression sickness (DCS) whilst technical cave diving in Russia, it under-represents this book to merely call it biographical. There was a huge volume of dive medical and historical research done to write this book; and it is one of the best reads for a technical diver to gain a realistic understanding of the malady.
My technical diving books rating: 8.5/10
In this book, Michael describes a number of true life scuba incidents and then analyzes them to deliver valuable dive safety lessons for the reader. Intelligent analysis like this doesn't seek to lay blame, but rather identifies the sort of mistakes that we are all prone to make. The book also details some pitfalls that await the unwary diver – forwarned is forearmed. The valuable content makes this a great read for divers of any level; beginner to technical.
My technical diving books rating: 7.5/10
This book is the true-life account of wreck diving legends John Chatterton and Richie Kohler diving exploits to discover the identity and history of a WWII German u-boat off the American coast. It's a classic technical diving book, and I don't know many experienced tech divers who won't already have read it. If you haven't already, then you should get a copy now. Beyond simply being a thrilling, and sometimes tragic and emotional, story; it really gives insight into the mindset and methodologies of technical divers.
My technical diving books rating: 9/10
Often considered the 'sister book' to Shadow Divers, this true-life account of technical diving on the Andrea Doria wreck goes further to explain some of the circumstances and events mentioned by Robert Kurson. This is old-school 90's technical diving at its best and worst. The story covers many of the frictions between different diving teams, along with the courage and adventurous spirit that typified deep wreck exploration at that time. There's also a lot of lessons to be learned from the book; it can be a more interesting read if you've read Gareth Lock's 'Under Pressure' first.
My technical diving books rating: 7.5/10
Bernie's book forms a sort of trilogy with Shadow Divers and Deep Descent. It covers the tragic demise of father-son diving team, Chris and Chrisy Rouse, while diving the u-boat wreck described in Kurson's book. In addition to being a glimpse into the adventure of deep technical wreck diving; it's a profound case study on pushing too hard, too fast. There is a huge benefit to the diving reader performing some accident analysis of this story.
My technical diving books rating: 8/10
---
---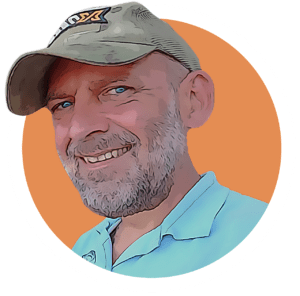 About The Author
Andy Davis is a RAID, PADI TecRec, ANDI, BSAC, and SSI-qualified independent technical diving instructor who specializes in teaching sidemount, trimix, and advanced wreck diving courses.
Currently residing in Subic Bay, Philippines; he has amassed more than 10,000 open-circuit and CCR dives over three decades of challenging diving across the globe.
Andy has published numerous diving magazine articles and designed advanced certification courses for several dive training agencies, He regularly tests and reviews new dive gear for scuba equipment manufacturers. Andy is currently writing a series of advanced diving books and creating a range of tech diving clothing and accessories.
Prior to becoming a professional technical diving educator in 2006, Andy was a commissioned officer in the Royal Air Force and has served in Iraq, Afghanistan, Belize, and Cyprus.
In 2023, Andy was named in the "Who's Who of Sidemount" list by GUE InDepth Magazine.
---
Originally posted 2022-12-01 21:52:01.