What scuba training agency is best for technical diving?
This advice will help you the best scuba training agency for your technical diving training
A frequently asked question online is "what scuba training agency is best for technical diving?". That question often sparks heated debate, not in the least because of varying agency loyalties and the financial self-interests of those working in the technical diving training industry. Deciding upon a training agency is an important step when establishing your individual goals for technical diving development.
The usual, least biased, answer is that the agency doesn't matter; it is the individual instructor that determines the outcome and quality of a technical diving course. Whilst that answer is absolutely correct (and it's critical to thoroughly research your potential tech instructor), it also fails to acknowledge that technical training agencies can differ significantly in the standards and structure of the courses they offer.
Those differences at an agency level should be worthy of consideration when selecting what training is most optimal for your needs and best meets your personal philosophy on development.
I recognize four main differences between scuba training agencies with respect to their technical diving training. Consider those differences and decide which is best for your needs.
What are the scuba training agency's technical diving course structures?
Modularized Technical Diving Course Structures
Some agencies break their courses down into convenient 2-day/4-dive modules; i.e. PADI Tec40/45/50 or TDI AN/DP/ER. The main reason for this is based on commercial principles from recreational dive training – courses that can be run over a single weekend attract more sales. Modular courses tend to have much less developmental value compared to singular, comprehensive, courses; but do afford the opportunity to consolidate your experience between smaller levels of progression if you're struggling to keep pace with the skill curve (which is basically defined by how well-prepared, or not, you are to start a course).
Singular Technical Diving Course Structures
Other agencies utilize singular courses of longer duration that might take a week to complete; i.e. GUE Tech1 or RAID Deco50. These tend to benefit students from the day-to-day continuity in training; which is a distinct benefit to ingraining skills and allows more dedicated practice each day.
However, being singular and longer duration, they do require a greater initial commitment of time, money, and effort from the prospective student. As a result, they tend to attract more dedicated and motivated divers.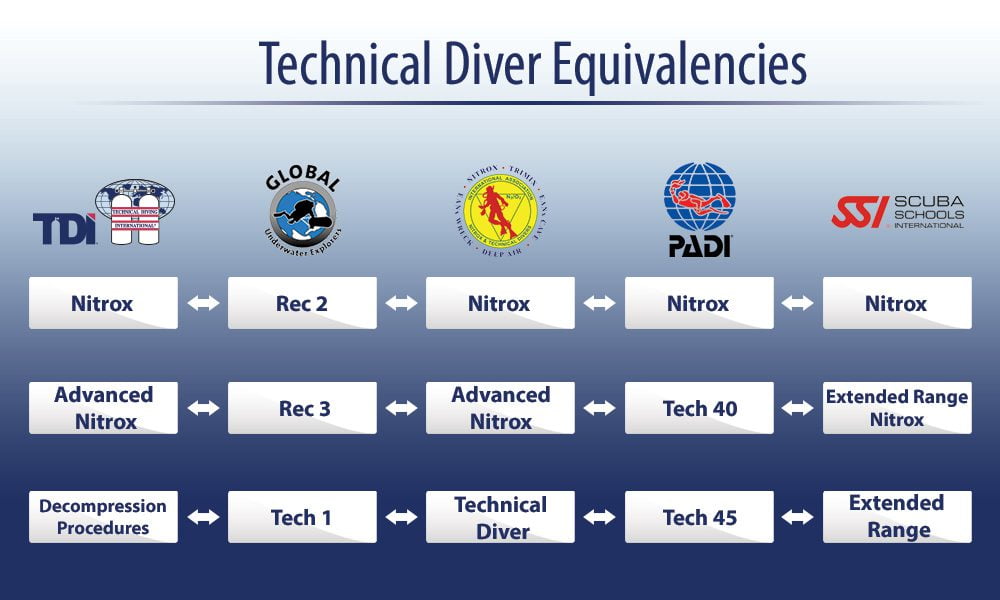 What is the scuba training agency's approach to trimix diving?
Agency tech curriculums vary on when they introduce helium as a breathing gas. Some agencies adhere to DAN's scientific recommendations on gas density – which necessitates helium use from the outset (equivalent narcotic depth of 30m/100ft).
Mandated or universal trimix training
GUE, UTD, RAID, and ISE all mandate trimix on every tech course. For them, every tech qualification is a trimix qualification. This acknowledges evidence of breathing gas density issues exacerbating C02 retention and assumes that inert gas narcosis management is essential on more complex and risk-consequential technical dives.
Optional trimix training
Some scuba training agencies, such as TDI and IANTD, encourage trimix introduction as an optional module in their curriculum path.
Delayed trimix training
Other agencies, like PADI, reserve trimix training until much later in the curriculum (i.e. Tec65); basing their philosophy on helium use purely upon oxygen toxicity limits (1.4pp02).
Technical divers should have access to the right 'tools' to mitigate risks on their dives – and trimix is an important option to consider.

What are the scuba training agency performance standards for technical diving?
The performance standards expected of students (and instructors) vary greatly between agencies.
Mass market diving equals lower standards
Some agencies have very lax standards, which empower lackluster instructors to downwardly interpret the necessary student proficiency to an absolute bare minimum level. Training can easily be below modern benchmark expectations of quality. As a consequence, it becomes absolutely critical to research and select your instructor on the basis of their individual reputation and prestige.
Niche scuba training agencies and higher standards
Other agencies have very rugged training standards, which have very little room for depreciated interpretation. This delivers an assurance that your training will be very robust and meet modern benchmarks of performance. The consequence of that does tend to demand that prospective students take responsibility for attending training with the right level of proficiencies in place.. and work harder during their courses in order to have a realistic chance of certifying.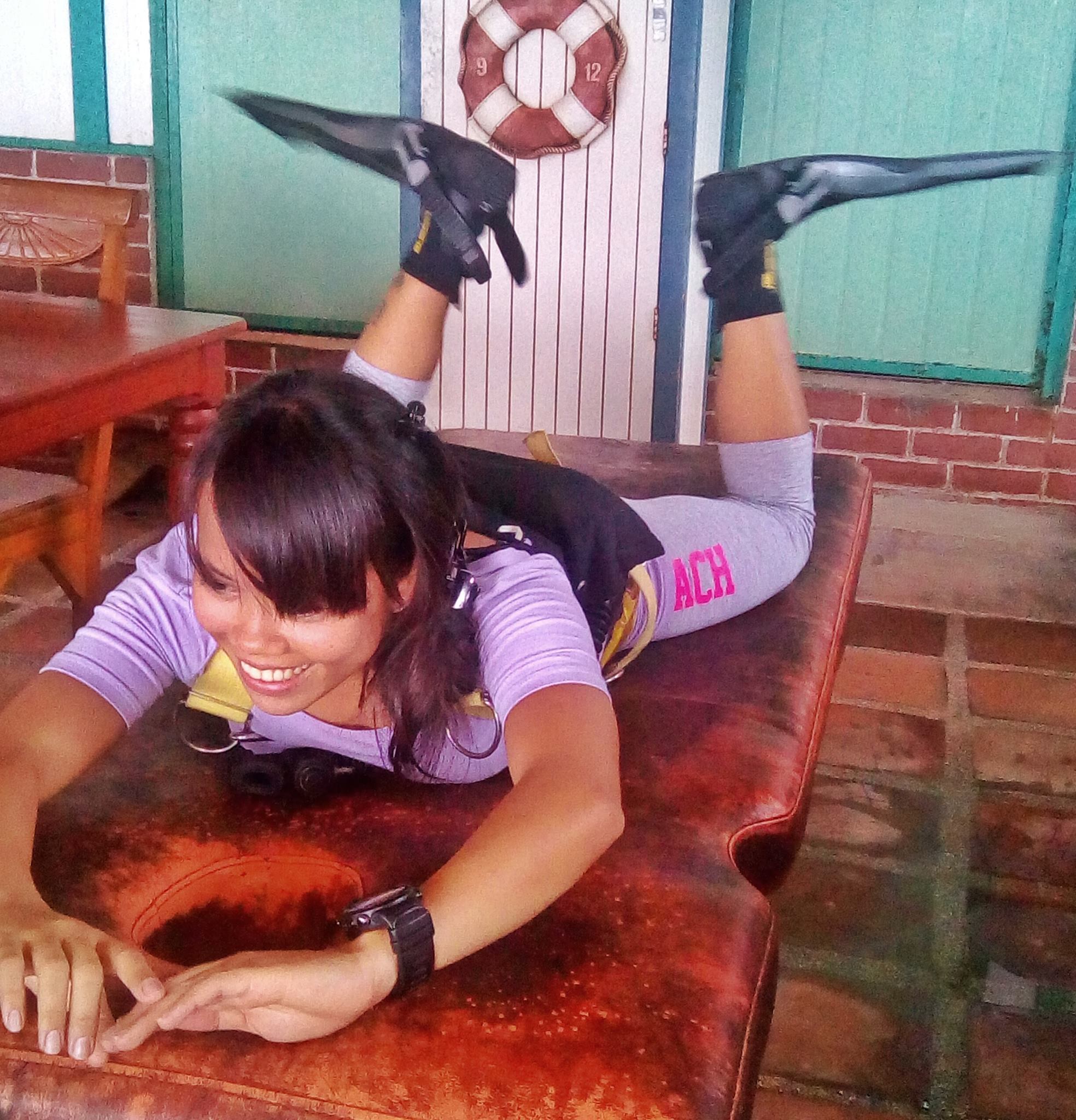 How standardized is the scuba training agency?
Agencies differ significantly in terms of how standardized their skills, protocols, and equipment are.
High-standardization technical diving agencies
Some, such as GUE and UTD ("DIR agencies") are rigidly standardized. This ensures equality of competence and approach between any qualified diver holding their certifications. Additionally, it allows a holistic and integrated approach to a progressive curriculum. In turn, this means that each course prepares for the next level and that you can swap between different instructors with no drawbacks or discrepancies.
Low standardization of technical diving training
In contrast, some agencies have little or no standardization. It's a literal 'free-for-all'. Absurdly, each individual instructor defines their own preferences on protocols, equipment, and skills approach.
This brings a risk that some instructors may have flawed, or very outdated, approaches to tech diving. The danger is that they'll pass it on to their students. Of course, it also means that different instructors would teach differently. As a result, it can cause progression-impeding conflicts if you have different instructors when progressing through the curriculum.
---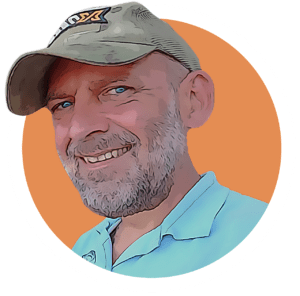 About The Author
Andy Davis is a RAID, PADI TecRec, ANDI, BSAC, and SSI-qualified independent technical diving instructor who specializes in teaching sidemount, trimix, and advanced wreck diving courses.
Currently residing in Subic Bay, Philippines; he has amassed more than 10,000 open-circuit and CCR dives over three decades of challenging diving across the globe.
Andy has published numerous diving magazine articles and designed advanced certification courses for several dive training agencies, He regularly tests and reviews new dive gear for scuba equipment manufacturers. Andy is currently writing a series of advanced diving books and creating a range of tech diving clothing and accessories.
Prior to becoming a professional technical diving educator in 2006, Andy was a commissioned officer in the Royal Air Force and has served in Iraq, Afghanistan, Belize, and Cyprus.
In 2023, Andy was named in the "Who's Who of Sidemount" list by GUE InDepth Magazine.
---
Originally posted 2023-01-08 21:25:04.