The Best Budget Dive Computers For Beginner Divers
Are you a new scuba diver trying to understand which budget dive computers provide the best value for money? Look no further!
As a dive instructor with 3 decades of diving experience, I have compiled a comprehensive list of the best budget dive computers for beginner divers. This article provides unbiased opinions and advice to help you choose the perfect dive computer that suits your needs and budget.
Keep reading to discover the features and functions of the best budget dive computers for beginner divers.
Best choice budget diving computers
The best budget diving computer is based upon your current needs and future requirements. Overall, I would give the following options:
| Best Option For | Budget Dive Computer |
| --- | --- |
| Best long-term value | Shearwater Peregrine |
| Cheapest price option | Cressi Leonardo |
| Best all-around value | Aqua Lung i300C |
| Best for social media sharing | Deepblu Cosmiq+ |
Read on to learn about the functions and features that I used to decide on those recommendations.

Factors to consider when purchasing budget dive computers
Essential functions on budget dive computers
Backlight: A backlight is essential to ensure that you can easily read the data displayed on your dive computer, even in low-light conditions. The latest generation of OLED screens does not require a backlight.
Algorithm: The purpose of a dive computer is to keep you safe from decompression sickness (DCS). The dive computer decompression algorithm model makes those calculations. However, different models can affect your dive profile. The two main models use are:

Bühlmann ZHL-16C: Less inherently conservative. A tried and tested model. Favored by technical divers. Requires more diver caution.
RGBM: More conservative, limits dive time for repetitive and multi-day diving, penalizes unsafe diving behaviors. Compensates for less diver knowledge and skill.

Alarms: Alarms are crucial to ensure that you receive alerts when you need them, even if you're not actively looking at your computer. Vibrating alarms cost more, but do not annoy other divers. Audible alarms are cheap and common.
Price considerations for budget diving computers
Battery: The type of battery is a cost-value factor in budget dive computers. There are three options:

Rechargeable: A lithium-ion battery that has to be frequently charged, but will not run out. These cost more but are very convenient.
User-replaceable: A standard watch battery with a long duration that the diver can change when needed. This is satisfactory and economical.
Dealer-replaceable: A battery that can only be replaced by sending the computer away to a manufacturer-approved dealer. These are not recommended.

Display: Look for a big (colorful) screen with a backlit display. OLED displays offer brilliant colors and clarity that are hard to beat and make reading the data underwater a lot easier.
Screen: If you have weak vision, then a larger and clearer display size becomes a primary decision factor. There are two main types of computer screens:

LED screens cost more, but are bright, clear, and colorful.
LCD color screens are more modern and costly but are easy to read.
LCD monotone screens look antiquated and do not present information as clearly. They are highly reliant on a backlight in dim or dark conditions.

Backlight: LCD screen dive computers require a backlight function. Some are always on, whereas others require a push-button. The backlight function is vital if you do night, wreck, or cavern diving.
Reliability and durability: The material quality of dive computers varies according to price. Look for the most rugged materials that you can afford:

Housing: Cheaper plastic materials are less robust than Delrin or steel.
Screen: Plastic screens scratch easily. Sapphire crystal screens cost more but are scratch and impact resistant.
Firmware options on budget diving computers
Connectivity
Modern divers often value being able to connect their computers to logging and planning applications on their smartphones or PC.
Some computers also offer cloud-based dive logs and the ability to share dive information directly to social media accounts.
In general, wireless Bluetooth is more costly than USB cable connectivity. However, wireless connectivity has many advantages.
It is very much a personal preference whether wireless connectivity is worth the extra money when considering budget diving computers.
Gas mixes
Every modern dive computer offers air and nitrox compatibility. However, some boast multiple gas mixes.
These are only a benefit for technical divers completing accelerated decompression dives. Do not spend more money on this feature unless you have firm plans for technical diving in the future.
Budget diving computers do not need the capability to switch between different gas mixes on a dive.
Decompression diving
There is a difference between computers that provide planned decompression for technical divers and those only providing emergency decompression for recreational divers.
If you have the ambition to progress into technical diving, be aware that many dive computers do not have suitable functions. This is not a major consideration for most entry-level divers considering budget diving computers.
How to determine the best budget dive computer model for your needs
Think about where you are now with your experience level and dive habits. What kind of dives are you doing now? Where do you want to be a few years from now?
Knowing your own preferences is the most surefire way to ensure you'll be happy with the computer you buy. Try as many as you can while you're at the rental stage, go to shops, and play around with demo models.
What to expect from a budget dive computer
Buying a dive computer can be overwhelming, especially for beginners. However, there are certain features that are suitable for new divers and won't break the bank. Here's what you can expect from a budget dive computer:
Basic Dive Computers for Beginners: Features ($200-$500)
Basic dive computers will provide you with the following features:
Single gas: air and nitrox
Bottom time, depth and NDL
Surface interval
Logged dives (0-100 dive capacity)
Emergency decompression stops
Ascent rate alarms
Average battery life
Mono or Dual button layout
Advanced Dive Computers for Beginners: Features ($500-$900)
Advanced dive computers include all the basic features from above, plus extra ones that will make your diving experience even better. This often includes:
Digital compass
Gauge mode
Freediving capabilities
2-3 multiple gasses
Non-trimix technical diving
>40% O2 decompression gasses
Larger dive log database (100+ dives)
Good battery life
Dive planner
LED color display
Multi-button layout
USB chargeable
Premium Dive Computers for Beginners: Features ($900+)
Premium dive computers are the top-of-the-line offerings by manufacturers and are mostly aimed at dive professionals, frequent divers, and those who like to invest in quality wristwatches. These often enhance the features of lower-priced models while using better materials and design. Premium features may include:
Smart-watch capabilities
GPS function
Extensive logbook functionality (500+ dives)
5+ multiple gasses
More durable materials (screen and housing)
Very good battery life
Extensive technical dive planning options
Regular wireless firmware updates and upgrades
Keep in mind that the more you spend, the better quality you get and the more features you will receive with a dive computer. However, it's important to invest according to your needs, budget, and skill level. As a rule of thumb, for every 10-20 dives per year, spending an extra $150 on your dive computer is a good idea.
The best-selling budget dive computers on the market in 2023
The world of diving computers is constantly evolving, with new models and features being introduced every year. However, two of the most popular and best-selling budget dive computers in 2023 are the Shearwater Peregrine and the Cressi Leonardo.
The best-selling recreational dive computer
The Shearwater Peregrine is currently the top-selling recreational dive computer, known for its advanced features and durability. It is a great option for divers looking for a long-term investment.
The most popular first-purchase budget dive computers
On the other hand, the Cressi Leonardo is a popular and reliable low-cost option for beginner divers. It has a straightforward interface and is easy to use, with a simple single-button design that makes it ideal for first-time divers. Despite its low price, it has all the essential features and functions to keep beginner divers safe on their dives.
Shearwater Peregrine
The Shearwater Peregrine is a highly recommended dive computer for those looking for a device that is both beginner-friendly and advanced.
Introduced in 2020, the Peregrine boasts the best-quality display in this price range. Additionally, it has vibrating alerts that do not annoy other divers. It is also the most user-customizable budget diving computer. There is a range of advanced display options which can make your dives safer.
The Peregrine is too large to be used as a wristwatch out of the water. As with most entry-level and budget dive computers, it does not have air integration capability.
The UI is very intuitive and easy to learn. With many advanced features, the Peregrine is easily the most future-proofed budget dive computer. It is very capable up to intermediate technical diving levels. You will not need to upgrade your computer until you need trimix gas capability.
Key Features: Shearwater Peregrine
Multi-Diving Modes: Air, Nitrox (Single gas up to 40%), 3 Gas Nitrox (Up to 100% O2), Gauge (Depth, time, resettable stopwatch function)
User Customizable Display: Customize your display with information that is important to you.
Wireless Charging: Battery life per charge is up to 30 hours on medium brightness level. USB wireless charging station is also included.
Cloud Control: Divers can easily link their Peregrine dive computer via a Bluetooth connection, allowing them to share information.
Buhlman ZHL-16C algorithm with preset or custom gradient factor controls.
Shearwater Peregrine Pros
2.2″ color screen
Wireless rechargeable battery
Customizable vibration alerts
A proper decompression diving computer
The most future-proofed budget dive computer
Shearwater Peregrine Cons
Not suitable for wearing as a wristwatch
No air integration capability
No digital compass
At the high-end of the budget computer range
Overall, the Shearwater Peregrine offers great value and functionality for its price range. It is an ideal choice for those who want more than the most basic functionality.
Its customizable vibration alerts, simplified recreational diving modes, and full decompression support make it a great option for both beginner and experienced divers. However, its lack of air integration and compass capability may be a drawback for some divers.
Cressi Leonardo
The Cressi Leonardo is a user-friendly dive computer that focuses on simplicity. It features a single-button design that enables easy access to all of its functions. The computer has a convenient user-replaceable battery.
The Cressi Leonardo has no wireless connectivity and cannot sync to smartphones. However, there is a proprietary data cable for PC connection and Cressi dive log software is available.
The Cressi Leonardo is very fashionable, with 13 color options to choose from. This makes it easy to find a favorite-style tool that suits your needs.
Key Features: Cressi Leonardo
Single-button design
RGBM algorithm
Two modes: air/nitrox and gauge
Audible alarms
User-replaceable battery
Proprietary data cable for PC software
Cressi Leonardo Pros
Provides essential information
Adjustable deep stop function
Comes in a variety of colors
Cheapest budget dive computer
Cressi Leonardo Cons
Single-button menu navigation
No air integration
No compass
No free diving mode
No wireless connectivity
Monotone LCD display
In summary, the Cressi Leonardo is a basic and reliable dive computer that provides essential information in an easy-to-read display. It features three conservatism settings and audible alarms for safety. Although it may lack some functionality, it provides excellent value for its price and is suitable for entry-level divers.
SEAC Action HR
The Seac Action HR has scuba, free diving, and gauge modes. The Bühlmann ZHL-16C algorithm is not excessively conservative. However, there is no gradient factor control to fine-tune conservatism when necessary.
The computer has a logbook memory that saves 40 hours of dives. Anything more needs to be transferred to Seac's Dive Manager software. You have to buy an additional USB cable to do that. The Seac Action HR has no wireless connectivity or ability to sync to smartphones.
Key Features: Seac Action HR
Bühlmann ZHL-16C algorithm
3 modes: air/nitrox, gauge, and free diving
2 gas mixes
40-hour logbook memory
Dive Manager software for Mac/PC
LCD screen
Adjustable-intensity backlighting
User-replaceable battery
Seac Action HR Pros
The second cheapest budget dive computers
Gauge and free diving modes
Seac Action HR Cons
No wireless connectivity
USB data cable is an extra cost
Plastic materials
Monotone LCD display
Overall, the Seac Action HR is a good value if you only want the bare necessity of functions. It won't be popular with divers who desire smartphone and internet connectivity. Having 2 gas mixes is irrelevant on a computer that does not have technical diving functionality.
Deepblu Cosmiq+
The Deepblu Cosmiq+ dive computer is an excellent choice for entry-level divers who want a modern screen design. It has a small size and has a 6-hour active diving battery life that can be charged with an included magnetic charger. However, there are reports that the screen is difficult to read in bright light.
The Cosmiq+ is also customizable, with six different colors available, and an interchangeable wristband to suit individual style.
Users can connect to the DeepBlu app through Bluetooth for sharing and digital dive logging. Additionally, it offers connectivity with the cloud app for social media and dive log sharing.
Key Features: Deepblu Cosmiq+
Streamlined design
Bühlmann ZHL-16C model
2.2-inch high-contrast LCD screen
Rechargeable Li-on with a magnetic charger
6-hour active diving battery life
Bluetooth connectivity with cloud app
Deepblu Cosmiq+ Pros:
Sleek and customizable design
Simple and user-friendly device
Bluetooth connectivity for social media and digital dive log sharing
Deepblu Cosmiq+ Cons:
No compass
No air-integration
Difficult to read the screen in bright light
Only stores 25 dives (needs cloud connectivity)
Overall, the Deepblu Cosmiq+ is a budget dive computer that is ideal for divers who are active on social media. Its sleek design and modern display make it stand out.
The rechargeable lithium-ion battery and Bluetooth connectivity are features not found on many entry-level computers. Although it lacks more advanced functions, it is still an excellent choice for beginner divers who don't require complex mixed gases or multiple-stop decompression functions.
Mares Puck Pro Plus
The Mares Puck Pro Plus is a great choice for any level of diver, offering a range of features that make it an intuitive and easy-to-use dive computer. It has a 35-hour logbook with dive profile graphs and an optional USB interface for logging dives on your PC.
Key Features: Mares Puck Pro Plus
RGBM Algorithm
Two modes: Air/nitrox and gauge
Backlight
Residual Nitrogen memory reset
User-replaceable battery
Audible alarms
Mares Puck Pro Plus Pros
Wireless Bluetooth connectivity
Upgradeable firmware
Mares Puck Pro Plus Cons
No compass included
No freediving mode
Monotone LCD display
Overall, the Mares Puck Pro Plus is a solid dive computer for its cheap cost. The monotone screen feels a little dated, but it displays critical information clearly. More experienced divers may not appreciate the highly conservative RGBM algorithm.
Aqua Lung i300C
If you're new to diving, investing in an inexpensive dive computer like the Aqua Lung i300c with essential features can save you money. The i300c offers four dive modes: air, nitrox, gauge, and free dive.
One of the significant advantages of the Aqua Lung i300c is its user-replaceable battery. You do not need to ship the computer to a dealer when a battery change is needed.
The i300c has a durable, intuitive, and straightforward design that lets you focus on your dive rather than your gear. With Bluetooth connectivity, the DiverLog app can be used to share dive log information and connect with dive buddies on most mobile devices.
Key Features: Aqua Lung i300c
4 modes: Air, Nitrox, Gauge, and Free Dive
Pelagic Z+ algorithm (based on Bühlmann ZHL-16C)
Backlight
3 gas mixes
Audible and visual LED alarms
Dive planning mode
Aqua Lung i300c Pros
Can be worn as a daily watch
User-replaceable battery
Bluetooth to Android or IOS
Aqua Lung i300c Cons
No compass
No air integration
Screen quality could be better
In summary, the Aqua Lung i300c is an affordable and versatile dive computer suitable for new divers and dive schools. Its user-replaceable battery and LED alarm light are standout features that add convenience and safety to your diving experience. Although it lacks a compass and air integration, the i300c offers essential features and four dive modes, making it an excellent choice for entry-level divers.
Cressi Neon
The Cressi Neon boasts a high-contrast display of 37mm with a diameter of 48mm, making it an elegant and versatile option for scuba diving, apnea, and snorkeling. The dive computer is easy to use and provides information with just two buttons, making it simple even for an average diver.
Key features: Cressi Neon
High-contrast LCD display
Two button navigation
3 modes: Air/nitrox, gauge, and free diving
RGBM algorithm
High-intensity backlight
Cressi Neon Pros
Flat streamlined profile
50 dive log book
User-replaceable battery
Visual and audible alarms
Freediving capability
Cressi Neon Cons
No air-integration
No compass
No features for technical diving
Monotone LCD display
Overall, the Cressi Neon is a no-frills budget dive computer for entry-level scuba diving and freediving. Although it lacks some functionality compared to other advanced dive computers, it is an excellent option for those looking for a simple yet versatile dive computer.
Oceanic Geo 4.0
The Oceanic GEO 4.0 is a budget diving computer that features four modes of operation, Bluetooth 4.0 connection and dual algorithm. It is ideal for both beginners and experienced scuba divers.
The computer is equipped with an updated display area with larger and crisper digits, making it visible in any lighting condition, and is connected to a smartphone through Bluetooth 4.0 via the free DiverLog+ App. The computer's dual algorithm allows users to switch between algorithms as needed, and the user can sync with their diving buddy's algorithm to simplify diving together.
Key Features: Oceanic GEO 4.0
Dual Algorithm: Pelagic Z+ (Buhlmann ZHL-16c) or DSAT
Bluetooth 4.0 connection to Diverlog+ interface
Backlight LCD
4 Modes; Watch, air, nitrox and gauge
2 Nitrox mixes up to 100%
Backlight
Visual and audible alarms
User-replaceable battery
24 dives log memory (+ online log via bluetooth)
Oceanic GEO 4.0 Pros
Bluetooth connectivity to Android and IOS
Dual algorithm allows users to sync with their diving buddy's computer
User-replaceable battery
Backlight LCD
Oceanic GEO 4.0 Cons
No air integration
No compass
Monotone LCD display
No free-diving mode
The Oceanic GEO 4.0 is a feature-rich dive computer in its budget dive computer category that offers an easy-to-use and reliable solution for recreational divers.
Recommendations for the best budget dive computers
In conclusion, choosing a dive computer is an important decision for any beginner diver. While there are many options available on the market, I recommend four dive computers based on different criteria:
Shearwater Peregrine is my top choice for the best long-term value
Cressi Leonardo is the cheapest price option
Aqua Lung i300C is the best all-around value
Deepblu Cosmiq+ is the best for social media functions
When choosing a dive computer, it's important to consider your diving needs, your budget, and your personal preferences. You can save money in the long run by considering your future needs at an early stage.
Remember to always read the manual and practice with your dive computer before using it on a dive. With proper care and maintenance, your dive computer can last for many years and enhance your diving experience. We hope this guide has been helpful in your search for the best budget dive computer for beginner divers. Happy diving!
---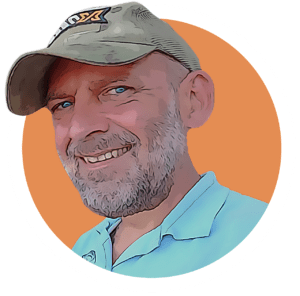 About The Author
Andy Davis is a RAID, PADI TecRec, ANDI, BSAC, and SSI-qualified independent technical diving instructor who specializes in teaching sidemount, trimix, and advanced wreck diving courses.
Currently residing in Subic Bay, Philippines; he has amassed more than 10,000 open-circuit and CCR dives over three decades of challenging diving across the globe.
Andy has published numerous diving magazine articles and designed advanced certification courses for several dive training agencies, He regularly tests and reviews new dive gear for scuba equipment manufacturers. Andy is currently writing a series of advanced diving books and creating a range of tech diving clothing and accessories.
Prior to becoming a professional technical diving educator in 2006, Andy was a commissioned officer in the Royal Air Force and has served in Iraq, Afghanistan, Belize, and Cyprus.
In 2023, Andy was named in the "Who's Who of Sidemount" list by GUE InDepth Magazine.
---