"Is Sidemount …?" A comprehensive FAQ guide
If you are looking to explore new depths and extend your dive times, then sidemount diving might be something you are considering. This dive gear configuration has become increasingly popular in recent years and for many good reasons. Sidemount offers a range of benefits, from the safety of gas redundancy to increased stability and streamlining. Is sidemount something you want to know more about? If so, read on.
As with any new diving approach, there are many questions that divers ask. Drawing upon two decades of experience as a technical sidemount instructor, I will answer some of the most common sidemount diving questions. This FAQ article will give you the right information to decide if sidemount diving is right for you.
A comprehensive sidemount FAQ
What is sidemount vs backmount diving?
Sidemount diving involves wearing cylinders or CCR units attached at the sides of the body, while backmount diving involves wearing these conventionally on the back. Sidemount is a different equipment configuration for scuba diving but can be used for all types of recreational, technical, and cave dives.
How does sidemount diving work?
Sidemount works by attaching cylinders to the diver's sides, rather than wearing them on the back. The diver wears a harness BCD and clips cylinders onto their waist using a boltsnap. The upper cylinder is secured using elasticated bungees, which enable the cylinders to be kept streamlined in horizontal trim.
What is the purpose of sidemount diving?
Sidemount diving aims to enhance the diver's safety and comfort while diving. This configuration involves carrying cylinders at the diver's sides, increasing mobility and streamlining. Sidemount also allows longer bottom times than a single cylinder and allows access to tight spaces, which is particularly useful in cave or wreck diving.
Is sidemount diving better?
Sidemount diving can offer several advantages over traditional back-mounted dive gear, such as independent gas redundancy, increased streamlining, and improved mobility underwater. However, whether it is "better" ultimately depends on a diver's personal needs, preferences, and diving goals.
Is sidemount diving difficult?
Sidemount diving can initially be challenging for inexperienced divers due to its unconventional, unfamiliar setup and adapted techniques. However, with high-quality training and diligent practice, even very novice divers quickly discover that sidemount becomes a comfortable and efficient diving configuration.
Should I dive sidemount?
It is important to determine whether the advantages of sidemount correspond to specific diving needs you may have. There are 8 factors are frequently cited as reasons why divers convert to sidemount configuration.
What are the 8 advantages of sidemount diving?
1. Improved stability, trim, streamlining, and maneuvering when diving.
2. Reduced back strain, especially for divers with chronic spinal injuries.
3. Easy access and management of cylinder valves and regulators; especially for divers with shoulder or neck mobility impediments.
4. Increased safety through independent gas redundancy in case of regulator or cylinder valve failure.
5. Easier transport of cylinders to/from the water.
6. An increased volume of gas carried compared to single-tank recreational configurations; especially for divers with high air consumption rates.
7. A smaller equipment profile that enables passing through tight restrictions and confined spaces that would be inaccessible in a backmount configuration.
8. Reduced equipment weight and bulk for traveling divers who wish to dive with double cylinders.
When can I train as a sidemount diver?
The prerequisites for a sidemount diving course usually involve holding an Open Water Diver certification or higher. Additionally, having proficiency in fundamental diving skills such as buoyancy control, horizontal trim, and efficient finning techniques are recommended by some training agencies.
How many dives do you need for a sidemount course?
The number of dives required for a sidemount course varies depending on the specific course and dive training agency. Typically, sidemount courses involve several pool or confined water skill sessions, followed by 2-6 open water dives. Additionally, students may have to repeat dives if they do not meet performance requirements.
What is a sidemount BCD?
A sidemount BCD is specifically designed for sidemount diving. As such, it comprises a harness system for cylinder attachment at the sides, a buoyancy wing on the back, and a bungee system to keep tanks in trim to the diver. There are two design styles of sidemount BCD: Florida-style and Mexican-style.
What are the disadvantages of sidemount diving?
The seven most frequently cited disadvantages of sidemount diving are:
1. Increased equipment complexity
2. Reduced familiarity
3. The cost of new equipment
4. Limited support for sidemount divers
5. Limited tank capacity
6. Increased potential for equipment failures
7. Difficulties with water entry/exit.
Can you sidemount dive with one tank?
High-quality sidemount diving courses teach divers how to use a single tank without causing stability issues. With proper training and gear, sidemount diving with one cylinder can be a safe and enjoyable experience, requiring only a minor regulator configuration change.
What tanks are best for sidemount diving?
The best tanks for sidemount diving are typically smaller, lighter tanks that are easy to handle and maneuver in tight spaces. Popular options include aluminum tanks with a capacity of around 40-80 cu ft or steel tanks of 50-100 cu ft. Ultimately, the choice depends on an individual diver's preferences and needs.
Who invented sidemount diving?
Sidemount diving originated in 1934; UK cavers Graham Balcombe and Jack Sheppard first used regulators and cylinders for sump exploration. British caver Mike Boone developed the first side-slung cylinder rig in the 1960s. Modern sidemount was pioneered by American cavers Sheck Exley, Wes Skiles, Forrest Wilson, and Woody Jasper.
What is the history of sidemount diving?
Sidemount diving originated in the UK as a means of sump diving exploration during the 1950s. Consequently, in the 1980s, prominent cave explorers in Florida and Mexico adopted and developed sidemount. The first sidemount BCDs were sold in the 1990s, and sidemount went mainstream for recreational and technical diving in 2012.
What is monkey diving?
The term 'monkey diving' can refer to two different concepts. (1) diving with a single cylinder, typically in sidemount configuration. (2) diving without a BCD. Such as, when using a scooter or a drysuit for depth control. The term originates from describing such techniques as "monkeying around".
What is a sidemount rebreather?
A sidemount rebreather (CCR) is a type of rebreather configured for attachment at the diver's sides, rather than worn conventionally on their back. Originally conceived as a bail-out rebreather for backmount CCR diving, the concept has been adopted as a primary configuration by sidemount divers progressing into CCR diving.
What diving agency is best for sidemount training?
Most scuba agencies offer sidemount certification at recreational and technical diving levels. As such, most courses are generally comparable in length and syllabus. However, tech or cave diving-focused agencies, such as RAID, TDI, or IANTD, may be best suited to divers at that level. DIR-principled divers may appreciate courses from UTD or ISE.
Is sidemount diving only for caves?
Whilst sidemount diving originated as a configuration for cave exploration, it evolved to become a very popular option for recreational and technical diving. So sidemount has numerous benefits for ocean divers.
Buy my 'Sidemount: Principles For Success' ebook now!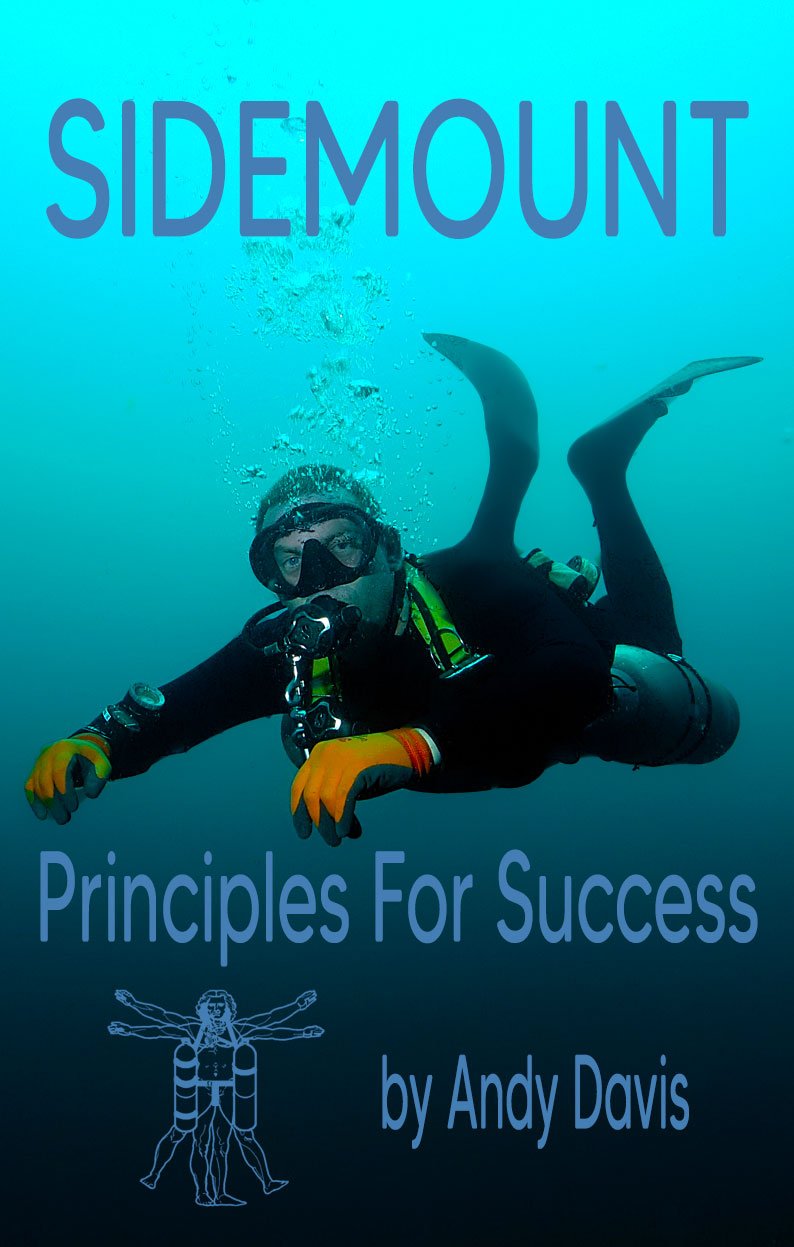 My comprehensive guide to sidemount configuration and development as a diver.
178 Pages. PDF format. Only $25
Fully Illustrated!
Chapters include:
Sidemount history, design styles, and cylinder principles
Harness and bungee setup and sizing
Configuring deco/stage cylinders
Diagnosing cylinder trim problems
Regulators and hardware
Training and skillset development
---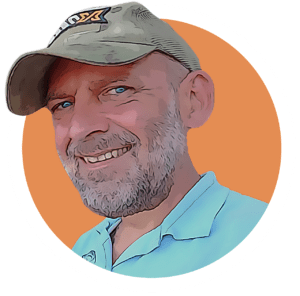 About The Author
Andy Davis is a RAID, PADI TecRec, ANDI, BSAC, and SSI-qualified independent technical diving instructor who specializes in teaching sidemount, trimix, and advanced wreck diving courses.
Currently residing in Subic Bay, Philippines; he has amassed more than 10,000 open-circuit and CCR dives over three decades of challenging diving across the globe.
Andy has published numerous diving magazine articles and designed advanced certification courses for several dive training agencies, He regularly tests and reviews new dive gear for scuba equipment manufacturers. Andy is currently writing a series of advanced diving books and creating a range of tech diving clothing and accessories.
Prior to becoming a professional technical diving educator in 2006, Andy was a commissioned officer in the Royal Air Force and has served in Iraq, Afghanistan, Belize, and Cyprus.
In 2023, Andy was named in the "Who's Who of Sidemount" list by GUE InDepth Magazine.
---