What are the two styles of sidemount BCD design?
Florida & Mexican-cave sidemount BCD design principles
Over recent years, a plethora of new sidemount BCDs have been released onto the diving equipment market. To the casual observer, the range appears wildly diverse. However, there are actually two primary 'schools' of sidemount design heritage. These schools were shaped and refined by the environmental conditions and needs of the first pioneers of sidemount diving.
The origins of sidemount diving come from sump exploration in the UK. Most of this exploration was dry caving, with only small submerged passages (sumps) that required scuba equipment. The UK sump divers typically carried small scuba cylinders, containing only sufficient volume for very short passages, often hung from the waist of their existing cave harnesses.
The sidemount diving concept migrated to the cave diving communities in Florida and Mexico. These communities developed into two distinct schools of sidemount system design; based on their buoyancy requirements, cylinder characteristics (steel versus aluminum) and regional diving preferences.
These two 'schools of design', Mexican-cave and Florida-cave, are very evident in sidemount BCD manufacturing today.
When selecting a suitable sidemount BCD to purchase, you should bear in mind the history, design evolution and intended use of sidemount BCD designs.
They can be quite specific for cold or warm water demands; especially in regard to cylinder material and buoyancy requirements.
Click here to read more about Sidemount Diving History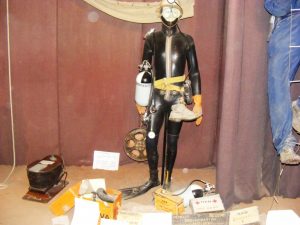 What is a Mexican-cave sidemount BCD design?
The Mexican style of sidemount system design is typically a minimalist and lightweight approach. It is generally used with aluminum cylinders which are ubiquitous in warm-water/tropical environments. Mexican cave sidemount BCDs are most popular with warm-water/wetsuit and traveling divers who visit tropical destinations.
Mexican-cave sidemount BCD key features
Harness:  A 'Hogarthian' inspired, bare webbing harness, using separate shoulder and lumbar plates connected via an adjustable length spine webbing strap.  The adjustable spine length is necessary as the waist belt must be positioned low on the hips, to enable a suitable cylinder attachment point for aluminum cylinder trim.
Lower cylinder attachment: D-rings on the rear and front waist-belt (or sliding D-rings) are necessary to shift the attachment point of aluminum cylinders as they transition from negative to positive buoyancy.
Upper cylinder attachment: Continuous, Loop, Sliding/Floating Loop or Independent bungees.
Wing shape: Triangle, diamond, or rectangular/horizontal bladders (lift focused over the hips, less up the torso)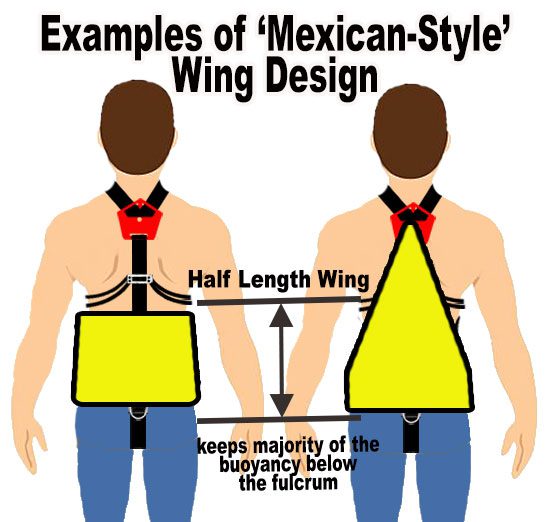 Example rigs: Razor 2.0, XDeep Stealth Tec/Rec/Classic, Apeks WSX-25/45, UTD Z-Trim, Aquamundo.
Influential Proponents: Steve Bogearts, HP Hartmann, Steve Martin, Gary Dallas
This is the evolution of sidemount pioneers who initially used lightweight hydration bladders (i.e. MSR) and converted truck or car inner tubes for their buoyancy requirements. These bladders were fixed onto a basic harness system for cylinder and weight attachment.
Mexican Cave/English style is defined through the common use of aluminum cylinders and thinner wetsuits for warmer/tropical water diving.  This diving required less buoyancy and weighting requirement. It favored smaller, lighter rigs that could be used to penetrate through very small restrictions.
Mexican-cave sidemount BCD pros and cons
Pros
These systems are usually the most lightweight and low bulk.
They are designed to handle aluminum cylinders well.
Minimalist design suits 'DIR' philosophy divers.
Very modular and easy to modify or customize.
Cons
Typically less buoyancy provision
The tendency for the wing to 'beach ball' (aka 'turtle shell') when fully inflated if carrying multiple cylinders)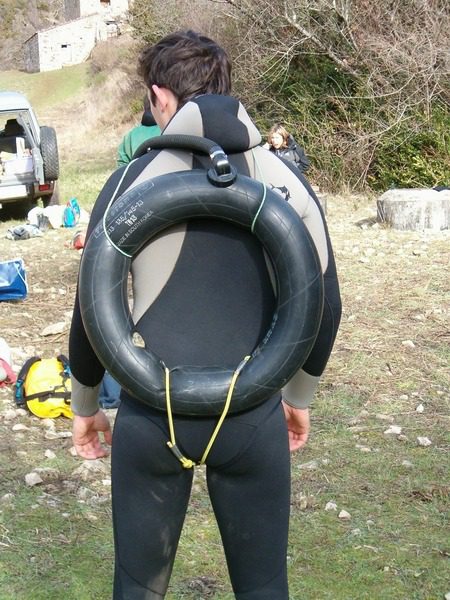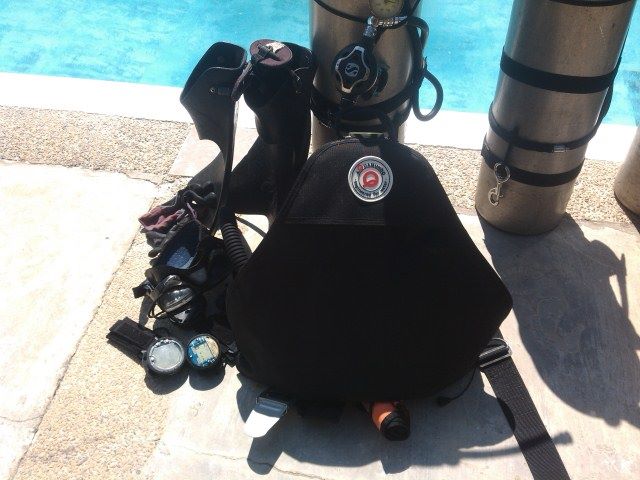 Mexican cave-style BCDs historically struggled to supply a large buoyancy capacity without the bladder expanding too high (aka 'turtle-shell' or 'beach ball' effect) above the diver. More recent evolutions, such as the XDeep Stealth Tec, are now solving that problem through better design of the bladder to prevent or minimize the 'beach ball' effect at full inflation. As a result, they are growing rapidly in popularity in the USA and Europe.
Buy my 'Sidemount: Principles For Success' ebook now!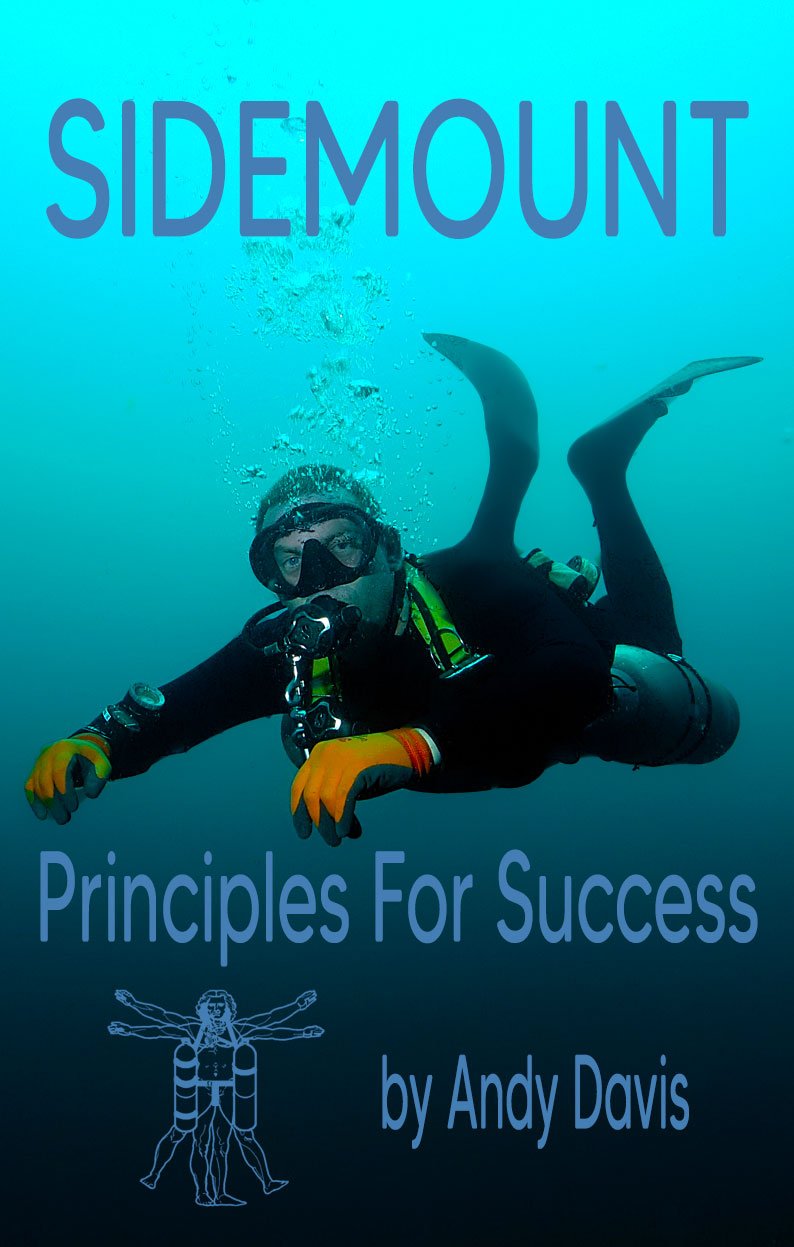 My comprehensive guide to sidemount configuration and development as a diver.
178 Pages. PDF format. Only $25
Fully Illustrated!
Chapters include:
Sidemount history, design styles, and cylinder principles
Harness and bungee setup and sizing
Configuring deco/stage cylinders
Diagnosing cylinder trim problems
Regulators and hardware
Training and skillset development
The Florida-cave sidemount BCD design
The Florida cave style of sidemount BCD is typified by robust 'big rigs'; generally used with higher capacity steel cylinders. They are popular with cold/temperate-water sidemount divers in the USA and, less so, across Europe.
As they perform badly with aluminum cylinders, they are more rarely utilized in SE Asia, Central America, the Caribbean or Middle-East regions.
Florida-cave sidemount BCD features
Harness: Typically an in-built harness to the sidemount BCD, with a hard or soft backplate, along with quick-release buckles and adjustments. No capacity to adjust the length of the harness – you can only lengthen the shoulder straps and let the backplate 'hang' lower if you want the wing further down the back.
Lower cylinder attachment: Butt-plate with rails, which is suitable for steel cylinders that will remain negatively buoyant for the duration of the dive. Not ideal for aluminum cylinders that should need re-positioning. A common, but ungainly, solution for aluminum cylinders on butt plates is to add weights to aluminum cylinders to overcome the positive buoyancy as gas is consumed.
Upper cylinder attachment: 'Old-school' Loop, Independent w/Bolt-Snaps and Ring (DiveRite style) bungees.
Wing shape: Donut and horseshoe bladders (lift distributed evenly along the torso), sometimes with wing bungee restraints.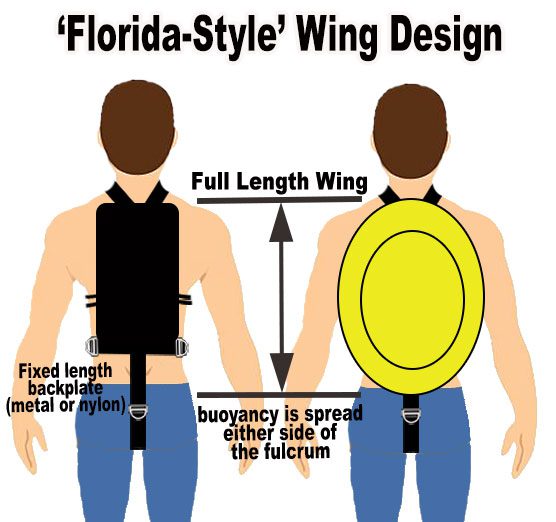 Florida-cave sidemount BCD pros and cons
Pros
Can deal with heavy steel cylinders
The harness system is familiar to divers
Cons
Dreadful for aluminum cylinders
Bulkier and heavier
Example rigs: Armadillo, DiveRite Nomad, Hollis SMS100, SMS75, Halcyon Contour
Influential Proponents: Lamar Hires, Edd Sorensen, Rob Neto, Steve Lewis
This is the evolution from sidemount pioneers who initially used home-converted scuba BCDs/wing systems, typically in response to a higher buoyancy requirement from using steel cylinders/higher weighting needed for temperate/colder water exposure protection and thicker wetsuits.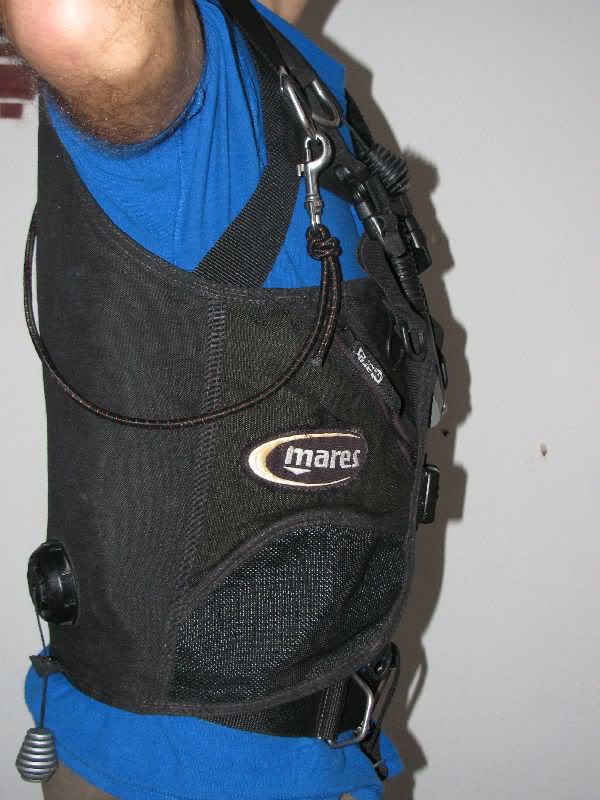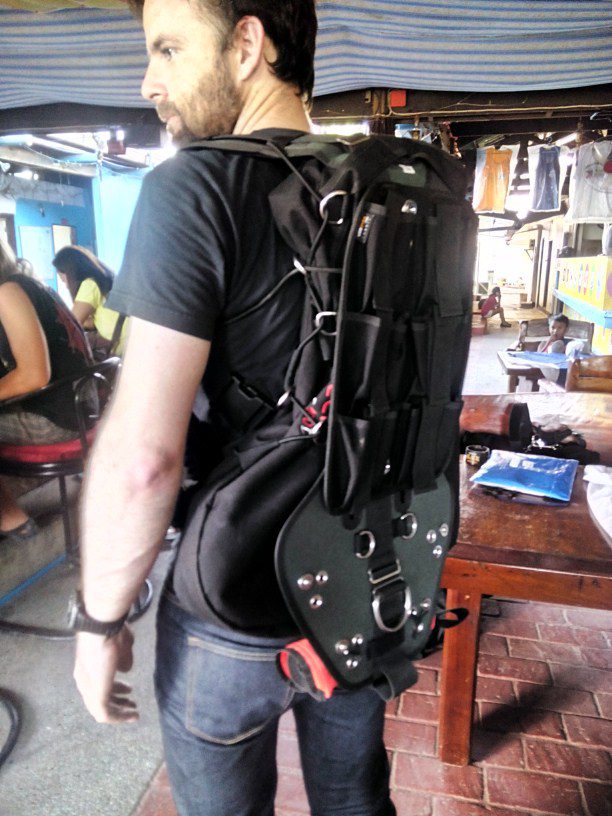 The history and heritage of these two distinct schools do not preclude one style from being used effectively under different diving conditions.
Indeed, one of the leading 'British / Mexico Cave' style sidemount BCD manufacturers, XDeep, originates in Poland and their systems are regularly used for cold-water cave and mine diving.  Likewise, 'American / Florida Cave' based sidemount BCD manufacturers, such as Hollis and DiveRite are also very popular in tropical vacation destinations.
However, there is some debate that each sidemount BCD design does offer some distinct optimization, according to the environments where it originated. If a school of sidemount BCD design originated through the demands and needs of a particular environment, then it stands to reason that it will be the most optimal choice to be used in that environment.
Confused sidemount BCD designs
Last, but not least, there is the Confused Design of the sidemount BCD design. These are sidemount BCDs that stem from one design heritage but are impotently 'tweaked' to resemble the other. In essence, they are sidemount BCDs designed by manufacturers that do not understand the heritage of either school and produce something that had no coherent design strategy.
An example of this is the Hollis SMS50; which is a tropical (aluminum cylinder) capacity BCD, but which confusingly incorporates a butt-plate and rails attachment system that's only suitable for steel cylinders
It also comes supplied with over-powerful bungees that are only meant to bear the weight of high-capacity steel cylinders. Total over-kill for aluminum cylinders.
Needless to say, warm-water divers using 'confused design' rigs will encounter a myriad of frustrating problems when trying to get their system optimized and keeping their cylinders in trim throughout the dive.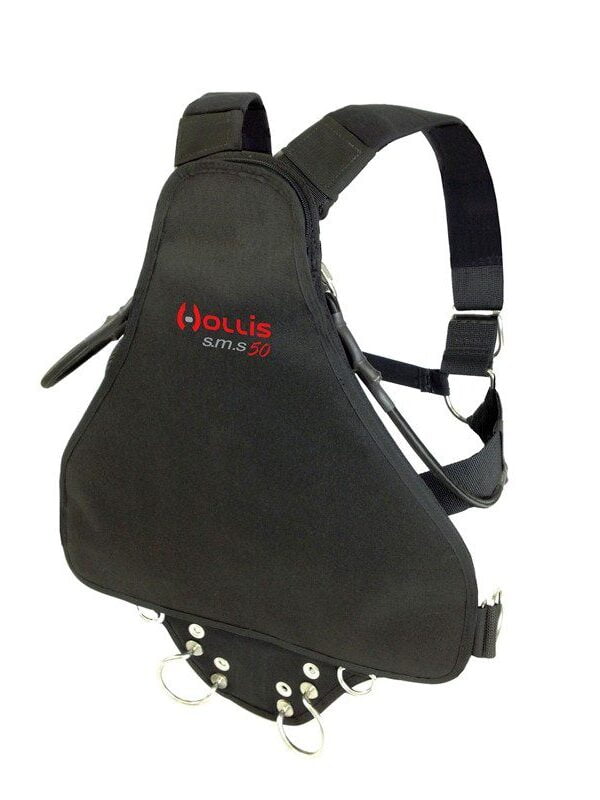 Read my article 'The Evolution of Sidemount Design: Two Distinct Paths Shaped by Florida and Mexico' published by InDepth Magazine.
Buy my 'Sidemount: Principles For Success' ebook now!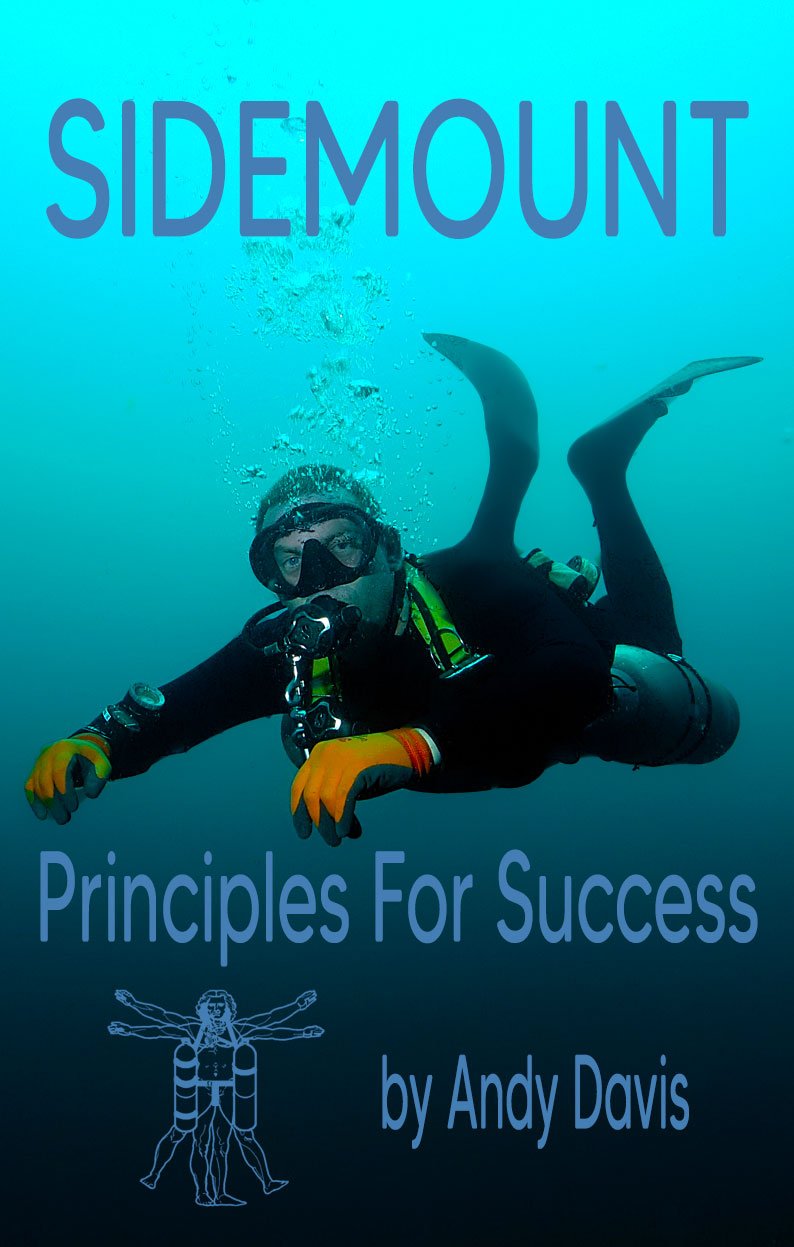 My comprehensive guide to sidemount configuration and development as a diver.
178 Pages. PDF format. Only $25
Fully Illustrated!
Chapters include:
Sidemount history, design styles, and cylinder principles
Harness and bungee setup and sizing
Configuring deco/stage cylinders
Diagnosing cylinder trim problems
Regulators and hardware
Training and skillset development
---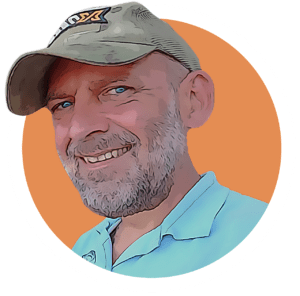 About The Author
Andy Davis is a RAID, PADI TecRec, ANDI, BSAC, and SSI-qualified independent technical diving instructor who specializes in teaching sidemount, trimix, and advanced wreck diving courses.
Currently residing in Subic Bay, Philippines; he has amassed more than 10,000 open-circuit and CCR dives over three decades of challenging diving across the globe.
Andy has published numerous diving magazine articles and designed advanced certification courses for several dive training agencies, He regularly tests and reviews new dive gear for scuba equipment manufacturers. Andy is currently writing a series of advanced diving books and creating a range of tech diving clothing and accessories.
Prior to becoming a professional technical diving educator in 2006, Andy was a commissioned officer in the Royal Air Force and has served in Iraq, Afghanistan, Belize, and Cyprus.
In 2023, Andy was named in the "Who's Who of Sidemount" list by GUE InDepth Magazine.
---
Originally posted 2018-11-05 06:10:28.