How to Make a Sidemount Break Away Hose Connector
A sidemount break away hose connector is an essential safety component for sidemount diving. It allows the diver to attach their long hose regulator to a bolt snap, which is then clipped to the right shoulder D-ring when not in use. Because the connector can be snapped with minimal force, it ensures fast and reliable access to the long hose regulator for emergency air sharing. In this article, I will guide you through the 4-step process of making a simple and effective sidemount break away hose connector using only a small bolt snap, an o-ring, and a cable tie.
What is a break away hose connector?
A break away hose connector is a specific type of connector used in sidemount diving to attach the long hose regulator to the bolt snap. Unlike the cutaway connections typically used in backmount diving, a breakaway connector can be severed using minimal force and without the need to access a cutting device.
The breakaway hose connector is designed to allow the diver to instantly snap off the long hose regulator with little resistance, preserving the ability to instantly share gas in case of an emergency.
Why does sidemount diving need a break away hose connector?
In sidemount diving, the long hose regulator is clipped off for half of the dive as the diver balances their cylinders by exchanging regulators. A breakaway connector is essential to ensure reliable access to the long hose regulator for emergency air sharing.
A bolt snap can become jammed during diving if sand or silt enters the spring mechanism and stops the slide from moving, preventing the diver from detaching the long hose regulator to share air.
A cutaway connector, typically using #18 nylon line with a cave knot, is not fast enough for an emergency air share to an out-of-gas diver. If the bolt snap jams, it takes too long to access a cutting device and cut away the long hose regulator.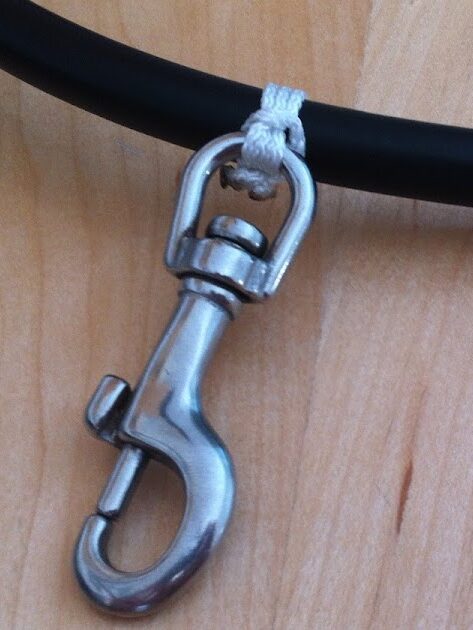 In contrast, a breakaway connector allows the diver to instantaneously snap off the long hose regulator with little resistance, preserving the ability to instantly share gas. Therefore, a breakaway hose connector is a necessary safety feature in sidemount diving.
How to construct a sidemount break away hose connector
Materials Required:
Small bolt snap
O-ring
Cable tie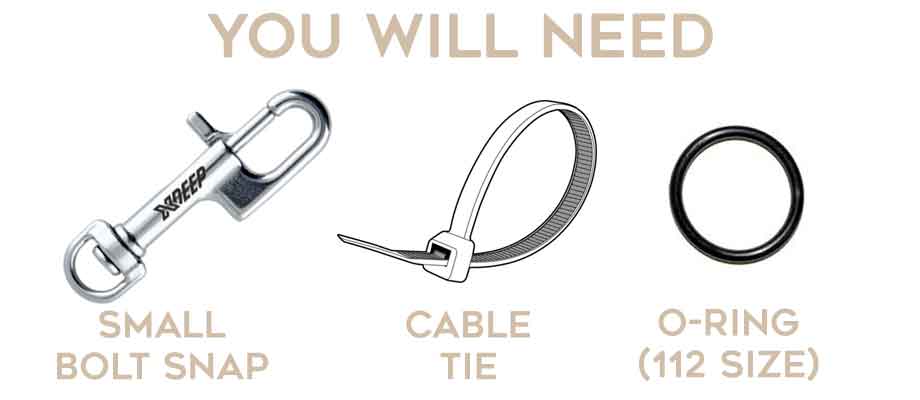 Step 1: Attach the O-ring
Start by slipping the O-ring onto the bolt snap. Push it through the boltsnap eyelet so that the ends are accessible below the bolt snap.
The O-ring will act as a spacer between the bolt snap and the cable tie, ensuring that the long hose regulator can easily be snapped free if the bolt snap were to jam.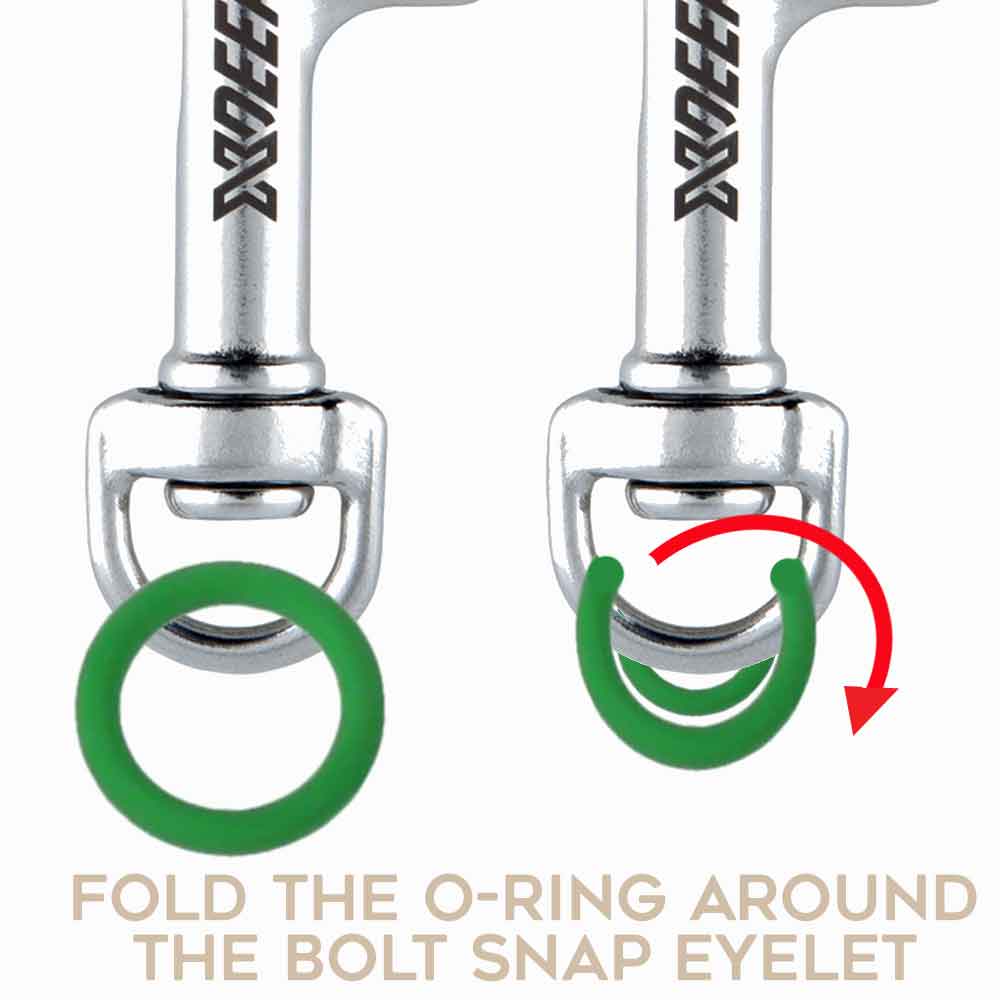 Step 2: Thread the cable tie
Slide the cable tie through the two ends of the o-ring below the bolt snap eyelet.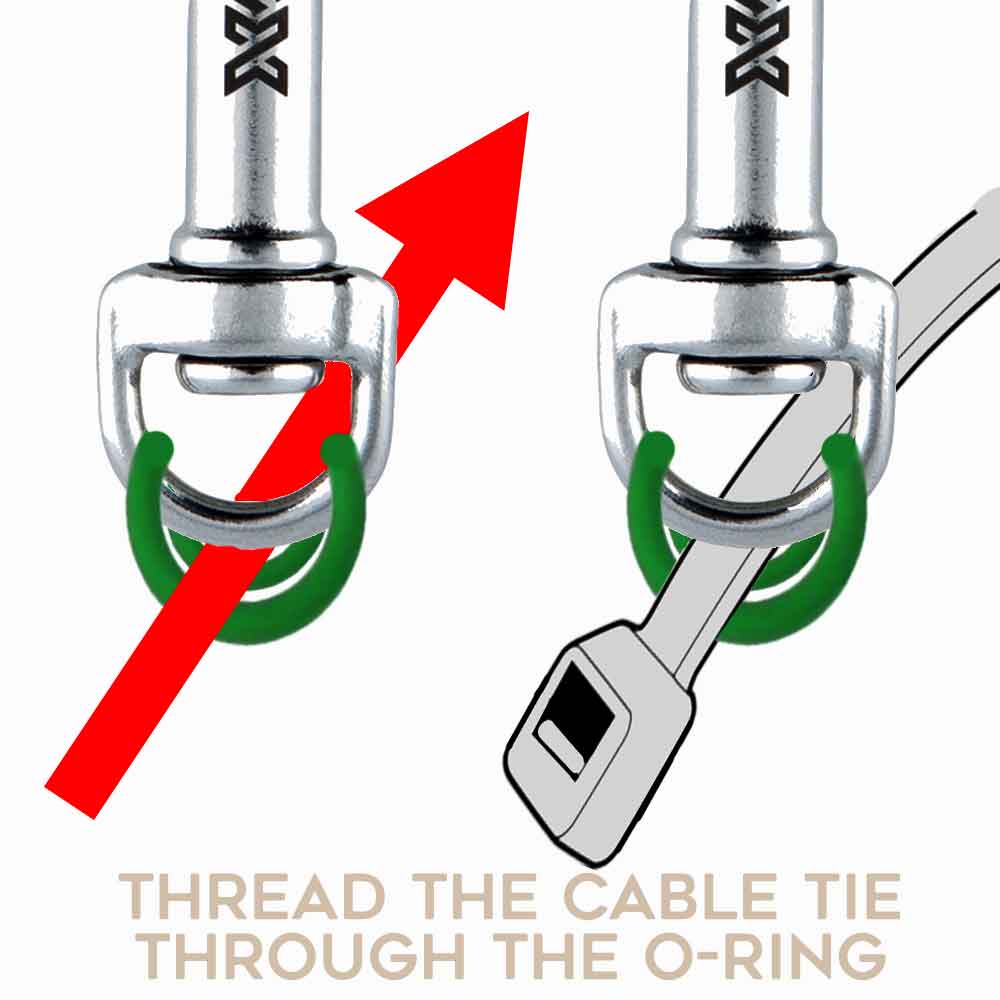 Step 3: Secure the Cable Tie
Next, loop the cable tie through the O-ring and around the bolt snap. Make sure that the cable tie is tight and secure. In sidemount diving, it is generally preferable to secure the cable tie as close to the regulator as possible; this prevents the regulator from dangling and also enables the regulator to reach the diver's mouth without removing it from the D-ring.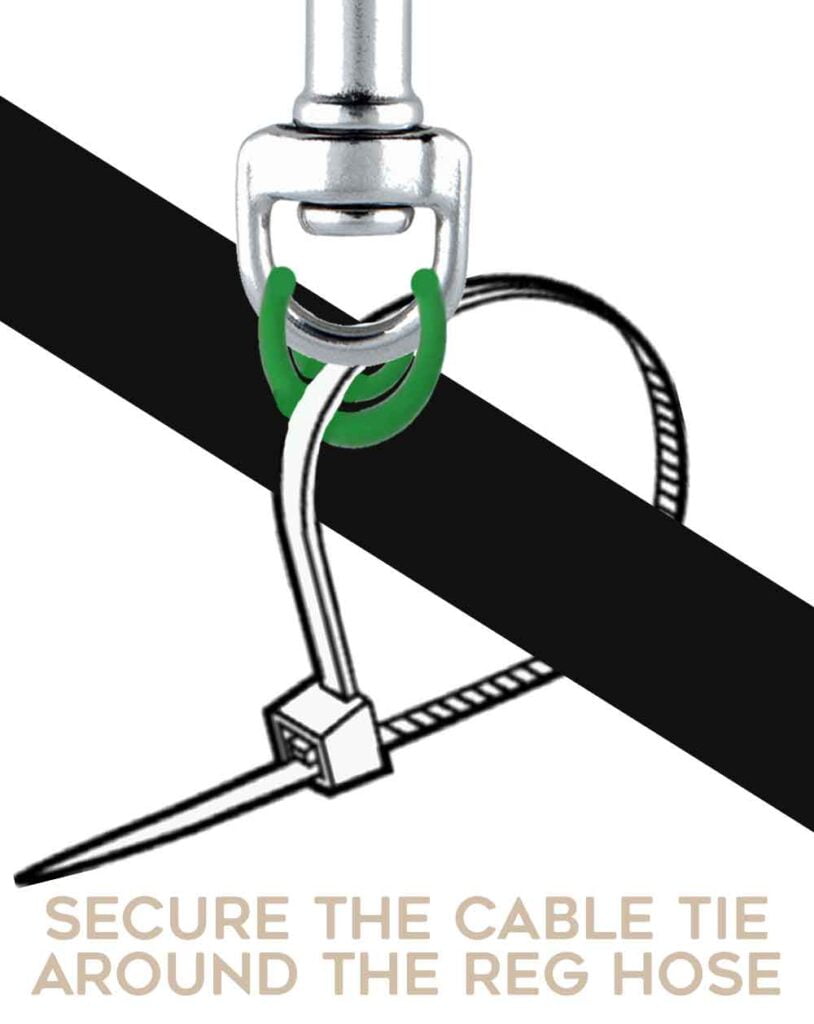 Step 4: Cut off Excess Cable Tie
Using a pair of scissors, cut off any excess cable tie that is protruding from the bolt snap. This will ensure that the break away connector is streamlined and does not catch on any objects while diving.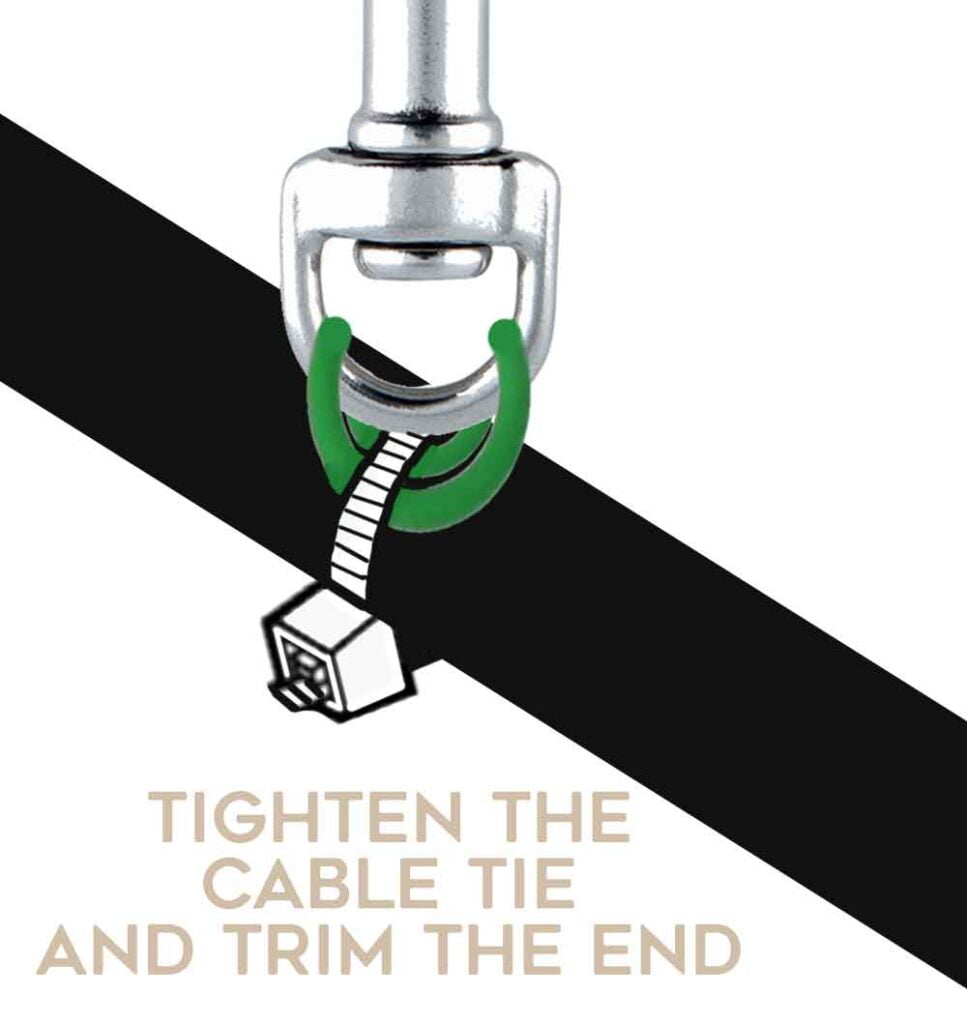 Ready-made Sidemount Break Away Hose Connectors
If you prefer a more convenient option, there are ready-made sidemount break away hose connectors available on the market. These connectors are usually made of high-quality materials and have been tested to ensure reliable performance in emergency situations. However, they are typically more expensive than a homemade break away connector.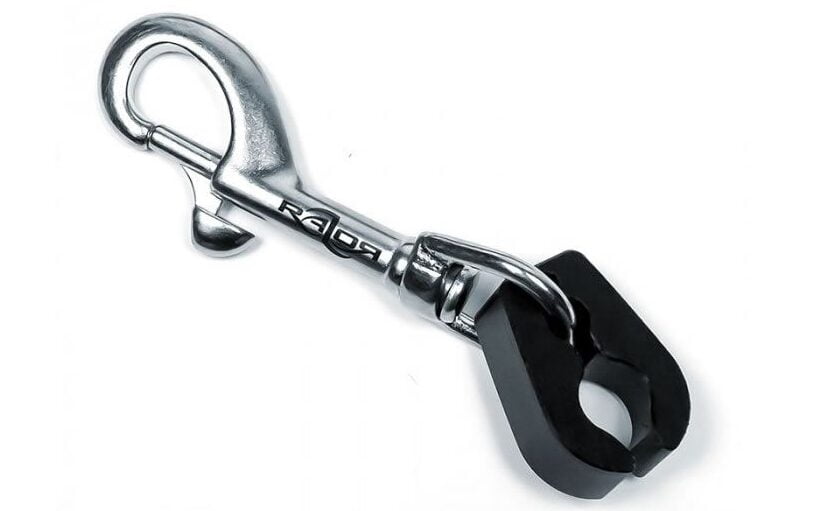 Here are some examples of ready-made sidemount break away hose connectors:
While ready-made sidemount break away hose connectors are a more expensive option, they offer the convenience of a pre-made solution with the added assurance of having been tested for safety and reliability. Ultimately, the choice between making your own break away connector or purchasing a ready-made one will depend on your personal preferences and budget.
Conclusion:
By following these simple steps, you can create a reliable and effective sidemount break away hose connector using just a few basic components. If you prefer a more convenient option, ready-made sidemount break away hose connectors are also available. Always remember to test your equipment before diving to ensure that it works properly, and never hesitate to make adjustments or improvements as needed to ensure your safety and comfort while diving. Happy diving!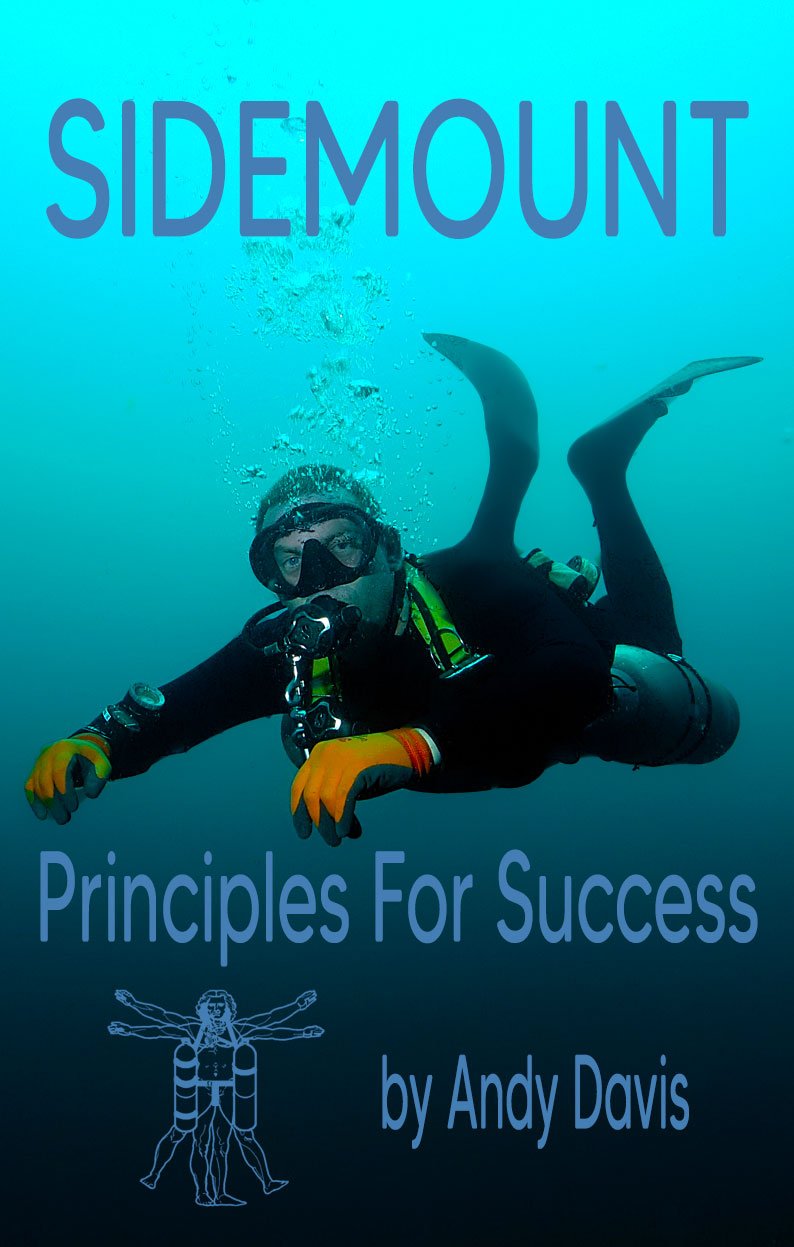 My comprehensive guide to sidemount configuration and development as a diver.
178 Pages. PDF format. Fully Illustrated. $25
Chapters include:
Sidemount history, design styles and cylinder principles
Harness and bungee setup and sizing
Configuring deco/stage cylinders
Diagnosing cylinder trim problems
Regulators and hardware
Training and skillset development
Sidemount FAQs
What is sidemount diving, and how does it differ from traditional backmount diving?
Sidemount diving is a scuba diving technique that involves wearing one or two tanks on the sides of the body, rather than on the back. This allows for greater maneuverability in tight spaces and improved buoyancy control.
What is a breakaway hose connector, and why is it necessary for sidemount diving?
A breakaway hose connector is used to attach the long hose regulator to a bolt snap in sidemount diving. It is necessary to ensure reliable access to the long hose regulator for emergency air sharing, as a bolt snap can become jammed and prevent the diver from detaching the regulator.
What are the components needed to make a sidemount breakaway hose connector?
The components needed are a small bolt snap, an O-ring, and a cable tie.
Are there ready-made sidemount breakaway hose connectors available for purchase?
Yes, there are several options available for purchase, including the Razor Break Away Connector, the Dive Rite Break Away Connector, and the Orpheus Dive Hose Breakaway Connector.
Who are some famous sidemount divers?
Famous sidemount divers include well-known cave and technical divers such as Jill Heinerth, Lamar Hires, and Patrick Widmann. Jill Heinerth is a pioneering technical diver and underwater explorer who has logged thousands of dives around the world, many of them in sidemount configuration. Lamar Hires is the co-founder of Dive Rite, a company that specializes in sidemount gear, and has been involved in cave diving for over four decades. Patrick Widmann is a renowned technical diver who has set numerous world records in sidemount diving, including a record-breaking 200-meter dive in 2014.
How to select a sidemount instructor?
Selecting a sidemount instructor is crucial to ensure proper training and safety. Sidemount diving is a specialized activity that requires expert knowledge from instructors. The ideal sidemount instructor should dive sidemount as their primary configuration for the majority of their dives. It's also important to look for an instructor who has several years of experience teaching sidemount diving.
Reputable sidemount instructors often teach and dive at higher levels, including cave and technical diving. Prior to in-water training, a good instructor will help their students optimize their equipment configuration.
During training dives, they will teach operational and emergency skills, with a focus on fundamental skills development. This includes precision buoyancy, horizontal trim, efficient propulsion methods, situational awareness, and a team-diving mindset. Selecting a competent sidemount instructor can help ensure competency, confidence, and comfort in your sidemount diving experience.
What are some benefits of using sidemount diving techniques?
Some benefits include improved buoyancy control, stability, streamlining, increased mobility in tight spaces, avoiding back strain, and having access to independent/redundant gas sources on dives.
Who are the leading sidemount BCD manufacturers?
There are many leading manufacturers of sidemount BCDs, each with its own unique designs and features. Some of the top manufacturers include XDeep, Hollis, DiveRite, Razor, Halcyon, and Tecline.
XDeep is a Polish manufacturer known for its streamlined and highly functional designs, with a focus on modular systems that allow for customization based on the diver's needs. Hollis, on the other hand, offers a wide range of BCDs designed for different types of diving, including sidemount. Their BCDs are known for their durability and comfort.
DiveRite is a popular American manufacturer that produces a range of sidemount-specific gear, including BCDs, harnesses, and regulators. Razor is a newer company, founded by Steve Bogearts, that focuses on lightweight and low-profile sidemount BCDs. Halcyon is another popular American manufacturer that offers both traditional and hybrid sidemount BCD designs. Lastly, Tecline is a European manufacturer that produces high-quality and versatile sidemount gear.
Which fins are best for sidemount diving?
The type of fins you use for sidemount diving is an important consideration for optimal performance in the water. Generally, neutrally buoyant fins are recommended for sidemount diving as they help promote better diver trim. However, some cold water sidemount divers using drysuits still prefer negatively buoyant fins, like ScubaPro Jetfins. Paddle-style fins are ideal for sidemount diving as they offer increased propulsion and maneuverability. Two highly recommended neutrally buoyant fins for sidemount diving are the Apeks RK3 and Deep6 Eddy. It is important to choose fins that fit well and are comfortable for extended use.
Can sidemount diving be done in any environment, or are there specific conditions that are more suitable?
Sidemount diving can be done in a variety of environments, but it is particularly well-suited for caves, wrecks, and other confined spaces where traditional backmount diving may be challenging. However, diving in confined overhead environments requires specific advanced training and equipment, and should only be attempted by suitably experienced and qualified divers.
Read more of my sidemount diving articles!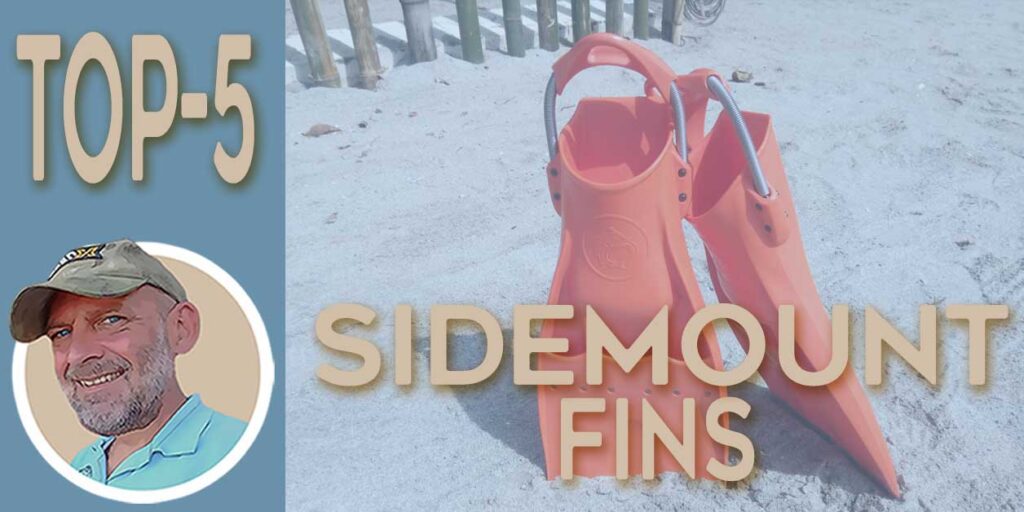 Choosing the right set of sidemount fins is an important decision. They have a profound effect on diver trim and control. With that recommendation in mind, here is my pick of the top 5 warm-water sidemount fins.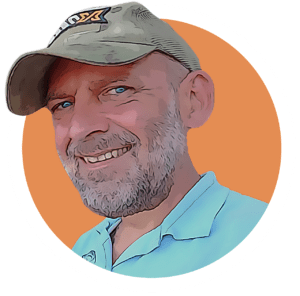 About The Author
Andy Davis is a RAID, PADI TecRec, ANDI, BSAC, and SSI-qualified independent technical diving instructor who specializes in teaching sidemount, trimix, and advanced wreck diving courses.
Currently residing in Subic Bay, Philippines; he has amassed more than 10,000 open-circuit and CCR dives over 30 years of diving across the globe.
He has published numerous diving magazine articles, designed courses for dive training agencies, and tests/reviews dive gear for scuba equipment manufacturers. He is currently writing a series of advanced diving books and creating a range of tech diving clothing and accessories.
Prior to becoming a professional technical diving educator in 2006, Andy was a commissioned officer in the Royal Air Force and has served in Iraq, Afghanistan, Belize, and Cyprus.