Top-5 Best Sidemount Fins
Warm-water Diving
Choosing the right set of sidemount fins is an important decision. They have a profound effect on diver trim and control.
Wetsuit divers using sidemount in warm-water conditions typically suffer trim issues when using 'traditional' tech-style fins. Heaver buoyant, fins (such as the ubiquitous 'Jet Fin') tend to cause too much negative buoyancy in the lower body.
Whilst these fins provide an excellent 'foot weight' for drysuit divers, or balance the high-torso weight of back-mounted manifold doubles – they create an imbalance for the properly trimmed sidemount diver. Warm-water sidemount divers using a wetsuit are best served using a near-neutral fin – but should also aim for a short, stiff fin design to maximize effective control and manoeuvrability.
With that recommendation in mind, here is my pick of the top 5 warm-water sidemount fins…
---
Key Features
Neutral in freshwater
Steel spring straps
Ergonomic foot pockets
3 sizes (S/M, LG & XL)
Black, orange & white
2.7kg / 6 lbs pair (XL)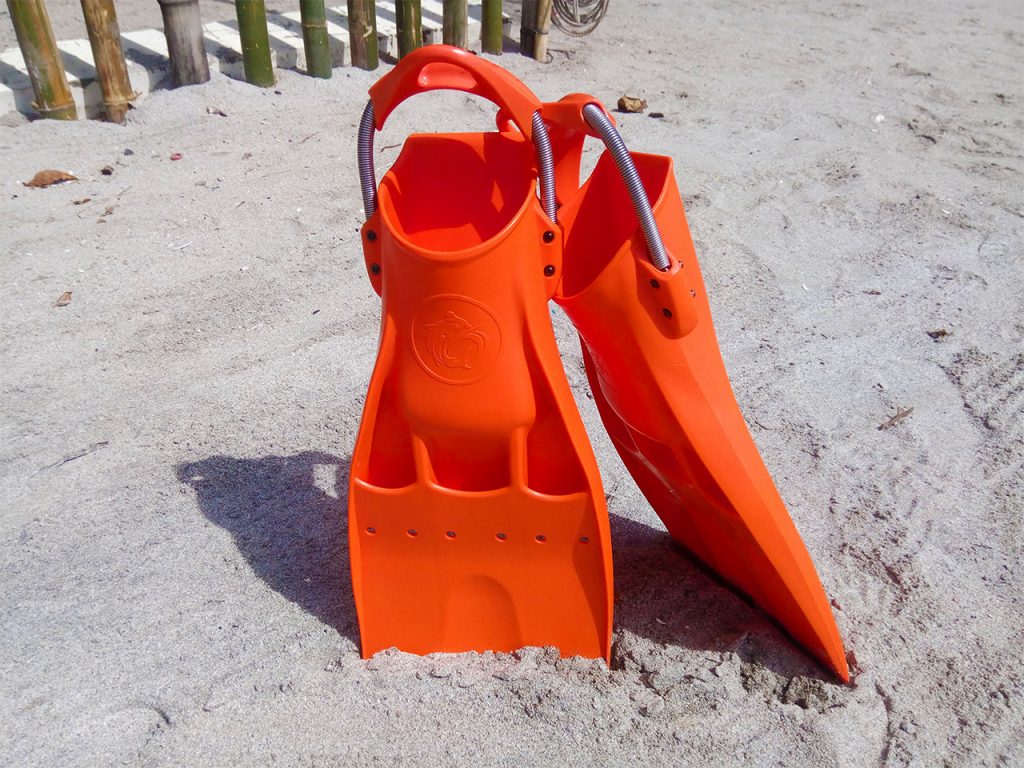 I have used Deep6 Eddy fins for the last four years when teaching sidemount, trimix and advanced wreck diving. I've found that they perform excellently and are very rugged, despite regular and intense abuse inside jagged wrecks. The blades are very stiff which makes demonstrating precision manoeuvring and propulsion skills very easy.
The foot pocket is nicely shaped and lends towards a very intuitive control of the fins; they feel like a part of your legs. They are almost perfectly neutral in freshwater and very slightly positive in the ocean; which can help promote natural trim for sidemount and single-tank divers.
---
Key Features
Neutral in freshwater
Steel spring straps
Ergonomic foot pockets
4 sizes (S, M, L, Super)
Black, orange & dark grey
2.9kg / 6.4 lb pair (Super)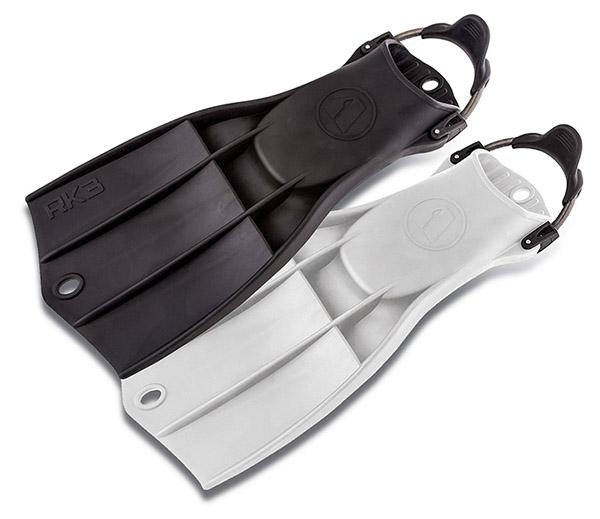 In personal tests, I found the Apeks RK3 HD a big improvement over the regular RK3 models. I liked the increased blade stiffness; which favours manoeuvrability and control. It is a good choice for cave, wreck and technical divers. The power is more than adequate for most uses and the leg workload is quite easy. For divers who prefer a softer blade, the regular RK3 fins may be a better option.
The foot pocket is comfortable and promotes responsive feedback from the fins. I'd be perfectly happy if these were my day-to-day teaching fins, but opted for the Deep6 because I wanted to support a new dive manufacturer that didn't use dealer networks and all the consumer drawbacks they cause.
---
Key Features
Neutral in freshwater
3 stiffness levels
Steel spring strap
2 sizes (L & XL)
Black
2.8kg / 6.2 lb per pair (XL)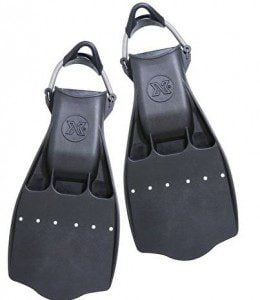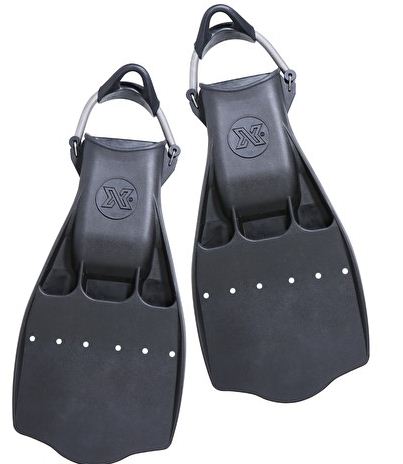 I very much like that the XDeep EX-1 fins come in three levels of blade stiffness; soft, medium and hard. This option empowers divers to find exactly the right balance between manoeuvering control, power and muscular demand to suit their needs and personal preferences. I personally prefer the hard fin for the high precision control and responsive power that it offers.
---
Key Features
Slightly negative in freshwater
"Turbulence disruptors"
Steel spring strap
Black, aqua and dark grey
4 sizes (M, L, XL & XXL)
2.90kg / 6.40 lbs pair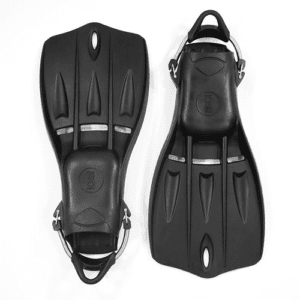 I rated the Fourth Element Tech fins slightly lower than the first three options primarily because they are slightly heavier in water just tipping the balance towards negative buoyancy. That makes them a better option for divers who tend towards being head-heavy/foot-light when diving; although that is rare when diving aluminium cylinders with wetsuits in warm water.
They are supplied with a nylon carrying strap which can be threaded through the eyelets at the fin tips to hang them from a D-ring with a bolt snap; a very thoughtful addition when doing shore entries with your hands full. I use a similar method with my Deep6 fins but had to make my own strap from 550 cord.
---
Key Features
Near-neutral in freshwater
Steel spring strap
4 sizes (M, L, XL, XXL & XXL)
Black
2.7kg / 6 lb pair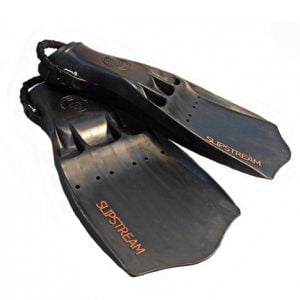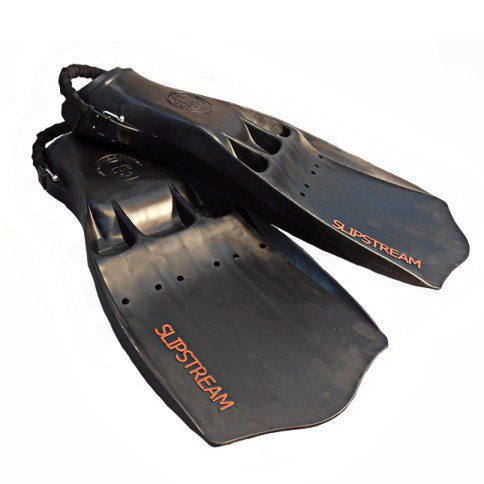 The OMS Slipstream has been around a long time and still manages to reach my top-5 fin list for warm-water tech and sidemount diving. They do feel 'vintaged' though. The lack of stiffness options and less easily manipulated spring straps put it at a disadvantage. I found the monoprene material significantly less stiff than the other options in this list. The fins also don't benefit from having blade stiffeners like the more modern fin options have.
As a consequence, they provide less feedback to the legs and require more diver proficiency to achieve precise manoeuvring and control. On the positive side, they are very robust and you should expect a pair to last for a very long time.
---
Sidemount Fins: Runners Up
Since writing the article, I've received feedback from many sidemount divers who feel that a few others fins deserve an 'honourable mention' as suggestions. So here's the best of the rest:
Mares Avanti Quattro
These classics were the second pair of fins I ever bought. They are lightweight and near-neutral in the water due to Thermoplastic rubber/ Tecralene construction.
The rising popularity of sidemount diving has given them a new lease of life, as they've proven a popular and economical option for many.
The latest "+" version of the fin comes with bungee straps as standard and is available in three sizes (Small, Regular and XL) and six colours. The fins weigh .9 kg each.
The main drawback is the fin length (38cm) which provides less accurate control than smaller-bladed fins….and is less optimal for travelling divers.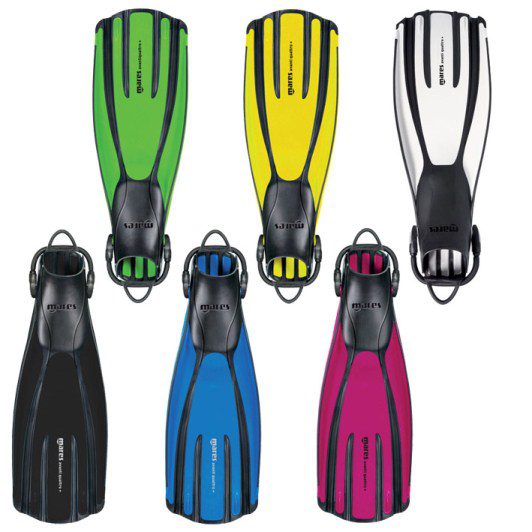 Product Page: Mares Avanti Quattro Plus
DiveRite XT
The XT is another classic design that is especially popular with sidemount divers in the USA. The lightweight monoprene blend gives a near-neutral performance in the water.
Another longer fin, the stiff material still gives good control in the water.
It is available in 4 sizes (small, medium, large and XL) and two colours (black or grey). The fins weigh from 4.7 lbs/2.13kg (small) to 6.3 lbs/2.86 kg (large). They come with stainless steel spring straps as standard.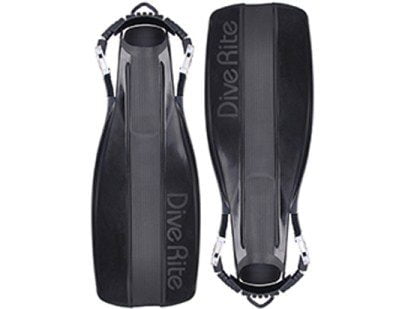 Product Page: DiveRite XT fins
Hollis F2
The Hollis F2 comes as standard with stainless steel spring straps and is designed to offer great control and power, in a limited size. They offer a good deal of manoeuvrability without the weight/length limitations of their big brother, the 'F1' fin (which is popular with drysuit divers).
A slightly different design of 'vents' on the fin, but the F2 remains firmly an offspring of the famous 'Jet' style.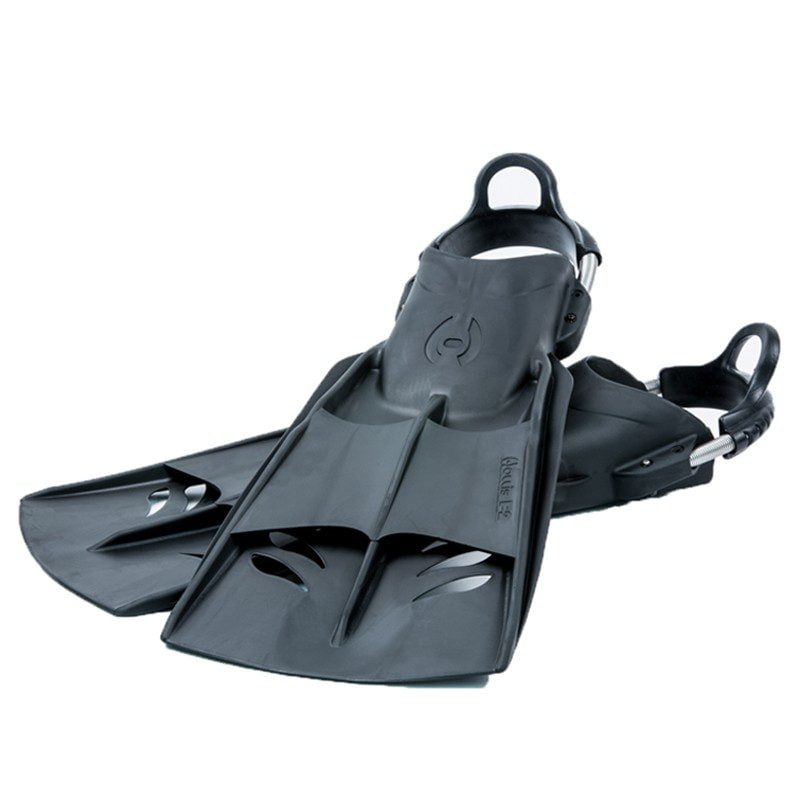 Product Page: Hollis F2 Fins
Force Fin Pro
I have used Force Fins for the last 15 years and they remain my strong favourite for technical, sidemount and wreck penetration diving. They are available in 6 sizes and have an optional bungee strap (highly recommended).
They are very short in length and the curved blade provides highly efficient forward motion and very good control technique – although the user will need to adapt slightly their foot motion to get that control; it's all about the ankle motion. With a little practice it works great for frog kick, helicopter turns and back kick.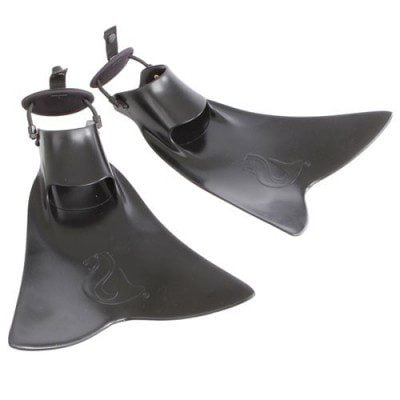 These fins have sold multiple orders to elite naval special forces around the globe.
Product Page: Force Fins Pro
UTD Precision Neutral
Designed specifically for technical diving control, the UTD Precision Neutral fins come with dual-bungee straps and are available in 4 sizes (L, XL and XXL).
They are slightly positive in salt water (neutral in freshwater). They are more than 1lb lighter than comparable Jet Fins, weighing only 2 lbs 10oz / 1.19 kg (XL size).
The foot pocket is designed extra-deep, with thicker sidewalls, to assist with power delivery for control techniques like back-kick.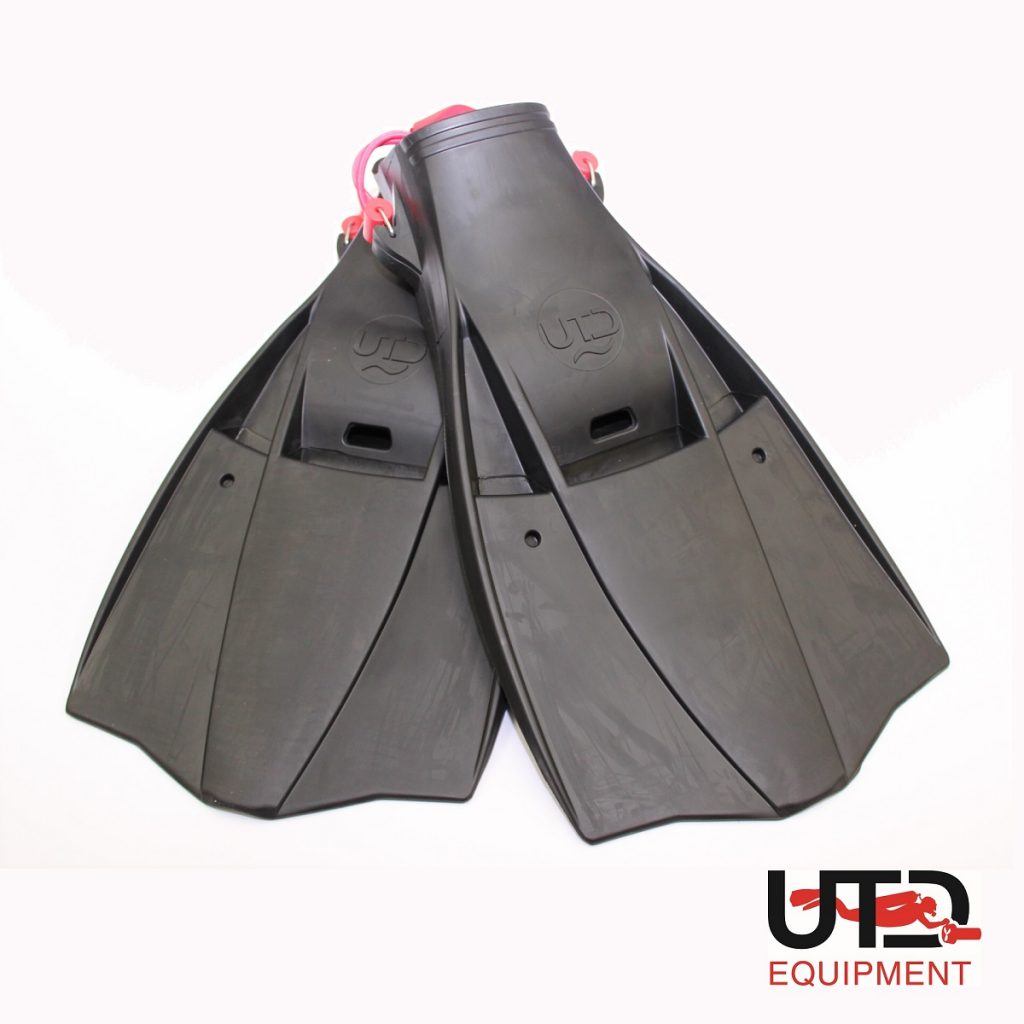 Product Page: UTD Precision Neutral Fins
---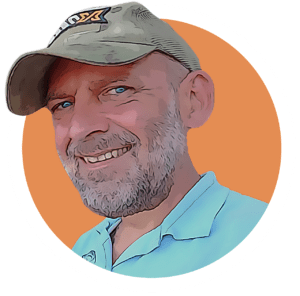 About The Author
Andy Davis is a RAID, PADI TecRec, ANDI, BSAC, and SSI-qualified independent technical diving instructor who specializes in teaching sidemount, trimix, and advanced wreck diving courses.
Currently residing in Subic Bay, Philippines; he has amassed more than 10,000 open-circuit and CCR dives over three decades of challenging diving across the globe.
Andy has published numerous diving magazine articles and designed advanced certification courses for several dive training agencies, He regularly tests and reviews new dive gear for scuba equipment manufacturers. Andy is currently writing a series of advanced diving books and creating a range of tech diving clothing and accessories.
Prior to becoming a professional technical diving educator in 2006, Andy was a commissioned officer in the Royal Air Force and has served in Iraq, Afghanistan, Belize, and Cyprus.
In 2023, Andy was named in the "Who's Who of Sidemount" list by GUE InDepth Magazine.
---
Originally posted 2018-11-05 06:10:39.