What is a sidemount pouch?
A look at sidemount stowage solutions
A sidemount pouch, or pocket, is used to stow ancillary diving equipment when sidemount diving. It clips to square D-rings on the read harness via two double-end boltsnaps.
The problem with exposure suit thigh pockets for sidemount
IMHO, thigh pockets are entirely inappropriate for sidemount diving. They are difficult to access with sidemount cylinders in place; near-impossible with multiple deco/stage cylinders – and they can cause 'A-framing' of the cylinders by pushing the bottoms out away from the diver.
This leaves many sidemount divers with a problem of where/how to store critical ancillaries; like wet notes, spools, DSMB, spare masks, line arrows etc.
What are the storage solutions for sidemount diving?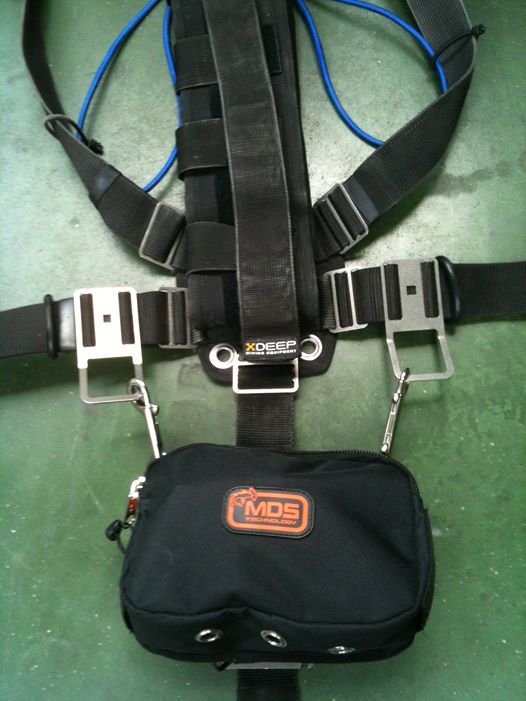 Chest Mounted Suit Pocket
If you can put pockets on your thighs, you can put them elsewhere. Don your sidemount rig and see where you've got free space on your torso in an accessible location. Get a suitably sized, streamlined pocket fitted there. The drawback to this is that it increases the diver's profile, decreases streamlining and can lead to entrapments in confined environments/restrictions.
Cylinder Pocket
Use existing, or extra, cam bands on the cylinder to attach a belt-secured type pocket. The sort of pocket you'd normally fit a harness 2″ waist strap. It's a FAR from optimal solution for technical/overhead environment diving, as per putting weights on your cylinders; because it can cause entanglement and entrapment. But it might be a workable solution for recreational, open-water sidemount divers (who aren't 'beginning with the end in mind' towards future technical/overhead diving).

He has published numerous diving magazine articles, designed courses for dive training agencies and tests/reviews dive gear for scuba equipment manufacturers. He is currently writing a series of advanced diving books and creating a range of tech diving clothing and accessories.
Prior to becoming a professional technical diving educator in 2006, Andy was a commissioned officer in the Royal Air Force and has served in Iraq, Afghanistan, Belize and Cyprus.
Originally posted 2018-03-07 23:55:38.