Single Tank Sidemount Diving: An Essential Configuration Guide
There are occasions where you may need, or want, to use your sidemount gear with just one cylinder. This essential guide illustrates best practice solutions for single tank sidemount configuration.
1. What is single tank sidemount?
Single tank sidemount is a scuba diving configuration where a single cylinder is mounted on the diver's side instead of on their back.
The cylinder is secured on the diver's left side, using a boltsnap and bungee cords in the typical sidemount diving configuration.
A single regulator is used, which feeds both long and short hose regulator 2nd stages.
2. Will you feel unbalanced using single tank sidemount?
If your core sidemount configuration is optimal, you shouldn't feel unbalanced when diving single tank sidemount. Especially so when using loop bungees; which keep the cylinder snug against your torso.
However, this can depend upon your choice of diving cylinder. Aluminum cylinders tend to work best, as they remain within a few lbs of neutral buoyancy whether full or depleted.
A couple of lbs of positive or negative buoyancy have very little effect on the diver if those cylinders are snug against the torso and close to the diver's center of gravity.
3. How do you configure a single tank sidemount system?
In single tank sidemount diving, it is typical to use the left-side (primary) cylinder and dispense with the right-side cylinder.
You will need to retain the capacity to donate gas, so your left-side regulator must have two 2nd stages. Even if you will be solo diving, it is recommended to have two 2nd stages for some level of redundancy and flexibility.
Configuring the single tank sidemount regulator
The only change you need to make to your left-side regulator is the addition of a second 2nd stage.
You do not need to change anything on your existing regulator.
Add the additional 2nd stage on the regulator turret facing opposite the existing 2nd stage.
The alternate air source/long hose regulator will route downwards from the 1st stage.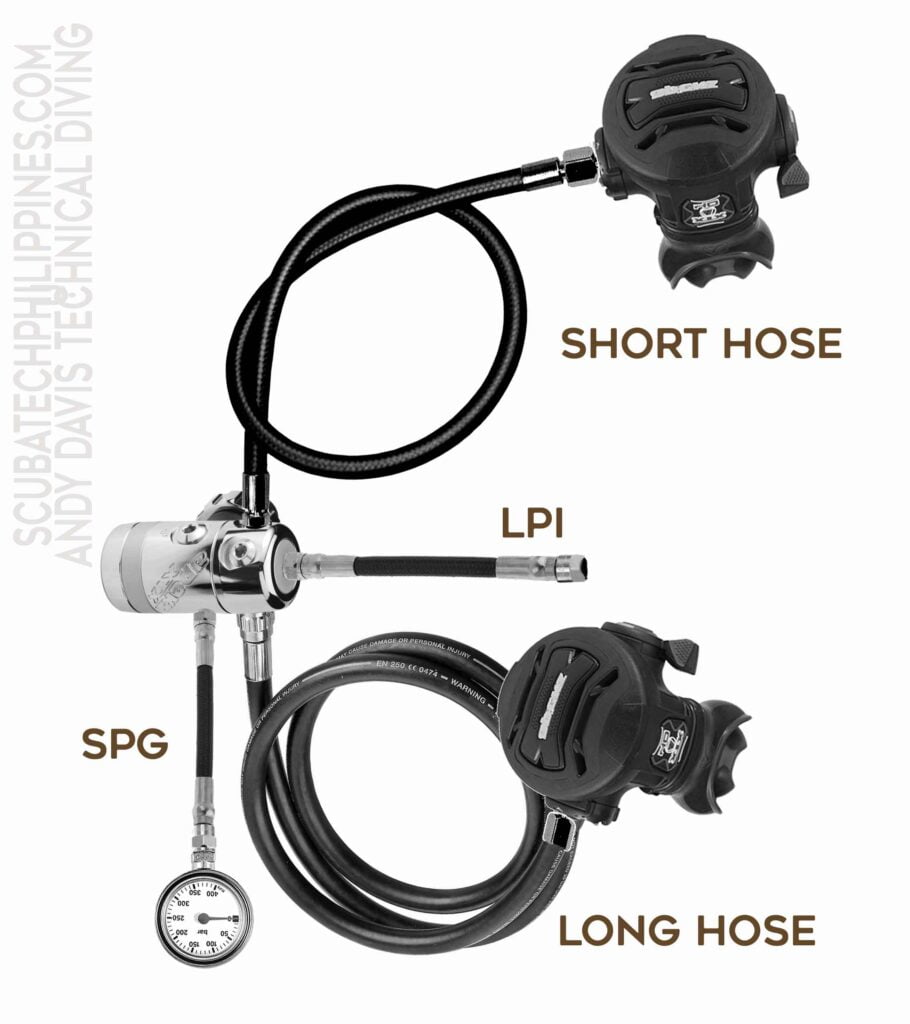 There are two main approaches to configuring your hoses for single tank sidemount diving. The choice depends on whether you wish to use a long hose or a shorter conventional octopus regulator hose.
A. Long hose single tank sidemount configuration
Most sidemount divers are taught to use a Hogarthian long hose in their standard configuration. To keep air donation protocols standardized, you can simply transfer your existing long hose over onto the left-side regulator.
The long hose routes downwards from the second stage and is stowed in the cylinder bands.
When you enter the water, the long hose is partially deployed into a familiar Hogarthian (around the neck) configuration.
As a result, long hose gas donation remains identical to how you trained for two-cylinder sidemount.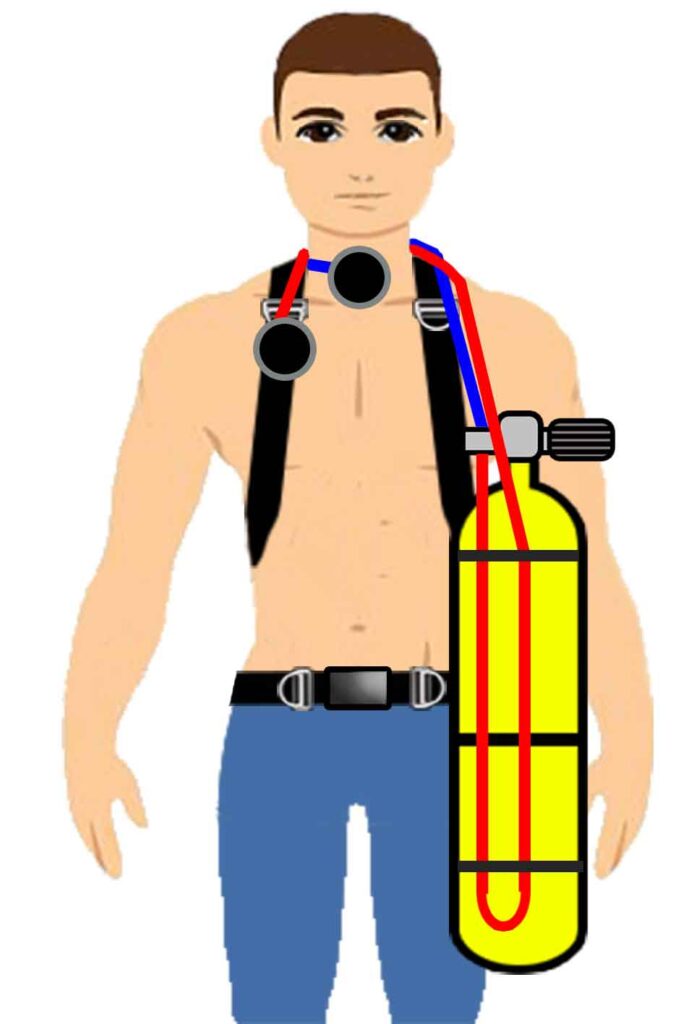 B. Using a shorter hose for the alternate air source
This option allows you to make use of a shorter octopus hose for the alternate air source.
The regulator remains stowed in the cylinder bands during the dive.
To donate gas, you deploy the alternate air source directly from the cylinder bands.
90 cm (30 inch) or 100 cm (40 inch) hoses can be used, depending upon personal preference.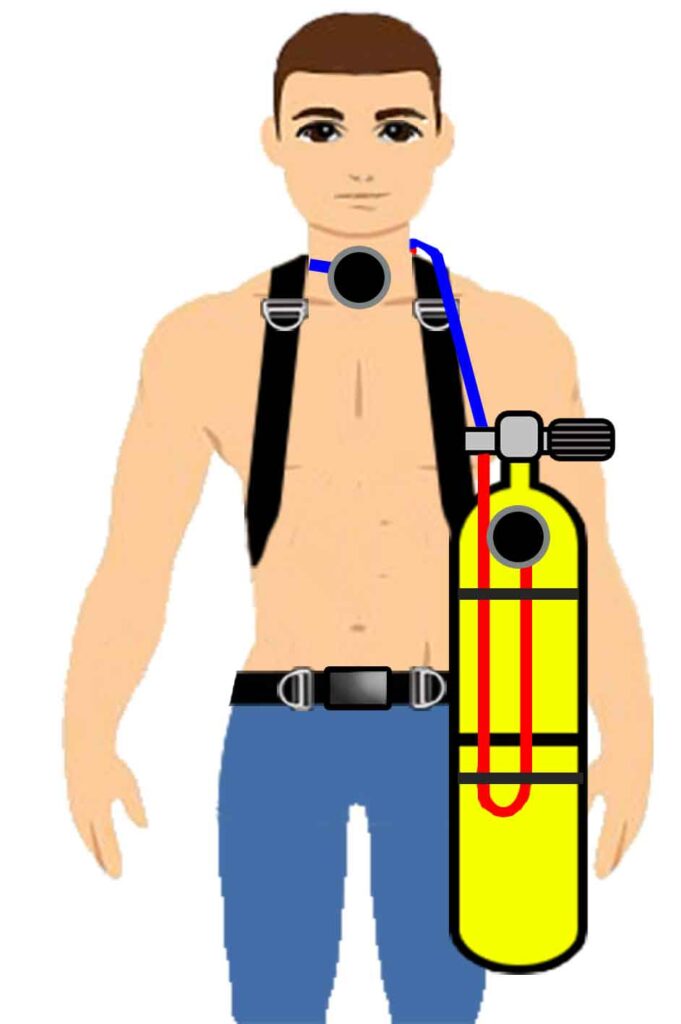 4. What equipment is needed for single tank sidemount diving?
Single tank sidemount diving requires specific equipment to ensure safety and comfort during the dive. The essential equipment needed for single tank sidemount diving is:
Sidemount BCD: A harness designed for sidemount diving is necessary to secure the tanks to the diver's sides.
Regulator: One first-stage regulator with a long hose and short hose 2nd stages, an SPG with 6″ HP hose, and a short LPI hose.
Cylinder: Generally, aluminum cylinders work best with single tank sidemount.
5. What are the advantages of using single cylinder sidemount?
Compared to regular two-tank sidemount
Single tank sidemount can be an option of necessity or personal choice.
When single cylinder is the only option: There are occasions when a dive operator can/will only offer you a single cylinder for each dive. This is sometimes the case upon recreational diving liveaboard trips. Rather than be forced to use a backmount BCD, you have the option to make use of your sidemount rig.
When you desire a minimalist, simple, single dive experience: If you are going out for a single recreational dive, you may not feel that the redundancy of double sidemount tanks is needed. In this case, configuring for single cylinder sidemount offers you a very streamlined, lightweight option.
Compared to single tank backmount
Using a single tank sidemount configuration has several benefits compared to a traditional backmount single tank rig, including:
Improved streamlining: With a single sidemount tank, you can achieve a more streamlined profile in the water, reducing drag and making it easier to move through the water.
Enhanced mobility and flexibility: Sidemount single cylinder diving enables a profound sense of freedom in the water.
Easier access to valves: With your cylinder mounted at your side, it's easier to inspect and monitor the valve and regulator 1st stage throughout the dive.
Reduced strain on your back: Carrying a tank on your back can be tiring and put a strain on your back muscles. Single cylinder sidemount gives you options for water entry where you can don the cylinder in-water.
Overall, being able to configure and use a single tank sidemount configuration can provide greater flexibility, redundancy, and comfort when diving.
Buy my 'Sidemount: Principles For Success' ebook now!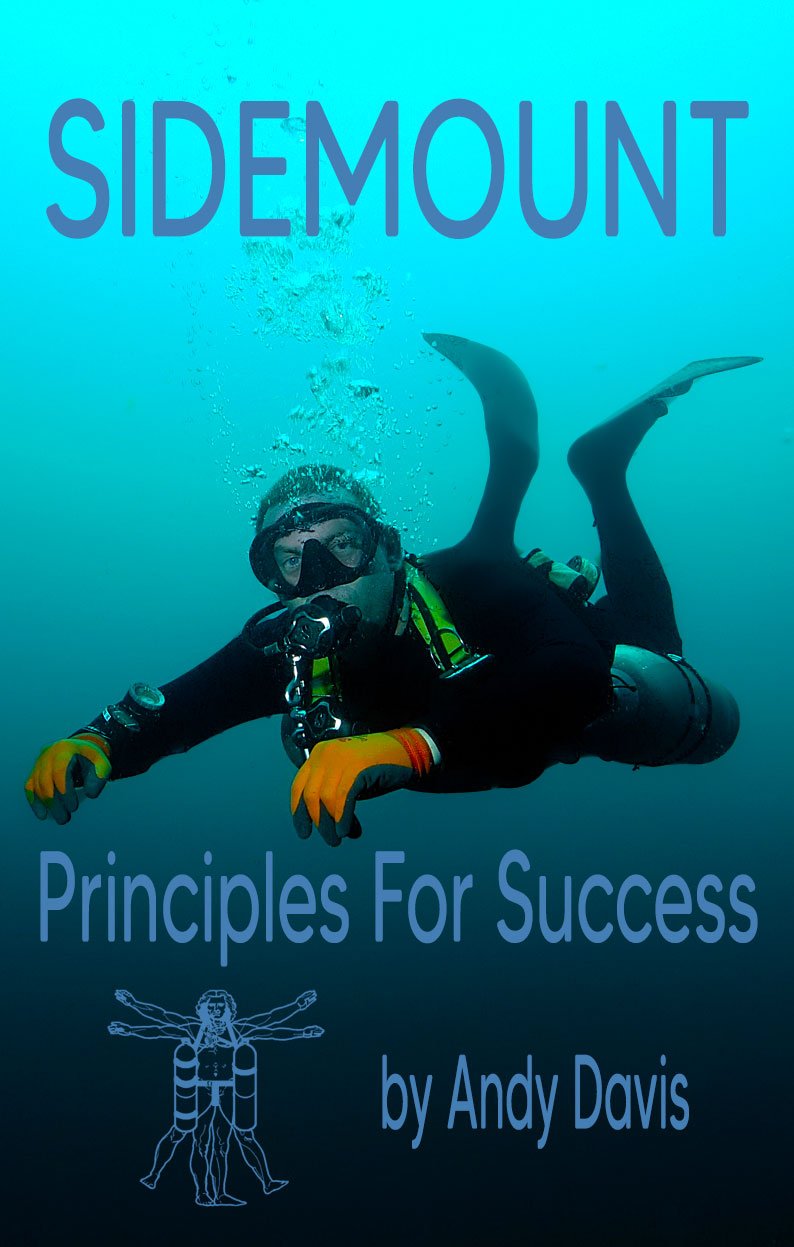 My comprehensive guide to sidemount configuration and development as a diver.
178 Pages. PDF format. Only $25
Fully Illustrated!
Chapters include:
Sidemount history, design styles, and cylinder principles
Harness and bungee setup and sizing
Configuring deco/stage cylinders
Diagnosing cylinder trim problems
Regulators and hardware
Training and skillset development
---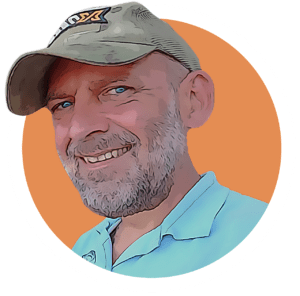 About The Author
Andy Davis is a RAID, PADI TecRec, ANDI, BSAC, and SSI-qualified independent technical diving instructor who specializes in teaching sidemount, trimix, and advanced wreck diving courses.
Currently residing in Subic Bay, Philippines; he has amassed more than 10,000 open-circuit and CCR dives over three decades of challenging diving across the globe.
Andy has published numerous diving magazine articles and designed advanced certification courses for several dive training agencies, He regularly tests and reviews new dive gear for scuba equipment manufacturers. Andy is currently writing a series of advanced diving books and creating a range of tech diving clothing and accessories.
Prior to becoming a professional technical diving educator in 2006, Andy was a commissioned officer in the Royal Air Force and has served in Iraq, Afghanistan, Belize, and Cyprus.
In 2023, Andy was named in the "Who's Who of Sidemount" list by GUE InDepth Magazine.
---
Single Tank Sidemount FAQs
Can you dive sidemount with one tank?
Yes, sidemount gear can be used with one cylinder. Simply transfer the alternate air source to the left-side regulator.
Are you unbalanced with one sidemount cylinder?
You won't be unbalanced with a single cylinder if you are well configured, use loop bungees & pick an aluminum tank.
What is the disadvantage of single cylinder sidemount?
Single cylinder sidemount loses the advantage of redundancy from two independent cylinders.
Do liveaboards allow sidemount diving?
Some diving liveaboards only supply 1 cylinder per dive. However, you have the option of single tank sidemount configuration.