Sidemount Cylinder Boltsnaps
Sidemount cylinder boltsnaps may seem a little insignificant in your list of sidemount equipment purchases, but they play a critical role in enabling good cylinder trim. Choose wisely, using this advice.
Diving steel sidemount cylinders
When diving steel sidemount cylinders, the boltsnaps contribute to how far the cylinders hang down from the attachment point on the harness. When using independent, ring or continuous bungee configurations, the primary consideration is boltsnap length.
Along with the boltsnap cord leash, it will determine where the cylinders hang. Because most steel cylinders don't become positively buoyant when depleted, you do not need to consider how the boltsnaps factor into restraining buoyant cylinders.
It is possible to use much larger sidemount cylinder boltsnaps when diving steel tanks. That can be a benefit because steel cylinders are ubiquitous in temperate and cold-water diving regions. Larger boltsnaps make sidemount cylinder handling easier when wearing thick gloves.
Diving aluminum sidemount cylinders
Divers using aluminum cylinders have more to consider because their cylinders become positively buoyant when depleted.
Sidemount divers with smaller waistlines have to be exceptionally judicious about minimizing the sidemount cylinder boltsnap length if they are to keep their cylinders in trim. Larger waistlines enable longer lengths because there's more "real estate" around the waistband for the D-rings to be further forwards.
If using loop bungees, which I recommend and they're exceptionally popular nowadays, the length of the cord should be as short as possible: suffice only to permit the boltsnap to move freely. Boltsnap length is also more of an issue – as total attachment length influences the torque rotation of the cylinders; which, in turn, affects cylinder trim.
Sidemount cylinder boltsnaps size
The size of the boltsnap is primarily determined by the requirement for total attachment length for cylinder trimming. While larger boltsnaps favor improved dexterity and ease the cylinder attachment skill; they may be unworkable for achieving trimmed cylinders. Thus, a medium-sized boltsnap with an oversized (XL) ring is usually preferable.
Whilst using a shorter boltsnap impacts dexterity, there is a skill-based solution that avoids the need to compromise by having inappropriately long boltsnaps.
The oversized ring permits the index finger to be put through when grasping the boltsnap. Then the middle and little fingers grasp the stem of the boltsnap effectively for control. This retains the thumb being free to keep the boltsnap gate open, while the forefinger is also kept free to have tactile feedback when finding and situating the D-ring itself for attachment.
Any decent sidemount instructor will teach boltsnap grip and manipulation with a high attention-to-detail; so that with sufficient skill repetition the process becomes easy and unconscious.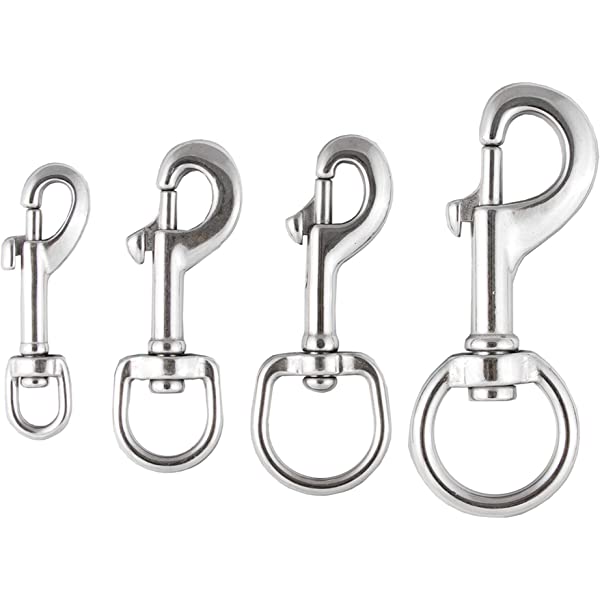 Most problems with boltsnap manipulation stem are a skill deficit (not an equipment issue): insufficient attention-to-detail, coupled with an inadequate amount of deliberate practice.
With steel cylinders that stay negatively buoyant, using continuous or independent (not loop) bungees; the total length of boltsnap and cord merely corresponds to the cylinder positioning/trim as it hangs DOWN from the attachment point at the rear (whether on the waistband or buttplate). Attach the cylinder further back and you can have a longer boltsnap and cord.
Sidemount cylinder boltsnaps key features
Large Eyelet – The proper technique for cylinder boltsnap manipulation necessitates putting your ring finger through the eyelet.
This maximizes grip, whilst also keeping the index finger free to locate the D-ring. The thumb operates the boltsnap slide. Choose a cylinder boltsnap with the largest eyelet possible. Many brands have medium-sized boltsnaps with extra-large eyelets.
Short Length – as already described, short-length boltsnaps are very beneficial for most sidemount divers.
Buy my 'Sidemount: Principles For Success' ebook now!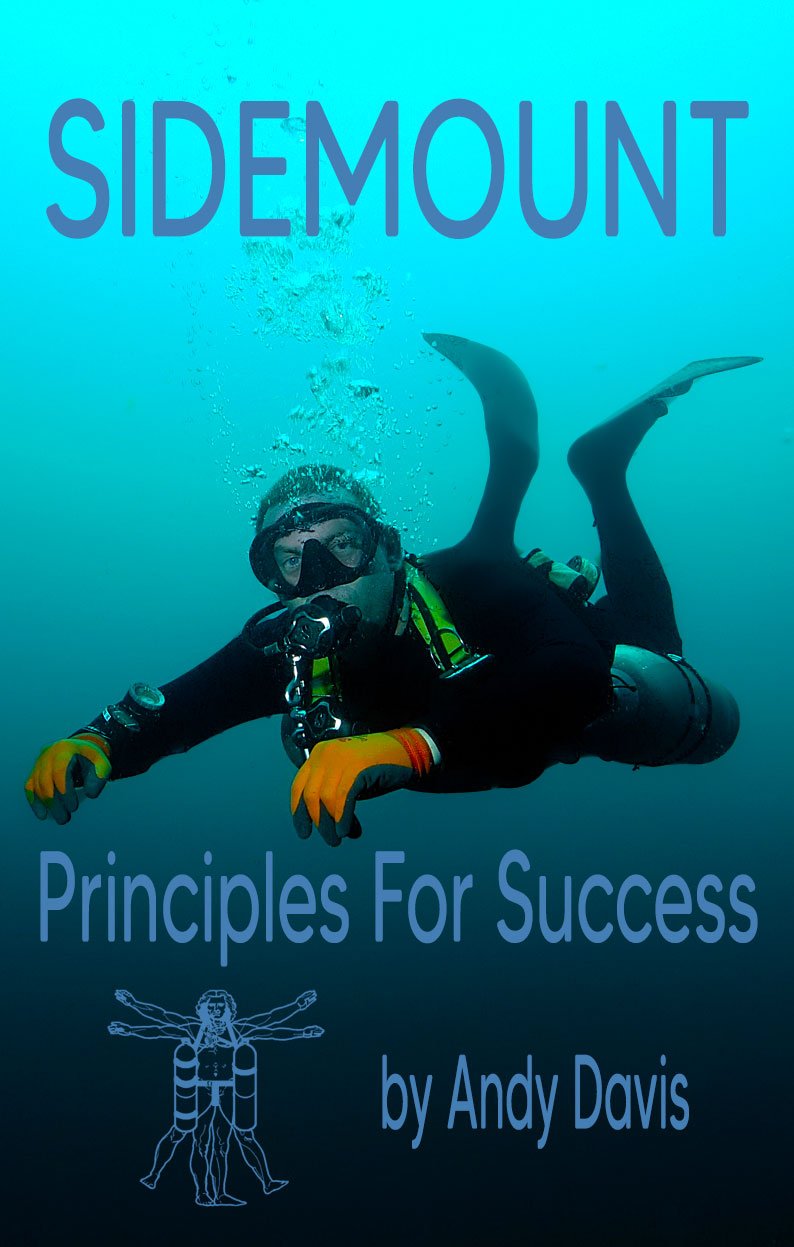 My comprehensive guide to sidemount configuration and development as a diver.
178 Pages. PDF format. Only $25
Fully Illustrated!
Chapters include:
Sidemount history, design styles, and cylinder principles
Harness and bungee setup and sizing
Configuring deco/stage cylinders
Diagnosing cylinder trim problems
Regulators and hardware
Training and skillset development
---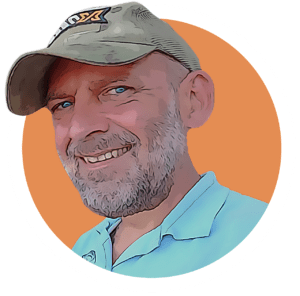 About The Author
Andy Davis is a RAID, PADI TecRec, ANDI, BSAC, and SSI-qualified independent technical diving instructor who specializes in teaching sidemount, trimix, and advanced wreck diving courses.
Currently residing in Subic Bay, Philippines; he has amassed more than 10,000 open-circuit and CCR dives over three decades of challenging diving across the globe.
Andy has published numerous diving magazine articles and designed advanced certification courses for several dive training agencies, He regularly tests and reviews new dive gear for scuba equipment manufacturers. Andy is currently writing a series of advanced diving books and creating a range of tech diving clothing and accessories.
Prior to becoming a professional technical diving educator in 2006, Andy was a commissioned officer in the Royal Air Force and has served in Iraq, Afghanistan, Belize, and Cyprus.
In 2023, Andy was named in the "Who's Who of Sidemount" list by GUE InDepth Magazine.
---