A List of Modern Sidemount Diving Systems
There are an increasing number of commercial 'off-the-shelf' sidemount systems available to purchase.  These typically fall into one of two categories; minimalist (Hogarthian-inspired) rigs and cold-water rigs.
The minimalist rigs, sometimes called "British configurations" typically feature a base harness that uses lumbar and shoulder plates, to which a flat bladder is attached.  These are primarily popular in warm-water regions, where aluminum cylinders will be used.  Their advantages are that they are very small, thus suitable for diving in confined spaces/tight penetrations, and that they are very lightweight/low-bulk for travel. Attachment points for cylinders are typically on the waist belt and butt-plates are omitted.
Cold-water sidemount diving systems, sometimes referred to as "American configurations", tend to have more bulk, but offer sufficient lift for use with multiple steel cylinders.  Attachment points for cylinders are typically via a 'butt-plate' with rails.  Cold-water rigs are also more likely to offer integrated buoyancy redundancy.
Some sidemount BCDs are also designed to be 'hybrid'; able to convert between sidemount and backmount roles. They typically use a soft-backplate that has grommits for attaching a single-tank adapter, backmount doubles or directly fitted with cam-bands. Some manufacturers (for instance, Hollis and DiveRite) also offer sidemount BCDs with either a top or bottom (left) mounted low-pressure inflator hose.  The top mounted hose may be more familiar to novice sidemount divers transitioning from conventional back-mount BCDs (thus marketed as 'blue water' or 'open water' design).  The bottom mounted LPI is typically popular with overhead environment divers, as it offers superior protection from abrasion/impact/entanglement; it is thus marketed as a 'tec' or 'cave' configuration.  In many other cases, the LPI is interchangeable by the diver, between top/bottom position (when there is a pull-dump located on the upper wing).
Apeks WSX-25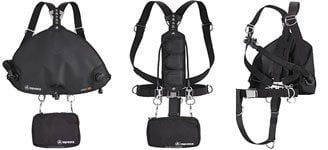 The Apeks WSX-25 features 27lbs of buoyancy, custom sliding D-rings and a super-armored wing exterior. It comes complete with a butt ancillary pouch and is based on the 2-plate (butt and lumbar) harness system with 3x 3kg spine weight pockets.
See my full pre-release review here:  Apeks WSX-25 Sidemount
Buoyancy:  27lbs / 12kg  (+ interchangeable left/right LPI option)
Material:      Armoguard material (10x more abrasion resistance than cordura)
Weight:         Not yet available
User Manual:  Not yet available
Manufacturer Link: Apeks WSX-25 Sidemount
Razor 2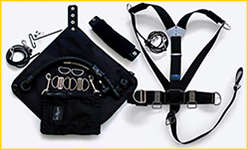 Designed by Steve Bogaerts, the Razor systemoffers a distinctly minimalist approach, which makes the enables the diver to make best use of the advantages of sidemount diving. It is based on a 'Hogarthian' principled harness, with a small capacity bladder (evolved from the MSR Hydromedary) on the diver's back. It has a single-piece bungee, which routes across the diver's back to provide attachments on both sides. It has a bottom/side-mounted inflator and OPV.  One of the few minimalist sidemount rigs on the market with in-built redundant buoyancy (oral inflation only).
Buoyancy:  45lbs / 20kg  (+ oral inflation 45lb redundant integral wing)
Material:      3-layer sandwich (1000 denier nylon - heavy gauge polyurethane – 1000 denier nylon)
Weight:         Complete System: 7.9 lbs (3.5 Kg) / Basic System: 5.8 lbs (2.6 Kg)
User Manual:  Razor Side Mount System 2 Manual
Manufacturer Link:  Go-Sidemount
X-Deep Stealth 2.0 'Classic'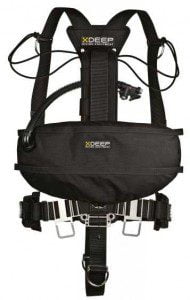 The X-Deep Stealth very popular minimalist, hogarthian-style, MSR-derived, sidemount system, which features a wrap-around bladder and innovative weighting system.  The bladder is separate from the under-lying harness and secures to the diver with torso bungees. Shifting the bladder location up and down on the torso provides a rapid adjustment of diver trim.  It has 16kgs of buoyancy and comes with a unique in-water adjustable waist D-ring system using thick O-rings (that allows the diver to shift cylinder trim with aluminum cylinders at it varies during the dive).  More Details / Review here
Buoyancy:  16.5 kg / 36 lbs single bladder
Material:  Double shell – Outer Cordura® 1100 dTEX / Inner Nylon 440dTEX  TPU 0.215mm
Weight:  0.9 kg
Manual:  Stealth Users Manual
Manufacturer Link: X-Deep
UTD – Z-System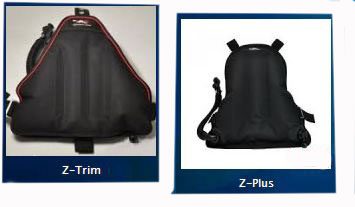 The Z-System shares many attributes with the Razor, whilst also incorporating elements that allows it to adhere to UTD principles and retain 'DIR compatibility'. Most noticeable of these is the optional (Z-)manifold system that allows sidemount cylinders to be linked (along with LPI and drysuit inflator), replicating the benefits of isolated manifold back-mount systems and ensuring procedural compatibility in mixed back-mount/sidemount/CCR teams. It also has a number of optional trim weighting solutions, as well as different bladder options; Z-Trim (20lbs/9 kg), Z-Tec (37lbs/17 kg)and Z-Plus (50lbs / 21kg) that enhance suitability for technical doubles, recreational sidemount and redundant bladder demands.
Buoyancy:  Z-Trim: 20lbs / 9kgs  |  Z-Plus 50lbs/21kg
Material:   1050 Denier Ballistic Cordura ("Pro" version has undisclosed Heavy Duty puncture & abrasion resistant material)
Weight:  Not known
User Manual:  Z-Trim User Manual
Manufacturer Link: UTD Z-Trim Sidemount
UTD Alpha/Delta Hybrid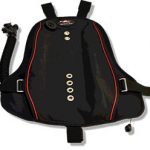 The Alpha/Delta hybrid consists of a specially designed wing of 37lbs/17kg capacity that can be swiftly fitted to either a conventional back-mount harness or dedicated sidemount harness. The LPI/OPV is interchangeable, offering low or high positioning of the inflator hose.
Buoyancy:  37lbs/17kg
Material:     1050 Denier Ballistic Cordura ("Pro" version has undisclosed Heavy Duty puncture & abrasion resistant material)
Weight:         Not known
User Manual:  Delta Hybrid Manual
Manufacturer Link: UTD Alpha Delta Trim
Dive Rite Nomad JT / LT / XT

The Nomad is currently  available in 2 models, suitable for different uses and diver preferences: The Nomad LT is the most minimalist version, designed specifically for warm-water diving with AL80 cylinders. The wing features a 3-inch (7.6cm) expansion panel located at the base of the wing, which varies on inflation to optimize trim. A low profile buttplate is located just at the base of the wing, ideal for divers using smaller capacity steel cylinders. It is available as a 'Cave' model (lower mounted LPI) and the 'Bluewater' model (top mounted LPI). An increased buoyancy version (35lb/16kg) is available with the Nomad LT EXTREME.  This version also offers a dual/redundant bladder with 22lb/10kg of buoyancy.
The Nomad XT is based around the transpac harness and is modular. The wing has up to 50lb buoyancy capacity and is available in single or redundant bladder options. It has a center/top mounted LPI and removable butt-plate. The Nomad JT was discontinued in Feb 2013. It utilized a 'modified' deluxe transpac-like harness, with a 50lb donut wing, an off-set inflator and three OPVs (top and both sides). It utilises a unique 'daisy chain' attachment at the diver's back for attachment of sidemount bungees – preventing a hernia effect on the bladder. It is supplied with 'ring type' bungees, which can add security for water entries and in-water fitting of the cylinders, but can also be used with standard sidemount bungees.
Nomad LT
Buoyancy:  22lbs / 10kg
Material:  Outer - SuperFabric brand technology & 1000 denier Cordura | Inner -  210 denier nylon laminate
Weight:  5.4lbs / 2.5kg
User Manual:  Nomad LT User Manual
Manufacturer Link:  DiveRite Nomad LT
Hollis SMS100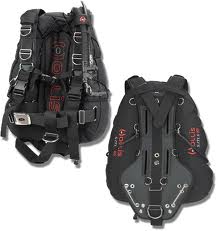 The Hollis SMS (Side Mount System) 100 is an integrated, hybrid sidemount system, which allows use of sidemount, back-mounted doubles and single tank configurations. It features an adjustable (rather than single-piece) harness, more akin to jacket BCD, or 'comfort/deluxe' harness design and is available with a single or double bladder.  There are many 'standardized' after-market modifications available for the SMS100, the most notable of which is the Edd Sorenson/Cave Adventures cave mod.  More Details / Review here
Buoyancy:  52lbs / 24kg
Material:  1000 denier CorduraTM w/ PU lamination outer shell & 15mil urethane internal bladder
Weight:    Not known
Manual:  SMS100 User Manual
Manufacturer Link:  Hollis Gear SMS100
Hollis SMS75
First shown at the DEMA show, 2013.  See inital pre-release pics and my comments here: First Peak at the Hollis SMS75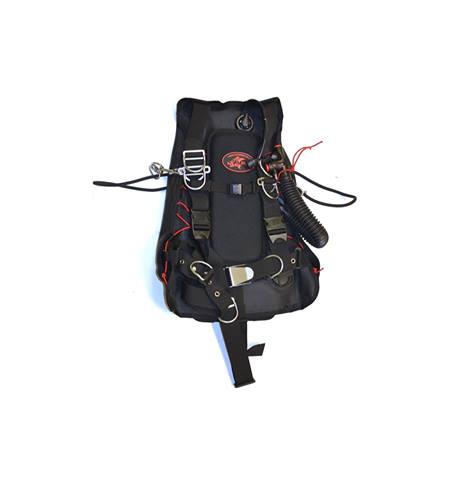 The SMS75 is an evolution from years of sidemount development, which started with the SMS100. A product that has been copied, modified and a benchmark for technical sidemount for years. Even more popular has been the lightweight SMS50 line. These two have taken sidemount mainstream and the building blocks this new harness. While it will cater more to hardcore cave divers, SMS75 was created to handle all environments. Proper trim is key and the wing is designed to promote horizontal diving with increased lift towards the hips where it's needed most, and without modification. The SMS75 will also support rear mounted tanks and reversible inflator positions.  It includes the following features:
Trapezoid shape to promote horizontal trim
Adjustable and removable wing bungee
Designed for cave or open water sidemount
Cam slots for single tank and grommets at 11" for banded doubles
Reversible Inflator & Dump assembly
Rigging kit included: Tank bungees, SS Cam bands, SS Bolt snaps & nylon line
Includes sternum strap & crotch strap
Inner located elbow to avoid overhead interference

Three sizes: SM/MD, LG/XL and XXL
Buoyancy:  40lbs / 18kgs
Material:  1000D Cordura
Weight:  7lbs
Manual:  Not yet released
Manufacturer Link: Hollis SMS75
Hollis SMS50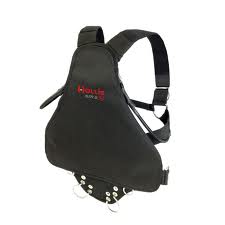 The Hollis SMS 50 is a dedicated sidemount rig, which features a lower capacity bladder than the SMS100 and a much more minimalist and 'Hogarthian' inspired harness system. It also has dedicated trim pockets on the upper and lower harness. Popular as an 'off-the-shelf' sidemount option for warm-water/recreational sidemount divers. Available in two models; the 'Sport' comes with a top-mounted low pressure inflator.  Both models have 10kg/22lbs of buoyancy. More Details / Review here and here
Scubapro X-Tek Sidemount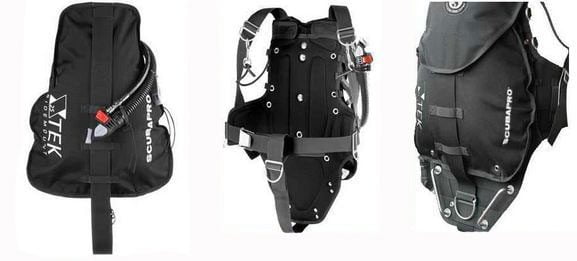 The Scubapro X-Tek sidemount is a modular system, available with two bladder sizes and an optional top-cover for increased durability in overhead environments.
Aquamundo SM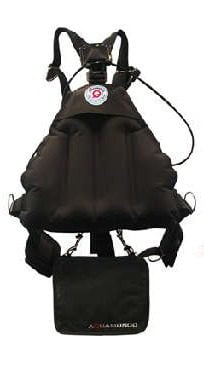 Produced by Philippines-based diving manufacturer 'Aquamundo', the SM is a minimalist warm-water sidemount configuration, similar in approach to the Z-Trim. It is sold complete as a complete unit, with all necessary ancillaries.  More details/review here
Buoyancy:  21lbs / 9kgs
Material:  1000 denier nylon (special 420 denier 'lightweight' nylon 'Rescue Team version available)
Weight:  Not known
Manual: Not available online
Manufacturer Link:  Aquamundo Sidemount
Golem Gear Armadillo A2 and S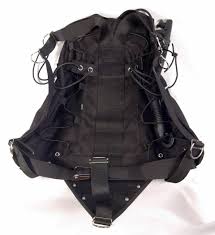 The Armadillo is a sidemount specific rig, with integral buoyancy compensator and limited adjustment harness. It has an inter-changeable inflator/OPV, allowing divers to decide how they want it to be configured. The harness can be re-configured to allow incorporation of a climbing harness (rather than standard waist belt). A short fitting model (S) has also been released. More Details / Review here
OMS Tesseract/Profile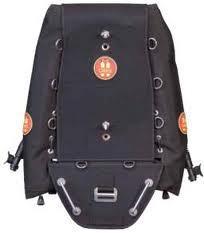 The OMS 'Profile' sidemount diving system is a hybrid, allowing inter-changeability between back-mounted and sidemount configurations. The 'Profile' adapter fits over the rear of the backplate/wing, to prevent taco'ing and provide attachment points for the bungees and ancillary equipment. The 'Tesseract' wing is similar to other OMS double-tank wings, but was adapted for maximum compatibility with the 'Profile' adapter; for instance, the inflator is off-set at the top, to allow the adapter cover/protector to fit over the top of the wing, whilst there are also dedicated attachment points at the top and bottom to ensure maximum fit between the wing and the adapter. It has 60lbs of buoyancy. When used with other wing systems, considerable user adaptation and initiative are required to make the 'Profile' adapter fit. It will, however, fit any wing/backplate that has standard 11" hole spacing. It is available in double/redundant bladder. More details/review here
Buoyancy: 60lb / 27kg
Material:  Outer - 1000 denier Nylon backed with 5-6 oz Thermoplastic Polyurethane (TPU)  |  Inner - 200 Denier Nylon Fabric backed with .12 mm of TPU
Weight:  Not known
Manual:   Profile Sidemount Manual
Manufacturer Link:  OMS Profile Sidemount System
AudaxPro 'Point Break'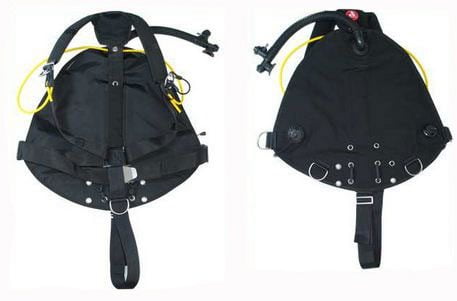 Halcyon Contour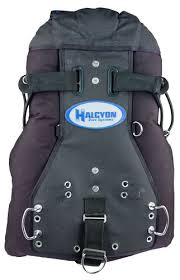 The Halcyon sidemount offers 50lbs of buoyancy through a pre-shaped wing that keeps buoyancy lower in the rig (where it is ideal for sidemount).  It heavily features cave-diving configuration modifications developed by Edd Sorenson.  It has a reinforced top section to offer more ruggedness on overhead environment dives. More Details/Review here  and another good review here
Buoyancy: 50lb / 23kg  (rumored 40lb/18kg version to come)
Material:  TBC.  Expected: Outer - 1000 denier urethane coated nylon  |   Inner - 420-Denier urethane-coated nylon. Triple-layer top cover
Weight:  Not known
Manual:  Not yet available
Manufacturer Link: Halcyon Contour
Agir-Brokk Ratatosk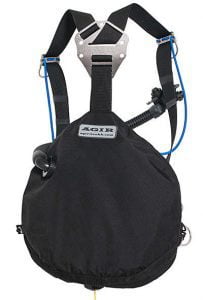 The Ratatosk sidemount follows a similar minimalist design to the Razor, Stealth, Z-Trim and Aquamundo. It has a 'tear-drop' shaped bladder and features the 'SiMo' design bungee mounting (based on the UTD approach).  The lumbar and shoulder plates are available in either 3mm or 6mm stainless steel.  More Details/Review here
Sub-Gravity Diamond Sidemount System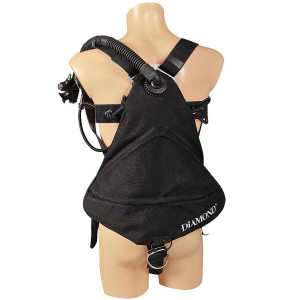 The Sub-Gravity  Diamond Sidemount is  Czech-designed and features a range of 3 bladder sizes (8, 10 and 13 litres) to suit a variety of needs. It is another minimalist/hogarthian inspired configuration, with three LPI loations (top/outer, inner left and right) allowing the user to choose where to place the LPI and OPV.  It has been extensively tested in the caves of Mexico and Florida.  More Details/Review here
Oxycheq Recon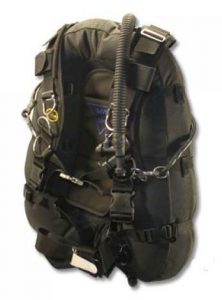 The Oxycheq Recon is available in either single (Recon 1) or double/redundant (Recon 2) bladder options.  There is also the 'extreme' variant which features an especially durable, armored, outer fabric. This fabric includes tiny, hard guard plates that are adhered to multi-layered base fabrics. It has 55lbs of buoyancy.
Buoyancy: 55lb/25kg
Material:  Outer - 1000 Denier + 5 oz urethane \  Inner - 25 mil  urethane (Extreme armored variant differs)
Weight:  Not known
Manual:  Not available
Manufacturer Link:  Oxycheq Recon Sidemount
White Arrow S-Wing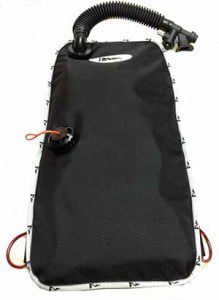 White Arrow produce a wing system that utilizes a conventional back-mount backplate. . The 'S-Wing'  has 15kg /37.5 lb of buoyancy and features a unique 'butt-plate' system that fits directly to the metal backplate.
Buoyancy: 37.5lb / 15kg
Material:  Outer - Cordura 2000 |  Inner - Cordura 2000
Weight:  Not known
Manual:  Not available
Manufacturer Link:  White Arrow Sidemount
Custom Divers Rhino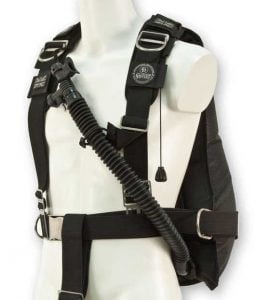 The Custom Divers Rhino is a hybrid sidemount/backmount wing system that weighs only 2.50kgs.  It can be converted for sidemount or backmount diving use.  It has 28lbs of buoyancy and is designed to be highly flexible for individual customization (for instance, it has 5 alternative mounting points for the LPI). More Details / Review here
Sublevel Sidemount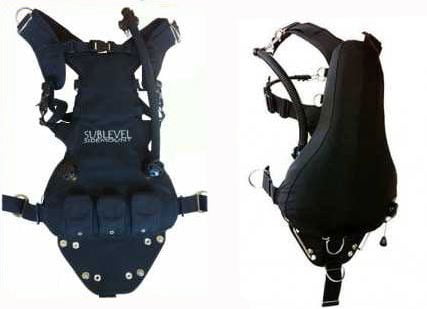 The Sublevel sidemount is designed purely as a recreational/open-water sidemount system, with a design emphasis on lightweight, low-bulk, travel. It has 3 integrated weight pockets on the inside of the wing, each of which can hold 2lb of weight. It has a pull-dump LPI and
IST SMB-21
IST SMB-42
The IST SMB-42 is designed for cold-water/steel cylinder/drysuit sidemount diving.  It features a generous42lb bladder is constructed from the same 1680 denier nylon as the SMB-21.
SF Tech Sidemount
 SF Tech is a Swiss drysuit manufacturer.  This sidemount wing has their logo on it.  Sadly, it was a private project for the company and is not commercially available. The wing is very reminiscent of the Razor 2, but with a slightly more rounded 'tear-drop' shape.
Helix Sidemount
The Helix sidemount is manufactured in Singapore and is purely designed for recreational sidemount diving (wreck penetration and technical diving in the rig is not advised by the manufacturer).  The rig weighs less than 1kg and features a novel harness design that removes the waist belt and crotch strap.  The wing is located high on the back, with a top-mounted LPI.  It has 10kg/22lb of buoyancy and the wing is constructed from 1400 denier nylon.
Dive System Manta Sidemount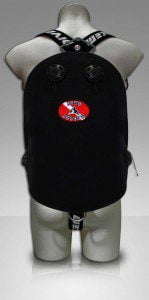 The Manta sidemount is a hogarthian-inspired, minimalist, sidemount system available in a number of options.  It can be bought with a single (30lb/15L) wing or a dual/redundant (50lb/23L) wing.  The wing fabric is 1000 denier nylon (kevlar reinforced wing is also an option).  The harness features a custom-designed movable D-ring for cylinder trim control.  More details / review here
Buoyancy: Separate Twin Bladder - Primary bladder: 23kg /50lb | Secondary bladder: 22kg /48lb
Material:    Cordura® 1000 deniers ( Kevlar® optional )  (*believed to be single-layer)
Weight:  Not known
Manual: Not available
Manufacturers Link:  Dive System Manta Sidemount
ScubaOne M90 Sidemount
Italian manufacturer ScubaOne have created the lightweight 'M90′ sidemount for both cave diving and leisure diving.  It has an innovative stainless steel butt section, and offers a clean profile. It has a smaller capacity than the Mangusta.
 Kamaleont Sidemount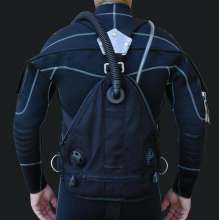 This Italian manufactured sidemount is of minimalist design with a triangular wing.  It is not known if the sidemount diving system is still currently available for sale.
Buoyancy: No information available
Material:    No information available
Weight:  Not known
Manual: Not available
Manufacturers Link:  Nauticamare
Eques Sidemount
The Eques Sidemount system was developed by Polish cave divers; Richard Paluszkiewicz, Patrick Widmann, Christopher Starnawski and Mirek Wolski – who were also involved in the development of the X-Deep Stealth 2.0.  The Eques shows that lineage.  It was originally designed in 2000 and has been in use with the Tatra mountain rescue team.
Revealed during the 'TechAustria 2012′ diving exposition, the SistemA sidemount was designed by technical instructor, Pim Pols, for both recreational and technical/overhead sidemount divers.  I am awaiting further details on the configuration and specifications – the Sistema (tecdiving.nl) website host was destroyed by fire, so little resources are currently available (update when they are).
---
There are also a number of stand-alone components on the market.  Whilst not complete sidemount diving systems, they may warrant consideration if building a mixed, or DIY, configuration rig:
Stand-Alone Sidemount Harnesses
Darkside Harness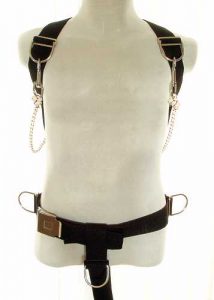 The Darkside harness is manufactured in the UK and consists of a hogarthian webbing rig with lumbar and shoulder plates.  It has regular sized D-rings and crotch strap.
Buoyancy:  Not applicable – harness only
Material:    Nylon webbing / 316 marine grade stainless steel plates
Weight:  1.4kg shipping weight
Manual: Not available
Manufacturers Link:  darkside-diving.co.uk
Farr Explorer 1 Harness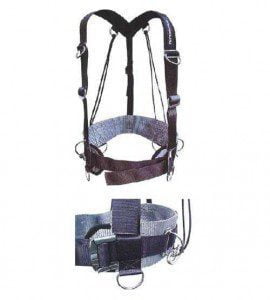 Designed by renown cave explorer Martyn Farr, the 'Explorer 1′ is a seriously robust harness designed for exploratory cave diving.  All metalwork is 316 stainless steel and the waist belt can be stripped down quickly to add/remove weights.  Not currently listed on the Farrworld website.
Buoyancy:  Not applicable – harness only
Material:    Nylon webbing / 316 marine grade stainless steel plates
Weight:  Not known
Manual: Not available
Manufacturers Link:  farrworld.co.uk
Warmbac ASM Sidemount Harness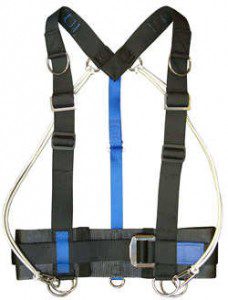 Another UK manufactured stand-alone harness is the Warmbac. It has a fully adjustable belt and shoulder straps.  The bungees  run from between the shoulders to the shoulder mounted large D rings. It features a highly adjustable roller-style belt buckle and single "floating" belt through the main 'H' harness with lead attachment points. Often worn in conjunction with a dedicated climbing seat harness by UK sump divers.
Buoyancy:  Not applicable – harness only
Material:    Nylon webbing / 316 marine grade stainless steel plates
Weight:  1.23kg
Manual: Not available
Manufacturers Link:  Warmbac Divers Sidemount Harness
Kent Tooling Sidemount Harness
DiveRite Transpac XT Harness
DiveRite Transpac XT Tech Harness
The 'tech' version of the Transpac features a single-piece continuous webbing harness, molded foam lumbar pad and chest-support strap
This French designed stand-alone sidemount harness features low-profile D-rings and uniquely shaped lumbar and shoulder plates.  The lumbar plates has integral equipment attachment points.
---

Want to learn sidemount diving?  All of my courses come with expert workshops on how to configure and tailor your chosen sidemount system.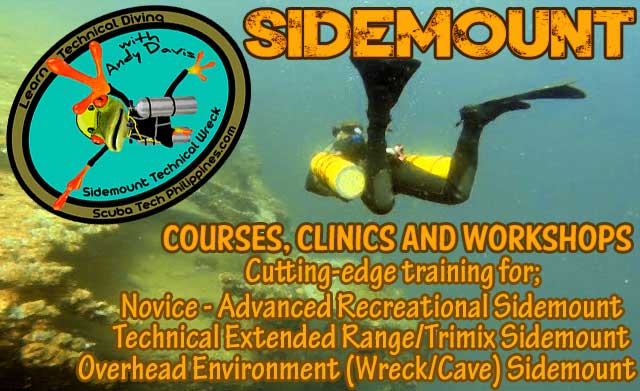 « Aquamundo Sidemount BCD Review The Dunning-Kruger Effect and Scuba Diver Over-Confidence »