Aquamundo Sidemount BCD – New Release Oct 2013
I was pleased to be asked to conduct pre-release trials on the Aquamundo Sidemount BCD during Sept 2013 and this is my review of the  newly released rig: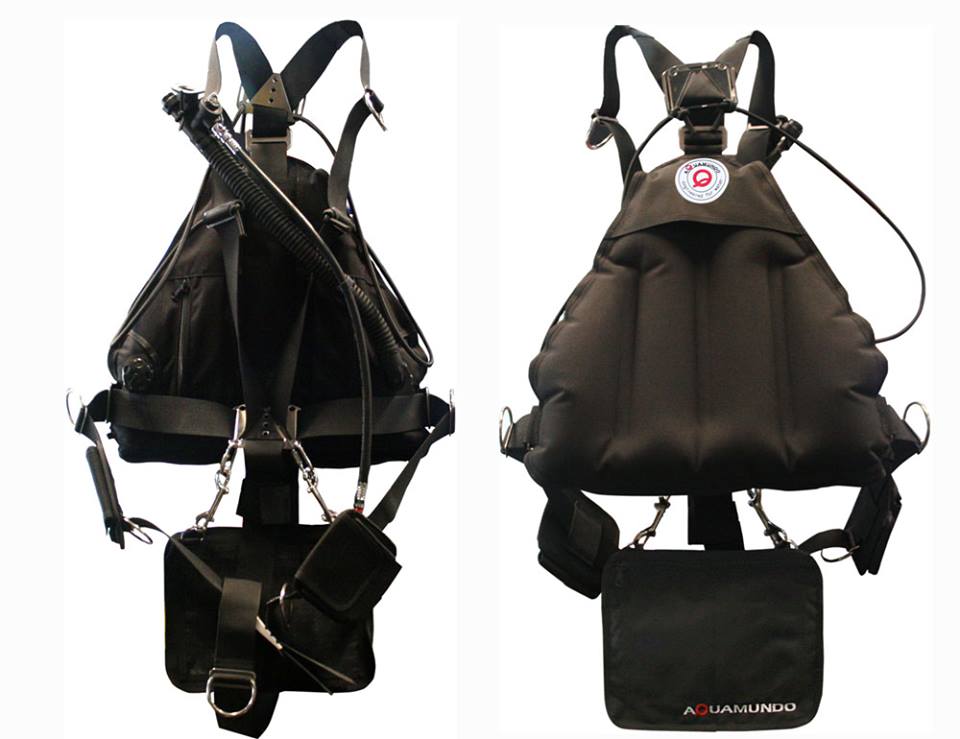 The sidemount BCD is a complete system, designed on a minimalist harness that is ideal for tropical diving with multiple aluminum cylinders. The wing has approx 20lbs/9kgs buoyancy and is constructed of heavy-duty 1000-denier cordura.  I dove the rig with up to 3x AL80 tanks and it performed very well throughout. The bladder is 'channeled' to ensure consistent spreading of air and prevent the 'bubble effect'.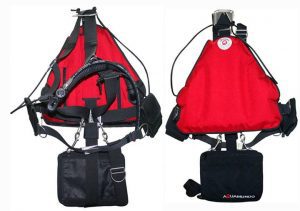 I also used the system for several dives during the ANDI Advanced Sidemount Stage instructor course, in which it was put through it's paces for some extreme restriction wreck penetrations.  The rig was very streamlined and offered a highly acceptable performance when squeezing through the smallest gaps.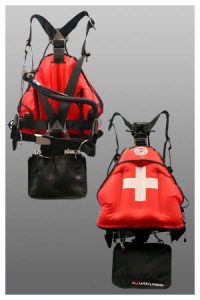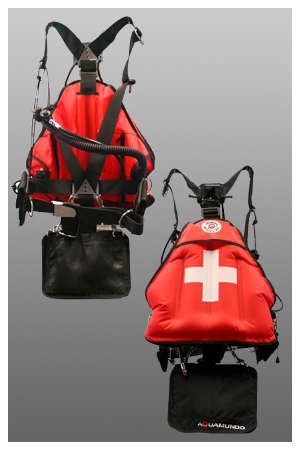 The rig is reminiscent of the UTD Z-Trim and utilizes a similar bungee attachment method (knotted bungees secured by weight retainers on the shoulder straps).  My preference is for bolt-snaps on the bungees, as this is more compatible with using 'standard' rental cylinders (left-handed handle/no extended stem) when travelling to teach my courses.  It is just a 2 minute task to change the bungees to that, more conventional, configuration.

What's included in the set:
Harness, wing, butt-pocket, trim weight pockets, bungees, cam-bands and bolt-snaps. It's complete for diving..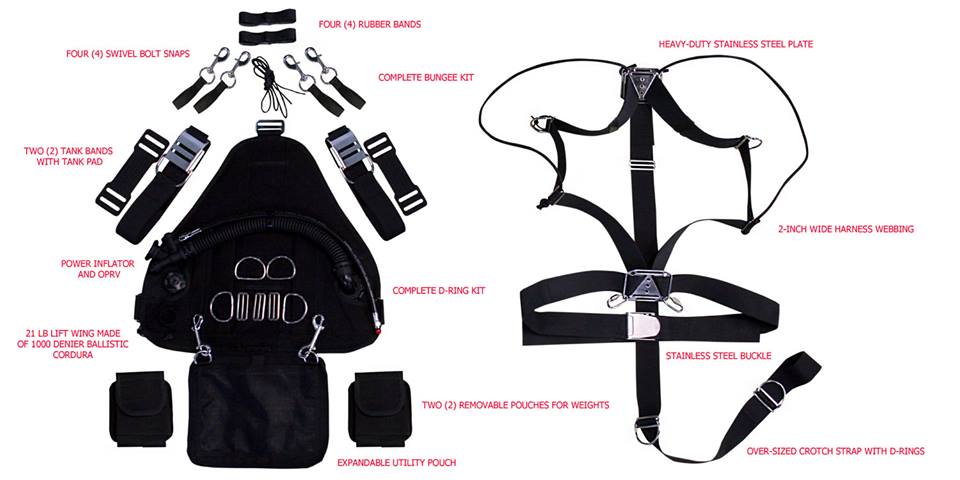 I particularly like that the rig comes complete with a decent 'butt-pocket' (expandable utility pouch), which attaches to the tail via double-end bolt-snaps (included).  This is a useful solution to carrying varied redundant/back-up ancillaries like; wetnotes, spare mask, finger spools and line arrows.  The sidemount harness has two quick-links to attach the pocket, but I found these a little fiddly.  I will be putting some off-set D-rings in the rear position, either side of the lumbar plate, to make life easier.
Weighting options include two optional trim pockets and also two zipped trim weight sections on the underside of the wing.  When using the rig, I threaded my primary weighting directly onto the spine strap.
D-rings are supplied to facilitate proper trim on the waist harness.  My preference is for low-profile D-rings and, again, it is little effort to swap these out with the supplied 'regular size' D-rings.  I find that the low-profile D-rings enable me to reduce some of the cylinder swing/play.
The supplied LPI hose is very long for attaching to the power inflator (which routes from below, as is my preference).  Ideally, if using a left-side regulator with an 5th/end-port (highly recommended), you will only want a 23cm/9inch LPI hose.  Without an end/5th-port regulator, the supplied hose will provide sufficient reach.
Overall, I found this sidemount BCD to provide very good function for recreational/open-water sidemount and a good basis for a robust rig for extreme wreck penetration dives.  Technical divers may want to consider additional options for redundant buoyancy, if they it is necessary (some tech/sidemount courses demand it).   It is robustly constructed and the modular design permits significant personal modification, if desired.   With an initial release price of 25,500php ($593USD) it is competitively priced on the market; offering a realistic alternative to the Hollis SMS50, Razor 2.0 and X-Deep Stealth 2 rigs.
See updated 18 month review here: Aquamundo Sidemount System Diver Review
Interested to purchase, see retail  details here:  Aquamundo Sidemount System Retail