Sidemount Review: The DiveRite Nomad LTZ
The DiveRite Nomad LTZ is the improved successor to the old Nomad LT Extreme. Made with even more robust materials, some beneficial design tweaks and now offering a (limited) integral dual-bladder; the LTZ continues the Florida Cave evolution of sidemount design – but with a relatively minimalist feel.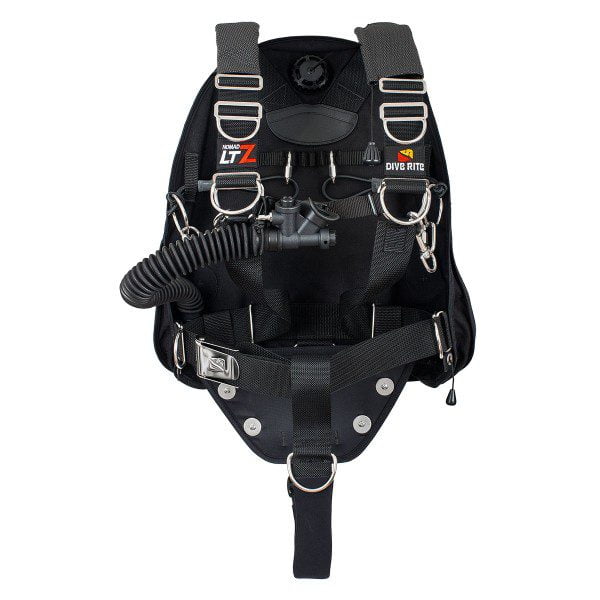 The LPI and OPVs have been moved inside of the wing, where they are significantly more protected. I'm glad to see that the inflator now routes from the lower left wing – as this is over-riding preference of the vast majority of sidemount divers; and makes prudent sense from a hose routing perspective. DiveRite have retained both a right-side and top-mounted OPV still, but this is discretely placed inside the upper wing and accessed by a pull-dump on the harness.
With 35lbs/8kgs buoyancy capacity, the DiveRite Nomad LTZ offers many options for advanced recreational – moderate technical divers. From personal experience, this is easily sufficient buoyancy for doing extended range dives in a 3mm full wetsuit and 3-4 AL80 or AL100 cylinders. It'd also be sufficient for double-tank dives using larger steel cylinders (assuming a correctly weighted diver in drysuit).
The wing itself seems to be of spectacular ruggedness; at least as far as the materials used. Instead of a 1000 denier 'superfabric' used on the LT Extreme, the LTZ used dual-ply 600 denier… giving 1200 denier total, plus the benefits of laminated layers. The inner bladder is now 420 denier nylon laminate, rather than 200 denier that the LT Extreme used. I am quite sure that this rig should cope with a lot of abuse and abrasion inside wrecks and caves.
One issue with the 35lb/8kgs wing is that it does 'billow' quite excessively when inflated. There's a definite 'turtle shell' effect in evidence. This could be countered with either baffles or bungees; but that'd also limit the max buoyancy capacity.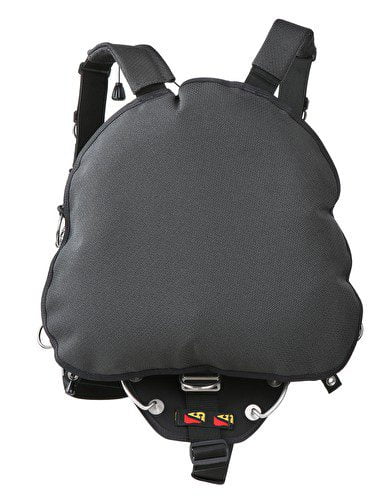 There is the option to buy the rig with a limited redundant bladder, which is just under half the capacity of the primary bladder. Not true 'technical' redundancy then… but sufficient to get the diver to the surface under many circumstances.
As usual for DiveRite, the rig ships with a ring bungee system (DiveRite calls this the 'loop bungee', but that causes confusion with the different loop bungee method most sidemount divers refer to). I've trialed the ring bungee using aluminum cylinders and I found it very counter-productive for promoting good cylinder trim. I suspect the system works much better with steel cylinders.
The rig has angled, low-profile D-rings on the shoulders and hips; along with a butt-plate/rails at the rear. As we all (should) know – butt-plates are an anathema to divers using aluminum cylinders. They work great with steel tanks, but shifting aluminum cylinders forwards from rails to waist (to compensate for positive tank buoyancy) causes the cylinders to rise relatively on the torso. That pushes valves out and down beyond the armpits; and the cylinder bottoms will consequently rise above the diver. Personally, I'd like to the the butt-plate made optional/removable; so that tropical divers using aluminum cylinders could use (offset) D-rings for the initial tank attachment.
Personally, I don't like overly complex harnesses that drip with superfluous hardware, padding, joins and dangling straps. I'd much rather see a modular or detachable harness… that allowed the diver to specify their own attachments and hardware options. The DiveRite Nomad LTZ is a more minimalist rig than previous DiveRite models; but nonetheless, your choices and options are still dictated to you.
There is no weight system included on the DiveRite Nomad LTZ, but you can buy one as an optional extra. This is a simple concept with three 4lb weight pockets on a strip of webbing that can be affixed to the inside of the harness.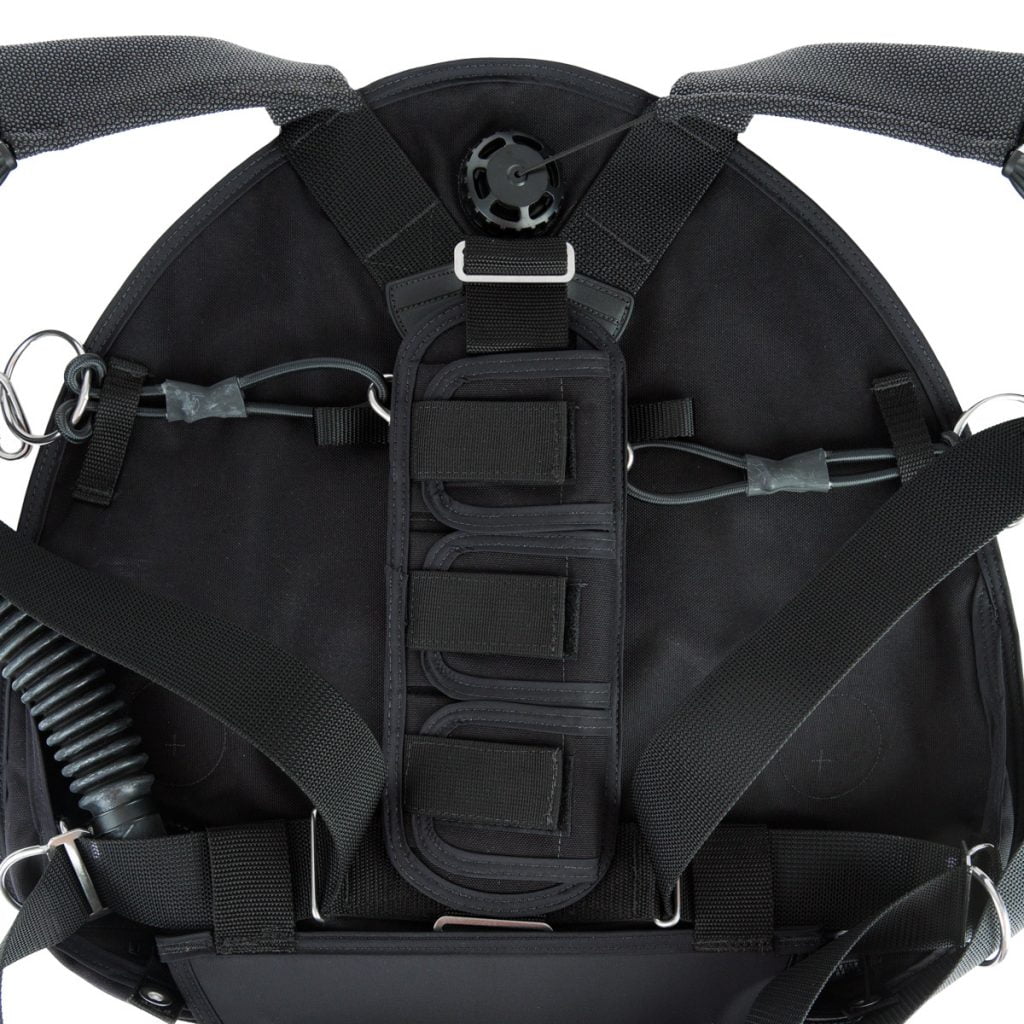 SPECIFICATIONS
Buoyancy: 35lbs / 8kg (optional redundant lift capacity bladder with 10 lbs/4.5 kg)
Material: Outer – SuperFabric material with double ply 600 denier fabric| Inner – 420 denier nylon laminate
Weight: 5.75 lbs/2.61 kg
User Manual: Not available
Manufacturer Link: DiveRite Nomad LTZ
OVERALL IMPRESSION
I found that rig had both pros and cons. I was impressed with the quality of materials used throughout; and the construction quality set off no alarm bells. However, the DiveRite Nomad LTZ still seems like an American (Florida cave) style of sidemount BCD that was grasping to appeal to a warm-water, aluminum cylinder crowd… who'd always favor a truly modular and minimalist British (Mexico cave) style of rig. (For an explanation of this, see The Two Schools of Sidemount Diving Heritage).
DiveRite isn't the first manufacturer who's tried to make a warm-water/tropical/recreational sidemount rig based on a cold-water/steel cylinder design heritage. The Hollis SMS50 is another fine example of a confused heritage that detracts from system performance. For the record: butt-plates are NOT optimal for aluminum cylinders. Please start making them removable….
I wasn't so sure about the big, bulbous 'bag-on-the-back' approach. Other rigs have approached that problem using wrap-around, triangle or diamond shaped designs (i.e. Apeks and XDeep) to moderate the 'rise' of the bladder when fully inflated.
The redundant buoyancy option seemed slick – and the capacity provided would certainly work for me… within the diving ranges I'd be doing on a rig like this (up to 65m w/ 4 full ali cylinders).
I'm pleased to see DiveRite putting the LPI where it's best suited… from the bottom left. This gives an OPV on the right side for dumping when in trim. The top-mounted OPV has uses when ascending through a vertical restriction in caves/wrecks. It'd also simplify procedures for sidemount divers who struggle to dump air from the LPI during initial descent from the surface.
The DiveRite Ring bungees don't work for me with aluminum cylinders. They dangle too much, especially when the ali cylinders are moved forwards. This leads to hopeless cylinder trim. I'd definitely opt to replace the supplied ring bungees with a sliding loop bungee system.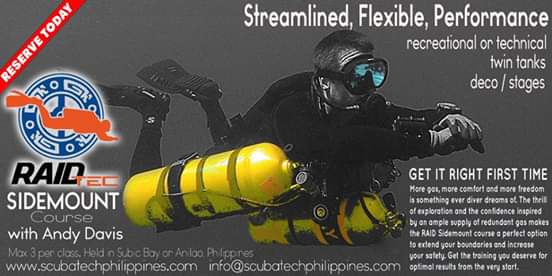 Originally posted 2018-03-07 23:55:47.