Top 5 Sidemount Adapter Systems
Sidemount adapter systems are one solution for diving sidemount if you already own a backmount wing, but don't want to make the investment in a dedicated sidemount system. Obviously, you won't get the same performance and feel as a dedicated sidemount rig gives, but it does remain an option.
The increasing popularity of mainstream sidemount diving has seen a plethora of dedicated sidemount systems enter the market in recent years.  However, many new sidemount 'converts' already own back-mounted wing BCD systems – and they seek the opportunity to customize their existing wings for sidemount use.
DIY backmount to sidemount conversion projects provide mixed results – some exceptional and inventive, others truly horrid… dismal failures…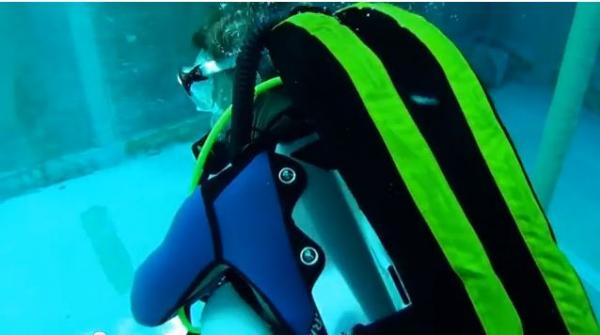 To solve that inconsistency, several sidemount manufacturers have chosen to release modular-styled sidemount conversion systems, that adapt existing wings for sidemount use.  The main features of these adapters are a means to prevent 'wing taco', a secure mounting system to the harness/backplate and attachment points for bungees and sidemount cylinders.
1. OMS Tesseract/Profile Sidemount Adapter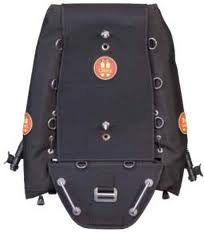 The OMS  TEC/REC  sidemount diving system is a hybrid, allowing inter-changeability between back-mounted and sidemount configurations. The 'Profile' adapter fits over the rear of the backplate/wing, to prevent taco'ing and provide attachment points for the bungees and ancillary equipment.
The 'Tesseract' wing is similar to other OMS double-tank wings, but was adapted for maximum compatibility with the 'TEC' adapter; for instance, the inflator is off-set at the top, to allow the adapter cover/protector to fit over the top of the wing, whilst there are also dedicated attachment points at the top and bottom to ensure a maximum fit between the wing and the adapter. It has 60 lbs of buoyancy and is available in double/redundant bladder versions.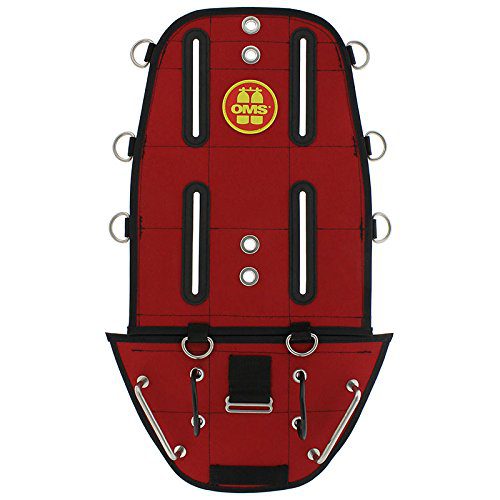 The REC version of the OMS sidemount adapter
When used with other wing systems, the REC adapter is the best choice, as it doesn't have the reinforced 'top cover' that interferes with most low-pressure inflators.  I have used a 'Profile' adapter as the basis for several DIY sidemount projects, including a 32lb single-tank doughnut wing and a 60lb dual-bladder horseshoe wing.
See my review of the OMS REC Sidemount Adapter: OMS Rec Sidemount Adapter
See my projects here: Some Options for DIY/Home-Made Sidemount Rigs.
Buoyancy: 60lb / 27kg
Material:  Outer – 1000 denier Nylon backed with 5-6 oz Thermoplastic Polyurethane (TPU)  |  Inner – 200 Denier Nylon Fabric backed with .12 mm of TPU
Weight:  Not known
Manual:   Profile Sidemount Manual
Manufacturer Link:  OMS Profile Sidemount System
2. Dive Rite Nomad XT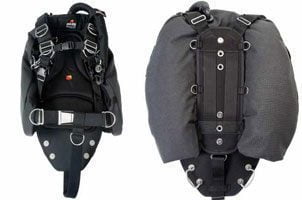 The Nomad is currently available in 2 models, suitable for different uses and diver preferences.   The Nomad XT is based around the transpac harness and is modular. The dedicated 'Nomad' wing has up to 50lb buoyancy capacity and is available in single or redundant bladder options, with a central/top-mounted LPI.  However, other wings can be used. The system also offers a removable butt plate.
Buoyancy:  50lbs/22.6 kg
Material:  Outer – SuperFabric brand technology & 1000 denier Cordura | Inner –  210 denier nylon laminate
Weight:  Med: 9.375lbs (4.25kg), Lg: 9.625lbs (4.36kg), XL: 10.06lbs (4.56kg)
User Manual: Nomad XT User Manual
Manufacturer Link:  DiveRite Nomad XT
3. White Arrow S-Wing Adapter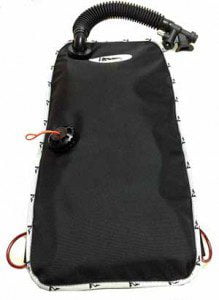 White Arrow produce a wing system that utilizes a conventional back-mount backplate. This is a different approach to the other adapters in this list – as it is the wing that is sidemount specific, not the harness system. The diver can then make use of their existing back-plate and harness – interchanging easily between back-mount and sidemount configurations.  The 'S-Wing'  has 15kg /37.5 lb of buoyancy and features a unique 'butt-plate' system that fits directly to the metal backplate.
Buoyancy: 37.5lb / 15kg
Material:  Outer – Cordura 2000 |  Inner – Cordura 2000
Weight:  Not known
Manual:  Not available
Manufacturer Link:  White Arrow Sidemount
4. Amphibian Gear Transformer |Sidemount Adapter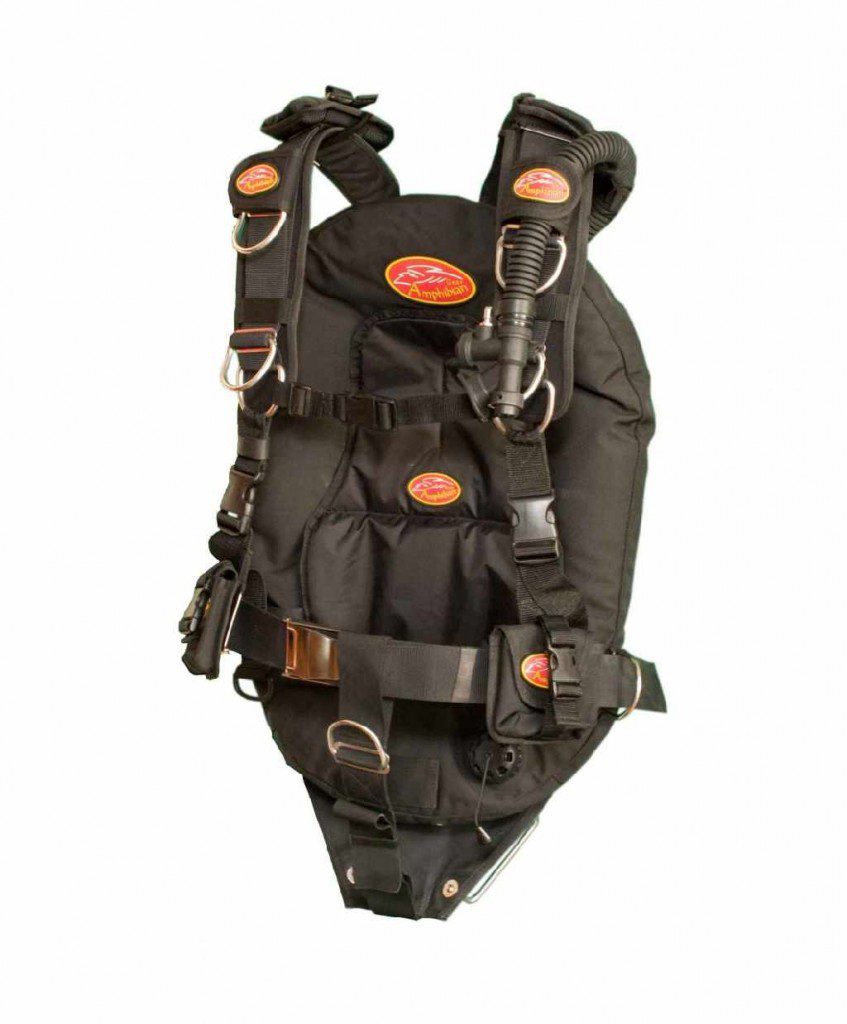 The Amphibian Gear Sidemount 'Transformer' comes from Russia. It is a modular system, similar to the
 OMS 'Profile'
adapter, whereby an anti-taco rear cover/butt-plate configuration can be used in conjunction with varied wing and harness options. The picture above shows a 30lb 'doughnut' wing and 'comfort'-style harness, as options.  This permits a very flexible approach to suit a variety of needs and requirements; and also allows new sidemount divers to utilize some wing/backplate components they may already own.
Buoyancy:  30 lb / 14.5 kg
Material:    Outer: Cordura (1680 g)  /  Inner:  Nylon (420 g)
Weight:  Varies – modular options
Manual: Not known
Manufacturers Link:  Amphibian Gear Sidemount (Russian)
5. Sea Monster Sidemount Adapter

The Sea Monster is another Polish-manufactured sidemount adapter. It works in conjunction with a regular back-mount 'doughnut' wing – trapping the wing between the harness and an anti-taco 'cover'. The harness accepts many types of wings and has an integral butt-plate. The anti-taco cover bolts through the backplate and the wing wraps around the sides and is held securely with a bungee around the torso. There are straps on the harness where weights can be threaded.
Buoyancy:  varies depending on the back-mount wing used
Material:    Not known
Weight: Not known
Manual: Not known
Manufacturers Link:  Sea Monster Sidemount
---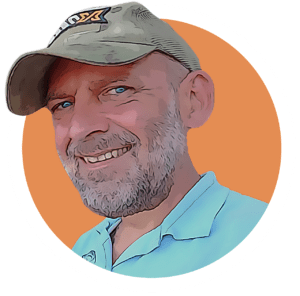 About The Author
Andy Davis is a RAID, PADI TecRec, ANDI, BSAC, and SSI-qualified independent technical diving instructor who specializes in teaching sidemount, trimix, and advanced wreck diving courses.
Currently residing in Subic Bay, Philippines; he has amassed more than 10,000 open-circuit and CCR dives over three decades of challenging diving across the globe.
Andy has published numerous diving magazine articles and designed advanced certification courses for several dive training agencies, He regularly tests and reviews new dive gear for scuba equipment manufacturers. Andy is currently writing a series of advanced diving books and creating a range of tech diving clothing and accessories.
Prior to becoming a professional technical diving educator in 2006, Andy was a commissioned officer in the Royal Air Force and has served in Iraq, Afghanistan, Belize, and Cyprus.
---
Originally posted 2014-01-05 16:31:05.