Twinset Foundations / Intro-To-Doubles in Subic Bay
About the RAID Twinset Foundations Course
The RAID Twinset Foundations (Into-To-Doubles) course in Subic Bay is a pre-technical dive certification designed with the recreational diver in mind. The course provides students with the knowledge, and skill proficiency to safely utilize manifold doubles and backplate/wing BCDs with best practice protocols. This exclusive training is held in Subic Bay, Philippines.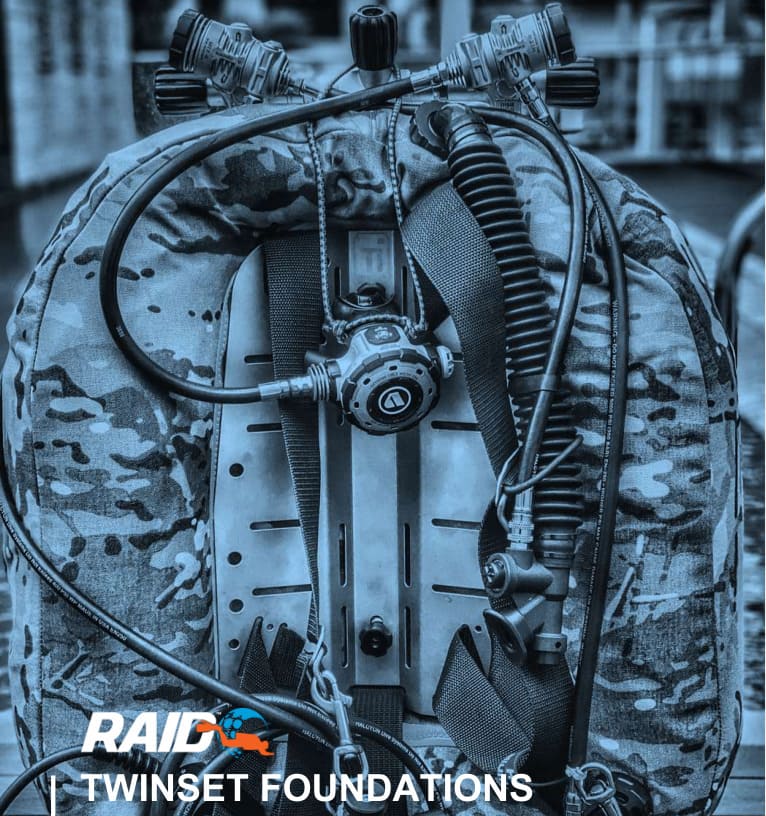 Why learn to use doubles/twinset?
Learning to use doubles/twinset configuration gear offers several benefits for scuba divers, including:
Extended dive time: Doubles/twinsets allow divers to carry more breathing gas, enabling longer dives where gas consumption is a limiting factor.
Redundancy and safety: With separate cylinders and an isolation valve, divers have a backup gas supply in case of equipment failure, enhancing safety during deep and overhead environment dives.
Improved balance and streamlined profile: Distributing weight on the back enhances horizontal trim, reducing drag and improving maneuverability.
Flexibility and adaptability: Doubles/twinsets enable divers to mitigate foreseeable risks on more advanced and challenging dives in a range of diving environments and at deeper depths.
Preparation for technical training: Learning to use doubles/twinset as a recreational diver allows an early start in developing equipment and protocol familiarity. If you subsequently enroll in a technical diving course, this can pay dividends in reducing task loading.
Proper training is crucial when using doubles/twinsets!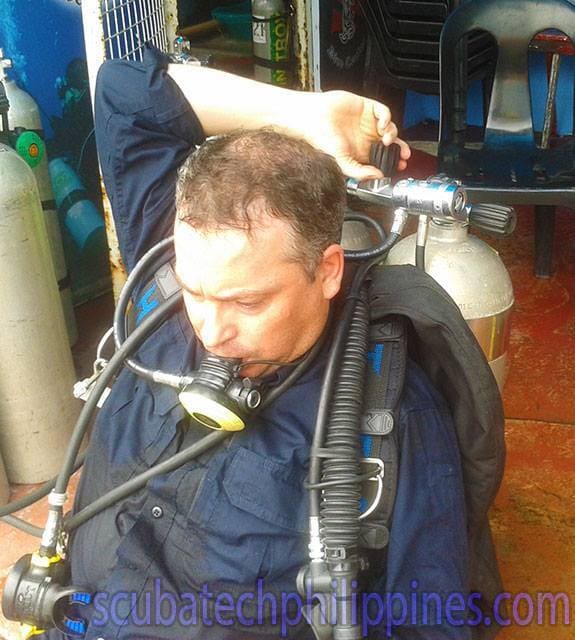 Using doubles/twinset for scuba diving without effective best-practice training can be dangerous due to:
Incorrect equipment setup: Divers may lack knowledge of how to assemble and configure the gear correctly, leading to gas management and equipment failure issues.
Lack of familiarity: Diving with doubles/twinset requires adjusting to different gear handling, which without training can lead to confusion and poor decision-making.
Difficulty in valve shutdowns: Divers may struggle to shut off valves, especially in emergencies, potentially leading to gas loss.
Increased risk during emergencies: Divers without training may struggle to handle equipment malfunctions and gas sharing effectively, compromising safety.
What are the Twinset Foundations (intro-to-doubles) diving course prerequisites?
Minimum 15 years old.
Certified RAID Open Water or equivalent.
See the RAID website for more information on this course.
Why choose the Twinset Foundations (intro-to-doubles) diving course in Subic Bay?
The RAID Twinset Foundations (intro-to-doubles) diving course in Subic Bay, taught by Andy Davis, reflects the most comprehensive and complete advanced diving training available anywhere in the world. All diving training focuses on developmental coaching in fundamental scuba skills, team diving, stress resilience, and situational awareness.
This equipment-focused diving course aims to provide students with the knowledge, equipment, mindset, and procedures to safely utilize a more advanced configuration for improved safety when diving.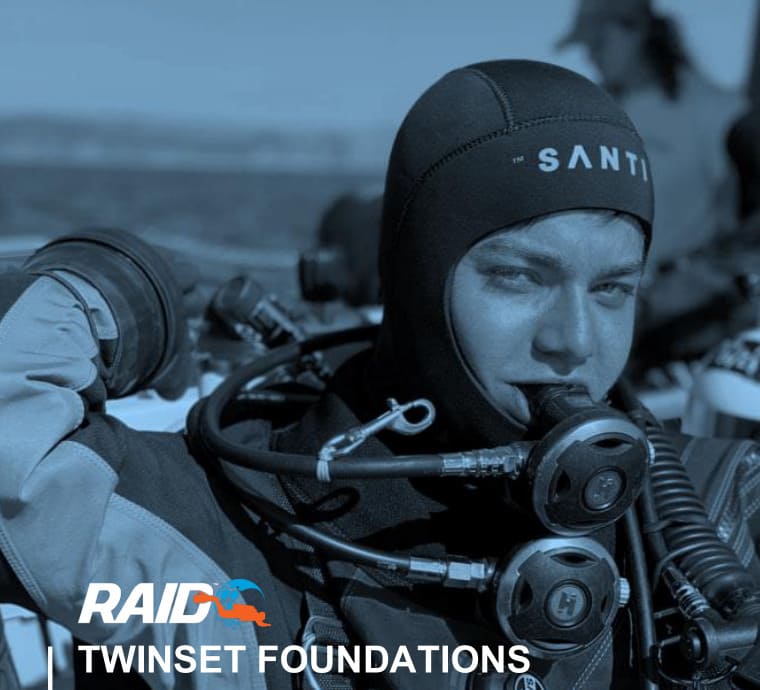 Further information on the Twinset Foundations (intro-to-doubles) diving course
What is the Twinset Foundations (intro-to-doubles) diving course syllabus?
RAID online eLearning and instructor-driven academic presentations, quizzes, exams, and practical skills covering the following topics in detail;
Hogarthian and DIR doubles configuration
Regulator configuration for doubles
Sizing, adjusting, and trimming doubles
Optimized equipment for advanced diving: fins, lights, DSMB, computers, and cutting devices.
Balanced Rig philosophy
In addition, you will learn the following skills and protocols in water:
Valve shut-down drills
Proper DSMB deployment
Flow checks
Long hose deployment and gas sharing
Advanced propulsion and maneuvering
Precision buoyancy, trim, and control
S-drills and decent checks
Improved ascent protocols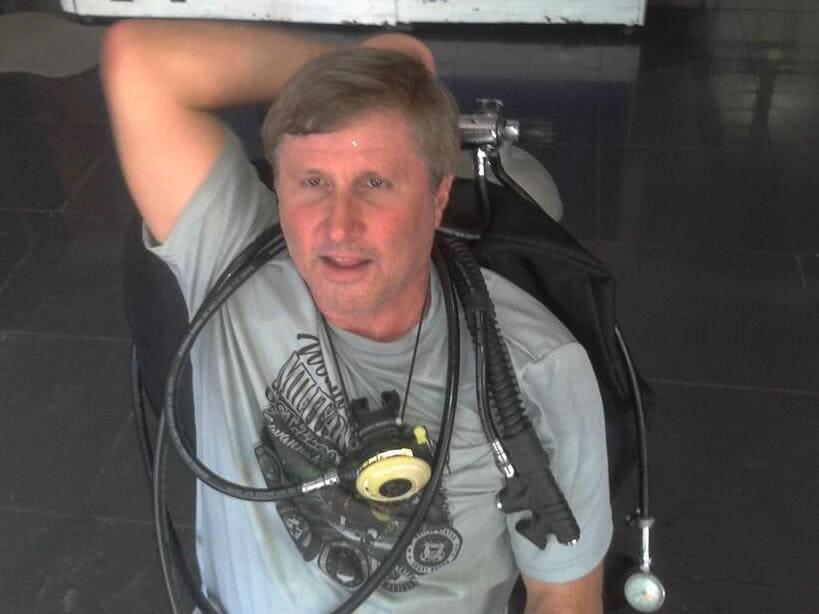 Twinset Foundations (intro-to-doubles) Diver Training Schedule
Day #1

PM – Confined water session 1

Day #2

AM – Confined water session 2
PM – Dive 1 & 2
All skills developed during this unique diving course are applied cumulatively. So, the skills learned on each dive must be applied on every successive dive.
A high standard of mastery is applied throughout the entire course. As such, certification is entirely performance-based.
How much does the RAID Twinset Foundations (intro-to-doubles) course cost?
2 Days $450
maximum 3 per course.
Scheduled courses will be run even if just one student
Discounts available for group booking
Private lessons are available at a 50% surcharge
Courses can be scheduled to meet your requirements
25% non-refundable deposit to confirm attendance on the course
Tuition cost excludes course registration fees, as per the RAID website, and hosting dive shop fees covering tank/gas fills, and boat costs, as required. Additionally, instructor diving costs are split between students.
Contact Andy to book this great course now!