RAID Basic Wreck Diving Course Subic Bay
Wreck diving is a thrilling and captivating activity that offers divers a unique opportunity to witness the history of sunken ships and explore their mysteries. Doing your wreck diving course in Subic Bay is the best opportunity to learn about this amazing scuba diving specialty.
Shipwrecks aren't just fascinating in their historical significance, they also serve as artificial reefs that shelter a wide diversity of marine life. The best wreck diving courses provide you with the necessary training and proficiency to safely dive these captivating underwater sites. When you are a certified wreck diver, every dive creates unforgettable memories and a deep appreciation for the beauty and wonder of mankind's history with the ocean.
What is the RAID Basic Wreck Diving Course?
The RAID Basic Wreck course in Subic Bay, Philippines, is a one-day course that is designed to familiarize divers with the skills, knowledge, planning, organization, procedures, techniques, problems, hazards, and fun of wreck diving. The course will serve as a safe, supervised introduction to wreck diving.
This basic-level wreck diving course does not certify divers to penetrate inside wrecks. Wreck penetration is taught comprehensively in the Advanced Wreck course.
You will train in Subic Bay, Philippines, with Andy Davis; a highly experienced and respected technical wreck explorer and instructor, who has 30+ years of wreck diving experience around the world.
Why get wreck diving certified in Subic Bay?
Doing your wreck diving course in Subic Bay, Philippines is an opportunity not to be missed! The bay boasts a rich diversity of wrecks, ranging from military and civilian ships to aircraft and armored vehicles. With wrecks at varying depths, from shallow dives for beginners to deeper sites for experienced divers, there's something for everyone.
Undertaking your wreck diver certification in Subic Bay ensures that you are trained by a subject matter expert instructor who specializes in wreck diving as their day-to-day activity. This guarantees access to invaluable knowledge and the right skills necessary for the safe and enjoyable exploration of shipwrecks. From historical significance to marine life encounters, a wreck diving course in Subic Bay promises to be an unforgettable adventure for any diving enthusiast!
What are the basic wreck course goals?
During my exclusive wreck diving course in Subic Bay, Philippines, you will develop an appreciation for the historical value of wrecks, the social and moral issues surrounding them, and local and national laws regarding wrecks around the coast of your own country.
You will learn how to research a wreck to find its history and background, and you will also become proficient in how to plan and organize your wreck dives to make them as safe and fun as possible. In addition, you will be competent in identifying the potential hazards and dangers of a wreck to avoid injury or accident on your dives.
What are the basic wreck diving course prerequisites?
Minimum 15 years old.
Certified RAID Open Water 20 or equivalent.
Nitrox qualification is recommended
Register for FREE at www.diveraid.com
Why choose the basic wreck course with Andy Davis?
This wreck diving course is taught by Andy Davis, a technical wreck explorer with over three decades of cutting-edge experience. Put simply, this course is one of the most comprehensive introductions to wreck diving available, taught by a globally renowned wreck instructor.
Six reasons why you should choose this wreck course:
Improve your buoyancy, weighting, trim, and propulsion
Develop team diving skills and increased situational awareness
A highly experienced wreck specialist instructor
Subic Bay is one of the world's best recreational wreck diving destinations
A very cost-effective way to discover wreck diving
Can be completed in a single day
What is the Wreck Divet training schedule?
The wreck diver course in Subic Bay takes just one day. It includes 1 shallow skill development session and 2 open-water wreck dives;
Morning: Shallow skills training: buoyancy, propulsion, trim, weighting, and ascent/descent procedures
Afternoon:

Dive 1: Wreck survey and research, light signals, cutting devices, SAC calculation, DSMB deployment, and descent protocols
Dive 2: Wreck navigation, gas emergencies, gas management, DSMB deployment, ascent protocols
How does RAID wreck diver training compare to alternatives?
To help prospective students choose the course that most fits their needs, the table below compares the differences between RAID basic and advanced wreck diver training, against that of a leading mainstream dive agency: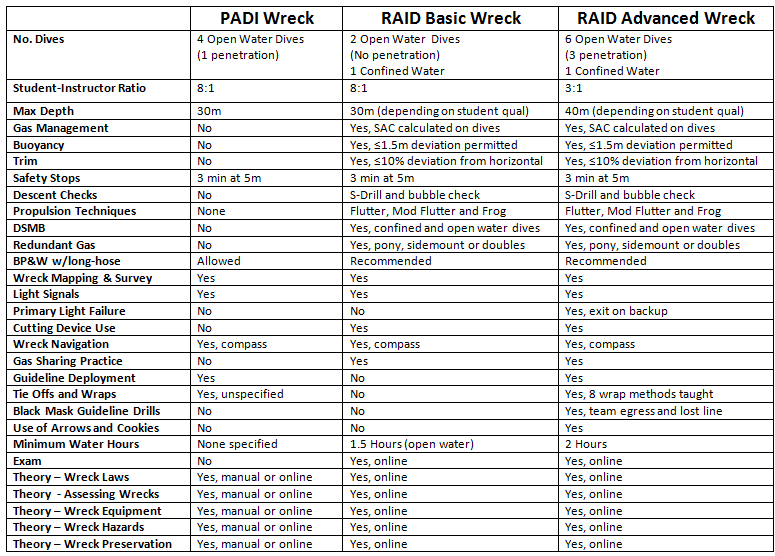 How much does the wreck certification course cost?
1 Day $150
The stated cost includes all tuition and instruction from Andy Davis
Max 3 per course
Scheduled courses will be run even if just one student
Discounts available for group booking
Private lessons are available at a 50% surcharge
Courses can be scheduled to meet your requirements
25% non-refundable deposit to confirm attendance on the course
Tuition cost excludes course certification fees, as per the RAID website, and course facility fees covering tank rentals, nitrox fills (if desired), and boat costs as required. Instructor diving expenses are split between students.
Contact Andy now to become a proficient wreck diver!
More expert information about wreck diving