RAID Deco50: Technical Diving Course in Subic Bay
If you are searching for a technical diving course that will make you a proficient, safe, and highly capable technical diver, then look no further! My high-performance RAID Deco50 technical diving course in Subic Bay, Philippines, will supercharge your transition from recreational to technical diver!
About the RAID Deco50 technical diving course
The RAID Deco50 technical diving course provides students with the knowledge and skill proficiency to conduct normoxic trimix accelerated decompression diving.
This tech diving training is globally recognized for its uncompromising standards and very high diving competency development. On this course, renowned technical diving instructor, Andy Davis delivers world-class tech certification to the highest possible standards. This tech diving course is held in Subic Bay, Philippines.
Preliminary course theory is delivered through eLearning, with 6 online manuals, quizzes, and exams. This is then developed with instructor-delivered lectures, discussions, scenario case studies, and team debriefs. The practical training phases of the course consist of dry land drills, confined water skills practice, and 5 intensive training dives (typically 600+ minutes total in water).
What are the Deco50 technical diving course limits?
This technical diving course is a gateway into full technical diving. It certifies divers to safely conduct trimix accelerated decompression dives to a maximum depth of 50m (165ft), with 30 minutes max deco and 1 deco gas.
What is trimix and why use it?
Trimix is a breathing gas for deeper technical dives that adds helium to increase dive safety by reducing gas density, alleviating the effects of narcosis, and, where necessary, reducing the fraction of oxygen breathed to eliminate the risk of O2 toxicity.
Gas density: there are recommended limits on gas density to prevent excessive accumulation of Co2 in the body tissues (hypercapnia). Co2 is 25x more narcotic than nitrogen; CO2 narcosis during a technical dive can become debilitating,
Narcosis management: while many scuba divers feel tolerant of the narcosis effect when diving air at depths between 30-40m (100-130ft), the impact of narcosis when attempting to conduct complex and risk-consequential technical dives can become an impediment to diver safety.
What are the Deco50 technical diving course prerequisites?
Minimum 18 years old.
Certified for deep diving, nitrox, and rescue
Robust fundamental scuba skills (preparatory training is available, when necessary)
50 hours or 75 dives in open circuit scuba
Current, valid CPR and O2 provider certification
5 hours logged dive time between 27 and 40m
Why choose the Deco50 technical diving course?
The RAID Deco50 course, taught by Andy Davis, is one of the most comprehensive and complete technical diving courses available.
Upon certification, you will have the confidence, comfort, and competence necessary to conduct challenging technical dives with a high level of safety. The course teaches current technical diving best practices and promotes a "Do It Right" (DIR) philosophy of diving.
Ten reasons to choose this technical diving course:
Tuition by a leading, world-renown, technical diving instructor
High-level fundamental skills development
Trimix qualification for effective narcosis management
Team Diving protocols and procedures
DIR / Hogarthian equipment principles are applied
Zero compromises on quality and performance
Can be undertaken in sidemount (instructor has 6000+ technical sidemount dives)
Certification from a tech agency associated with high standards and great divers
All skills and dives in neutral buoyancy, horizontal trim (no kneeling or hanging!)
Effective preparation for future technical and overhead environment dive training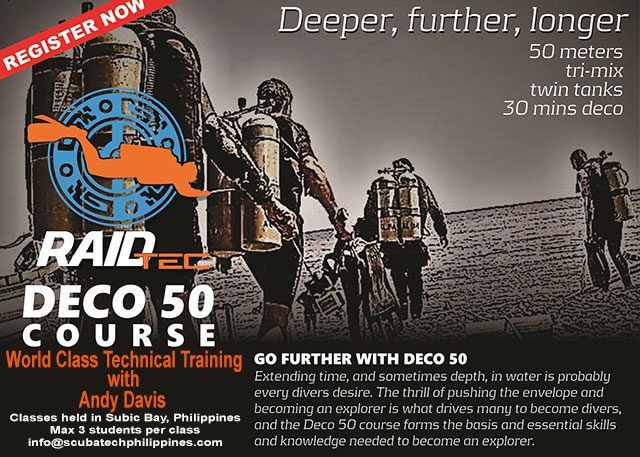 Further information on the Deco50 technical diving course
What is the Deco50 technical diving course syllabus?
RAID online eLearning and instructor-delivered academic presentations, quizzes, exams, and practical skills covering the following topics in detail;
Technical dive management
Advanced dive physics and physiology
Technical diving equipment (backmount or sidemount)
Electronic decompression planning software (Multideco)
The Buhlmann ZHL-16C deco algorithm
Gradient factors theory and application
Gas management and selection (trimix and decompression gasses)
Trimix diving theory and application
Technical diving mindset and culture-of-safety
What is the Deco50 technical diving course training schedule?
The Deco50 course is made up of 1 Confined Skills Clinic and 8 Open Water training dives;
Day #1

Morning: Equipment Workshop
Afternoon: Confined Skills + Water Stamina Tests

Day #2

Morning: Dive #1 Core Tech Skills 15-20m (30-66ft)
Afternoon: Dive #2 Core Tech Skills 20-30m (66-100ft)

Day #3

Morning:

Dive #3 Sim Deco Dive 30-40m (100-130ft)
Dive #4 Sim Deco Dive 30-40m (100-130ft)

Afternoon: Theory Lectures

Day #4

Morning: Dive planning and equipment preparation
Afternoon:

Dive #5 Deco Dive 30-45m (100-145ft)
Dive #6 Accelerated Deco Dive 30-45m (100-145ft)

Day #5

Morning: Dive planning and equipment preparation
Afternoon:

Dive #7 Accelerated Deco Trimix Dive 40-50m (130-165ft)
Dive #8 Accelerated DecoTrimix Dive 40-50m (130-165ft)
A high standard of mastery is applied throughout the entire program and certification is entirely performance-based. Remedial training is provided if/when a student doesn't meet the performance requirements of a training dive. The Deco50 course has a steep learning curve: ensure success by arriving for technical diving training with robust fundamental dive skills. Do contact me in advance for advice on effective preparation for the technical diving course.
How much does the Deco50 course cost?
Performance Diver Fundamentals (2 Days) $400
Deco 50 only (5 Days) $1250
Performance Diver + Deco 50 (7 days) $1350
The stated cost includes all tuition and instruction from Andy Davis
Max 3 per course
Scheduled courses will be run even if just one student
Discounts available for group booking
Private lessons are available at a 50% surcharge
Training in Subic Bay, Philippines
Other locations available upon consultation
Courses can be scheduled to meet your requirements
25% non-refundable deposit to confirm attendance on the course
Tuition cost excludes course registration fees, as per the RAID website, dive facility fees covering tank rentals, nitrox/trimix fills, and boat costs, as required. Instructor diving costs are split between students.
Please note:
The course is strictly performance-based, not time-based.
You pay for training but must earn the certification
Pre-course preparation is STRONGLY recommended (you are welcome to consult with me in advance)
Performance requirements for each phase must be satisfied to allow progression and certification.
All skills must be completed in neutral buoyancy, horizontal trim, and with control in the water
The minimum duration quoted for this course assumes students arrive for training with reasonable proficiency in precision buoyancy, trim, control, and propulsion skills.
Students should be able to demonstrate proficiency in all prerequisite diving skills (Deep40 and Nitrox skills).
Contact Andy about the Deco50 course in Subic Bay