RAID Deep40 Trimix
INTRODUCTION
The RAID Deep 40 course is the real thing…a true DEEP diving course for recreational divers.
In this course, renowned technical diving instructor, Andy Davis introduces technical concepts and standards; and encourages the use of redundant gas sources (sidemount, backmount doubles or single cylinder with a bailout pony). Students can use nitrox or trimix to 20% Helium.
The course syllabus includes comprehensive eLearning study, confined water fundamental skills and 4 training dives (5+ hours in-water) and qualifies the diver to conduct advanced no-stop dives to a maximum depth of 40m/130ft.
PREREQUISITES
Minimum 15 years old.

Certified RAID Advanced 35 or equivalent.

8 hours logged dive time

Nitrox qualification is recommended
Register for FREE at www.diveraid.com
WHY CHOOSE THE DEEP40 COURSE?
The RAID Deep40 course, taught by Andy Davis, reflects the most comprehensive and complete recreational deep diver training available anywhere in the world.
The aim of this course is to provide students with the knowledge, equipment and gas selection, mindset and procedures to empower a very high degree of safety on the most challenging deep no-stop dives.
Ten reasons why you need this training:
High-level Fundamental Skills development

Trimix qualification; included for effective narcosis elimination

Team Diving protocols and procedures

Technical configuration equipment used throughout

Advanced dive planning and procedures for maximal safety

Comprehensive emergency scenario training

Redundant gas via backmount doubles, sidemount or single cylinder with pony

All skills and dives in neutral buoyancy, horizontal trim (no kneeling!)

Tuition by a leading, world-renown, technical diving instructor

Effective preparation for future technical diving training.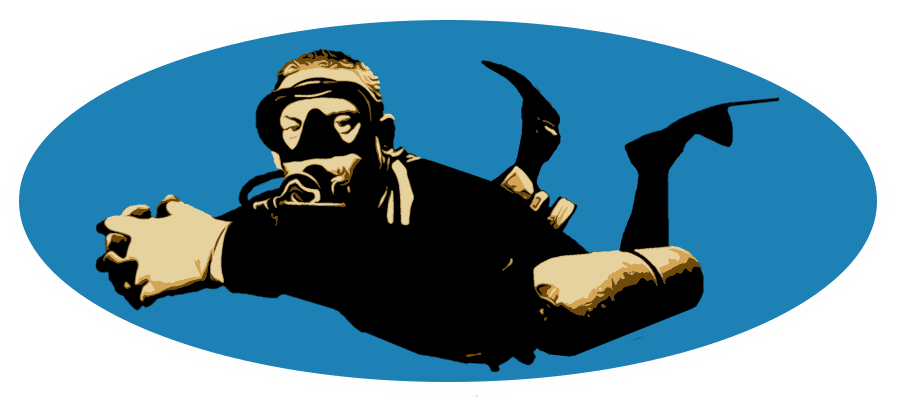 PRACTICAL COURSE CONTENT
The Deep 40 course is made up of 1 Confined Skills Clinic and 4 Open Water dives;
Day #1
Confined Water Fundamentals
Equipment set-up and configuration backplate/wing BCD. Confined water skills include precision buoyancy, horizontal trim, control and propulsion techniques (frog, modified flutter, helicopter turn and back kick), s-drills, descent checks, air-sharing long hose and DSMB deployment.
Day #2
Dive 1 – 24m (80ft) to 30m (100ft) – Nitrox

Dive 2 – 27m (90ft) to 35m (115ft) – Nitrox
Day #3
Dive 3 -30m (100ft) to 40m (130ft) – Nitrox

Dive 4- 30m (100ft) to 40m (130ft) – Normoxic/Hyperoxic Trimix (TriOx / Helitrox)
Every dive includes precision buoyancy standards, descent checks (bubble check and s-drill), gas management (SAC), ascent and stop protocols, DSMB deployment and varied emergency scenarios.
All skills developed during this program are applied cumulatively; so the skills learned on the first dive will be applied on each successive dive. A high standard of mastery is applied throughout the entire program and certification is entirely performance-based.
COURSE COMPARISON
Use this table to compare the RAID Deep40 course with a popular alternative: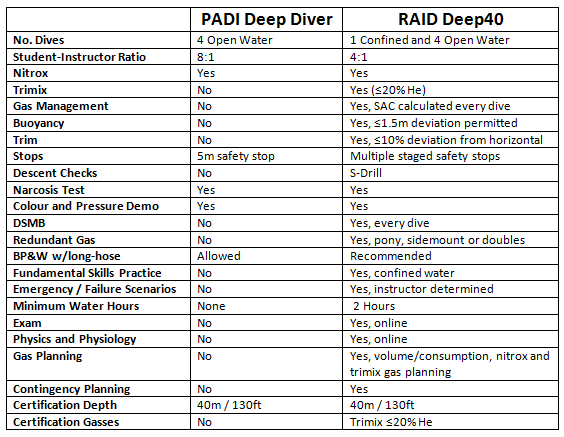 COST
3-4 Days $450
*add RAID Nitrox training for free
The stated cost includes all tuition and instruction from Andy Davis
Max 3 per course

Scheduled courses will be run even if just one student

Discounts available for group booking

Private lessons are available at 50% surcharge

Training in Subic Bay or Anilao, Philippines

Other locations available on consultation

Courses can be scheduled to meet your requirements

25% non-refundable deposit to confirm attendance on the course
Tuition Cost excludes course registration fees, as per the RAID website, facility fees covering tank rentals, nitrox/trimix fills and boat costs as required. Instructor expenses – split between students.