Basic Wreck Diving Course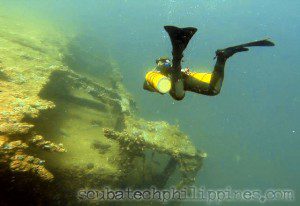 ---
"I am always moved by the sight of a hull lying at the bottom of the sea. To me, it seems that a ship in that situation has entered the 'great beyond', into another existence. A world of shadows."
Jacques Cousteau
---
At A Glance:
Course Goal:  Introduction to Wreck Diving
Course Location: Subic Bay, Philippines
Course Duration: 2 Days
Number of Dives: 4
Key Areas:  Wreck Hazards, Shipwrecks and the Law, Equipment considerations, Core Diving Competencies, Guideline Deployment and Retrieval, Penetration Techniques, Overhead Environment Risk Mitigation, Zero Visibility Familiarization, Critical Emergency Protocols.
Course Cost: See Price List
Certification: Certification for successful completion can be awarded via RAID Basic Wreck or PADI Wreck Diver qualification.
Course Instructor:
You will train with Andy Davis…a highly experienced and respected technical wreck explorer and instructor, who has 25+ years of wreck diving experience around the world. No effort will be spared to give you the maximum value from this course, regardless of your existing skill level.
The course is run in Subic Bay, Philippines, with access to amazing military shipwrecks dating from the Spanish-American War to WWII.
It's important to note:  this course significantly exceeds the minimum requirements of the basic PADI Wreck Diver course!  It draws upon many 'best-practice' techniques, procedures and training-methods common with higher-level overhead environment courses, such as; cave and technical wreck training
---
 Basic Wreck Diving Course – Outline
The Basic Wreck Diver Specialty Course is designed to familiarize you with the skills, knowledge, planning, organization, procedures, techniques, problems, hazards and fun of wreck diving. The course will serve as a safe, supervised introduction to wreck diving. During the course you will develop the ability to explain the historical value of wrecks, the social and moral issues surrounding them and local and national laws regarding wrecks around the coast of your own country. You will know how to research a wreck to find it's history and background, and you will also know how to plan and organize your wreck dives to make them as safe and fun as possible. You will be able to identify the potential hazards and dangers of a wreck so avoiding any chance of injury or accident. These will include being able to identify the dangers and hazards of a wreck penetration dive and the procedures required to minimize those hazards.
To demonstrate practical wreck diving knowledge, including recognizing and avoiding potential hazards, and planning procedures that make wreck diving fun.

 To explain the historical value of wrecks, social and legal issues surrounding that value, and describe some implications of wreck diving, including the pros and cons of removing artifacts from wrecks. Plan and organize dives to safely explore wrecks found within depths and conditions as good as or better than those he has been trained in.

Identify the hazards of wreck penetration diving and demonstrate the techniques and procedures required to minimize those hazards.
As this is only an introductory course, those divers who aspire to progress into serious wreck penetration are advised to consider combining this training with the Advanced Wreck course and/or Penetration Protocols clinic.  This allows substantially more development of wreck penetration techniques and experience.
The recommended training time for this course is 48hrs. There are 4 open water dives over at least two days.
Pre-study of the course materials is highly recommended.
The course is performance based, not time based. Performance requirements for each section must be satisfied to allow progression and certification.
Basic Wreck Diving Course – Theory
Typically the course would begin with theory training and discussions about wreck diving. You will be expected to read the Wreck Diving manual and complete the knowledge reviews within that. There is no theory exam on this course. Wreck diving topics will include:
The planning, organization, procedures, techniques, problems and hazards of wreck diving

The preparation and use of lights, air supplies, special equipment, penetration lines and reels

Limited-visibility diving techniques and emergency procedures
Basic Wreck Diving Course – Dives
During the training dives, participants are required to prepare their equipment, plan the dives and demonstrate good diving skills appropriate to that environment. Particular emphasis is placed upon the use of appropriate non-silting propulsion techniques, effective buoyancy control, diver trim and equipment streamlining.
Like all training courses where certain levels of performance are required to pass it is important to realize that you must reach the required levels of proficiency for each aspect of the course in order for the instructor to certify you, (just like on a driving test). If you fail to achieve the required standards we will endeavor to give you the opportunity for further training, however this would incur additional cost.
Wreck penetration-training dives are limited to within the light zone and within 40 metres/130 feet from the surface, vertical and horizontal distance included. If the wreck used for training is located in deep water (over 18 metres/60 feet), the Deep Diver rating is recommended as a prerequisite for the Wreck Diver program.
---
---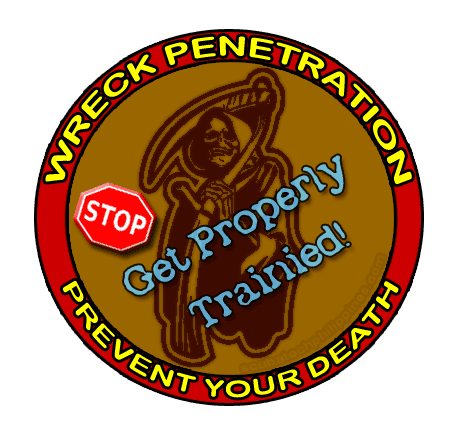 Further information to help your choice:
Contact me to discuss your training requirements.